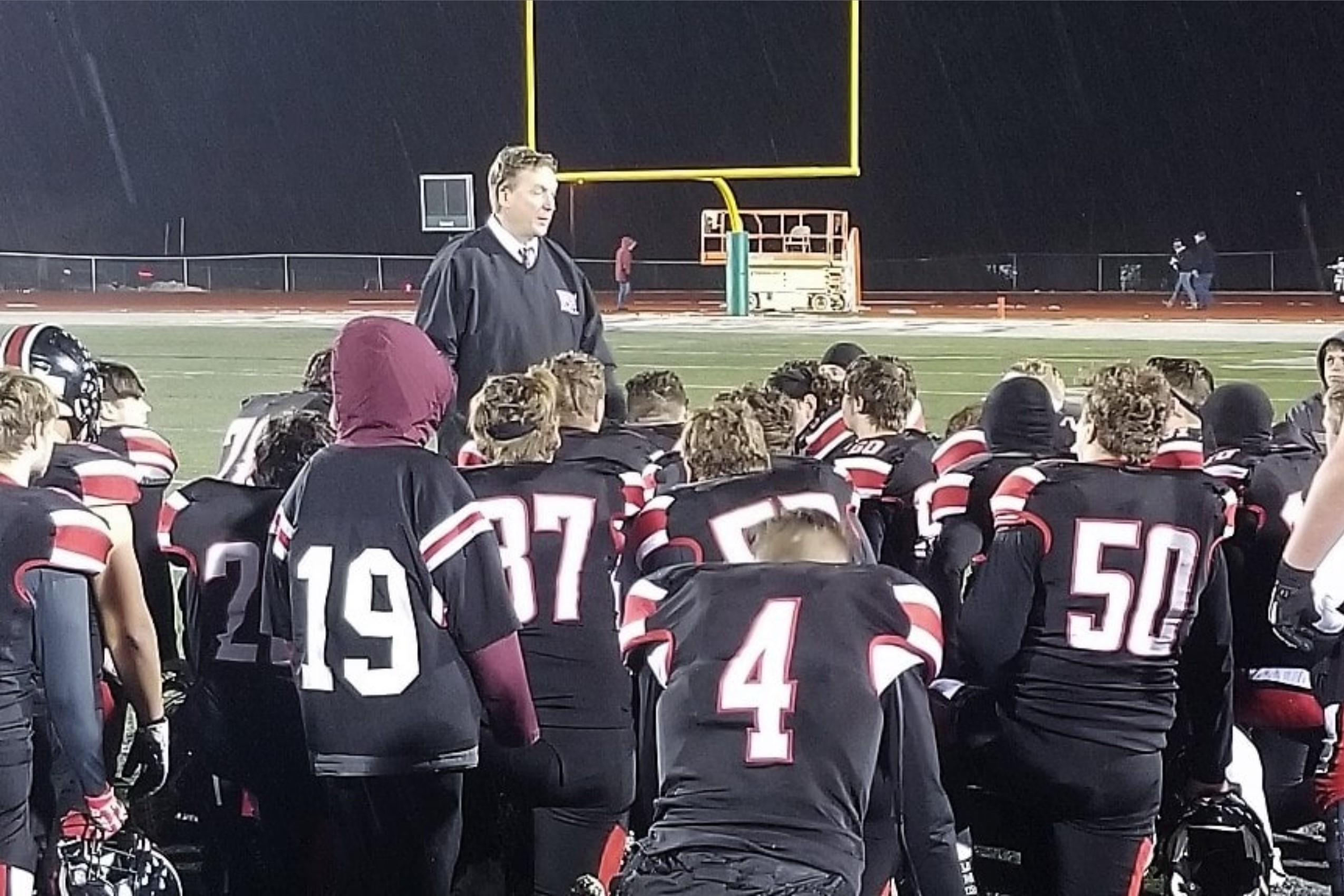 SLIPPERY ROCK, Pa. – Going into its PIAA Class 4A first-round playoff game against two-time defending champion Erie Cathedral Prep, Clearfield knew a couple of things had to break its way if the Bison were going to have a chance to win.
(Photo: Clearfield head coach Tim Janockco talks to his team following Saturday's game. Photo by Chris Rossetti)
First, Clearfield needed to win the turnover battle. Secondly, the Bison needed to stay healthy.
Unfortunately for the District 6-9 champion, neither of those things happened.
Clearfield turned the ball over five times in the game, including four times in the first half, and three of the Bison's key players – Eli Glass, Taye Lynch and most importantly quarterback Isaac Rumery – all left the game either late in the first half or early in the second half with injuries and never returned.
All that added up to a 55-21 win by the District 10 champion Ramblers, in a game that really was closer than the score indicated, at least when Clearfield was at full strength in the first half.
"We really hurt ourselves a couple of times early," Clearfield head coach Tim Janocko said. "It kind of put us behind. But, we were right in it until a couple of minutes left in the first half. Then injuries really took their toll on us. Losing Eli offensively and defensively, especially defensively hurt. And then losing Taye and losing Isaac, obviously, (hurt). Those aren't thing you can control. They just happen."
Perhaps a team like Erie Cathedral Prep, more of an all-star team than a high school team, could overcome those types of injuries. But a public school like Clearfield just doesn't have the depth to overcome losing three key players, and the Ramblers, who have been to three straight PIAA title games, took advantage outscoring Clearfield 34-0 in a 12:42 stretch starting late in the first half and continuing through the third quarter to take a 21-14 lead and turn it into the PIAA Mercy Rule at 55-14 at the end of three quarters.
"It is the hand you are dealt," Janocko said when asked if it was tougher to overcome injuries against a team as deep as Prep. "You have to play the hand you are dealt. There is not much you can do. You just have to keep the kids up, keep working with them and just keep playing hard. That is all you can do. I have been here before. It is what it is. You read into that whatever you want."
Clearfield arguably outplayed Cathedral Prep for most of the first half, but turnovers and big plays kept the Bison playing catch up.
The Bison were driving on their opening drive when Rumery tried to force a long ball to Lynch near the goal line that was picked off by Jaelen Carson at the 1-yard line.
Still, the Ramblers faced second-and-8 from their three when Jack Oedekoven got past the Clearfield secondary and Connor Schleicher hit him in stride for a 97-yard touchdown pass and an early 7-0 lead.
That was the start of big nights for both players.
Schleicher accounted for six of the Cathedral Prep touchdowns – four throwing and two rushing – while going 10 of 16 passing for 259 yards and adding 32 yards rushing on seven carries. Three of the touchdown passes went to Oedekoven, who had four catches for 180 yards.
The turnover bug continued to plaque Clearfield on its next drive, as a high snap went over Rumery's head and was kicked around before Mike Lupo picked it up and rumbled 22 yards to the Bison 17-yard line.
That set up a 1-yard Scheicher touchdown run to make it 14-0 Prep with 5:17 left in the first half.
Things continued to go south for Clearfield on its next possession but this time the blame was solely on a bad call by the referees.
With the Bison around midfield, Rumery threw a short pass to Ryan Lezzer. But Lezzer bobbled the ball and never made the catch. Cathedral Prep, however, jumped on the loose ball on the ground and surprisingly the Ramblers were awarded the ball on what was ruled a fumble to the chagrin of the Clearfield sideline including assistant coach Nate Glunt who was right on top of the play. Glunt gave an earful to not only the officials but also the District 10 officials, who lined the sideline like a Shriners Convention there were so many of them.
Unfortunately for Clearfield, those complaints fell on deaf ears, and Cathedral Prep had the ball just on the Bison side of midfield.
The football Gods seemed to side with Clearfield, though, as the Ramblers drive stalled forcing a 35-yard field goal attempt from Colin Kelly that was no good.
Clearfield took the new-found life and did something with it driving 80 yards before Rumery scored from a yard out to make it 14-7 2:10 into the second quarter.
Isaac Rumery 1 yd run @coachjanocko Cathedral Prep 14 Clearfield 7 950 2nd @WPAFootball @AJWPIAL @D9Sports pic.twitter.com/vxGk9M8Glz

— Shane Lux (@luxy_aLLin) November 18, 2018
Things really seemed to be turning Clearfield's way when Prep fumbled on its next drive around midfield, but the Bison couldn't move the ball and were forced to punt.
Bison get a turnover @WPAFootball @AJWPIAL @D9Sports pic.twitter.com/W7KXUW0zDj

— Shane Lux (@luxy_aLLin) November 18, 2018
Cathedral Prep then made it 21-7 when Schleicher hit Lupo with a 3-yard pass with 4:35 left in the half.
But Prep got greedy on the kickoff and tried an onside kick that went out of bounds giving the Bison the ball at the Prep 48-yard line.
Rumery and company took advantage and got back within seven on a 2-yard Rumery to Spencer Graham touchdown pass with 2:47 left in the half.
Spencer Graham 2 yd pass from Rumery @coachjanocko Cathedral Prep 21 Clearfield 14 @WPAFootball @AJWPIAL @D9Sports pic.twitter.com/ufV2YHp9Bq

— Shane Lux (@luxy_aLLin) November 18, 2018
Prep, though, was able to answer with two touchdowns in the final 42 seconds of the half to steal the momentum away from Clearfield.
First, Schleicher scored on a 7-yard run with 42 seconds to play to make it 28-14, and then, on the final play of the half, Kelly picked off a Rumery pass at the Prep 49-yard line and went all the way to the house to make it 35-14 at the break. That interception came one play after Lynch was hurt making a catch along the Prep sideline.
"Turnovers hurt," Janocko acknowledged. "We made some mistakes, but we were still in it. Our kids fought. When you compete on this stage, you get to this level, you can't make mistakes. We made a few mistakes. We recovered and still got on the board when we had to."
Any hope of a Clearfield comeback vanished 1:06 into the second half when Rumery, playing defense, went down with an ankle injury and had to be helped off the field without putting any weight on the ankle.
Prep scored on that drive – a 20-yard Schleicher to Oedekoven touchdown pass and then scored on its next drive when Billy Lucas, who ran for 185 yards, broke loose from 21 yards out. That put the PIAA's 35-point Mercy Rule into action causing a running clock the rest of the game.
Just for good measure, Oedekoven then hauled down a 19-yard pass from Schleicher on the final play of the third quarter.
Clearfield continued to fight and scored with 41 seconds left in the game when backup quarterback Oliver Billotte hit Caleb Freeland with a 12-yard pass.
Caleb Freeland 14 yd td from Oliver Billotte @coachjanocko Cathedral Prep 55 Clearfield 21 @WPAFootball @D9Sports @AJWPIAL pic.twitter.com/chMjZRJIsR

— Shane Lux (@luxy_aLLin) November 18, 2018
While it wasn't under circumstances Janocko would have preferred, the long-time coach did see some promise from his young quarterback who looks the heir replacement for Rumery, who is going to be a preferred walk-on at Penn State including a January early entry to the school. Billotte was 3 of 7 for 33 yards, the touchdown and an interception.
"You can see there is a lot of promise there, a lot of potential" Janocko said of the 6-foot-4, 215-pound freshman. "He is a freshman playing on this level. I thought he performed very well. He would like to have a couple of throws back, but that is learning, that is growing pains. Some other younger kids played well. We will bounce back and start over next year."
Without three key cogs in the offense in the second half, Clearfield managed just 88 yards after halftime. Seventy-seven of those – 48 rushing, 29 receiving – came from Freeland who finished with a team-best 55 yards rushing on seven carries, including a 30-yard run in the fourth quarter. He also had two catches for 29 yards and the touchdown.
Clearfield finishes the season 12-1, while Prep is now 10-4 and will play South Fayette, the WPIAL champion, in the PIAA quarterfinals.
"They had a great season," Janocko said. "It was a great season, a great team, a great bunch of kids. I'm very proud of them. They competed the whole time. It was unfortunate some things went against us tonight."
Janocko also thanked the Clearfield community saying the support the Bison received from the community, from local businesses, from the student body, was unbelievable.
"We had a lot of support throughout the week, through the whole season, Janocko said. "I just want to thank all of those people. They mean the world to us. We are one community and one town. I just can't say enough about them."
(Editor's Note: Special thanks to Shane Lux for allowing us to use his video from this game)
ERIE CATHEDRAL PREP 55, CLEARFIELD 21
Score by Quarters
ECP 14 21 20 0 – 55
Clear 0 14 0 7 – 21
Scoring Summary
First Quarter
ECP – Jack Oedekoven 97 pass from Connor Schleicher (Colin Kelly kick), 7:27
ECP – Schleicher 1 run (Kelly kick), 5:17
Second Quarter
C – Isaac Rumery 1 run (Zach Hess kick), 9:50
ECP – Michael Lupo 3 pass from Schleicher (Kelly kick), 4:35
C – Spencer Graham 2 pass from Rumery (Hess kick), 2:47
ECP – Schleicher 7 run (Kelly kick), 0:42
ECP – Kelly 51 interception return (Kelly kick), 0:00
Third Quarter
ECP – Oedekoven 20 pass from Schleicher (Kelly kick), 10:24
ECP – Billy Lucas 21 run (Kelly kick), 8:19
ECP – Oedekoven 19 pass from Schleicher (Bad snap on PAT), 0:00
Fourth Quarter
C – Caleb Freeland 12 pass from Oliver Billotte (Hess kick), 0:41
TEAM STATS
ECP – Stat – Clearfield
22 First Downs 16
37-340 Rushes-Yards 30-99
259 Passing Yards 171
10-18-1 Passing: Comp-Att-Int 14-23-3
55-599 Total Plays-Yards 51-270
7-58 Penalties-Yards 2-20
3-1 Fumbles-Lost 3-2
INDIVIDUAL STATS
Rushing: Erie Cathedral Prep – Billy Lucas 17-185, Luke Sittinger 5-79, Connor Schleicher 7-32, Joseph Gusek 3-23, X'zonder Goodwin 4-22, Team 1-negative 1. Clearfield – Caleb Freeland 7-55, Brett Zattoni 11-47, Isaac Rumery 6-17, Oliver Billotte 4-1, Team 2-negative 21.
Passing: Erie Cathedral Prep – Connor Schleicher 10-for-16, 259 yards, 4 touchdowns. Tamar Sample 0-for-2, 1 interception. Clearfield – Isaac Rumery 11-for-16, 138 yards, 1 touchdown, 2 interceptions. Oliver Billotte 3-for-7, 33 yards, 1 touchdown, 1 interception.
Receiving: Erie Cathedral Prep – Jack Oedekoven 4-180, Alex Baldi 3-37, Michael Lupo 1-3, Skyler Neely 2-39. Clearfield – Taye Lynch 5-103, Caleb Freeland 2-29, Eli Glass 2-17, Spencer Graham 3-13, Ryan Lezzer 2-9. .
Interceptions: Erie Cathedral Prep – Jaelen Carson, Colin Kelly, Ervin Williams. Clearfield – Logan Firanski