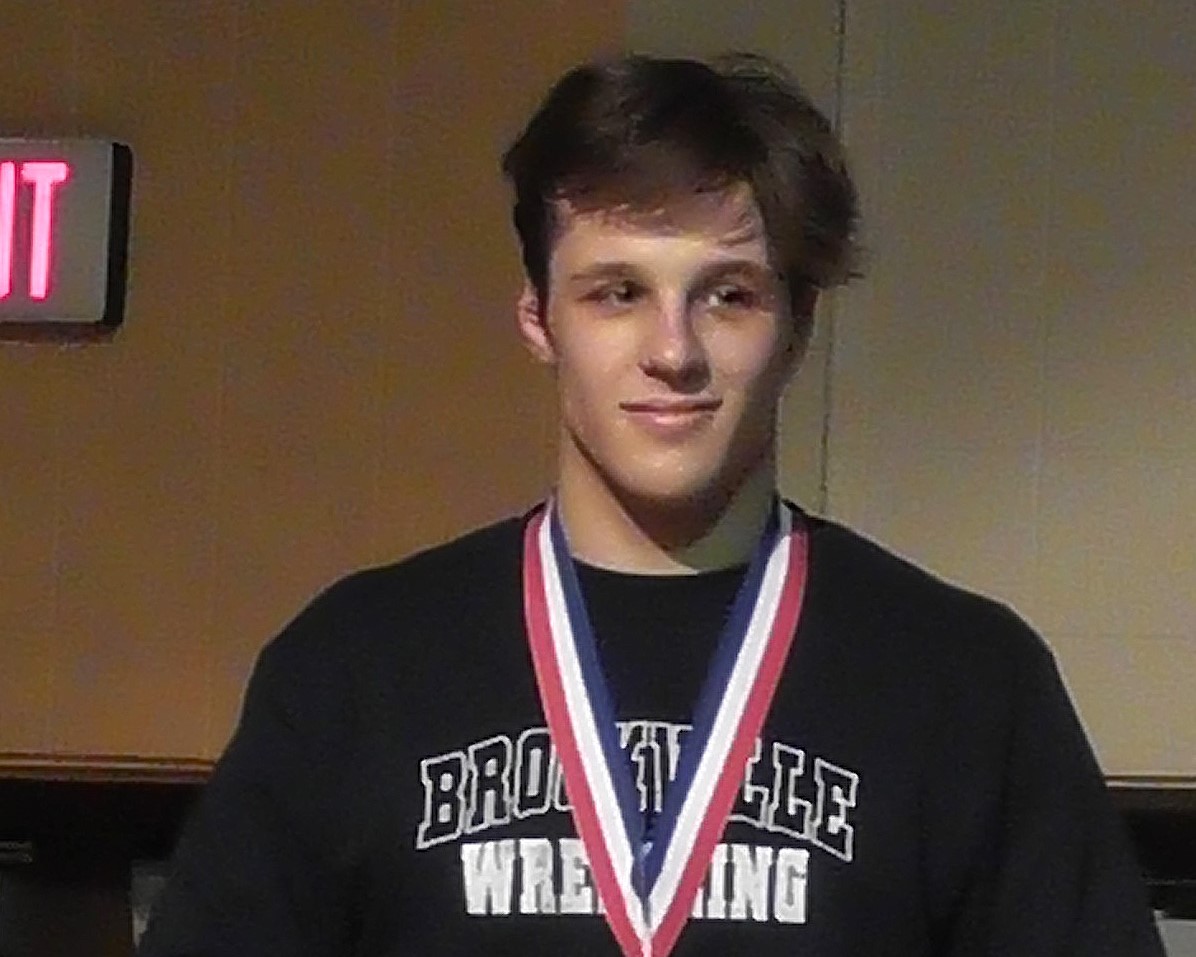 SHARON, Pa. (EYT) — District 9 wrestlers may have had a difficult time at this weekend's Class 2A Northwest Regional Tournament, but they still crowned four champs and will send 18 wrestlers to the PIAA Championships.
In Saturday evening's finals at Sharon High School, the first three D9 grapplers to hit the mat each lost.
But the next four all won their respective matches to add some luster to the district's weekend.
Brookville Raider Caleb Hetrick got things headed in the right direction for D9 wrestlers as he won a hotly-contested and controversial match, 6-5, over Reynolds Hunter Michaels at 145 pounds.

Hetrick led Michaels 2-0 after one period before the Reynolds wrestler scored a four-point move early in the second to make it 4-3.
Michaels led 5-3 when Hetrick let him go to start the third, but Hetrick picked up an escape with 36 seconds left to make it 5-4.
Hetrick then used a throw to take down Michaels at the edge of the circle with just three seconds left in the match.
The takedown call delighted Brookville fans while having the opposite effect on Reynolds' faithful.
Following Hetrick was Kane's Alec English at 152 pounds.

English battled Conneaut's Peyton Hern before scoring a quick takedown in overtime to claim a 3-1 win.
Port Allegany 160-pounder Jake Kallenborn stayed on a roll when he beat Iroquois's Joe Galvin in overtime with a five-point move for a 9-4 win.

Kallenborn had to overcome a takedown with four seconds in regulation that tied the score at 4-4.
Hetrick's thrilling win proved to be the only title for Brookville.
Colby Whitehill dropped a 1-0 decision to District 9 rival Steve McClure, of Curwensville, in the 285-pound finals match.

Whitehill gave an escape early in the third and tried to get something going, but the Tide wrestler didn't budge to secure the title.
Brookville's third wrestler to qualify for states was 138-pound Dontae Constable, who placed fourth.
The Raiders trio is the most headed to states of any D9 school.
Brockway, Curwensville, Coudersport and Ridgway are each sending two to states.
Joining McClure is 113-pound Blake Passarelli, who finished second after dropping a 5-2 decision to Reynolds Beau Bayless.
For Brockway, sophomore 120-pound Anthony Glasl dropped a close, 3-1 decision to Fort LeBoeuf's Isaac Crowell in the finals.
In the consolations, junior 182-pounder Garrett McClintick dominated Coudersport's Elijah Ayers, 8-0, to claim third place.
The other Falcon to reach states is 160-pound Julian Smith, who beat Habor Creek's Jason Bratt, 3-2.
Ridgway's two PIAA qualifiers are 138-pounder Lukas McClain and 145-pounder Logen McClain.
Lukas McClain battled defending state champ Cole Mattews before getting pinned with 32 seconds left.
Logen McClain won his third-place match, pinning Slippery Rock's Mike Doerffinger.
Five other schools are sending one wrestler each to states.
Clarion's Tom Wurster beat Brookville's Tyler Cook, 4-2, to reach the place match where he dropped an 8-2 decision to Lakeview's Tyler Zebrovious.
Redbank Valley's Mason Songer placed fourth at 113 pounds to qualify. In the consolation semifinal, Songer claimed a default win over Titusville's Hunter Wagner to advance.
Songer dropped a 1-0 decision to Oswayo Valley's Dylan Pesock.
Bradford's Tyler Thompson beat Northwestern's Caiden Mooney, 12-1, in the third-place match.
Rounding out the district's state qualifiers is Smethport's Bryent Johnson. Johnson placed fourth at 106 pounds after falling to Eisenhower's Logan Jaquay, 5-0.
Johnson punched his ticket to states with a 7-2 win over Habor Creek's Joe Gabler.
Class AAA
The DuBois Beavers are sending two to states.
Ed Scott won the regional title at 126 pounds, beating Shikellamy's Cade Ballestrini, 7-2.
Kolby Ho joined Scott as a regional champ when he beat Bald Eagle Area's Garrett Rigg, 9-4.
For the Clearfield Bison, Luke McGonigal lost a tough, 1-0 decision to State College's Cole Urbas for a second-place finish at 195. Hunter Wright was third at 160 pounds.
St. Marys is sending Zach Becker to states after his runner-up finish at 170 pounds.
The PIAA Championships begin Thursday, March 8 at Hershey's Giant Center.