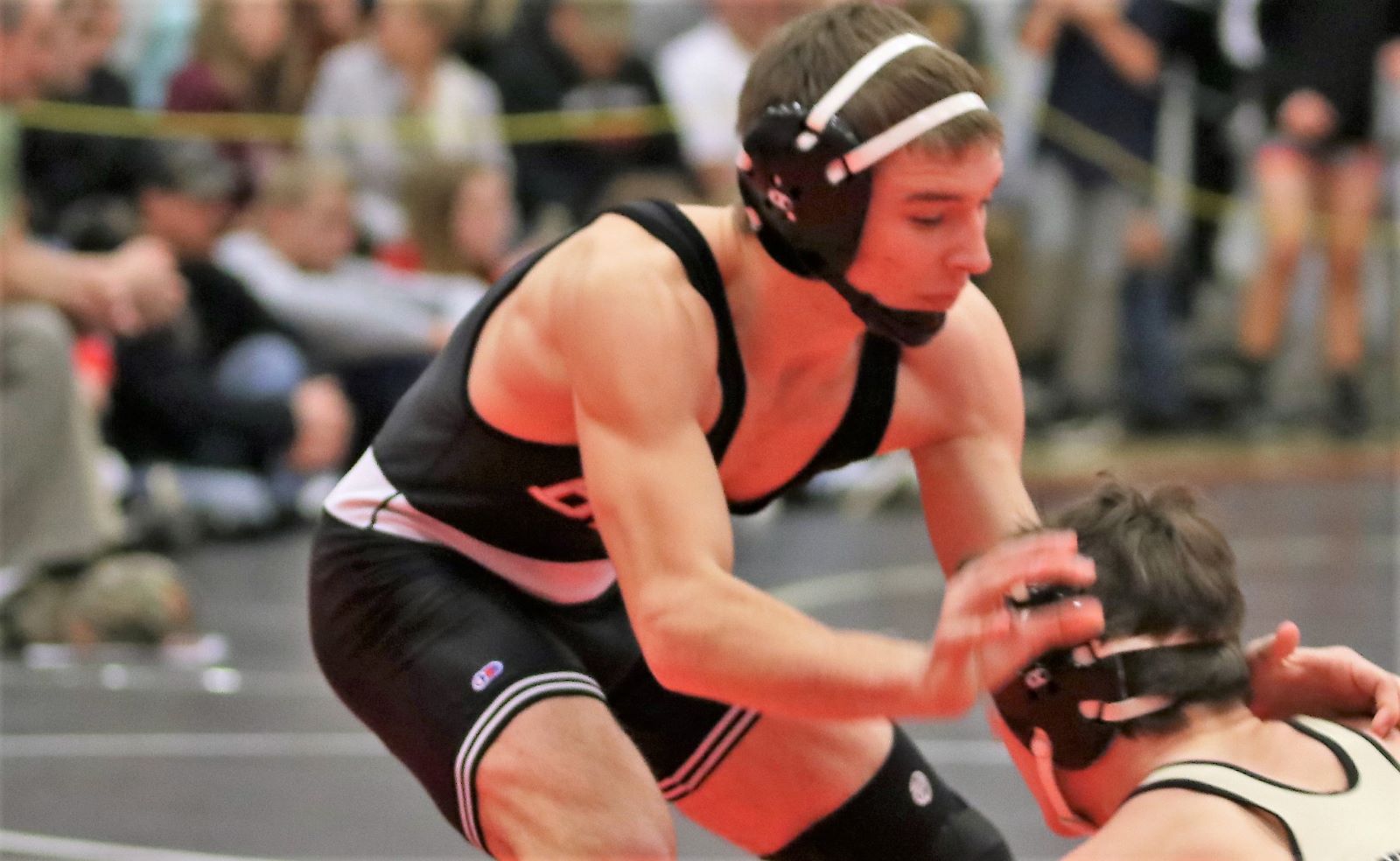 SHARON, Pa. – Fourteen District 9 wrestlers advanced to the semifinals of the PIAA Northwest Class 2A Regionals Friday.
(Photo of Brockway's Anthony Glasl. Photo by Jared Bakaysa of JB Graphics. See more of Bakaysa's work here)
District 9 got a pair of wrestlers into the semifinals at 106 pounds, 152 pounds and 182 pounds and single wrestlers through to the semifinals at 120 pounds, 126 pounds, 132 pounds, 138 pounds, 160 pounds, 170 pounds, 195 pounds and 285 pounds.
Owen Reinsel of Brookville and Bryent Johnson are both through at 106 pounds on separate sides of the bracket, Cole Casilio and Aiden Hulings are both through at 152 pounds on separate sides of the bracket and Garrett McClintick and Braden MacBeth are both in the semifinals at 182 pounds on separate sides of the bracket.
Also into the semifinals are Port Allegany's Braedon Johnson at 120 pounds, Brockway's Anthony Glasl at 126 pounds, Redbank Valley's Ethan Wiant at 132 pounds, Kane's Noah Blankenship at 138 pounds, Kane's Alec English at 160 pounds, Sheffield's Ethan Finch at 170 pounds, Coudersport's Eli Ayers at 195 pounds and Brookville's Colby Whitehill at 285 pounds (heavyweight).
Action continues from Sharon Saturday.
See all the Class 2A brackets from the Northwest Regionals

District 9 wrestling coverage on D9Sports.com is brought to you by Luton's Plumbing, Heating, and Air Conditioning.
TEN 3A WRESTLERS IN SEMIFINALS
ALTOONA, Pa. – Three Class 3A wrestlers also qualified for the Regional semifinals at the Northwest Regionals at Altoona.
That included a pair of wrestlers at 145 pounds and one wrestler each at 106, 132, 138, 152, 160, 170, 182 and 195 pounds.
Caleb Freeland of Clearfield and Dalton Woodrow of DuBois are on opposite sides of the bracket at 145 pounds.
At 106 pounds, Lane Dellaquila of St. Marys is in the semifinals while at 132 pounds his teammate, Tyler Dilley, is in the semifinals.
DuBois' Ed Scott has reached the same point at 138 pounds with Clearfield's Mark McGonigal checking in at 152 pounds, Bradford's Colby Keane at 160 pounds, Bradford's Dillon Keane at 170 pounds, Punxsutawney's Garrett Eddy at 182 pounds and Cranberry's Brayden Crocker at 195 pounds.
Action continues on Saturday from Altoona.
See all the Class 3A brackets from the Northwest Regionals