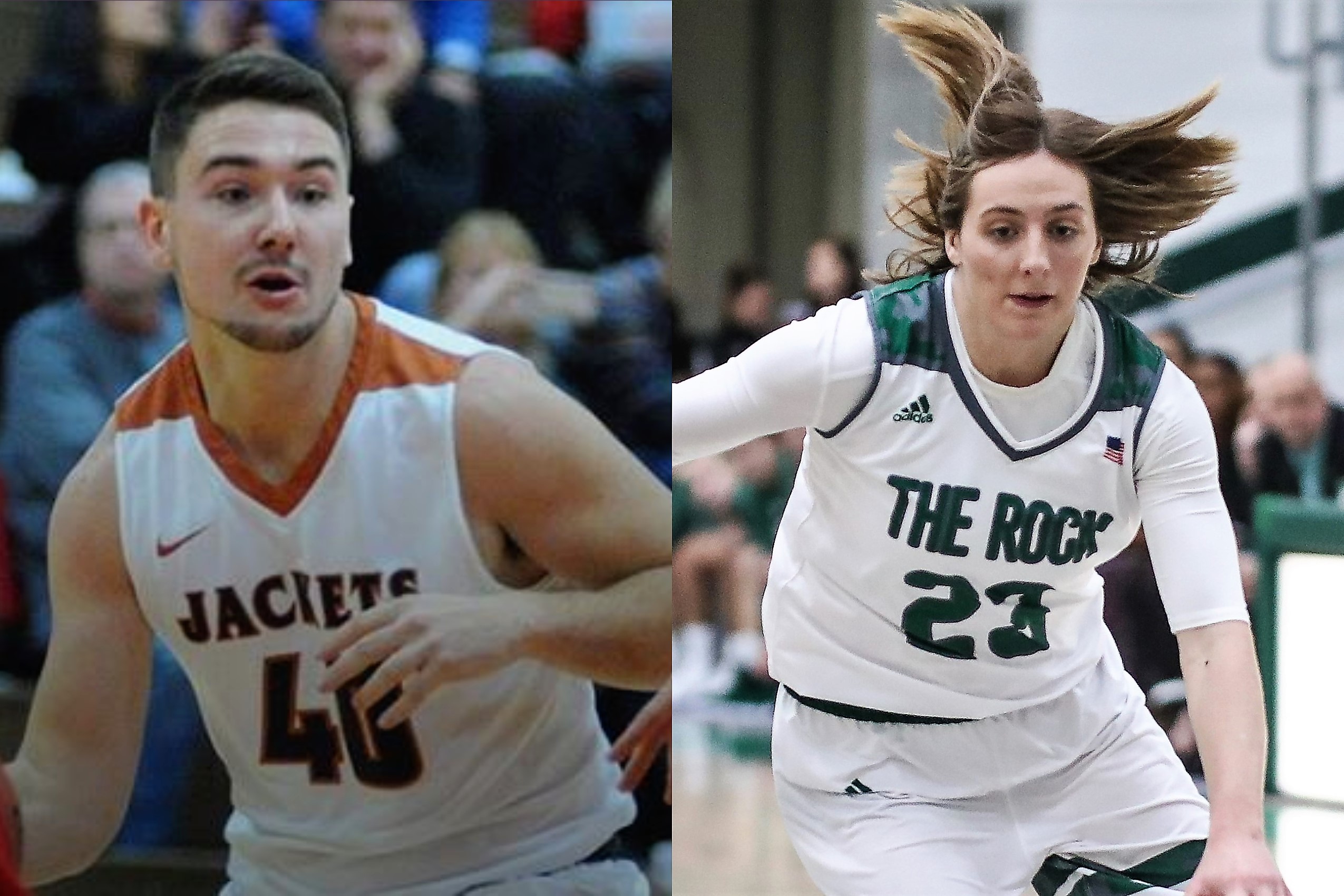 LOCK HAVEN, Pa. – A pair of District 9 alums won college conference basketball awards this week with Slippery Rock's Brooke Hinderliter earning PSAC West Women's Basketball Athlete of the Week and Waynesburg's Jake Dougherty named PAC Rookie of the Week.
(Photos courtesy of Waynesburg and Slippery University University Athletics)
HINDERLITER PSAC WEST ATHLETE OF THE WEEK – WOMEN'S BASKETBALL
Hinderliter, a Redbank Valley graduate earned her second career PSAC West Athlete of the Week honor on the heels of two standout performances in a pair of Slippery Rock victories last week over East Stroudsburg University and West Chester University. She shares Monday's award with Edinboro's Michaela Barnes, who was named the PSAC West's Co-Athlete of the Week.
In what was arguably the best two-game stretch of her collegiate career, Hinderliter averaged 26.5 points, 6.5 rebounds, 2.5 assists and 2.0 steals per game last week all the while shooting a stellar 58.8 percent (20-for-34) from the field overall and a near perfect 85.7 percent (12-for-14) at the foul line. '
Hinderliter scored a career-high 33 points to go with three assists in a 75-68 victory against East Stroudsburg before ending the week with a near double-double of 20 points, nine rebounds and three steals in SRU's 72-69 victory at home against West Chester.
Hinderliter has steadily elevated her game over the last three years to become one of the top all-around guards in the PSAC. Through eight games this season, Hinderliter is averaging 19.5 points, 6.6 rebounds, 1.5 steals and 1.2 assists per game while shooting 51.8 percent from the field and 83.3 percent at the free throw line.
DOUGHTERTY PAC ROOKIE OF THE WEEK – MEN'S BASKETBALL
Dougherty, also a Redbank Valley graduate, has made an immediate impact on the Waynesburg University men's basketball team. For his efforts, he was honored as the latest Presidents' Athletic Conference (PAC) Men's Basketball Rookie of the Week.
Dougherty played a major role in Wednesday's road win at Westminster. With leading scorer Matt Popeck sidelined, the Yellow Jackets gave Dougherty his first start of the season. He didn't disappoint, going for 16 points and seven rebounds in the 81-75 triumph. Dougherty shot six-of-11 from the floor and knocked down 3-of-6 from three-point range. He averaged 9.0 points, 5.5 rebounds and 2.0 assists for the week.