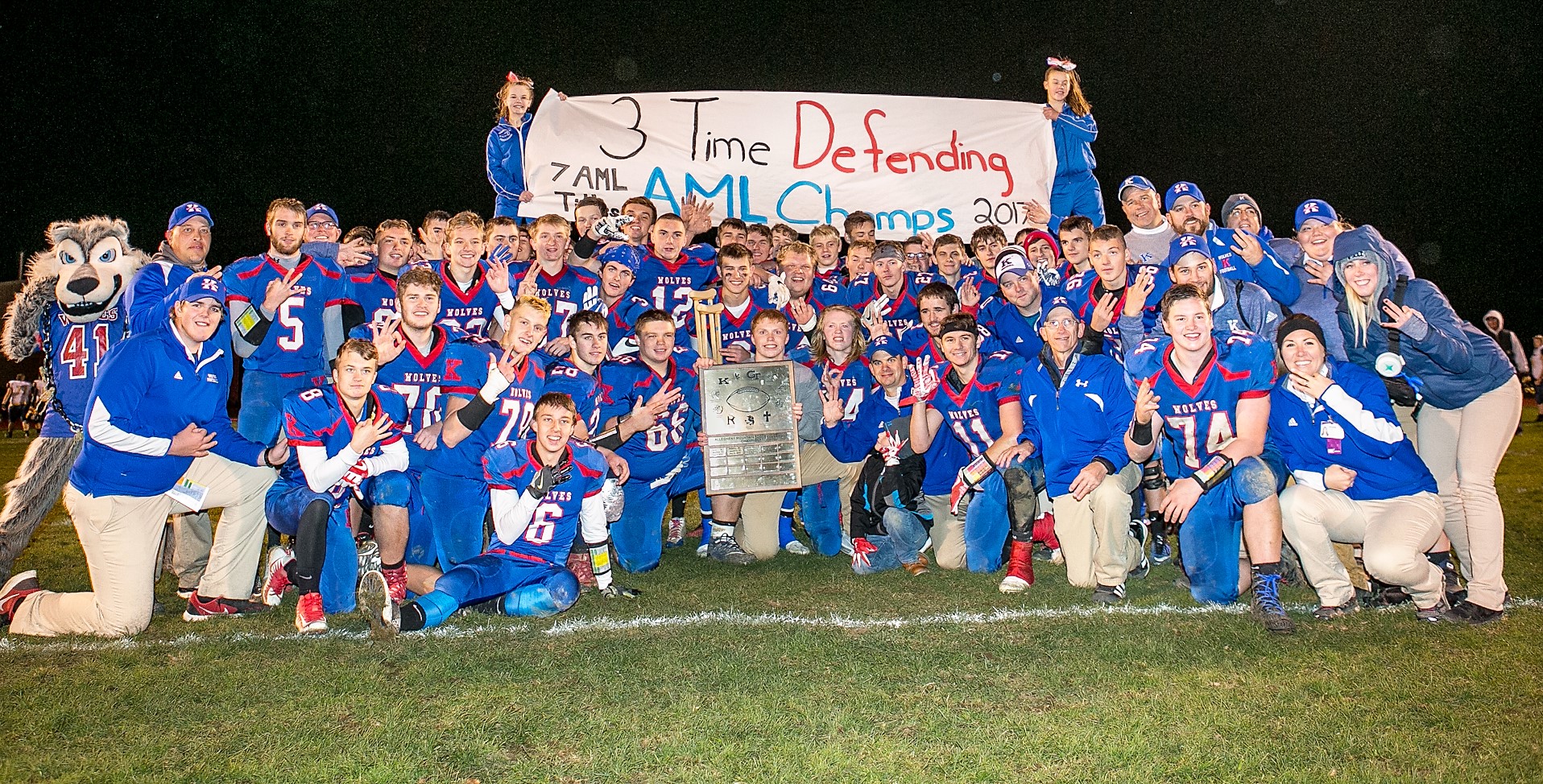 Two wild comebacks greatly altered the District 9 Class 1A playoff outlook Friday night with Clarion-Limestone overcoming a 24-point deficit with just over 18 minutes to play to beat Punxsutawney, 46-32, and Moniteau rallying from two scores down to top Redbank Valley, 35-34 in double overtime.
(Cover photo by Tessa Boschert. Check out more of Boschert's work here)
What that means is C-L is now the No. 3 seed in the upcoming D9 Class 1A tournament, Otto-Eldred is the fourth seed despite a 33-0 loss to Kane in the AML Title game and Redbank Valley drops to the fifth seed. Coudersport was locked into the sixth seed coming into the week, and Curwensville secured the No. 1 seed with a 48-19 win over Philipsburg-Osceola with Ridgway taking the No. 2 seed with a 41-14 victory over Union/A-C Valley. It is safe to assume that neither Smethport nor Keystone, who could be the seventh and eighth seeds in the tournament, are electing to go to the postseason. O-E's fourth-seed status means the Terrors will host Redbank Valley in the first-ever District 9 playoff game in Duke Center.
The Punxsutawney loss also puts into questions whether the Chucks will participate in the Class 3A field or will Karns City sit two weeks before entering the PIAA playoffs as the lone District 9 representative?
Meanwhile, Kane captured the final AML Title with a convincing win over Otto-Eldred for their record-tying seventh AML Title Game win and their record third in a row.
Here is a look at each of this week's games.
All Friday night games included except Curwensville vs. Philipsburg-Osceola which will be added when information is received.
CLARION-LIMESTONE 46, PUNXSUTAWNEY 32
PUNXSUTAWNEY, Pa. – Scoring 30 points in a span of 9:26 in the second half, Clarion-Limestone pulled off one of the greatest comebacks in District 9 history stunning Punxsutawney, 46-32.
The homestanding Chucks (4-6) led seemingly comfortably 32-8 following an 8-yard Dylan Ishman to Jake Pearce touchdown pass with 6:33 to play in the third quarter.
But starting with Kyle Kerle's 29-yard touchdown catch from Brenden Makray with 5:36 to play in the third quarter, the Lions scored four touchdowns in rapid fashion over the nine-and-a-half minute span to stunningly take a 38-32 lead with 6:10 left in the game on a 76-yard Makray to Kerle touchdown pass.
C-L (6-4) then added a 53-yard Austin Newcomb touchdown run with 4:17 left to set the final score.
Poor special teams play and five turnovers helped Punxsutawney build the big lead with Ishman throwing four touchdown passes and running for a fifth. He tossed scores of two yards to Stone Smith, 49 to Alex Gianvito, 25 to Tyler Richardson and the 8-yard pass to Pearce. He also ran 1-yard for a score.
Ishman, who left the game late in the fourth quarter with an injury, was 9 of 18 passing for 170 yards and four scores while rushing 14 times for 68 yards. Richardson had four catches for 99 yards and the score.
C-L's lone score in the opening portion of the game was a 3-yard Makray to Mitch Knepp late in the first half.
Makray finished the game 17 of 35 passing for 354 yards, four touchdowns and an interception and became the Lions all-time leading career passer now with 4,446 yards passing Hayden Johnston's previous mark of 4,401 yards.
Kerle, meanwhile, had five catches for 140 yards and the two scores and became the first C-L receiver to break 1,000 yards in a season with 1,004 setting the school-record in the process topping the previous mark of 936 yards set by Brady Himes.
Newcomb added 13 carries for 135 yards and two touchdowns while catching two passes for 28 yards.
C-L earned the No. 3 seed in the District 9 Class 1A playoffs with the win and will host Coudersport next week. It is not known whether Punxsutawney will enter the D8-9 Class 3A playoffs. If the Chucks do, they will play Karns City in the title game in two weeks.
MONITEAU 35, REDBANK VALLEY 34, 2 OVERTIMES
WEST SUNBURY, Pa. – Hunter Fitzingo's 4-yard touchdown reception from Chance Nagy and Steven Fawcett's subsequent extra point gave Moniteau a stunning 35-34 double-overtime win over visiting Redbank Valley Friday night in West Sunbury.
Watch the game-winning touchdown.
The Warriors (3-6) rallied from a 21-7 second-half deficit to force overtime.
Chance Nagy threw touchdowns passes of two yards to Wyatt Geibel and 30 yards to Nick Martino to force the extra session with the latter coming with just 2:28 to play in regulation.
Cody Wise then ran for a 15-yard touchdown to begin overtime for the Warriors giving them a 28-21 lead, their first of the game. But Brock Barett scored his third touchdown of the night two plays later from nine yards out as the Bulldogs forced the second overtime after a Clint Thurston extra point.
Thurston immediately scored on a 10-yard run in the second overtime to put the Bulldogs (5-4) up 34-28, but he missed the extra point giving the Warriors a chance.
Moniteau picked up eight yards on two carries by Wise but lost two on Martino's third-down rush setting the stage for a fantastic finish.
Nagy took the snap from the shotgun and was forced to scramble around before finding Fitzingo in the back of the end zone for winning score on fourth down.
Nagy threw for 208 yards and three touchdowns while completing 20-of-40 attempts. He also threw an interception. Fitzingo had four catches for 21 yards, Martino led the Warriors with 89 on five receptions and Geibel hauled eight passes for 62 yards.
Redbank Valley had taken a 21-7 lead thanks to a 95-yard run from quarterback Keaton Kahle four minutes into the second half after the Bulldogs defense twice stopped Moniteau. Once forcing a punt, and again from their 5-yard line after Barrett had muffed the punt at his 31-yard line.
Barrett scored the game's first touchdown on a 25-yard run with 44 seconds remaining in the first quarter.
Moniteau answered in time as Nagy and Fitzingo hooked up on a 6-yard touchdown capping an 8-play, 50-yard drive.
Redbank Valley took the lead heading into the locker room thanks to Barrett's great concentration as he stayed with a tipped ball and made a juggling catch for a 48-yard touchdown.
Thurston, one of the top running backs in District 9, was limited to just 77 yards on 23 carries in the game.
Kahle led the Bulldogs with 281 yards of total offense (5 of 12 passing, 148 yards, 1 TD, 1 Int; 3 carries, 133 yards, 1 TD), while Barrett collected 149 yards and the three scores (4 catches, 102 yards, 1 TD; 4 carries, 47 yards, 2 TDs).
Redbank Valley is at Otto-Eldred in the D9 Class 1A playoffs next week while Moniteau's season is over.
KANE 33, OTTO-ELDRED 0
KANE, Pa. – Erik DeLong ran for 167 yards and two touchdowns on 19 carries to help Kane capture its seventh AML Title with a 33-0 win over visiting Otto-Eldred in the final AML Title Game before the league merges with the KSAC to form a super league next season.
It was the seventh AML Championship for the Wolves tying them with Smethport for the most all-time since the AML started a championship game in 1986. Kane was 7-0 in AML Title games, the only team to go unbeaten in championship contests, and it is the Wolves third straight AML Title making them the first time to win at least three in a row.
Reed Williams added a touchdown pass and two rushing touchdowns for Kane going 18 of 32 passing for 235 yards with an interception. He ran three times for 19 yards.
Williams' scoring toss went to Ray Maze, who had eight catches for 119 yards, while JT Stewart added five grabs for 65 yards and Jake Alcorn two for 16 to go with 62 yards rushing helping the Wolves rack up 512 total yards of offense.
Kane (10-0) led 20-0 at halftime after a 14-point second quarter and then added two more third-quarter touchdowns.
Sawyer Drummond went 13 of 30 passing for Otto-Eldred (6-4), who lost twice to Kane this season, for 103 yards and two interceptions while rushing for 14 yards. Dylan Close had four catches for 51 yards, while Cameron Magee ran for 56 yards and had two catches for 14 yards.
Both teams are in the District 9 postseason with Kane the top seed in Class 2A hosting Brockway next week and Otto-Eldred securing the fourth seed in the Class 1A bracket after Redbank Valley's loss hosting the Redbank in the first-ever home district playoff game for Otto-Eldred.
CLEARFIELD 45, KARNS CITY 20
KARNS CITY, Pa. – After exchanging touchdowns on two different occasions with Karns City, visiting Clearfield rolled off 31 straight points starting late in the second half and continuing into the fourth quarter to beat the Gremlins, 45-20.
Leading 14-13 following a 1-yard Clay Garing touchdown for Karns City with 4:11 to play, Clearfield opened up an 11-point, 24-13, halftime lead when Isaac Rumery hit Spencer Graham with a 12-yard scoring pass with 1:29 to play in the half and then Jakob Sorbera kicked a 37-yard field goal with 16 seconds remaining before halftime.
After that, it was all Bison with Clearfield scoring the first 21 points of the second half to break the game open.
Touchdown runs of 29 yards from Brett Zattoni and three yards from Ty Bender and a 31-yard Rumery to Micah Heichel touchdown pass made it 40-13 with 7:23 to play.
It was the second time Rumery and Heichel connected with the dynamic duo going for 79 yards midway through the first quarter for the game's first score.
Dalton Beham's 10-yard run tied the game at seven at the end of the first quarter before Rumery gave Clearfield the lead for good on a 5-yard touchdown run eight seconds into the second quarter.
Sebastian Troutman finished the scoring with a 75-yard run with 2:22 left.
Rumery was 5 of 11 passing for 172 yards and three touchdowns while running seven times for eight yards and the score. Heichel had two catches, both touchdowns, for 92 yards, Bender ran 14 times for 86 yards and the score and Zattoni added 12 carries for 81 yards and the touchdown.
Troutman's long run helped him lead Karns City with six carries for 93 yards. Beham chipped in 16 carries for 68 yards.
Both teams are postseason bound with Clearfield the fourth seed in the District 5-6-9 Class 4A playoffs where it will rematch with top-seeded Bellefonte, while Karns City is the top seed in D8-9 Class 3A. The Gremlins wait to see if any other team enters the D8-9 field. If not, they will not play for three weeks until the PIAA playoffs.
BROOKVILLE 63, KEYSTONE 6
KNOX, Pa. – Jack Krug passed for 360 yards and four touchdowns as Brookville blasted Keystone, 63-6, to conclude its regular season at 9-1 for its fourth nine-win season in program history.
Krug, who completed 20 of 32 passes, connected on scoring strikes to Bryan Dworek for 14 and 28 yards and Cabe Park for 26 and 97 yards while also adding a touchdown of his own on a 1-yard run. Dworek caught 11 passes for 136 yards while both of Park's scoring grabs were his only ones of the game for 123 yards.
The Raiders led 42-0 at halftime after scoring 35 points in the second quarter, two touchdowns coming on Tucker Wolfe defensive scores on a 13-yard fumble return and a 43-yard interception return.
Tyler Ohls threw a 50-yard TD pass to Nick Keth to complete the Raiders' scoring.
Keystone's lone touchdown came on Nate Wingard's 16-yard pass to Jayden Blazosky on the opening drive of the second half with the PIAA Mercy Rule's running clock already running.
The Panthers finished the year 3-6 while the Raiders move on to the District 9 Class 2A playoffs at Clarion next week.
RIDGWAY 41, UNION/A-C VALLEY 14
RIDGWAY, Pa. – Johnny Mitchell nearly doubled his total touchdown passes for the season in one game throwing for 133 yards and four touchdowns to help Ridgway topple visiting Union/A-C Valley, 41-14.
Mitchell, who came into the game with six scoring tosses on the year, threw three to Andy Breier, who had caught two on the season before Friday night while going 5 of 9 with no interceptions. He added a carry for seven yards.
Breier's scores were from 42, 41 and 48 yards out and he had three catches for 131 yards. Josh Thorwart also caught a 41-yard pass from Mitchell in a 21-point second quarter that helped the Elkers (7-3) open up a 28-0 halftime lead.
Neil MacDonald added 116 yards rushing on 11 carries with a 43-yard touchdown run with 1:27 left in the first quarter for the game's first score, while Jake Zimmerman had a 45-yard fourth-quarter scoring run for Ridgway.
Union's scores came on a 1-yard Jeff Ginn run and a 41-yard Lucas Bowser to Jonathan Powell touchdown pass.
Bowser was 9 of 27 passing for 162 yards, a touchdown and an interception with Powell catching two passes for 69 yards and the score while running eight times for 11 yards. Nolan Cumberland had four grabs for 72 yards for the Falcon Knights (1-9).
Ridgway secured the No. 2 seed in the District 9 Class 1A playoffs. It is believed the Elkers will get a first-round bye and play the winner of the Clarion-Limestone/Coudersport quarterfinal game in the semifinals in two weeks. Union's season is over.
HOLLIDAYSBURG 34, DUBOIS 7
DUBOIS, Pa. – Matt Miller became DuBois' all-time leading passer while also becoming the first Beavers player to throw for 8,000 yards in a career, but it wasn't enough in a 34-7 loss to visiting Hollidaysburg.
Miller was 16 of 28 in the game for 144 yards and a touchdown giving him 8.048 career yards, the third quarterback in District 9 history to go over 8,000 yards joining Port Allegany's Matt Bodamer (10,948) and Brockway's Derek Buganza (9.752). He broke the previous school record of 7,940 yards held by Gabe French.
Miller also threw his 70th career touchdown pass in the game when he hit Kenny Garvey in the back of the end zone on a 14-yard strike for the Beavers (3-7). He finished his career tied for fifth in D9 history with Clarion-Limestone's Hayden Johnson in scoring passes behind Bodamer (137), Buganza (95), French (87) and Clearfield's Chad Kroell (79).
But while Miller was setting records, Hollidaysburg's Brady Walters ran for two scores and threw for a third to help the Tigers (7-3) to the victory. Walters ran for 127 yards and threw for 74 on 5 of 22 passing.
Patrick Young, who chipped in 129 yards on the ground, added a 29-yard touchdown run for Hollidaysburg, and Danny Moliver had a late 2-yard scoring run.
CLARION 44, ST. MARYS 6
ST. MARYS, Pa. – Logan Minich scored two touchdowns and Spencer Miller ran for a touchdown and threw for two scores to help Clarion secure just its seventh no-loss, no-tie regular season in school history with a 44-6 win at St. Marys.
The Bobcats finished the regular season 9-0, the third time since 2012 Clarion has had an unbeaten regular season with Clarion going 10-0 in both 2012 and 2013 in the regular season. The 'Cats also had 9-0 season in 1947, an 8-0 campaign in 1954, a 9-0 regular season in 1999 and a 9-0 regular season in 2000. The 1999 and 2000 teams were the only other teams other than 2012, 2013 to be 10-0 winning first-round playoff games in both years. The 2012 squad was 12-0 before losing to Port Allegany in the District 9 Class 1A title game and the 2013 team went 14-0 before losing to North Catholic in the PIAA 1A semifinals. One other Clarion squad finished the season with no losses with the 1986 team going 7-0-2.
Minich, who emerged as the go-to- back following a midseason injury to Colton Rapp, scored on an 11-yard pass from Miller and and a 66-yard run and ran four times for 82 yards and also caught two passes for 45 yards, as Rapp returned to the field for the first time since an early-game injury against Moniteau Sept. 29 to rush for 99 yards on eight totes.
Miller, meanwhile, scored on a 5-yard run and threw an 11-yard touchdown pass to Thomas Hearst while rushing three times for 11 yards and going 9 of 11 passing for 135 yards to help Clarion outgain St. Marys 448 to 166 including 313 to 137 on the ground.
Camden Boggess (3-yard run) and Brendan Zerfoss (23-yard run) added rushing touchdowns for the Bobcats. Archer Mills also kicked a 36-yard field goal.
Tim Beimel, who ran for 100 yards on 11 carries, had a 14-yard touchdown for St. Marys (0-10), who finished a season winless for the first time since 1994 and without a win or a tie for the first time since 1975.
Clarion will be the No. 2 seed in the District 9 Class 2A playoffs and will host Brookville next week.
CURWENSVILLE 48, PHILIPSBURG-OSCEOLA 19
CURWENSVILLE, Pa. – Nick Stewart exploded for 328 yards and three touchdowns on 33 carries to lead Curwensville to a 48-19 win over visiting Philipsburg-Osceola.
Bryce Timko threw a pair of touchdown passes in the win – one to Noah Von Gunden and the other to Josh Terry – and was 9 of 13 passing for 156 yards. He also added a short rushing touchdown.
Terry had five catches for 113 yards.