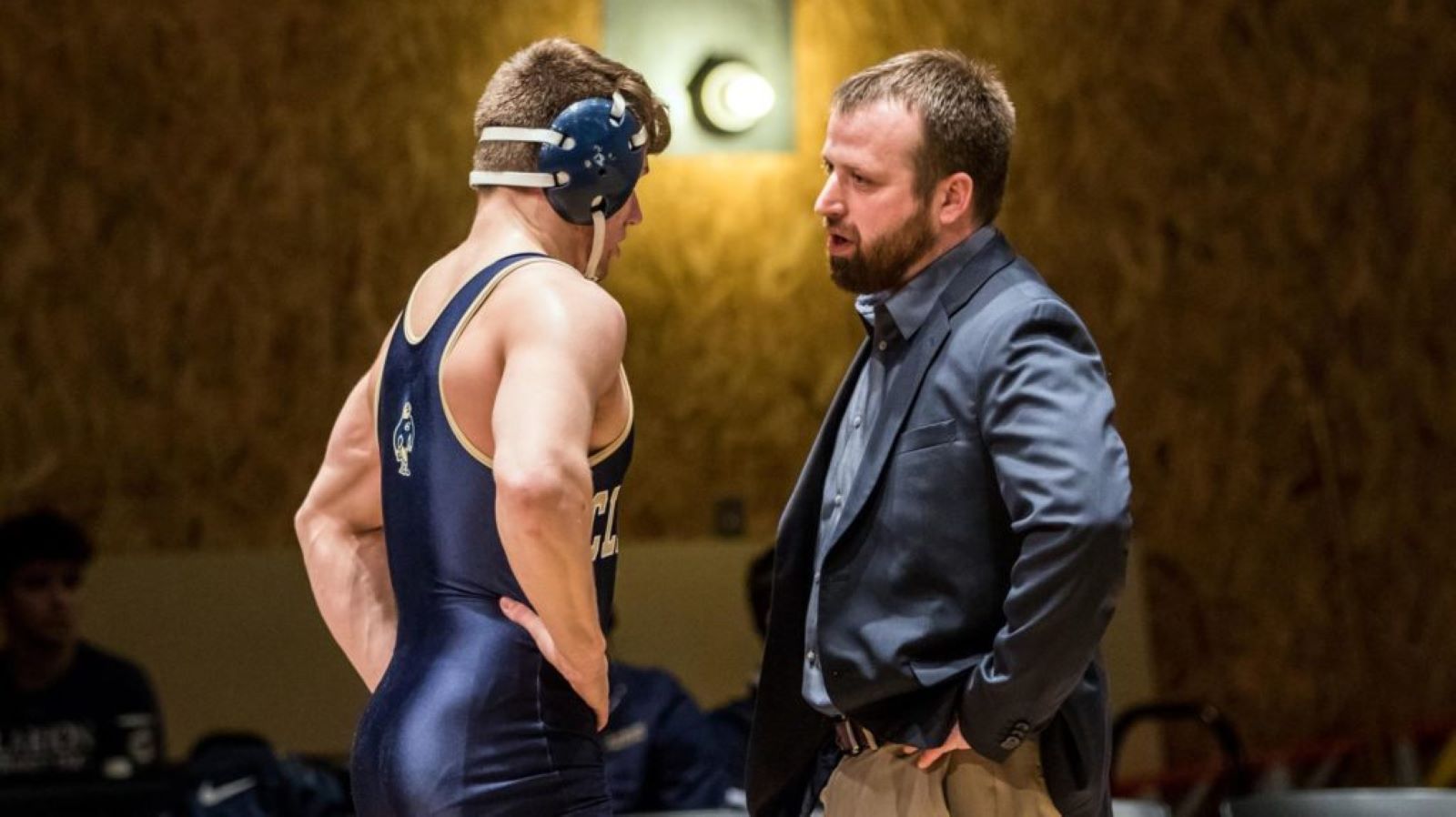 CLARION, Pa. – When Keith Ferraro first took over the Clarion University wrestling program in December 2014, the Golden Eagles were on the verge of having the program be ineligible for postseason competition because of faltering academics.
(Photo courtesy of Clarion University Athletics)
But in less than five years, Ferraro has the Golden Eagles in the top 10 percent of their sport in the most recent Academic Progress Rate (APR) results.
The APR is an annual scorecard of academic achievement for all Division I sports teams, with this report based on scores from the 2014-15, 2015-16, 2016-17 and 2017-18 academic years. APRs for programs in the top 10 percent of their respective sports ranged from 987 to a perfect 1000. The Golden Eagles were the only of the former Eastern Wrestling League (EWL) programs to be recognized this year. In total nine programs were honored this year: Bucknell, Cal Poly, Clarion, Columbia, Lehigh, Penn State, Stanford, Air Force and Wisconsin.
"Being recognized for academic achievement is such a big compliment to our team's culture," Clarion head wrestling coach Keith Ferraro told EYT Media. "It's a tradition we hope to continue."
APR scores for all Division I teams will be released May 8. The APR measures eligibility, graduation and retention each semester or academic term and provides a clear picture of the ongoing academic performance for each team in every sport. All teams must meet an academic threshold of 930 to qualify for the postseason and can face penalties for continued low academic performance.
"During that time, I knew that postseason ineligible would have been devastating to the program," Ferraro said. "Avoiding that was a big source of stress in my first season here.
"Our APR situation helped us to define our recruiting philosophy. We focused on recruits who were reliable, academic leaders. We had to. In turn, those were the guys who started to turn this program around."
Ferraro gave Wrestling Faculty Mentor Kenn Staub a ton of the credit.
"Kenn Staub has been a critical piece of the puzzle," Ferraro said. "He's helped the team to recreate our academic culture and that has been invaluable."
Over the last five years, academics has become a cornerstone of the Golden Eagle wrestling program. The National Wrestling Coaches Association (NWCA) recently announced that Greg Bulsak and Evan Delong were both named NWCA Scholar All-Americans for 2018-19, the third such honor for Delong and second for Bulsak. Clarion also boasted the greatest number of EWL Scholar-Athletes with 17 wrestlers cracking the list in 2018-19.