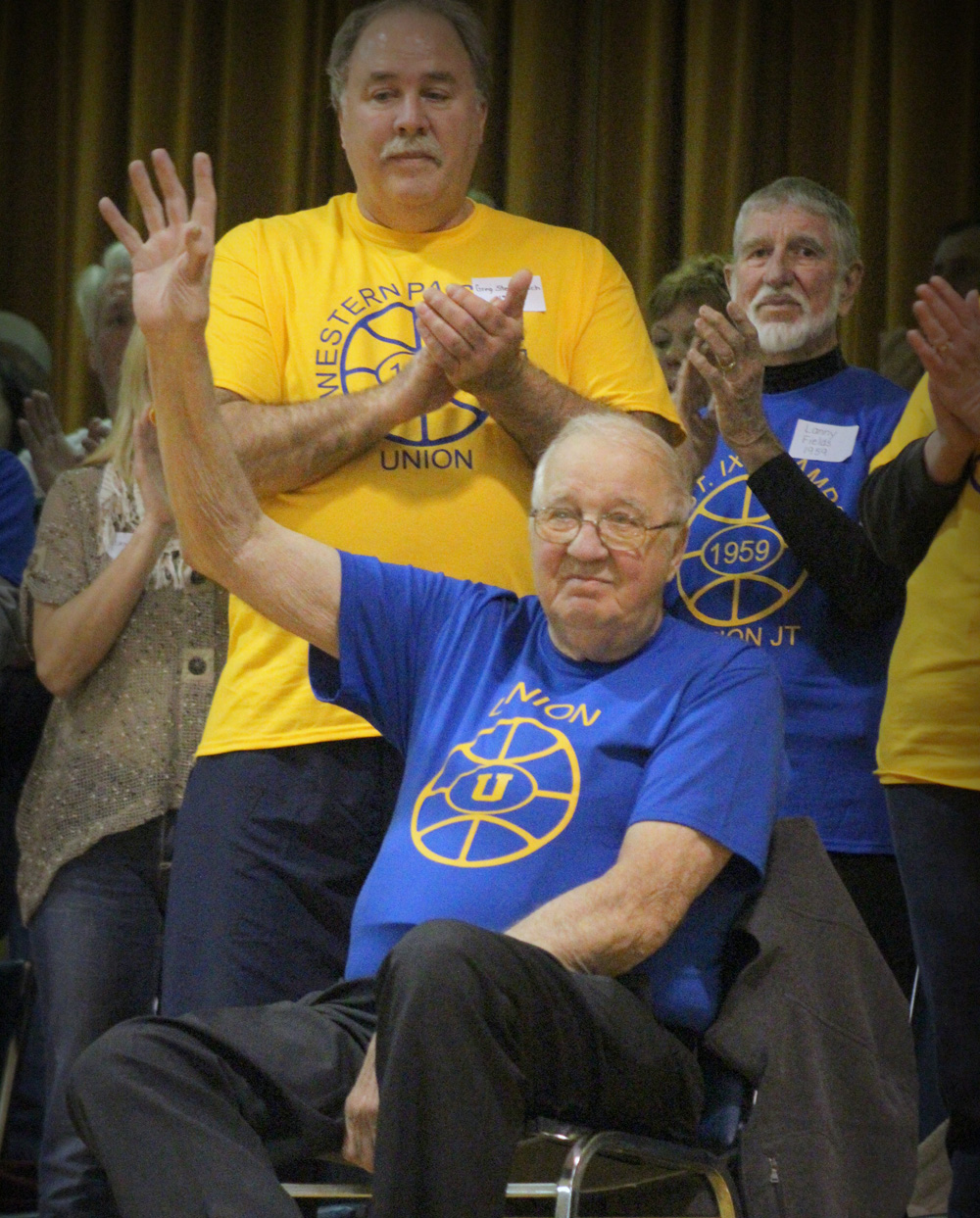 Leader-Vindicator photo taken by Shelly Atzeni at Don Stemmerich Night Dec. 12.
Note: This story appears in the Dec. 18 edition of the Leader-Vindicator (New Bethlehem)
By RICH RHOADES
L-V Sports Editor
RIMERSBURG — Don Stemmerich was eight years old when Dr. James Naismith died in November of 1939.
The inventor of basketball passed away while the man who built a basketball power at Union High School was still running around Wilkinsburg playing every sport he could find.
Some 75 years later, the now 83-year-old Stemmerich was honored for his 38-year coaching career that came to an end back in 1993. Last Friday night in front a packed house at the aptly named "Stemmerich Gymnasium" at Union, Stemmerich's career was celebrated by many of his former players, including those who were on his first district championship team of 1959, last district title squad of 1981 and the two state runner-up teams from 1967 and 1974.
While his career record of 638-288 with 12 league championships, nine district titles, three runner-up finishes and 14 trips to the state playoffs is more than enough to honor, Stemmerich is beloved for much more than wins or titles. His lengthy resume includes politics and he was mayor of Rimersburg for several years.
Asked why an annual trip south to avoid the winter weather doesn't happen, Stemmerich said he was too busy. He's very active with the American Legion and participates in military funerals in the Honor Guard. Stemmerich is active in the Rimersburg Methodist Church and when the weather allows, he's still a very active golfer, playing at least nine holes a day every day but Sunday.
"I hope I can get a couple of more years out of that bag," Stemmerich said, pointing to one of the gifts he received last Friday. It's a Pittsburgh Pirates golf bag.
Here's "Stemm," mostly in his own words:
Early basketball memories
"I loved basketball. I played in those churches (around Wilkinsburg) and they all had gyms and we'd go there and play basketball. But I wasn't very tall. That was the problem. Wilkinsburg was a big school and we graduated 500 kids. I was only probably 6-foot-1 my sophomore year and skinny as a rail and my family weren't sports enthusiasts and my three brothers didn't even think about sports. But I loved it."
Clarion State Teachers College
Stemmerich eventually landed at Clarion State Teachers College. He never played one minute of high school basketball. Then in an intramural game at college one day, Athletic Director Waldo S. Tippin noticed a then 6-foot-7 Stemmerich running the court.
"I was rebounding and getting above everybody and that's when he saw me and even though he wasn't the basketball coach, he was the football coach, he said why didn't I go out for the basketball team next season," Stemmerich said. "How many times did you hear about a high school kid who never played high school basketball before make a college team?"
The rest, you could say, was history. Stemmerich scored over 1,000 points and now ranks 16th on the team's all-time scoring list.
"I had a good coach and that was the good thing. Ben Cribbs. He was my coach. My first year, he would tell the team, 'Practice at 3:30 p.m. Stemm, you come at 3' and he would get me a half-hour before the team got there. He'd throw the ball up at the rim and I'd have to rebound it and shoot it back up. He worked with me every day. He must have seen something in me he liked, obviously. And I loved it."
While pouring in his points, Stemmerich met his wife Jackie and the two were married in 1953, after he graduated from college and headed to the military to serve two years in the Army.
Military Tour
"I wanted to be in professional spots and I had a chance because I was drafted by the Baltimore Bullets of the NBA in 1953 (the league was four years old at that point). I didn't know what to do. And I also had a tryout with the Yankees that summer. I did that for four years at Clarion too.
Baseball or basketball? "I thought I had a better chance at baseball because I wasn't big enough to be a center in the NBA," he said. "Even back then, 6-7 wasn't big enough."
But Uncle Sam changed any professional sports dreams.
"That all went by the boards because I had a deferment from the Army waiting for me and we had to go to the service after graduating from college. I didn't mind it, but I had so many good opportunities and things to do with my life, but you had to go. That was all there was to it."
At Pittsburgh, some creative work on the scale kept him in the military.
"I went down and they put me on the scale," he said. "There's a 6-6 limit in the Army. I got on the scale; the guy looked at it, then looked at me and said to take off my shoes. He was trying to get me in. He slammed the measuring stick on my head and said, 'Get in there.'
"When I got out two years later, I had another physical and the guy then asked what I was doing there. I shouldn't have been in the Army. I was too tall."
Stemmerich, obviously the tallest guy in the Army, used that to his advantage to get on the basketball team.
"We had 700 guys try out for the basketball team. That's a lot of guys. They gave you shoes because we didn't have our own, and then you had to give them to the guy behind you so he could try out too," he said.
"They kept three guys and I happened to make the team and the reason I made it was that I was the biggest guy on the floor. Nobody was taller than 6-7. I was an illegal Army guy. I knew I had to do something, so I went in and dunked the ball two-handed and the guy told me to go over and play with those guys over there. So I made the team."
Union School District, here he comes
Stemmerich was discharged from the Army in the summer of 1955 and Jackie was pregnant with their daughter Heidi.
"I had a decision to make and a family on the way. … I stopped at Clarion and found that there was a teaching position open and an assistant basketball coach job at Union Joint. I stopped there. My wife lived in Aliquippa and it was on the way, so I stopped at the administration office. They just hired a coach a week ago, but had assistant basketball coaching job and math teacher position open. I didn't want to start at a small school as an assistant coach. I thought I knew enough about basketball after playing in Army for two years and college for four years, so I told them I wasn't interested in starting like that.
"The superintendent said the other coach hadn't signed the contract yet. I drove to Aliquippa and got a phone call that night from him and he asked me if I wanted the head coach job. That's how it all started."
Union won Clarion County League titles in each of the first four seasons under Stemmerich, culminating with a District 9 Class B title in 1959.
Coaching philosophy
"Coach Cribbs believed in the old theory 'I don't care how many points the other team scores, just so you score one more.' We ran. We had teams that averaged 70-80 points per game, now that was in smaller gyms, but even then that was a lot of points," Stemmerich said.
"When I started coaching, I was strictly a man-to-man coach, but my assistant was from East Brady, Frank Guesman. He was a zone man. I wasn't used to these small gyms, so I decided to try the zones. I tried them, but I was never satisfied with just one of them. I told people we had 88 defenses one year. That sounds ridiculous, but I mixed them up full-court, three-quarters, half-court. Other games, we'd let them bring the ball up the court and bother them.
"We pressed full-court my first year as head coach and we were one of the few teams that did that. Teams didn't like that, but you had to have some good fast kids who could do that. I kept with the zone for years and I played some man, but we made pretty good success out of it."
Rich Vidunas
Two years after Stemmerich arrived at Union, the school was looking for a football coach. A former college classmate of his, Rich Vidunas, was coaching football and basketball at Franklin.
"He was a good friend of mine in college and I went up and asked him if he was interested in the football job. He said "As a matter of fact, the guy I replaced (Jimmy McCullough) had to go to the Army but he's coming back.' And he got his job back in those days. 'So I'm out of work, but I'd be interested.' We got him down here and that's how he got started."
Vidunas also put a hall of fame career together at Union, coaching the Knights to a 181-73 record over 29 seasons.
"Rich wasn't a good football coach, he was a great one. People have heard me say this but there's a difference. He was a great one. He had the knack of inspiring kids. They went through the wall for Rich and they would've gone through the wall for me. And we had many of the same kids.
"He never in all of the years he coached told a kid to not play basketball. And I never told a kid not to play football. I always thought the more competition they had the better athlete they'd be. They don't do that today. It's all one or two sports.
"Back then, Rich was in charge of the playground in Rimersburg. The head football coach got the playground in Rimersburg and the basketball coach got the playground in Sligo. We'd play ball and everything all day long."
Vidunas died in 2003, still living not far from his old friend Stemmerich.
"One of the saddest days of my life was when they told me Rich died," he said. "That broke my heart."
1967 state finalists
Stemmerich's Knights won the Clarion County League and went on to capture the Class C (smallest division) title with an 85-55 win over Sheffield. They beat District 10 champion Wattsburg, 73-64, before earning a finals trip with a 51-40 win over District 6's Williamsburg.
"That team was an awfully good team. They had five or kids who really loved basketball and had to throw them out of the gym after practice because they'd want to play more," Stemmerich said. "They were a good group. We were a small Class B school and that year, they changed the enrollment we became a good-size Class C school. That was good because we were playing teams more our size."
In the finals, the Knights faced Darby Township from suburban Philadelphia. The game was played at the Farm Show Arena in Harrisburg.
"We stopped at Penn State on the way down and (former Union standout quarterback) Tom Sherman was going to Penn State at the time — he was their quarterback at that time — and I asked him if he could round up some guys for us to practice against," Stemmerich said. "He got them and we played. Darby had one little point guard and the rest of the players could dunk. We gave them a decent game, but they were just too powerful for us."
Darby won, 51-44.
That Union team finished 21-5. Larry McLaughlin and Jim Clouse each averaged over 18 points per game. Tim Sedgwick went on to score over 900 career points and Jim Sherman's 142 assists ranked second on the team's single-season record list at that point.
1974 state finalists
The Knights finished off a brilliant run by the Clarion County League by becoming the fifth squad from the league to reach the finals in eight years. It was the third straight year that the CCL put a different team in the finals, both in Class C — Karns City in 1972 and A-C Valley in 1973.
"We started those kids in fourth grade and they had a good grade-school coach in Denny McLaughlin," Stemmerich said. "He loved those kids and they loved him. He'd scream and yell at them and make them run more if they weren't doing something right, but those kids didn't quit. They loved to play for him. When they came up, they were ready. They were big and tall."
The Knights lost just one game during the regular season, edged Brockway 49-48 in their playoff opener and then blasted Sheffield by 20 points to win the district title. Now in an expanded state bracket with more teams than just district champions, the Knights beat German Township, Laurel Valley and Union City to get to the Farm Show Arena once again this time against Holy Ghost Prep.
"I always said, 'How can you beat the Holy Ghost?'" Stemmerich chuckled. "That was pretty tough to do. We saw them play in the semifinals and I knew they'd be awfully good. We gave them a decent game."
Union lost by 15, 63-48, wrapping up a 26-2 season.
The Knights that year were led by 1,000-point scorers Gary and Murray Henry, 900-point scorer Dana Priester and Stemmerich's son Greg.
"Those kids stuck together. They'd go to Sligo every night. They were good kids and loved basketball," Stemmerich said.
And that same team gave him one of those losses he never forgot, one that denied the Knights of a perfect regular season in 1974.
"I didn't mind losing if we lost to a better team," he said. "As long as they gave 100 percent and did their best, what are you going to do? But I hated losing to a team that we were better than.
"The only game I could remember that hurt bad was the year we lost to Karns City during the regular season in 1974. We won the league, but there was no reason for Karns City to beat us. I found out years later (Stemmerich repeated 'years later' again), those kids were screwing around in the locker room before the ball game. One kid was in the shower. They were having a good time screwing around. I found out years later, but it still made me mad."
638 wins means …
"It means I had a lot of good kids. That's the main thing," Stemmerich said. "I said Friday night that I'm not stupid to think that I won all of those games. I didn't do it. Those kids did it. I probably won a few coaching and probably lost a few coaching. Those kids all loved the game of basketball.
"A coach asked me how I got my kids to hustle for me and I said I didn't say a word to them. That's tradition. If you go out on the basketball court, you're going to hustle. If you have a team that hustles their butt off and plays hard and you lose the game, so be it. But you're going to win a lot of ballgames with a good hustling team, a lot of ballgames.
"The key thing is fundamentals. This might sound stupid, but I don't think Xs and Os win ballgames. I think dribbling, shooting, passing, jumping, those things win games. If kids can't do those fundamentals, they're not going to win too many basketball games. We spent the first half of every practice on fundamentals, going up and down the court dribbling and passing, three-lane drills and that's what you have to do. If they can run, shoot, jump, play defense and rebound, you're going win games."
Stemm's legacy
"Some of those kids had tears in their eyes when they came up to give me a hug or shake my hand, he said. "I think most of them really respected me and I respected them.
"If you read that book (game night program), you'll see what a lot of guys turned out to be. They're doctors or lawyers or pharmacists, teachers and coaches. I'm sure every school has successful kids … but that's what I like about athletics. A guy told me once he didn't believe in athletics and it's a waste of time and money. I don't agree with that at all. These kids get a little more responsibility. A lot of those kids, not all of them, turned out good. A lot turned out to be good people in good professions."
Was that part of your legacy? "Absolutely," Stemmerich said. "Someone came up to me and said that they make more money than me and I didn't know if he thought I'd be mad, but I was happy for him. That didn't bother me. I was glad he was successful. I'm glad when I hear about these kids. Conversely, it breaks my heart when they don't do so good."
Still Rimersburg-based
Stemmerich still resides on Acme Street, not far from the school and in the same place where he and his Jackie, his wife of 55 years, raised their family. He had plenty of praises for her and how she backed him up, but also stayed out of the way as well.
"Going to the games was something she didn't do," he said. "When I came home from a ball game, she only wanted to know one thing — did we win or lose. She didn't want to hear all of the sobbing or crying or bragging. When I was playing basketball in Indiana, she'd have supper ready for me when I got home with my bag packed and away I'd go. I had a great wife. You had to have a great wife."
Aware of God's working in his life, Stemmerich finished up recalling a story from his young days growing up in the Hill District in Pittsburgh, prior to the family moving to Wilkinsburg.
"We had to play ball on the streets. We were playing one day. I was four or five years old and car came around the bend and hit him and killed my brother Victor, who was six or seven at the time," Stemmerich said. "That turned out to be God working his hand in that because my dad came home and said 'We're getting out of here. This is no place to raise boys.' We moved to Wilkinsburg. My house was right beside the ball fields and playground. I thought I died and went to heaven. My mother always knew where to find me. I was always on the ballfield playing."
Stemmerich chuckled when told that Dr. Naismith was still alive when he was in elementary school.
Always a student of the game, he asked, "I wonder how long it took him to figure out that he should cut the end out of the basket?"