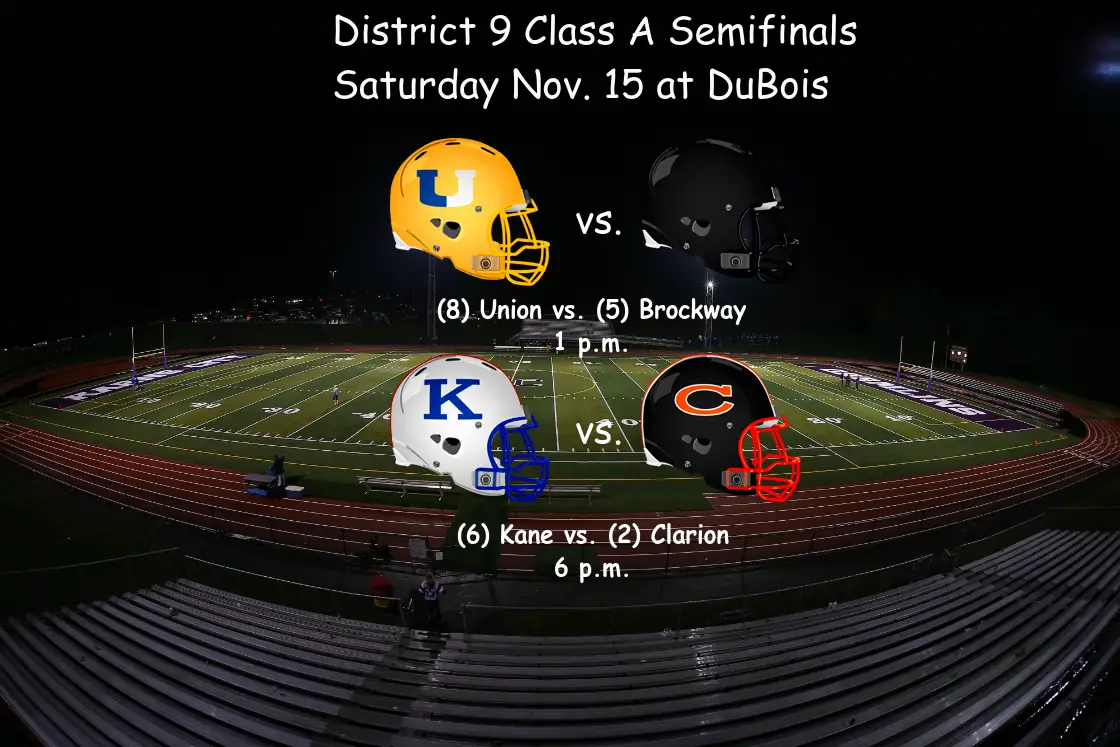 By Chris Rossetti
DuBOIS – For the first time since District 9 went to an eight-team playoff field in 2004, three team seeded below the top four have advanced to the District 9 Class A semifinals.
The lone survivor out of the top four seeds is second-seeded and defending champion Clarion (9-1). The Bobcats will face sixth-seeded Kane (7-3) at 6 p.m. Saturday at DuBois' Mansell Stadium in the one semifinal game, while the other semifinal game will feature fifth-seeded Brockway (6-5) taking on eighth-seeded Union (6-5) with the Golden Knights being the first eighth seed to advance to the District 9 semifinals. That game will be at 1 p.m. Saturday also at DuBois' Mansell Stadium.
Here's a closer look at both matchups.
(5) Brockway vs. (8) Union
When: 1 p.m. Saturday, Nov. 15
Where: DuBois' Mansell Stadium
How they got here: Brockway beat No. 4 Redbank Valley 28-14 • Union beat No. 1 Ridgway 18-14 marking the second win this season for the Knights at Ridgway
Brockway players to watch: Anthony Benson (809 yards rushing, 13 TDs; 36 catches, 418 yards, 4 TDs), Anthony Isabella (35 catches, 407 yards, 4 TDs; 189 yards rushing, 2 TDs), Mark Latuska (463 yards rushing, 4 TDs), Hunter Miller (42 of 55 passing, 421 yards, 1 TD, 4 Ints)
Union players to watch: Lane Cicciarelli (116 of 194 passing, 1,931 yards, 18 TDs, 9 Ints; 7.8 tackles per game), Dugan Gallagher (798 yards, 10 TDs), Cole Morris (52 catches, 875 yards, 6 TDs; 8.2 tackles per game, 3 interceptions), Chet Carmichaels (36 catches, 644 yards, 7 TDs; 5 interceptions on defense, 3 interceptions); Tyler Wiser (21 catches, 363 yards, 4 TDs; 13.3 tackles per game, 6.5 sacks)
Game Notes: This is the first Class A semifinals matchup featuring two lower seeds since No. 7 Clarion beat No. 6 Elk County Catholic in overtime in 2008 … Brockway's win over Redbank Valley in the opening round snapped a two-game losing streak for the Rovers who entered the playoffs having lost 5 of 6 after a 4-0 start … Union, on the other hand, entered the postseason on a roll. The Golden Knights playoff hopes looked dead in the water following a 47-12 loss to Clarion Oct. 11 that dropped them to 2-5 on the season with four straight losses. But Union got to the playoffs thanks to three straight wins to close out the regular season starting with a 32-7 win at Ridgway and then made it four in a row when it beat the Elkers again in the opening round. That game came down to the wire with Union's defense stopping Ridgway's Ben MacDonald short of the sticks on a 4th-and-2 play inside the 10-yard line in the game's final minute … Brockway is no stranger to the Class A semifinals. It marks the fourth time in the four years the Rovers have been in Class A they have made the semifinals, yet the Rovers haven't made it to a Class A championship game yet losing to Clarion in both 2013 and 2012 and to Port Allegany in 2011 … This is uncharted water for Union, which won its first District 9 playoff game in four tries when it beat Ridgway … Brockway's offense has evolved as the year has gone on to the point where the Rovers ran most of their plays out of the Wildcat formation against Redbank Valley with Isabella taking the snaps … Anthony Benson is a multidimensional threat for Brockway … The real story, though, for the Rovers has been on the defensive side of the ball where the Rovers are yielding just 15.9 points per game this season after allowing 33.7 per contest last year and 30.2 per game over the past two seasons. In fact, this is the first time Brockway has yielded fewer than 20 points per game since giving up 16.5 per contest in 2005 and you have to go back to 2004, when Ray Reckner was still the head coach, to find a Rover team that has given up fewer points per game than this season (12.6) … That defense will be challenged by a Union offense that produces 27.5 points per game. Arguably, Union may have the best skill-set of players in District 9 behind DuBois with quarterback Lane Cicciarelli ranking third in D9 in passing, wide receiver Cole Morris ranking second in receiving with teammate Chet Carmichaels right behind him at eighth. Throw in a healthy Dugan Gallagher, who missed some games with a shoulder injury but has still produced 99.8 yards per game when healthy, and receiver Tyler Wiser and the Golden Knights are sure to keep Brockway head coach Frank Zocco up this week trying to figure out a way to slow the attack.
(2) Clarion vs. (6) Kane
When: 6 p.m. Saturday, Nov. 15
Where: DuBois' Mansell Stadium
How they got here: Clarion beat No. 7 Curwensville 34-13 • Kane beat No. 3 Ek County Catholic 39-0 avenging a 14-13 loss to the Crusaders during the regular season
Clarion players to watch: Ian Corbett (1,914 yards rushing, 31 TDs; 13 catches, 296 yards, 5 TDs, 46 tackles, 5.5 sacks, 3 interceptions), Destin Strausser (303 yards rushing, 5 TDs; 9.0 tackles per game; ), Taylor Smith (25 of 58 passing, 573 yards, 12 TDs, 6 Ints), Colton Rapp (616 yards rushing, 8 TDs; 8.5 tackles per game); Jacob Troutman (8.9 tackles per game, 15 sacks; 402 yards rushing, 2 TDs)
Kane players to watch: John English (1,201 yards rushing, 19 TDs), Shane Rolick (184 yards rushing, 1 TD; 29 catches, 286 yards, 3 Tds; 3 interceptions), James Lingenfelter (Leads D9 in tackles with 15.0 per game; 223 yards rushing, 1 TD), Tyler Rolick (357 yards, 4 TDs; 17 catches, 334 yards, 2 TDs), Jack Kocjancic (63 of 124 passing, 839 yards, 6 TDs, 6 Ints)
Game Notes: Clarion is back in a familiar place, as the Bobcats have reached the semifinals for the fourth straight season and for the sixth time in seven years while head coach Larry Wiser makes his sixth straight appearance in the semifinals (he took 2010 off when Clarion was eliminated in the first round). In each of the five previous trips to the semifinals, the Bobcats have advanced to the District 9 title game winning in 2009 and 2013 … Kane isn't a stranger to big games either. The Wolves were the Class AA runner-up to Karns City in each of the last two seasons and are back in the Class A field for the first time since 2010 and the Class A semifinals for the first time since winning the title in 2007 … The big question looming over this game is the health of Clarion star running back Ian Corbett. Corbett missed the entire second half of the Bobcats win over Curwensville Friday with an upper-body injury. His loss would surely hurt Clarion, as he has accounted for 47.6 percent of Clarion's offense and 44.4 percent of the Bobcats points this year while also being a key player on defense. If he can't go, expect freshman Colton Rapp to move into a key role in the backfield … Kane was glad to have the services of linebacker James Lingenfelter last week. Lingenfelter was suspended from the Wolves Week 10 game at Clarion-Limestone for a violation of team/school policy but returned against ECC and had an interception return for a touchdown … The game features one of District 9's top offenses in Clarion (48.7 points per game) against the District's top scoring defense in Kane (8.4 points per game) … While Kane has been strong on defense all season never giving up more than 21 points in a game while recording a pair of shutouts and holding eight opponents to single digits, the Wolves struggled to score, especially in the middle of the season when they had 45 total points in Weeks 5 through 8 combined. But following a Week 9 bye, Kane has produced 87 points in the past two weeks including three defensive scores … Because of the defense, even when Kane wasn't scoring the Wolves were in every game with the four contests in AML South play being decided by a grand total of 5 points, three of them one-point losses with the other being a two-point win over Brockway … The defense will be challenged by a Clarion offense that has scored 30 or more in 10 of 11 games this season and 40 or more in nine of those contests … The Bobcats' defense, for the most part, has been pretty strong as well outside a 46-points-allowed performance against Redbank Valley in Week 9. In the other 10 games, Clarion has surrendered just 62 points while recording six shutouts … Clarion hasn't lost to a District 9 Class A team since falling in the Class A title game at the end of the 2012 season, winning 15 straight, and the Bobcats are 28-2 vs. D9 Class A opponents since the start of the 2011 season with both losses coming to Port Allegany in D9 title games (2011 and 2012).