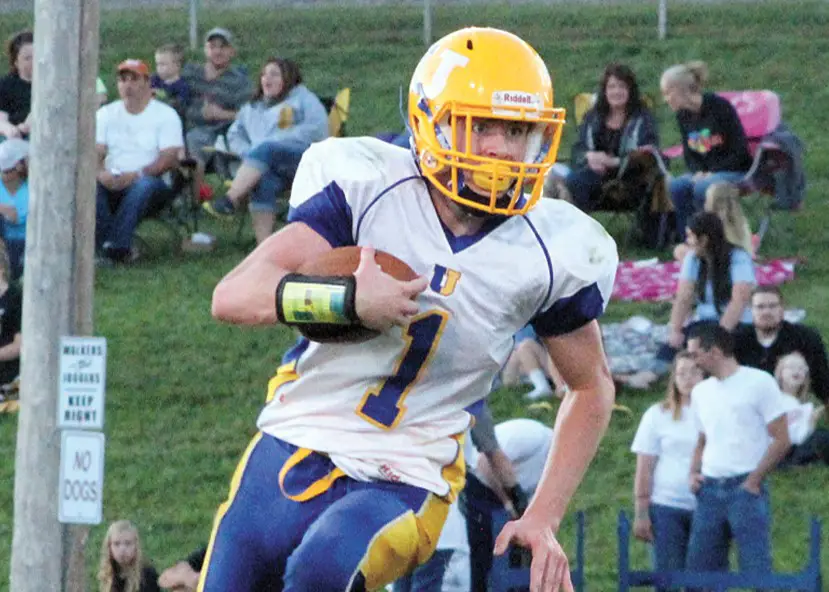 CLARION, Pa. – Dugan Gallagher of Union saved his best till last.
In his final high-school football game, Gallagher ran for a career-best 235 yards on 27 carries while scoring on two long runs while adding a third touchdown on an interception return. In all, he picked off a pair of passes on defense, caused a fumble and made eight tackles in Union's 34-12 win at Moniteau.
His all-around performance is the reason he is the D9Sports.com District 9 Football Player of the Week for Week 10 of the 2015 season.
Joining Gallagher in being honored on the Week 10 Honor Roll are 15 additional players.
This is the final Player of the Week and Honor Roll of the 2015 season.
D9SPORTS.COM PLAYER OF THE WEEK
Dugan Gallagher – Union: 27 carries, 235 yards (2nd most yards in a game in Union history), 2 touchdowns; Returned an interception for a touchdown; Caused a fumble; Made 8 tackles; Had 2 interceptions – Union 34, Moniteau 12
D9SPORTS.COM HONOR ROLL  
John Eakin – Bradford: 21 carries, 274 yards, 1 touchdown – Warren 55, Bradford 28
Mark Latuska – Brockway: 22 carries, 157 yards, 4 touchdowns – Brockway 25, Mercer 7
Seth Caldwell – Clearfield: 14 carries, 183 yards, 2 touchdowns; 2 catches, 20 yards, 1 touchdown – Clearfield 56, Punxsutawney 8 (D9 AAA Title Game)
Quamone Newkirk – Curwensville: 4 catches, 105 yards, 1 touchdown – Curwensville 45, Blairsville 14
Nick Stewart – Curwensville: 13 carries, 127 yards, 3 touchdowns; Returned a kickoff for a touchdown – Curwensville 45, Blairsville 14
Jakob Terry – Curwensville: 9 of 14, 174 yards, 1 touchdown, 1 interception, 2 carries, 7 yards, 1 touchdown – Curwensville 45, Blairsville 14
Dante Dawson – DuBois: 9 catches, 189 yards, 3 touchdowns; 10 tackles – Karns City 69, DuBois 28
Matt Miller – DuBois: 30-for-39, 438 yards, 4 touchdowns, 4 interceptions – Karns City 69, DuBois 28
Shane Rolick – Kane: 19 carries, 142 yards, 2 touchdowns; 1-for-7 passing, 7 yards; Intercepted a pass – Kane 21, Port Allegany 0 (AML Title Game)
Collin Dunmyre – Karns City: 9 carries, 129 yards, 2 touchdowns; Returned a kickoff for a touchdown; 2 catches, 75 yards – Karns City 69, DuBois 28
Chandler Turner – Karns City: 11 carries, 137 yards, 4 touchdowns – Karns City 69, DuBois 28
Derek Boben – Moniteau: 11-for-21 passing, 167 yards, 1 touchdown, 3 interceptions; 16 carries, 68 yards, 1 touchdown; Made 14 tackles – Union 34, Moniteau 12
Heath Stewart – Otto-Eldred: 12 carries, 137 yards, 4 touchdowns – Otto-Eldred 41, Cowanesque Valley 13
Christian Steffan – St. Marys: 26 carries, 132 yards, 2 touchdowns – St. Marys 21, Ridgway 7
Myquandre Stevenson – Sheffield: 18 carries, 84 yards, 1 touchdown; 2 catches, 10 yards, 1 touchdown – Eisenhower 66, Sheffield 20
2015 PLAYERS OF THE WEEK
Week One: Zach Sloan, DuBois and Jake Weaver, Keystone
Week Two: Matt Miller, DuBois
Week Three: Anthony Isabella, Brockway
Week Four: Anthony Louder, Clarion-Limestone and Nick Stewart, Curwensville
Week Five: Adam Shunk, Smethport
Week Six: Noah Werner, Elk County Catholic
Week Seven: Maverick Kelsea, Karns City
Week Eight: Dylan Baumgarner, Port Allegany
Week Nine: Wyatt Hetrick, Redbank Valley
Week Ten: Dugan Gallagher, Union