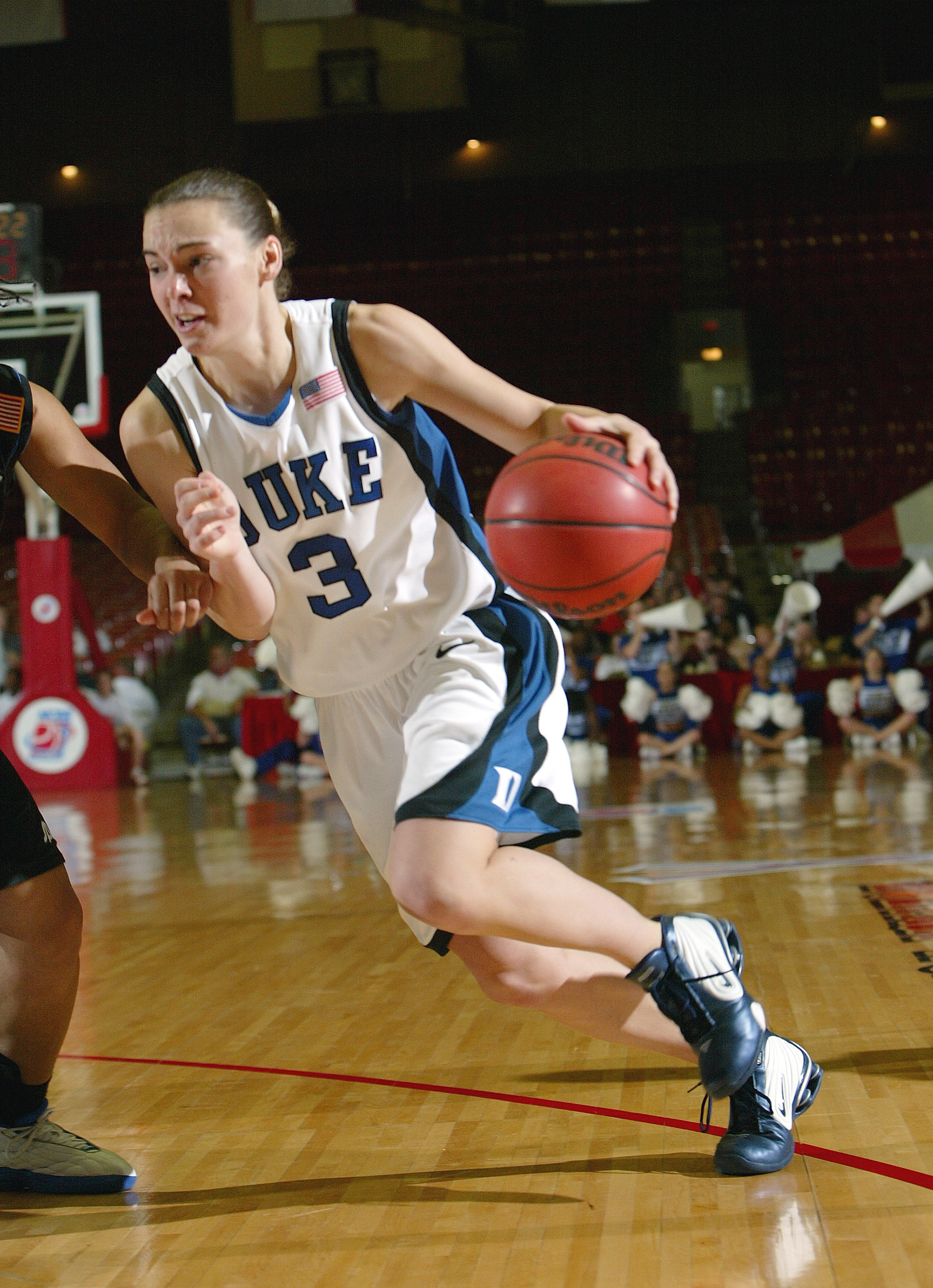 SUMMERVILLE, S.C. (EYT/D9) – It is not often an athlete from District 9 gets a shot to play in a lab NCAA Power Five conference, but then again, not many athletes from the area are like 1999 DuBois Central Catholic (then DuBois Central Christian) graduate Sheana Mosch.
(Photos Courtesy of Duke University Photography and Duke University Athletics)
Her 3,066 career points is still atop the District 9 leaderboard for both girls and boys basketball and may not be eclipsed for a long time, if at all. Spending a short period of her childhood in Johnstown, Pennsylvania, she moved to Clearfield early on and attended St. Francis School until the eighth grade when she then decided to move to the DuBois Central Catholic school system to get acclimated for her high school experience.
"I really liked the individual attention that going there (Central) could provide," said Mosch. "People cared about you and how you were doing personally. You could not fall through the cracks and it allowed me to form closer and longer lasting relationships with my classmates, coaches, and teachers."
Certainly, Mosch never "fell through the cracks." In fact, she shined and did so from a young age. Pairing some innate ability with an almost unmatched work ethic was the perfect formula for Mosch to become the one of the best girls basketball players District 9 has ever seen.
Despite all the points she scored and the accolades she wracked up, she was almost immediate with her response to acknowledge those who helped her in her upbringing.
"It all started with my parents (Dr. George and Suzanne Mosch) — they did everything in the world to make me the best basketball player I could be," Mosch said. "They bought me so many pairs of shoes, drove me so many miles, and allowed me to dribble for hours and get my 500 shots up per day."
While her parents laid the foundation, there was an even greater support system that DCC provided, including many notable teachers and teammates who supported her quest to become, not just a college player, but a professional one.
"My parents, coaches, educators, and teammates all helped me fulfill the dream," said the Cardinal great. "My coaches, Karen Pfingstler, Paul Cherry, and my dad trusted me and let me be me. I also had great teachers, like Kate Kunkle and amazing teammates who achieved highly in their own right and would wake up early to play shooting games and run through drills. Looking back 20 years later, I will never forget the support, love, and how many people pushed me towards the dream."
In her four-years as a Cardinal, Mosch won five varsity letters, with four, of course, being in basketball, but she also played a season of varsity softball as a shortstop as a high school senior.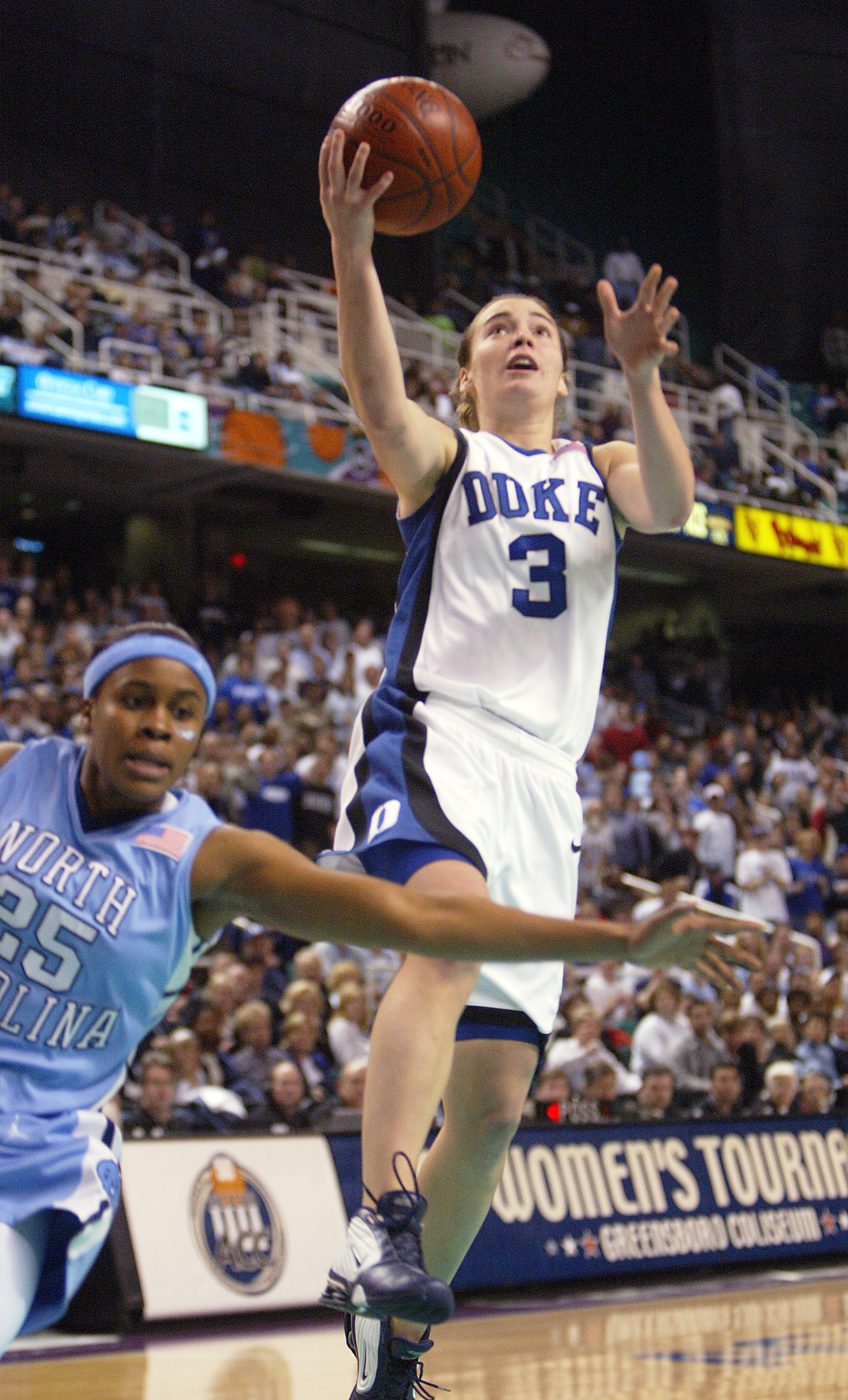 Mosch played so well she was even offered a scholarship from UCLA to play collegeiately.
But basketball was where Mosch really excelled.
She was named the 1999 Pennsylvania Player of the Year, was a Nike All-American, was selected to the USA Today's Top 25 prep basketball players list, earned second team Parade All-America honors, and averaged 31.3 points and 15.4 rebounds as a senior while playing the point guard position.
Mosch also set Cardinal records for points in a season with 971 and also scored a career high 51 points in a high school game.
The Clearfield native also was a member of the 1998 USA World Youth Games team, a team that won a bronze while playing in Moscow. Mosch was also a Street & Smith 1997-98 preseason high school All-America honorable mention heading into her junior year of high school, participated in the Pennsylvania Roundball Classic, played in the D9 All-Star Senior and was named MVP in 1999, and led the Team Cardinals to the 1998-99 District 9 title with a 43-point performance while playing in just three quarters, her second D9 title of her career and the third appearance DCC made in the District 9 title game in her four-year career.
She led the Cardinals to their best performance in the state playoffs in school history as the team went to the PIAA semifinals in her senior season before losing to Bishop Guilfoyle. The teams she played on went 103-13 in her varsity basketball career.
It was no wonder that practically every single women's basketball program in the country was hopeful for her services. Looking back, Mosch talked about the difficult decision it was, but just how she ended up choosing to become a Duke Blue Devil.
"I had a hard time figuring it out," Mosch said. "I got asked to come visit Duke and my mom encouraged me to do so on an unofficial visit when we were driving my younger sister to space camp in Florida. I just fell in love with it, and not just from an athletic and athletic history standpoint, but also how strong of a school it is academically, the warm weather, and the beautiful campus."
Mosch entered a Duke program that was coming off a historic season in which the Blue Devils finished as the national runner-up and even knocked out the dynasty that was the University of Tennessee under the direction of the late Pat Summitt.
This was another big reason Mosch decided to become a Blue Devil, but going to Duke also allowed her to foster her knowledge and fulfill her passion to work with animals. She graduated with a degree in biological anthropology and anatomy with a minor in religion and was able to work at the Duke Lemur Center as a part of her curriculum.
Heading to Duke was the ultimate destination and in her four years playing in the Atlantic Coast Conference (ACC) as a member of Duke women's basketball, she went to two Sweet Sixteens and two Final Fours. She herself was also a part of a win against the University of Tennessee, but this loss was eventually avenged by the Volunteers in the Final Four. To this day, it is still tough for her to talk about, she said.
The Clearfield County product put up a Duke record 106 points during a four-game stretch in the 2000-01 season when she scored 25 at Virginia, 29 at UNC, 30 versus Clemson, and 22 at WFU. Her 84 points in three games were also the most points in a three-game span for Duke since 1986 and she would go on to score more than 1,000 points in her college career.
Mosch also was a two-time captain, was named to the 2000 All-ACC Freshman team, 2000 ACC All-Tournament second team and 1999 ACC Preseason Rookie of the Year, earned third-team All-ACC, named to the Fun in the Sun Shootout All-Tournament team, and was tabbed as the ACC Player of the Week and WomensCollegeHoops.com National Star of the Week on Jan. 29, 2001 as a sophomore, selected honorable mention All-ACC and East Region All-Tournament as a junior, was named to the 2003 ACC All-Tournament second team, and earned South Padre Shootout All-Tournament honors for the second time.
Overall, Mosch played in 140 college games and made 73 starts. She has since also been named a third-team all-2000s Duke women's basketball player.
After her time at Duke, Mosch was hopeful to be selected to play in the WNBA, but unfortunately, the WNBA changed their draft to feature less rounds and as a result, she never had a chance to play in the league.
After this, there was a period of just more than a year and a half when Mosch decided to spend stateside in order to be with a young woman by the name of Leigha, who she had become almost inseparable with. This young girl was able to overcome a battle with stage four neuroblastoma and after this battle, Mosch decided it was then time for her to head overseas to begin her professional career.
She spent the next 11 years playing in five different countries (Turkey, Russia, France, Israel, and Spain) and became one of the best players in Europe during her playing career. She was hopeful to play the game into her 40s, but unfortunately, her career ended sooner than she expected.
"It was truly a dream come true to be a professional and to get paid to play the game of basketball," she said. "I traveled the world, saw so many different cultures, and I really could not have drawn up a better life. I embraced all of those experiences playing overseas and am so grateful for all I was able to do."
Mosch said she found it difficult to come to terms with walking away from the game as a competitor. It's never easy for any athlete.
"I always wanted there to be no choice for me but to walk away from playing, and that is what happened, and thank goodness without a major injury," Mosch said. "I started to notice one of my signature moves, the jab right, go left, pull-up jumper was not working anymore. That move just started to get a lot harder to score using and I was not getting as open as I once was. I was going into the gym earlier, staying later, and the results were not changing. I even tried longer rest periods and the results were the same. It was an awful and heartbreaking realization to have to retire. Even now, I am feeling the effects of the love of the game and hard work, but I would not trade the aches and pains for anything."
While some of her love for the game has been altered, she still loves the sport enough to have given back thousands of hours to the next generation of hoopers through Mosch Ball, her small business that pairs a basketball training center along with some youth travel basketball teams.
Mosch has known for many years that basketball training was a better fit for her than coaching in the college or professional ranks because she is able to make a difference on more people and also can make the impact on young people at an earlier age.
The basketball skill development sector of the game is better because of Sheana Mosch and she has helped each student set goals and try to achieve those at an individual level. Whether it is to make their middle school team, play college ball, or go Division I like she did; Mosch is willing to invest the time to make sure young kids are finding love for the game, becoming better people, and reaching their goals.
For almost a decade now, Mosch has been in this sector of basketball while also fulfilling another passion to work with animals. Currently, she works at a Gibbon Sanctuary, the only one in the United States, in Summerville, S.C. It is a job that is much different than the demand as a professional athlete, but a role that helps her find peace and enjoyment these days after basketball consumed so much of her time and life for over two decades.