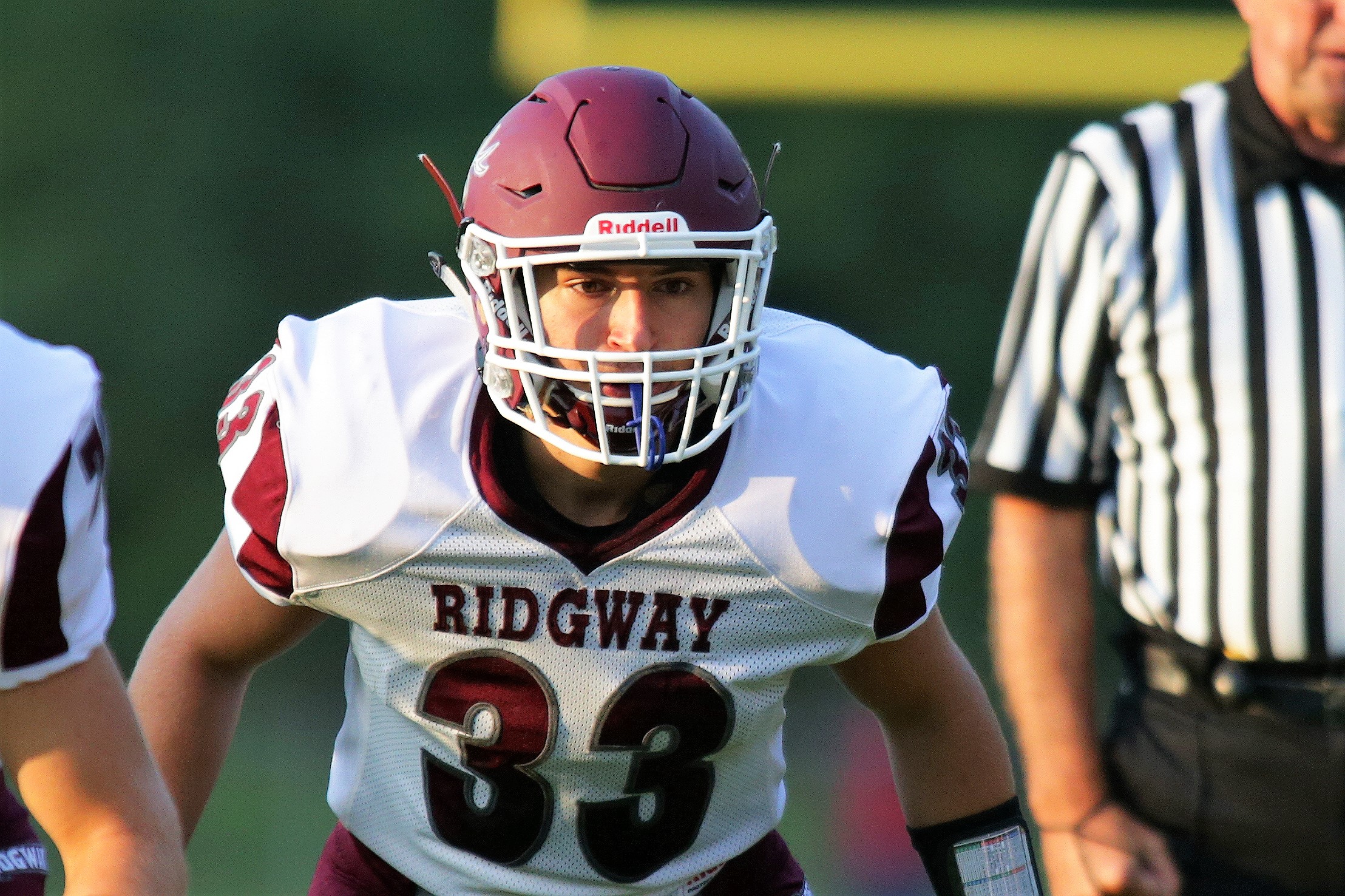 JOHNSONBURG, Pa. – On Friday night during Ridgway's win over Sheffield, Ridgway player Joey Elinski, a Johnsonburg senior playing in the co-op with the Elkers, suffered C3-4 spinal cord contusion.
(Cover photo by Paul Burdick. Check out more of Burdick's work here)
According to Elinski's cousin, Jessica Steger, who is overseeing a t-shirt campaign to support Elinski, he was originally taken to Penn Highlands Elk in St. Marys and was later flown, via Medevac, to UPMC Altoona where the injury, along with some sprained ligaments, was diagnosed.
"He was told by the attending physician that it had the potential to be a life-altering injury," Steger told D9Sports.com. "For two days, he had very limited movement in his upper body, he was not able to raise his arms all the way and had paresthesia (nerve pain) mostly in his right shoulder and upper back."
Thankfully, according to Steger, Elinski appears to be getting better, although there is a long road ahead for him.
"Joey went from lying straight and still in bed to sitting up then eventually standing and walking around in just two days," Steger said. "He is still slowly getting back mobility in his arms and upper body. He continued to have neck support via a neck brace. He has now been moved from ICU to a regular room and will be transported to HealthSouth, also in Altoona, for physical therapy rehab.
"With the unbelievable support of family, friends and local communities, Joey is on his way to hopefully making a full recovery. Unfortunately, his high school football career is over, but that won't stop him from being on the sideline to cheer on his team. Joey Elinski is a warrior with a work ethic and determination like no other."
Over the weekend, with the support of Muccio Transportation, many of Elinski's teammates and coaches were able to make a trip to Altoona to see and support him and a #joeystrong33 campaign has been started so people can show their support for him.
"Joey Strong" t-shirts are being sold (see order form). Orders should be turned into Steger by Thursday, Sept. 21, so they will be ready for when the Elkers return to Ridgway for a home game Sept. 29.
Elinski started playing football in the third grade when he was nine-years old for the Johnsonburg Shamrocks. Since joining the Ridgway team, he has helped the Elkers win the 2016 District 9 Class 1A champion while also finishing fourth on the team in tackles as a sophomore with 77. As a junior, he was named a Big 30, AML and Tri-County Sunday All-Star and the Ridgway Elkers Defensive End MVP after leading Ridgway in tackles per game at 9.0 (108 tackles).
Elinski was having a strong senior season for Ridgway and was second in tackles with 31 while also rushing for 124 yards and a touchdown, which he scored Friday night prior to being injured. Prior to the season, he was voted as one of five team captains by his teammates.