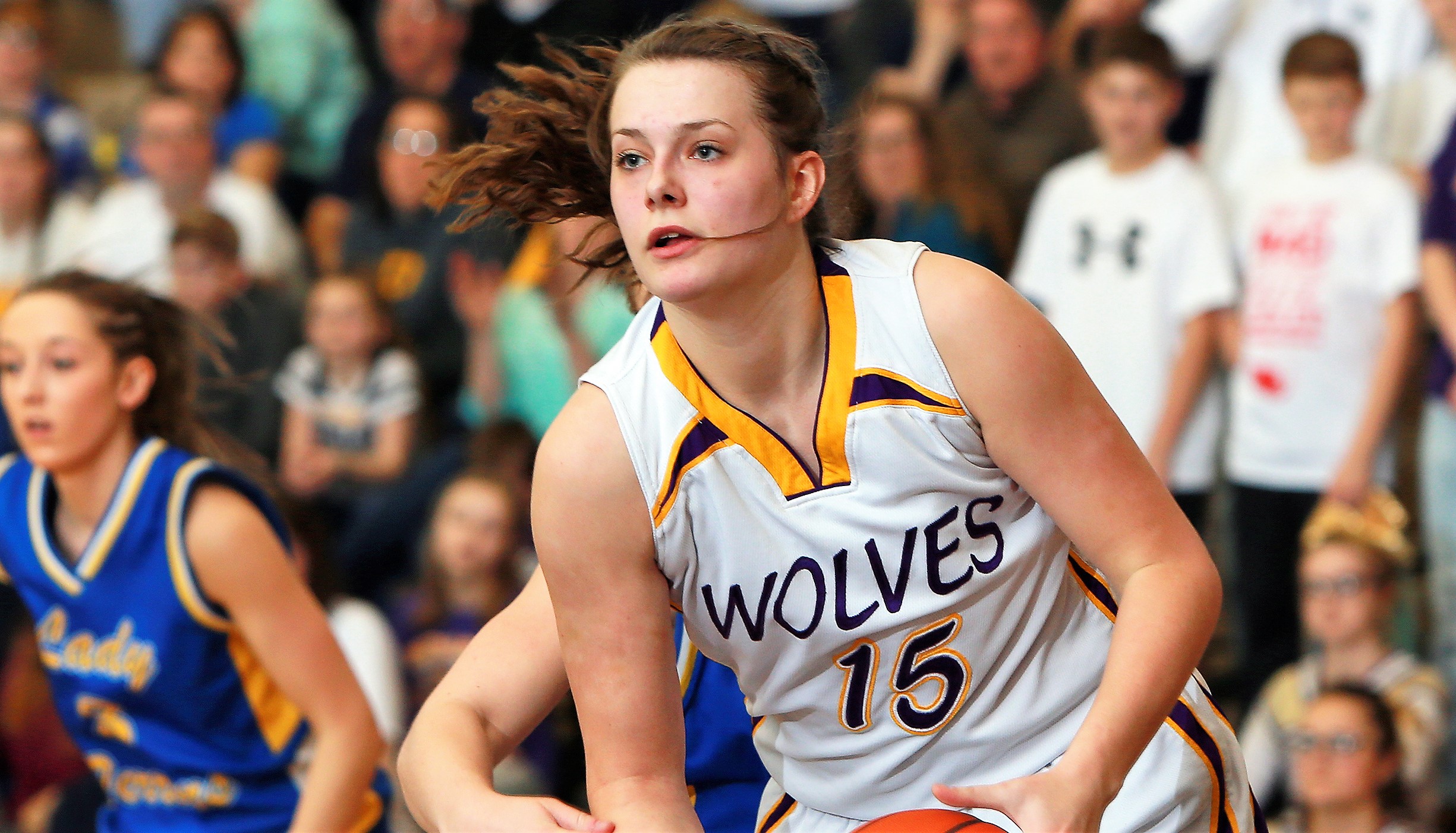 DUBOIS, Pa. – Down 23 with 13 minutes to play, the North Clarion girls' basketball team nearly pulled off a stunning comeback and upset before eventually falling, 58-49, to favored Bishop Carroll in the PIAA Class 1A quarterfinals Saturday night at DuBois High School.
(Cover photo of Cassie Wagner, who had 15 points and six reboudns. Photo by Paul Burdick. Check out more of Burdick's work here)
The She-Wolves (26-3) looked rattled in the first 23 minutes falling behind 21-4 after a quarter, 33-13 at halftime and 38-15 2:50 into the second half.
But they clawed their way back into the game against the Lady Huskies (23-5), the favorite of some to win the PIAA title, and closed the gap to seven, 51-44, with just under four minutes left and to six, 55-49, with 42.1 seconds to play but couldn't get any closer.
"If we had played the first half like we played the second half, we would be having a different conversation," North Clarion head coach Terry Dreihaup said. Unfortunately, we dug ourselves a hole so deep we couldn't get out of it. But by god, they clawed their way out as far as they could go."
North Clarion rode the play of Cassie Wagner and Tori Obenrader in the second half to get back into the game.
Wagner netted 11 of her 15 points after halftime while Obenrader scored 19 of her game-tying high 21 points in the second half.
"I told (Tori) at halftime that she had to take the ball to the hole, quit letting them push you around, take it to the hole and see if we can get some fouls," Dreihaup said. "He and Cassie did just that in the second half. I'm proud of the whole them. They adjusted very well in that second half."
Down 23 following a basket by Bishop Carroll's Emily Katskel with 5:10 left in the third quarter, Wagner started the comeback with a rare 3-pointer, and Obenrader followed with 10 straight points, including a pair of 3-pointers, before an old-school three by Wagner ended a 16-5 run that got North Clarion within 12, 43-31, with 1:24 left in the third quarter.
"We got into some foul trouble," Bishop Carroll head coach Bob Gongloff said. "And they made some shots and ours didn't fall."
The Lady Huskies looked like they had weathered the storm when Adison Divido, who scored 18 points while hitting five 3-pointers, three in the opening half, hit a free throw late in the third quarter to give BC a 44-31 lead after three and Alyssa Martinazzi, who also scored 21 points, scored a minute into the fourth to push the lead back to 15, 46-31.
But Michaela Higgins nailed a 3-pointer, Obenrader hit two charity shots and an old-school 3-point play, and freshman Abby Gatesman nailed a three to make it 49-42 with 4:25 to go.
It was still a seven-point game, 51-44, after another Obenrader basket with 3:53 left, but Martinazzi, a 1,000-point scorer as a junior, came up huge with a pair of baskets in a span of a half minute to push the lead back to 11, 55-44, with 2:52 to go.
"I expect her to take control of the game," Gongloff said. "She made a couple of key baskets. She wanted the ball."
Wagner answered with another old-school 3-pointer to cut in back to eight points, 55-47, with 2:37 to go, and the She-Wolves had two opportunities to get closer watching a Higgins three rattle in and out and an Obenrader contested layup fall just short.
"I think the crowd might have played a role," Dreihaup said. "We owned those bleachers over there. When (we) started to make (our) comeback, it really came to the forefront. I think the girls fed on it. The more we made, the more they got riled up. I think if we could have gotten it to four or three, who knows what might have happened."
Even after the misses, North Clarion was able to cut it to six on another basket by Wagner with 42.1 seconds left, and when Martinazzi missed another free throw six seconds later the She-Wolves would have had a golden opportunity if they could have gathered in the rebound. But Katskel fought for it and got the board and then hit one free throw with 32.5 to go to make it a three-possession game.
"Most teams would have walked off that court at halftime and said we're done," Dreihaup said. "But we sat in that locker room, and they were like we can do this. My god, they got it to six points and a call went the other way and we gave up the up. It just didn't work out the way we wanted to. We were forced to foul. But, by god, they didn't give up at all. Not even close. They had a great, great season, 26-3, I will take that any day and twice on Sunday. It was a great job for them."
In the beginning, it looked like Bishop Carroll wasn't going to have to worry about free throws or offensive rebounds to win the game.
The Lady Huskies started the contest on an 18-2 run thanks to 10 points from Martinazzi on a pair of triples and six on two triples from Divido and led 21-4 at the end of the first quarter.
"We thought we could stop their shooters," Dreihaup said. But when you shoot that percentage in the first half … those girls were knocking everything down from everywhere. We slowed their inside game down, but, unfortunately, their outside game was too much for us that first quarter, that first half."
The lead grew to 31-7 late in the first half, and turnovers weren't helping the She-Wolves, who gave the ball away 16 times in the first half and 22 times in the game.
"I think they were a little nervous," Dreihaup said. "They were as loose as the were down at Slippery Rock when we played Cornell Thursday. I think they were just pushing, and the pressure got to them a little bit. In the second half, I told them, play our game. When they started doing that, they really started to play."
The loss concludes easily the best girls' basketball season in school history.
In addition to the 26 wins, the team won the KSAC North for the second straight year, the school's first KSAC title and the school's first District 9 title while also winning the first two PIAA playoff games in school history. The squad loses three starters – Wagner, Higgins and Ally Carll – but also returns Obenrader, who finished with her 28th double-double in 29 games by adding 16 rebounds and ended the year averaging 23.5 points and 15.8 rebounds a game, as well as Gatesman, who showed signs of greatness as a freshman.
"The girls know what they have and how hard they have worked," Dreihaup said. "It stings. And I told them that something like this does sting. But you have to look at the whole picture here. We went 26-3. Four years ago (his first season at the helm), we were 6-16. Five years ago, they were 1-21, I think. They have something to be proud of and something that they are working toward. The program is doing well. It was a lot of fun."
Bishop Carroll, which lost to eventual state champion Cardinal Wuerl North Catholic in the quarterfinals a year ago, remains in the hunt for its fourth PIAA title and its first since 2003. The Lady Huskies beat District 6 rival Juniata Valley in the semifinals Tuesday at a site and time to be determined. Juniata Valley knocked off Kennedy Catholic, 42-32. BC beat Juniata Valley, 49-41, in the District 6 title game.
"You want to keep it in the district if you can," Gongloff said. "These are two quality programs, and I believe one of them will win the state title."
NOTES: Obenrader, one of the best players to grace the KSAC in a long time, will enter her senior season with 1,436 career points and 1,137 career rebounds. She needs 386 points next year to tie her cousin, Wendy Obenrader Franty, for the most in school history and 564 to become the sixth player in District 9 history with 2,000 career points … Obenrader set the school record for points in a season with 682, and she had double-doubles in 28 of 29 games and going make to last season has had double-doubles in 52 of 56 games.
BISHOP CARROLL 58, NORTH CLARION 49
Score by Quarters
North Clarion 4 9 18 18 – 49
Bishop Carroll 21 12 11 `4 – 58
NORTH CLARION – 49
Michaela Higgins 2 1-3 7, Cassie Wagner 6 2-3 15, Abby Gatesman 2 0-1 6, Tori Obenrader 7 5-8 21, Ally Carll 0 0-2 0, Gabby Carll 0 0-0 0, Gabby Schmader 0 0-0 0, Gena Caldwell 0 0-0 0, Lindsay Zacherl 0 0-0 0, Haley Sherman 0 0-0 0, Cierah Manross 0 0-0 0. Totals 17 8-17 49.
BISHOP CARROLL – 48
Alivia Borlie 1 0-0 3, Alyssa Martinazzi 8 3-5 21, Adison Dividio 6 1-4 18, Kate Yahner 1 0-0 2, Jenna Borbroski 0 0-0 0, Samantha Rosenberger 0 0-0 0, Jourdan Williams 1 1-2 3, Danielle Gittings 0 0-0 0, Faith Blake 0 0-0 0, Anna Haigh 2 0-1 4, Emily Katskel 3 1-2 7. Totals 22 6-14 58.
Three-pointers: North Clarion 7 (Higgins 2, Obenrader 2, Gatesman 2, Wagner). Bishop Carroll (Divido 5, Martinazzi 2, Borlie).