By Fred Kavelak, Special to D9Sports.com
DUBOIS, Pa. – A two-out single by Morgan Van Leer drove in Kate Horner from second base in the bottom of the seventh inning to break up a classic high school softball pitching duel between Punxsutawney's Kylee Lingenfelter and Clearfield's Raeleigh Redden and give the Lady Chucks a 1-0 win in the District 9 Class AAA championship game at the Highland Street Elementary Field Tuesday afternoon.
"It was huge," Punxsutawney manager Alan Pifer said of Van Leer's hit. "It took us a while to get the offensive going, but Kylie kept us ion the game pitching very well."
The repeat champions' title is the sixth in nine years for Punxsutawney and eighth overall, all since 1998.
Lingenfelter authored a two-hitter with 13 strikeouts that boosted her sophomore season total to 157 in 76 innings.
The hard-throwing right-hander did not allow a walk while lowering her earned run average to 0.46 with her seventh shutout in 11 complete game starts.
"She has been huge for us all year," Pifer said.
Brooke Cline had both of Clearfield hits, a one-out single in the fourth inning that broke up Lingenfelter's perfecto and a two-out single in the sixth.
The sophomore shortstop, who also was outstanding in the field with five putouts and four assists, advanced to third base via a sacrifice and a two-out steal after her first hit but was stranded when Lingenfelter registered one of her six strikeouts that ended innings.
"She came up with a couple of strikeouts when she needed them," Pifer said.
Redden, who shut out the Lady Chucks 3-0 on four hits April 8, was on pace to match Lingenfelter's two-hit shutout and send the nail-biter into extra innings after retiring the first two batters in the seventh frame.
"We put the ball in play," Pifer said. "To their credit, they played a great defensive game, we did too."
Hope turned to heartbreak for the Lady Bison when Kim Shoemaker rifled a single to right field, Horner pinch-ran and promptly stole second base, and Van Leer, given life when her foul pop-up was misplayed, ripped the game-winning hit to right.
"It was the bottom of our lineup that came through," Pifer said. "Your have to have that. You depend on one through five a lot, but sometimes the six through nine come up big. That's what happened to us today."
Redden, a senior, wound up with a four-hitter. She did not record a strikeout and issued one walk.
Clearfield, which last appeared in the finals in 2009, finished 9-13.
Punxsutawney will take a 13-6 record into the first round of the PIAA Class AAA Tournament Monday against the loser of Thursday's District 7 (WPIAL) championship game between No. 3 seed West Allegheny (19-1) and No. 12 Mount Pleasant (12-5).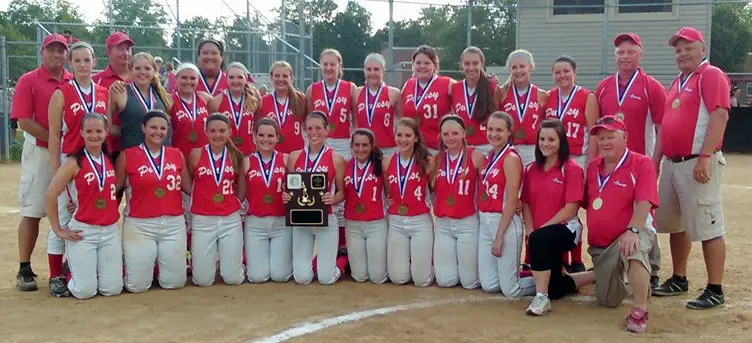 PUNXSUTAWNEY 1, CLEARFIELD 0
Score by Innings
Clearfield 000 000 0 – 0 2 2
Punxsutawney 000 000 1 – 1 4 0
CLEARFIELD – 3
(Player) (Pos) (AB, Runs, Hits, RBIs)
Brooke Cline ss 3020, Sierra Jones 3b 2000, Aspen Bishop lf 3000, Abby Fedder dp 3000, Raeleigh Redden p 3000, Karlie Lewis cf 2000, Molly Sartin 2b 2000, Makayla Ross 1b 2000, Lindsay Hand rf 1000, Erica Hanes ph 1000, Myra Kavelak (flex) c 0000. TOTALS: 22 0 2 0.
PUNXSUTAWNEY – 1
(Player) (Pos) (AB, Runs, Hits, RBIs)
Kylee Lingenfelter p 3000, Sam Satterlee ss 3000, Grace Aikens dp 2000, Toya Jones (flex) c-pr 0000, Alli Ishman 1b 3000, Morgan Adamson cf 3000, Kim Shoemaker lf 3010, Kate Horner pr 0100, Morgan Van Leer 2b 3011, Brayden Woodrow 3b 2010, Mallory Cameron rf 2010. TOTALS: 24 1 4 1.
E – Kavelak 2. LOB – Clearfield 2; Punxsutawney 4. 2B – Cameron. SB – Cline; Jones, Horner.
Pitching
Clearfield – Redden 6-2/3 IP, 4 H, 1 R, 0 ER, 1 BB, 0 K.
Punxsutawney – Lingenfelter 7 IP, 2 H, 0 R, 0 ER, 0 BB, 13 K.
Winning pitcher – Lingenfelter (8-3).
Losing pitcher – Redden (8-10).