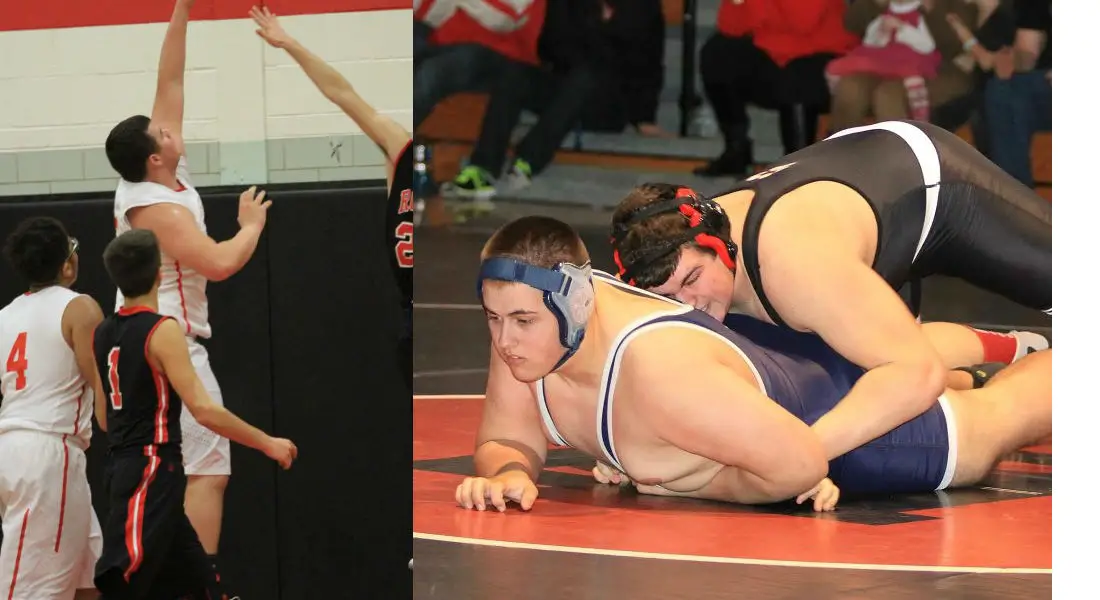 By Chris Rossetti
DUBOIS, Pa. – Wrestling and basketball aren't usually two sports that you think of together.
But for one area senior, the two have come together in perfect harmony recently.
DuBois Central Catholic senior Joey Varischetti is pulling off the rarest of double sports during the same season starting for the DCC basketball team while also suiting up for the Brockway wrestling team – DCC doesn't have wrestling on its own but co-ops with Brockway.
And he has been successful at both.
Varischetti is averaging 8.4 points per game for the Cardinals in basketball and is coming off a 23-point, 12-rebound effort in a win over Brookville Monday.
That was the second solid performance against Brookville in just over a week for Varischetti, but the other one happened in wrestling when he won the first match he wrestled this season, 5-2 over Brookville's Mike Fraccola at Heavyweight Jan. 7.
So how does a basketball players all of a sudden mind himself wrestling at the same time he is playing basketball?
"I knew Brockway was without a heavyweight," Varischetti said. "My friends and a few of the coaches asked me if I would be willing to do it. The team has a lot of potential, and I wanted to help in any way possible."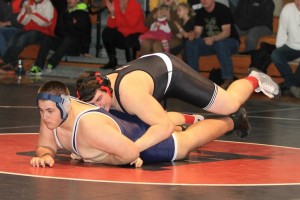 Wanting to help is one thing, getting everyone – parents, coaches, etc. – on board is something totally different.
"Both coaching staffs have been very supportive," Varischetti said. "(DCC head basketball coach Greg) Lonesky said as a long as I was able to handle both, it was my own decision."
Lonesky said the request caught him a bit off guard at first.
"I was surprised at first," Lonesky said. "But I told him I'd keep an open mind. I just wasn't sure how it was going to work, and I was concerned about his health. He then explained how he felt he could do both, and I said sure, let's give it a shot. So far, so good."
Lonesky wasn't the only one Varischetti had to convince.
"My mom wasn't a fan of the idea at first," Varischetti said. "I don't know if she is completely on board with the reality of me wrestling now, but like any good parent she is supportive.
"My dad was really supportive; like Coach Lonesky, he was willing to let me participate as long as I was able to maintain my high grades."
Juggling basketball, wrestling and school – especially with the sports being at two schools 10 to 15 minutes apart – can be challenging.
"Doing both can be difficult at times," Varischetti said. "I have managed my schedule well with school, wrestling and basketball. All the coaches have been very helpful in allowing me to participate in both sports. I can't thank them enough."
Varischetti admitted that doing both sports can be difficult on his body.
"The one major issue is my body rarely gets any rest," Varischetti said. "It's a blessing if I have an off day, because both sports take up a lot of time. A usual week for me consists of going to all the wrestling practices I possibly can go to. Those practices are in the afternoon, and then my basketball practices are in the evening. So, unless I have a basketball game, I'm able to make a majority of the wrestling practices. On weekends, wrestling practices are Saturday mornings while basketball is the afternoon. On Sunday, I only have basketball in the evening."  
While Varischetti enjoys both sports, basketball comes first.
"Basketball is my dominant sports, and it forever will be," Varischetti said. "If there is a basketball game and a wrestling match on the same day, I'm going to have to choose basketball."   
And at the end of the day, Varischetti's first sport is football.  
A member of the Inagural The Rebhab Centre D9Sports.com All-District 9 Football Team, Varischetti, who played at Brockway as part of a co-op, made a verbal committment to play football at Lafayette in the fall.