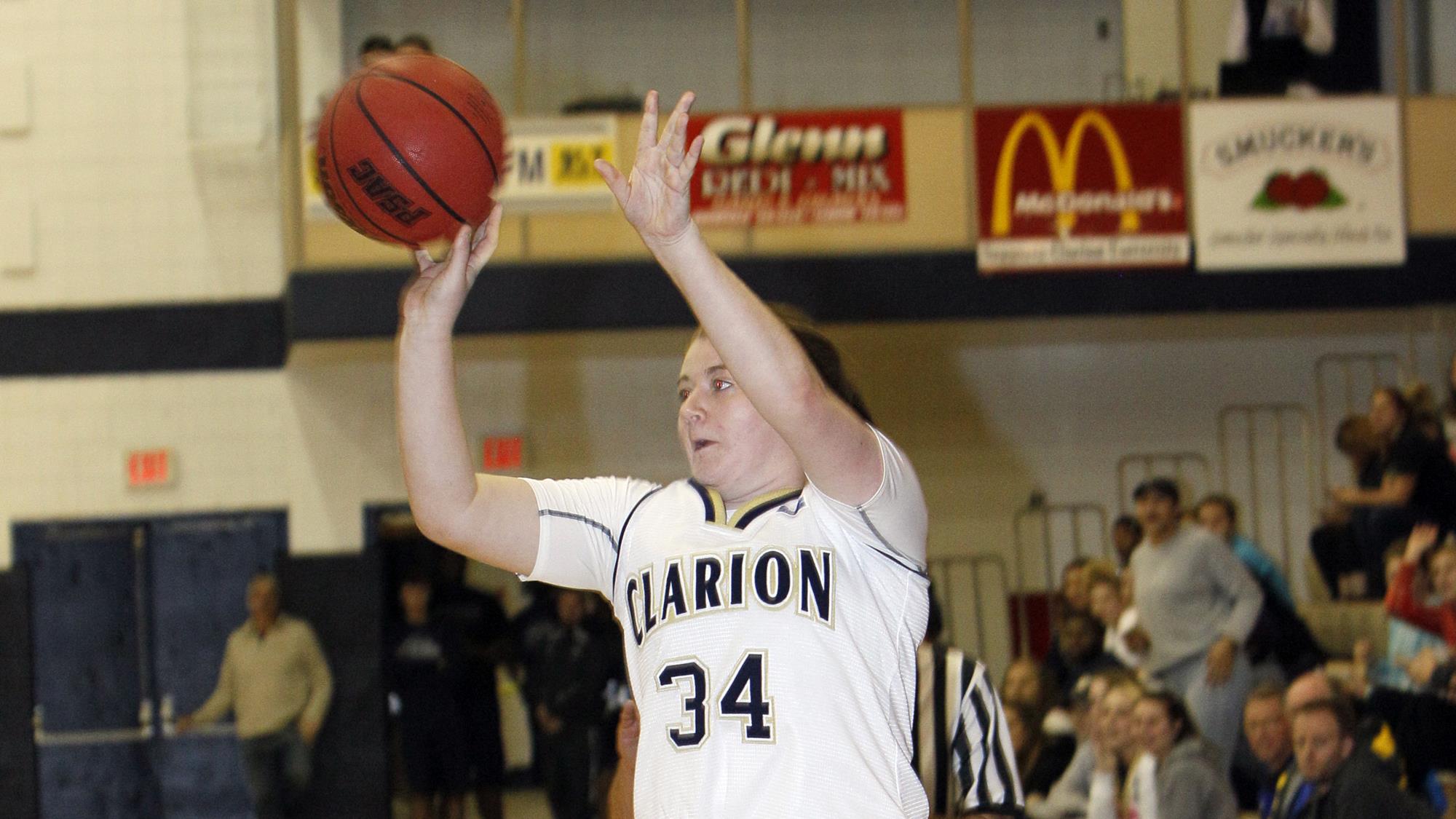 CLARION, Pa. – Venango Catholic graduate Taylor Moltz of the Clarion University women's basketball team was honored with an "Ernie" as the Breakthrough Athlete of the Year at the inaugural Clarion University Athletic Department's "Ernies" Awards Monday at Marwick-Boyd Auditorium.
(Cover photo courtesy of Clarion University Athletics)
Before hurting her knee in midseason, Moltz, a sophomore, was having an outstanding campaign for the Golden Eagles averaging 6.7 points, 2.8 rebounds and 1.3 assists per game while earning six starts in her 18 games.
The event was sponsored by the Student-Athlete Advisory Committee (SAAC) and 15 "Ernies" were presented to various athletes, teams, professors and fans
"Tonight, we recognize our student-athletes and all those who have helped them achieve their incredible successes," interim Athletic Director Wendy Snodgrass said told the audience in her opening remarks.
Leading the "Ernie" winners were Tyra Polite of the women's basketball team as the Outstanding Female Athlete of the Year and Ben Spencer of the men's swimming and diving team as the Outstanding Male Athlete of the Year.
Clarion's SAAC branch took on the planning and preparation for the event, with every athletics program represented in the formulation of the ceremony. Masters of ceremony Alissa Spencer (soccer) and Tyler Falk (baseball) introduced the presenters – made up of athletes from Clarion's 15 varsity sports – as well as performances from the Hip Hop Dance Team, Erin Lewis, the CUPellas and Brana Hill.
The night began with a red carpet entrance and photos as the student-athletes, coaches and fans streamed into the auditorium.
FULL LIST OF AWARD WINNERS
Outstanding Female Athlete of the Year – Tyra Polite, Women's Basketball
Outstanding Male Athlete of the Year – Ben Spencer, Men's Swimming & Diving
Freshman of the Year – Joe Folz, Men's Swimming & Diving
Best Single-Game Performance (Team) – Women's Basketball clinches PSAC Tournament with win against Slippery Rock
Best Single-Game Performance (Individual) – Collin Vest wins fourth career national championship
Breakthrough Athlete of the Year – Taylor Moltz, Women's Basketball
Team of the Year – Women's Basketball
Coach of the Year – Jana Ashley, Women's Basketball
Fan of the Year – Luke Simpson, Swimming & Diving
Best Play – Rob Hacku, Ian Lindsey, Josh Thruston and Ben Spencer in relays at PSAC Championships
Best Musical/Dance Performance – Hip Hop Dance Team
Faculty Mentor of the Year – Ken Staub, Wrestling
Eagle Cup Winner – Softball
Top Women's Team GPA – Cross Country
Top Men's Team GPA – Men's Golf