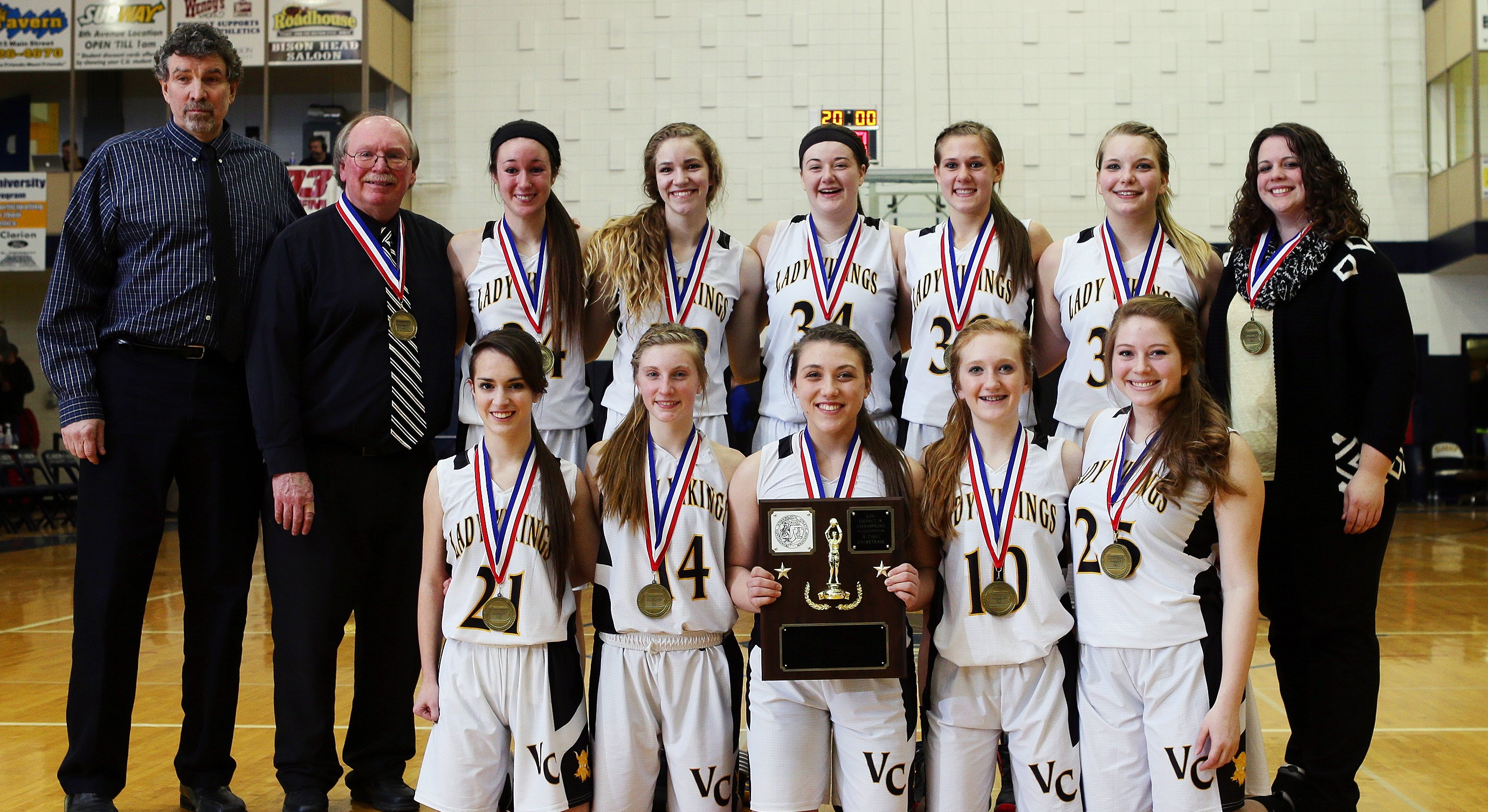 CLARION, Pa. – Venango Catholic held two-time defending champion Clarion scoreless in two of the four quarters of the 2015 District 9 girls' basketball championship game and claimed its first D9 title with a 35-22 win Saturday night at Tippin Gym.
The Lady Vikings (21-6), who beat Clarion for the third time in three tries this year, won a district title for the first time since taking home the District 10 crown in 1980, the same year they won the PIAA title. VC left District 10 for District 9 prior to the 2004-05 season and was making its first appearance in the District 9 championship game.
"It's unbelievable," Venango Catholic head coach Tom McNellie said. "It was a little ugle of a game, but it doesn't matter how ugly it is, though. It just matters who scores more points. We made our foul shots at the end, and I knew we would. It's just a great feeling."
Fifth-seeded Venango Catholic led 10-0 at the end of the first quarter but saw 11th-seeded Clarion (15-11) battle all the way back to take a 20-18 lead on an Anna Reed layup just over two minutes into the second half.
But the Lady Vikings proceeded to hold Clarion to two points the rest of the game including none in the fourth quarter outscoring the Lady Cats 7-0 in the final eight minutes to put the finishing touches on a game-ending 17-2 run.
Ava Homan led Venango Catholic with 17 points including eight in the first quarter when she scored all but two of the Lady Vikings' tallies. Homan added four rebounds and a steal.
"She's been doing it all year," McNellie said. "She's just a really good player, period. She played great."
Taylor Moltz chipped in a double-double for the Lady Vikings with 11 points and 17 rebounds with nine points coming in the second half, while Allison Guth added 10 rebounds.
Maci Thornton was the lone Clarion player in double digits with 13 points, and she completed a double-double with 11 rebounds. But Venango Catholic was able to take care of the ball around Thornton, the all-time steals leader at Clarion, limiting her to one takeaway.
Neither team shot very well with Venango Catholic connecting on just 28.9 percent of its shots (11 of 38) including just 3 of 17 in the second half (17.6 percent). But Clarion, which missed its first 13 shots, was actually worse going 8 of 45 from the floor (17.8 percent) including 3 of 20 (15 percent) in the second half. The Lady Cats were 1 of 15 from 3-point range and were outrebounded 41-29.
"Offensively, we did just enough to hold them off," McNellie said.
After grabbing the 10-0 lead at the end of the first quarter, Venango Catholic got the advantage up to 11, 16-5, early in the second quarter before Clarion went on a half-ending 10-2 run with Thornton scoring all 10 of the points. The senior had all 13 of her points in the second quarter.
"Maci was really hurting us," McNellis said. "(In the second half) we stopped her from doing that."
Trailing 18-15 at halftime, Clarion came out hot in the opening moments of the second half getting a layup from Lauren Wiser, the first Lady Cat basket not scored by Thornton, a free throw by Anna Reed and then Reed's layup that gave Clarion the 20-18 lead.
But Reed's basket at 5:54 of the third quarter was the last Clarion bucket until a Gloria Kroh layup with 57 seconds left in the quarter, which proved to be the Lady Cats last points of the contest.
"We've probably never done that before," McNellie said of holding a team to zero points in two separate quarters.
Both teams advance to the PIAA playoffs. Venango Catholic will take on WPIAL fifth-place finisher California (Pa.), and Clarion will play District 6 third-place finisher Bishop Carroll.
"We've been playing really well, 18-2 in 2015 (calendar year)," McNellie said. "The girls are playing really well and they are excited. We're ready for the next opponent. It's one game at a time."
VENANGO CATHOLIC 35, CLARION 22
Score by Quarters
Clarion 0 15 7 0 – 22
Venango 10 8 10 7 – 35
Clarion – 22
Gloria Kroh 1-7 0-0 2, Anna Reed 1-7 3-4 5, Lauren Wiser 1-9 0-0 2, Nicki Glenn 0-6 0-2 0, Maci Thornton 5-13 2-3 13, Julie Kenneson 0-0 0-0 0, Alexis Constantino 0-1 0-0 0, Kelly Beveridge 0-2 0-0 0, Maddy Weaver 0-0 0-0 0. Totals 8-45 5-9 22.
Venango Catholic – 35
Ava Homan 7-15 3-7 17, Allison Guth 0-6 1-2 1, Claire Niederriter 1-2 0-0 2, Colleen Cunningham 1-9 2-2 4, Taylor Moltz 2-7 6-6 11, Taylor Dziekciasz 0-0 0-0 0. Totals 11-38 12-17 35.