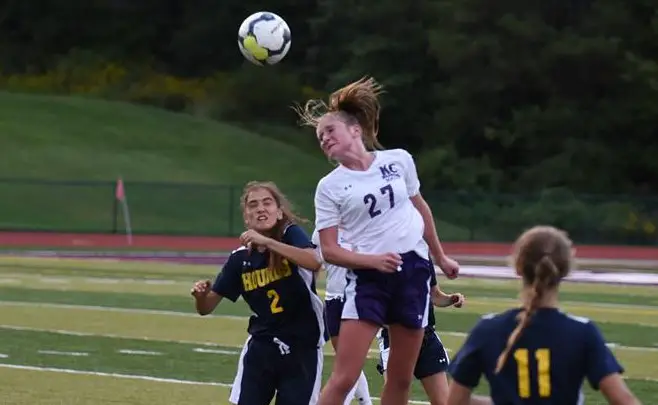 District 9 soccer and volleyball recaps from Wednesday, Sept. 14.
(Cover photo of Karns City's Hunter Dittman heading the ball during the Lady Gremlins 5-0 win over Wilmington Wednesday. Photo by Scott Dittman)
VOLLEYBALL
KARNS CITY, Pa. – Behind the play of Mackenzie Craig, Brooke Moore, Emily Hegedus, Claudia Kamesnki and Makayla Waltman, Karns City topped visiting Union, 3-0 (25-18, 25-19, 25-17).
Craig led the Lady Gremlins with six kills with Kamenski, Waltman and Hegedus each adding four kills. Hegedus also had three set assists, while Moore ran the offense with 20 set assists.
Frankee Remmick paced Union with six kills, six digs and an ace. Taylor Adams added four kills for the Golden Damsels, while Bryn Davis had three kills and four digs and Hannah Atzeni 18 set assists, two aces and three kills. Marli Hawk also had four digs.
Karns City won the JV match, 2-0.
BOYS' SOCCER
BROCKWAY 11, REDBANK VALLEY 0
BROCKWAY, Pa. – Jarrett Esposito and Hunter Allenbaugh each scored twice to lead an 11-goal assault by Brockway in an 11-0 home win over Redbank Valley.
Anthony Esposito, Carter Adams, Jake Anderson, Nate Smithro, Clayton Heckman, Jake Allenbaugh and Angelo Inzana also scored for the Rovers.
BRADFORD 4, SAEGERTOWN 1
BRADFORD, Pa. – Colton Swanson scored twice and added an assist to lead Bradford to a 4-1 win over visiting Saegertown.
Mitch Forbes and Rob Jimmerson each added a goal and an assist for the Owls, who led 3-1 at halftime. Brent Kennedy also had an assist for Bradford.
Evan Schmidt (four saves) and Jack Kellam (one save) were in goal for the Owls.
GIRLS' SOCCER
PORT ALLEGANY 4, ELK COUNTY CATHOLIC 2
PORT ALLEGANY, Pa. – Trailing by a goal with 10 minutes to play, Port Allegany scored three times in the final 10 minutes including twice in the last five minutes to stun visiting Elk County Catholic, 4-2.
Cailey Barnett knotted the game at two with a goal in the 70th minute before Evelyn Russell scored off a corner by Autumn Buchsenschutz in the 75th minute to give the Lady Gators the lead.
Buchsenschutz then added an insurance marker, her second goal of the game, to set the final score.
Brianna Roys made eight saves in net for Port Allegany.
RIDGWAY 4, ST. MARYS 1
RIDGWAY, Pa. – Madeline Cowan and Cassidy King each scored twice, once in each half, to lift Ridgway to a 4-1 win over visiting St. Marys.
Rylee Casilio had a pair of assists in the first half to help the Lady Elkers to a 2-1 halftime edge.
Ridgway led 2-0 before Jadelyn Smith scored on a free kick for St. Marys in the final minute of the half, the first goal allowed by the Lady Elkers this season.
KARNS CITY 5, WILMINGTON 0
KARNS CITY, Pa. – Megan McCartney recorded a hat trick, as Karns City rolled past visiting Wilmington, 5-0.
Colette Stahlman and Alexis Moore also scored goals for the Lady Gremlins.