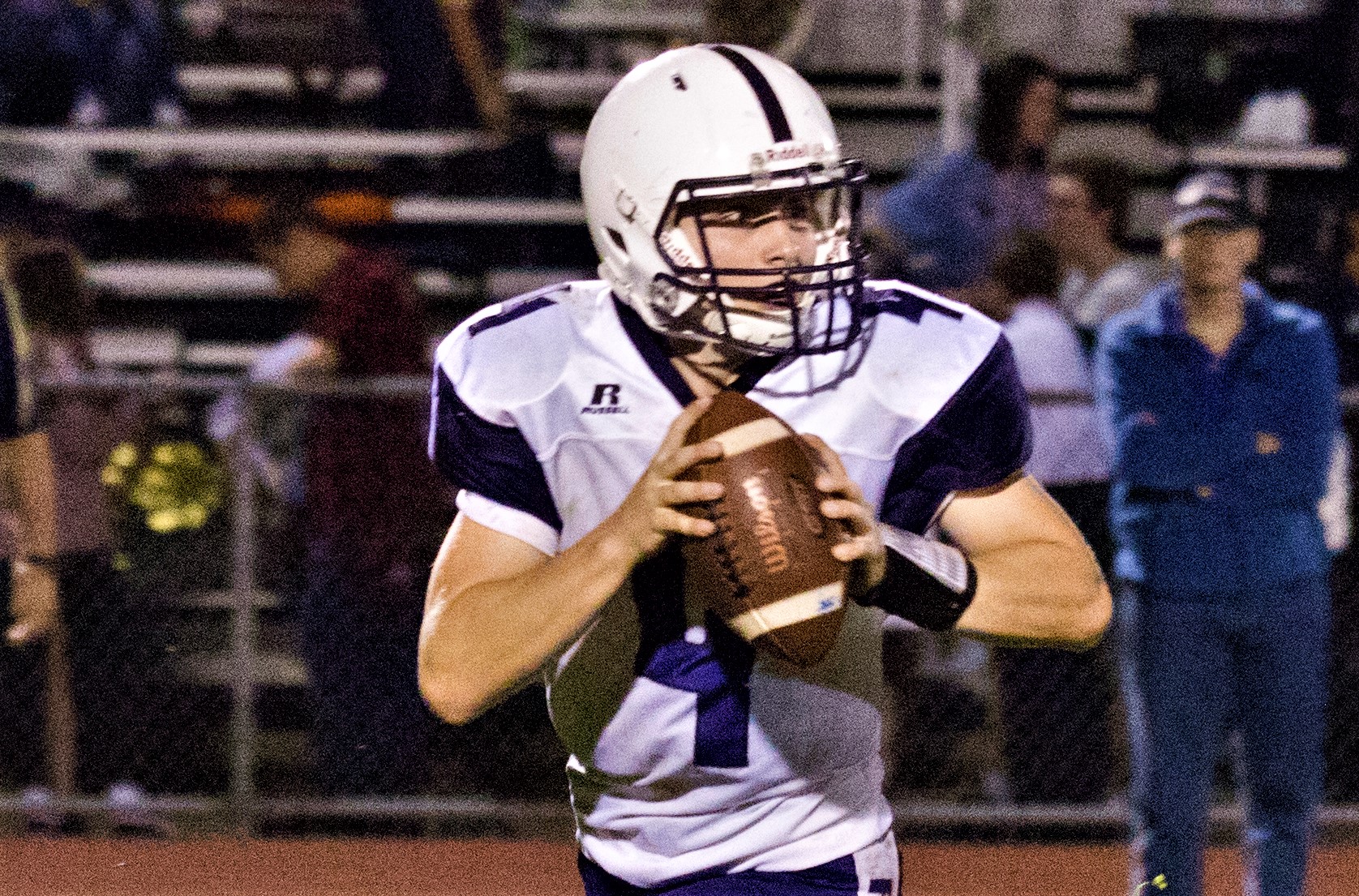 It's early, for sure, but it's not a real stretch to think that some type of District 9 Class 1A playoff preview theme can be applied Friday night's Elk County Catholic at Coudersport game in a Small School divisional crossover week.
(Coudersport's Hayden Keck and the Falcons host Elk County Catholic Friday night in a Small School Division crossover matchup that could have Class 1A playoff implications. Photo by Kyle Yates www.facebook.com/YatesPhoto)
Both teams are 1-0 and are likely on the shortlist of title contenders this year. Both were solid in their openers, Elk County Catholic blanking Curwensville 21-0 and Coudersport beating Union/A-C Valley, 30-8.
It's two of 12 games on the schedule this week with one of them going Saturday afternoon when Union/ACV (0-1) travels to Sheffield (0-1).
In the other Friday night Small School crossover games, Cameron County plays its first game of the year at Curwensville (0-1), Redbank Valley (1-0) visits Otto-Eldred (0-1), and Keystone (0-1) hosts Port Allegany (1-0). One team has an off-week: Smethport.
All 10 teams in the Large School Division play each other in five matchups, just one of them featuring two 1-0 teams as Kane hosts Ridgway. Brookville (1-0) hosts Brockway (0-1), Clarion (1-0) is at home at Clarion-Limestone High School against Moniteau (0-1), Karns City (1-0) hosts Punxsutawney (0-1) and Bradford (0-1) travels to St. Marys (0-1).
It's a battle of two 1-0 teams in the Mountain League with Clearfield hosting Penns Valley and DuBois (0-1) visits General McLane (0-1).
For the Crusaders, their blanking of Curwensville was an impressive defensive effort as the Crusaders limited the Tide to just 92 yards and five first downs. Returning 1,300-yard rusher Stephen Bobby ripped off 190 yards on 31 carries with three touchdowns. Quarterback Mason McAllister threw for 115 yards and a touchdown as well.
Coudersport had some balance against Union/A-C Valley, pulling away for the win after a 14-8 halftime lead. Falcons quarterback Hayden Keck completed 5 of 8 passes for 118 yards and a touchdown while rushing for 41 yards on 12 carries. Travis Gleason ran for 51 yards on 16 carries while John Minor caught two passes for 80 yards, one going for a 36-yard TD pass from Keck.
Other game breakdowns are below.
All-Time Passing Leaderboard
Updated list here
Brookville junior quarterback Jack Krug, with 3,994 career passing yards, is just shy of becoming the 21st passer in District 9 history to reach 4,000 career yards. He's also 39 yards away from tying the Raiders' all-time leader Jon Guth, who finished with 4,033 back in 1993.
Guth, now ranked No. 10 all-time in D9, was the first-ever 4,000-yard passer in district history. At the time, he and future Hall of Famer Jim Kelly were ranked 1-2 in D9 history — nobody really knew that at the time — with Kelly finishing at 3,915 after his senior season at East Brady in 1977.
One year later, Clearfield's Chad Kroell blasted by Guth after throwing for over 3,200 career yards. He finished with 6,088 yards, a record that held up for five seasons until Smethport's Mike DeFilippi passed him with 6,638 yards. Eleven years later it was Brockway's Derek Buganza finishing with 9,752 yards after the 2010 season and then two years later, Port Allegany's Matt Bodamer went over 10,000 and finished with 10,948 yards.
Kroell, the first QB to reach 6,000 yards, now ranks seventh on the all-time list behind Bodamer, Buganza, DuBois' Matt Miller and Gabe French, Clearfield's Isaac Rumery and DeFilippi.
Large School Division
Brockway (0-1) at Brookville (1-0)
The Raiders and Rovers met twice last year, with Brockway sweeping the series with a 28-25 win during the regular season and a 38-18 win in the Class 2A semifinals. In the first game, the Rovers knocked Raiders quarterback Jack Krug out of the game with a broken collarbone.
Krug threw for 208 yards and four touchdowns and ran for 153 yards and a score in last week's 51-0 win over Bradford that saw the Raiders give up just 97 yards and force five turnovers. Meanwhile, at home against Karns City, the Rovers were walloped 43-14 as the Gremlins were up 43-0 in the fourth quarter before Jon Wood scored both of Brockway's touchdowns.
Wood, who scored five touchdowns in the two Rovers wins over the Raiders last year, ran for 81 yards on nine carries and caught two passes for 66 yards. First-year quarterback Connor Ford completed 4 of 10 passes for 78 yards.
Ridgway (1-0) at Kane (1-0)
The Elkers trailed early in their opener against St. Marys but scored 42 unanswered points to beat St. Marys 42-6. Jake Wickett ran for 77 yards on eight carries and returned a punt for a touchdown, Matt Dush ran for 71 yards and two touchdowns, and Gabe Watts added 53 yards on the ground with a touchdown, so it was a typical Elkers offensive effort with quarterback Paul Gresco completing 10 of 12 passes for 88 yards and a touchdown.
Kane, coming off a two-win season, was dominant in its 46-19 rout at Moniteau. Quarterback Zuke Smith threw for 175 yards and three TDs while running for a score. Teddy Race ran for 64 yards and two touchdowns.
Moniteau (0-1) at Clarion (1-0)
The Bobcats' new era with Clarion-Limestone and North Clarion now in the fold together couldn't have been much more dominant as they routed Punxsutawney, 70-6, racking up over 600 yards of offense.
Running back Austin Newcomb ran for 187 yards and four TDs, quarterback Cal German completed 5 of 8 passes for 137 yards and two TDs and receiver Ethan Burford caught four passes for 128 yards, including both TDs from German.
Moniteau trailed 39-9 by halftime against visiting Kane. J.D. Dessicino led the Warriors with 91 yards rushing on 12 carries. Quarterback Brady Thompson completed 4 of 13 passes for 127 yards with Ethan McDeavitt catching two passes for 111 yards.
Punxsutawney (0-1) at Karns City (1-0)
The Gremlins were dominant in their opener at Brockway, piling up over 300 yards rushing against the Rovers in a 43-14 rout. Quarterback Anthony Kamenski led the way, running for 153 yards on 11 carries with a touchdown. Mitchell Kelsea ran for three scores and 28 yards, and Hunter Rowe added 69 yards and one touchdown.
The Chucks were run over by Clarion in a 70-6 loss, their only score coming in the fourth quarter with backup quarterback Seth Moore throwing a 61-yard TD pass to Zeke Bennett. The Chucks 
Bradford (0-1) at St. Marys (0-1)
The Flying Dutchmen look to end a 22-game losing streak when they host Bradford, which is coming off a 51-0 loss to Brookville in its opener. St. Marys led Ridgway 6-0 after the first quarter before dropping a 42-6 decision.
Jacob Kline led the Dutch with 66 yards rushing on eight carries, scoring the team's only TD in the first quarter. Cain Pfoutz ran for 50 yards while quarterback Christian Coudriet completed 9 of 23 passes for 119 yards with Bryce Walker catching four passes for 39 yards.
Bradford managed just 97 yards of offense against the Raiders. Quarterback Caleb Nuzzo completed 10 of 16 passes for 93 yards, four completions to Austen Davis for 62 yards.
Small School Crossover
Cameron County (0-0) at Curwensville (0-1)
The Golden Tide look to rebound off their shutout loss to Elk County Catholic against a Cameron County squad opening its schedule after an off week to start the season. The Tide were limited to 92 yards of offense against the Crusaders. Duane Brady ran for 42 yards on nine carries while quarterback Daniel McGarry completed 4 of 10 passes for 52 yards.
Ryan Neyman makes his coaching debut for Cameron County.
Redbank Valley (1-0) at Otto-Eldred (0-1)
The Bulldogs trek north to Duke Center to face a Terrors team looking to rebound from a last-minute loss to Port Allegany.
Redbank Valley turned in a balanced effort in its 29-8 win over Keystone as threw for 189 yards and ran for 157 yards. Quarterback Gunner Mangiantini completed 17 of 21 passes for 166 yards and a touchdown while rushing for a 37-yard TD. Kobe Bonanno ran for 64 yards on nine carries and Javin Brentzel caught eight passes for 64 yards. Defensively, Ethan Hetrick had three sacks and 11 tackles.
For the Terrors, quarterback Cole Sebastian completed 15 of 25 passes for 164 yards with two TDs and two interceptions while running for 54 yards on nine carries in the 14-12 loss to Port Allegany. Cameron Magee caught six passes for 64 yards.
Port Allegany (1-0) at Keystone (0-1)
The Panthers, 29-8 losers at Redbank Valley last week, host a Port Allegany team coming off a late-game 14-12 win over Otto-Eldred.
Port's Josh Rees ran for 193 yards on 29 carries and two touchdowns, including the game-winner with 1:53 left in the game on a 2-yard run. He led the defense with 11 tackles. 
Keystone's Taylar Altman ran for 44 yards on seven carries while quarterback Isaak Jones completed 9 of 16 passes for 112 yards and threw a TD pass to Javin Brentzel, who caught five passes for 71 yards.
District 10 Region 7
DuBois (0-1) at General McLane (0-1)
The Beavers open their league schedule on the road at Edinboro in Erie County when they face the Lancers, who are coming off a 34-21 season-opening loss at Slippery Rock.
In DuBois' 31-20 loss to Clearfield, most of the Beavers' offensive success came through the air as quarterback Alex Kovalyak completed 20 of 33 passes for 322 yards with two touchdowns and three interceptions. Nick Dilullo caught seven passes for 170 yards while Dale Kot caught seven passes for 106 yards.
Mountain League
Penns Valley (1-0) at Clearfield (1-0)
Both teams are coming off season-opening wins as they open the league schedule. The Rams roughed up Fairfield, 77-0, while the Bison held off DuBois in a 31-20 win.
For the Rams, it was a big night of course offensively as they racked up over 500 yards of offense and led 56-0 by halftime. Senior quarterback Aaron Tobias was nearly perfect, completing 19 of 23 passes for 272 yards with seven touchdowns. Four different receivers caught TD passes, including two by senior Logan Snyder who grabbed eight passes for 85 yards.
Last year, the Bison outslugged the Rams, 56-42, in Spring Mills as Clearfield broke up a 21-21 halftime tie and scored 35 points in the second half. Tobias threw for 431 yards and four touchdowns in the loss.
Clearfield's Jake Lezzer, who caught five passes for 121 yards and a touchdown in that win, was last week's D9Sports.Com Player of the Week after catching six passes for 169 yards and two touchdowns against DuBois. He also intercepted two passes on defense.
Also for the Bison, sophomore quarterback Oliver Billottee completed 9 of 12 passes for 208 yards and three TDs and one interception in his starting debut while also rushing for 43 yards on nine carries with a TD run. Brett Zattoni ran for 44 yards on 14 carries.
SATURDAY
Small School Crossover
Union/ACV (0-1) at Sheffield (0-1), 1 p.m.
Both teams are looking for a win in this Saturday afternoon affair in Warren County. The Falcon Knights lost 30-8 at Coudersport while the Wolverines were blanked 40-0 at Smethport.
Union/ACV quarterback Luke Bowser completed 14 of 24 passes for 117 yards and a touchdown, which went to Tanner Merwin who caught six balls for 66 yards and also made an interception on defense.
Sheffield's Jihad Bennett ran for 49 yards on six carries against the Hubbers.