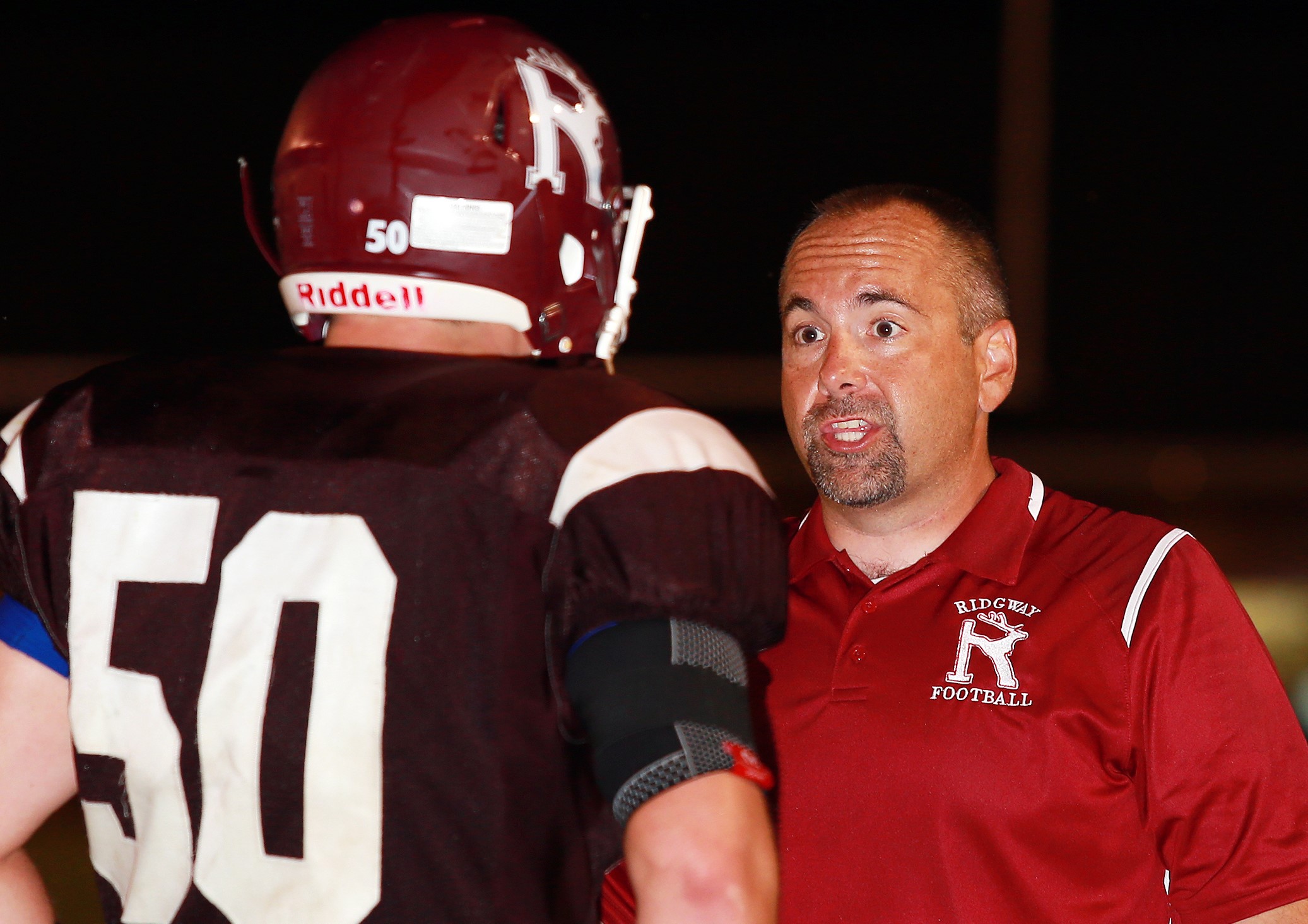 It's all aboard for Week 1, er the second week, of the regular season for District 9 football.
Cover photo courtesy of Paul Burdick. For more of Burdick's work click here.
All 13 games this week are set for Friday night with another round of Allegheny Mountain League crossover games, the Keystone Shortway Athletic Conference starting off with four divisional matchups and a couple of conference games for DuBois and Clearfield.
Here's a closer look at the matchups:
KSAC-Small
Union/ACV at Clarion-Limestone
Both teams get their seasons started with the Falcon-Knights making their debut as the co-operative setup plays its first-ever varsity game.
Union's starting quarterback Lucas Bowser will handle the position again while A-C Valley's Lane Chalmers appears to be the featured running back. For the Lions, Mike Macefe was the team's top rusher and tackler a year ago. Brendan Makray will be the quarterback.
Redbank Valley at Keystone (0-1)
While the Bulldogs were wrapping up their scrimmage schedule with Moniteau last Friday, things couldn't have started any worse for the Panthers in their season-opener in Warren, Ohio.
The Panthers trailed JFK Catholic 55-0 at halftime before officials called the game due to the threat of bad weather. They'll try to rebound at home against a Bulldogs team that's beaten them 23 of the last 27 times.
KSAC-Large
Brookville at Karns City (0-1)
The Gremlins try to shake off a 35-22 loss to Class 5A Armstrong last week with a matchup against the Raiders, a team they've beaten five straight times, including 47-0 last year.
St. Marys at Moniteau
It's actually the third time these two teams have played in games that count since Week 9 of last year. The Warriors edged the Dutch, 29-28, in their regular-season matchup, then knocked them out of the playoffs with a 17-6 win before falling to Karns City in the Class AA final.
KSAC-Crossover
Punxsutawney at Clarion
The Bobcats host the Chucks trying to get their longtime head coach Larry Wiser closer to a milestone. He's sitting with 196 career victories.
It's the first meeting between the teams since 2013 and sixth overall since the Chucks joined the KSAC in 2010. The Bobcats have won the last three, including 55-0 and 42-0 in 2012 and 2013.
AML-Crossover
Bradford (1-0) at Coudersport (0-1)
The Owls try to double their win total from last year as they travel to play the Falcons.
Owls running back John Eakin is coming off a big opener as he ran for 237 yards on 11 carries with three touchdowns including a 99-yard score.
Coudersport's lone score in its loss to Ridgway came on quarterback Aaron Wolfinger's 55-yard TD pass to Derek Keglovits.
Sheffield (0-1) at Brockway (1-0)
It's the first meeting between the teams since 2013. The Rovers have never lost to the Wolverines since joining the AML in 1999. That's a perfect mark of 12-0.
Hunter Miller started his year off well for the Rovers, completing 9 of 14 passes for 210 yards and three TDs. Mark Latuska ran for 96 yards and scored three touchdowns.
The Wolverines, losers of 11 straight, managed just 80 yards of offense in a 48-0 loss to Elk County Catholic.
Elk County Catholic (1-0) at Cameron County (0-1)
The Crusaders cruised by Sheffield in a 48-0 shutout last Saturday while the Red Raiders put up a fight in its 37-20 loss to Curwensville.
Crusaders Nate DaCanal threw for a touchdown and ran for another while Jared Braun ran for two scores as they outgained Sheffield, 359-80.
For the Red Raiders, quarterback Adam Streich threw for a touchdown and ran for a touchdown while completing 10 of 17 passes for 79 yards. Tristan Reed ran for 76 yards.
Smethport (0-1) at Curwensville (1-0)
The Golden Tide's Nick Stewart got off to a strong start by running for 223 yards and four touchdowns in a win over Cameron County. Stewart's career numbers are now up to 3,727 yards rushing and 46 touchdowns.
Smethport quarterback Grant Ognen's 15-yard pass to Blake Kinner accounted for the Hubbers' lone score in their loss to Bradford.
Kane (1-0) at Otto-Eldred (0-1)
After putting up 70 points in a win over Port Allegany last week, the Wolves now travel to Otto-Eldred, which gave up 57 points to Brockway last week.
Kane's Erik Delong ran for 158 yards and two touchdowns in the win over the Gators, who pounded out 562 yards of offense while forcing four Port turnovers.
For the Terrors, Dylan Close's 70-yard pass on a reverse pass play to Garret Babcock accounted for their lone score.
Port Allegany (0-1) at Ridgway (1-0) (at Johnsonburg)
The Elkers face a roughed-up Gators squad looking for a 2-0 start. They limited Coudersport to 153 yards of offense and five turnovers. Offensively, Neil MacDonald ran for 109 yards.
Trey Stiles ran for 86 yards on 16 carries for the Gators against Kane, which has now beaten the Gators in four of Port's last eight games, including the last three games the Gators have played. Kane beat Port in the AML Championship (21-0) and then the Class A playoffs (29-6) last year before this year's opener.
District 10 Region 5
Conneaut Area (1-0) at DuBois (1-0)
Both teams won their openers last week as they head into the conference opener, the Beavers 30-20 over Clearfield and the Eagles a 28-10 win over Fairview.
Braden Paulinellie filled in nicely at quarterback for injured Matt Miller. He ran for 182 yards and completed 12 of 18 passes for 95 yards, earning the Player of the Week honors. Miller could be back in action this week.
Conneaut lost its do-it-all star quarterback Hunter Merritt to graduation, but it does have 900-yard rusher Isaiah Gillette back in the lineup. The Eagles went 12-1 last year, losing in the D10 Class AAA finals to Cathedral Prep.
Mountain League
Clearfield (0-1) at Penns Valley (0-1)
Both teams are looking to shake off a Week 0 loss with the Rams dropping a 27-24 overtime decision to Marian Catholic.
For the Bison, Seth Caldwell ran for 54 yards on 15 carries in the loss to the Beavers while quarterback Isaac Rumery made his varsity starting debut by completing 7 of 12 passes for 163 yards. Receiver Micah Heichel caught five passes for 115 yards.
The Rams, 2-8 last year, return 6-foot-4 quarterback Andrew Tobias, who threw for 266 yards and two touchdowns in last week's loss. Tobias threw for 1,458 yards and 10 touchdowns last year.