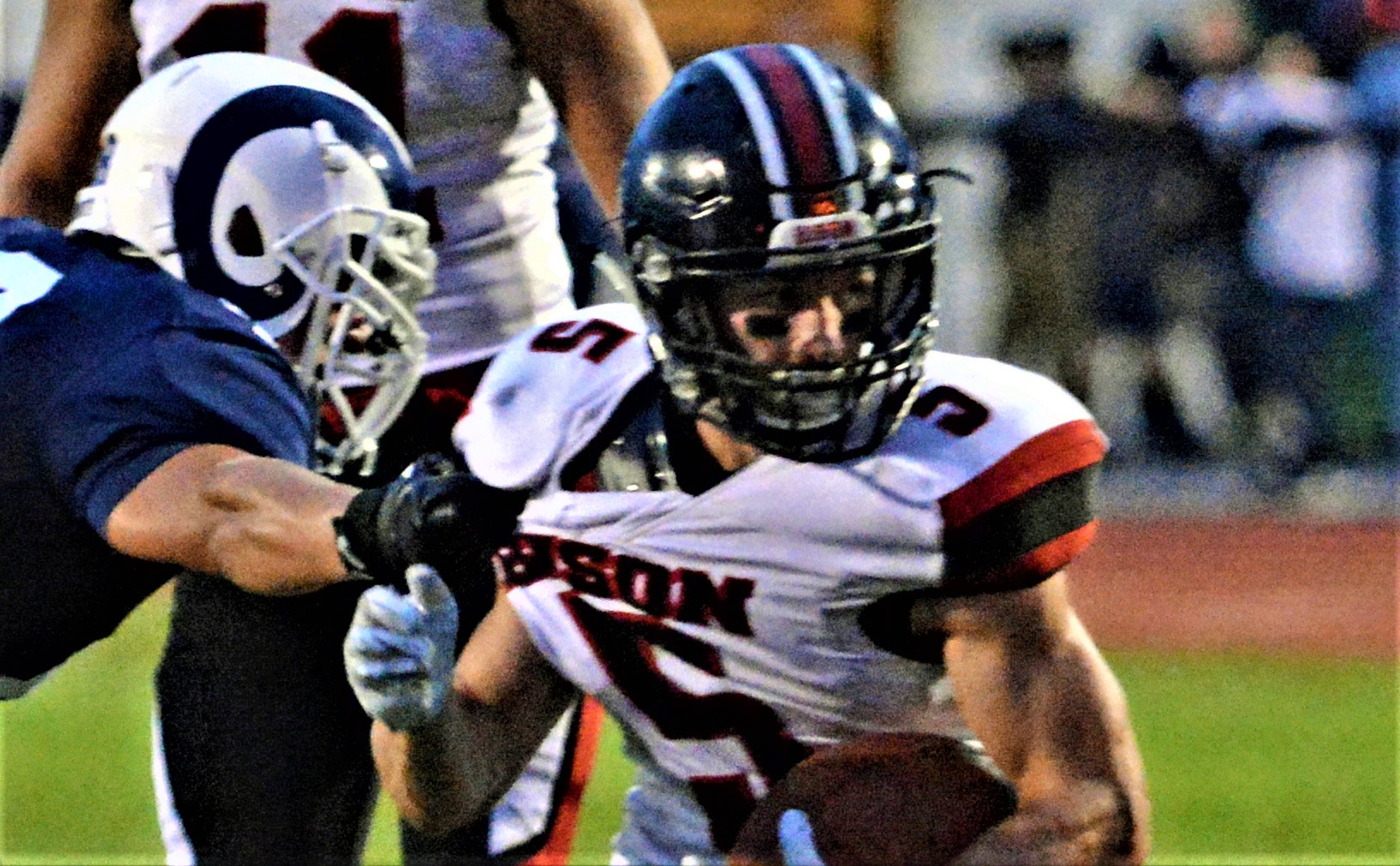 SPRING MILLS, Pa. – Caleb Freeland ran for five touchdowns to lift Clearfield to a 56-42 win at Penns Valley.
(Photo of Clearfield's Caleb Freeland. Photo by Logan Cramer III)
Freeland ran 16 times for 132 yards and was one of three Bison backs to go over 50 yards on the ground in the game.
Brett Zattoni added 14 carries for 75 yards with Isaac Rumery rushing 10 times for 62 yards and a touchdown. Rumery was also 13 of 16 passing for 272 yards and a score. Jake Lezzer caught five passes for 121 yards and the touchdown while Taye Lynch adding four grabs for 76 yards and Spencer Graham three for 60. Lezzer also had an 82-yard kickoff return for a touchdown.
Clearfield (2-0, 1-0 Mountain League) racked up 544 yards on the night, while Penns Valley, which led 14-7 after a quarter and was tied at 21 at halftime before being outscored 28-7 in the third quarter, fell to 1-1 overall and 0-1 in the league.
CURWENSVILLE 58, CAMERON COUNTY 6
EMPORIUM, Pa. – Cole Bressler scored three times and Jake McCracken twice to help visiting Curwensville roll past Cameron County, 58-6, Saturday evening in Emporium.
Bressler scored on runs of 58 and 16 yards and also recovered a fumble for a touchdown, while McCracken caught a 14-yard scoring pass from Noah VonGunden and also returned a punt 54 yards for a score.
VonGunden chipped in with a 26-yard touchdown run of his own and was 4 of 7 passing for 76 yards and the score while adding 26 yards rushing on two carries for the Tide (1-1).
Bressler ran for a team-best 78 yards and the two scores on just four touches with McCracken catching two passes for 40 yards and the touchdown.
Ebon Jackson had the lone score for Cameron County (0-2) on a 9-yard run. He ran 17 times for 42 yards. Nick Peters led the Red Raiders with eight carries for 47 yards while also going 4 of 7 passing for 21 yards and an interception.
BROCKWAY 28, BROOKVILLE 25
BROCKWAY, Pa. – Jon Wood returned a pair of kickoffs for touchdowns and added a long touchdown run as Brockway surprised No. 1 Brookville, which played most of the game without star quarterback Jack Krug, 28-25 in Brockway.
Wood had kickoff returns of 98 and 89 yards while also running for a 62-yard score for the Rovers (2-0 overall, 2-0 D9 League Large School). Peter Downer also added a 1-yard scoring run for Brockway.
Brookville, which lost Krug to an injury in the opening quarter, found itself down 28-12 following Wood's return of the second half kickoff but rallied to make it game behind a pair of touchdown passes from freshman Tate Lindemuth to Cabe Park – one from 29 yards out and the second from 81 yards out with just over 10 minutes left.
Lindemuth threw three touchdowns and 190 yards and also tossed two picks in relief of Krug also tossing a 15 yarder to Park late in the first half.
Brookville (1-1, 1-1) was also without expected leading receiver Bryan Dworek, who missed his second straight game due to a preseason injury.
Before leaving the game with the injury, Krug hit Addison Singleton with a 9-yard touchdown early in the game to give Brookville a 6-0 lead.
The difference in the contest was the leg of Zane Puhala, who was 4 of 4 on extra points, while Brookville failed on its first three PATs.
Wood had an all-around strong game for Brockway rushing for 116 yards and the touchdown, catching a pass for four yards and adding 185 yards worth of kick returns with the two touchdowns. Tyler Serafini added 120 yards rushing for the Rovers.
Tucker Wolfe ran for 104 yards for Brookville with Park catching 10 passes for 196 yards and the three scores
The game was for the inaugural Route 28 Trophy.
SMETHPORT 28, CLARION-LIMESTONE 18
SMETHPORT, Pa. – Behind a strong passing game from Grant Ognen, Smethport made an early-season statement in District 9 Class 1A with a 28-18 win over visiting Clarion-Limestone.
Ognen was 11 of 20 passing for 147 yards and two touchdowns. He threw scoring passes to Bryent Johnson (4 catches, 56 yards) and Nathan Hollowell (1 catch, 17 yards; 15 carries 61 yards).
Blake Kinner also scored on the ground for the Hubbers (2-0) rushing seven times for 49 yards, while Logan Christie returned a first-quarter interception for a touchdown.
Kinner also had a strong game on defense with 11 tackles and a sack, and Braedon Johnson had a big fourth-quarter interception around midfield with Smethport holding a 21-18 lead with about four minutes left in the game that eventually led to a 20-yard scoring run by Kinner that put the game away.
After trailing 14-0 in the first quarter, C-L led 18-14 early in the fourth quarter before Smethport took the lead on Hollowell's 17-yard touchdown catch.
Austin Newcomb ran for a pair of touchdowns for the Lions (1-1) rushing for 100 yards on 18 carries while also catching three passes for 42 yards. Colby Himes was 9 of 17 passing for 130 yards, a touchdown and two interceptions. Ayden Wiles added three catches for 66 yards and ran seven times for 33 yards with Ian Callen chipping in with a 9-yard scoring reception on his only catch of the night.
COUDERSPORT 28, ELK COUNTY CATHOLIC 6
ST. MARYS, Pa. – Stephen Kelly ran for 161 yards and two touchdowns on 23 carries to lead visiting Coudersport to a 28-6 win over Elk County Catholic.
Kelly's two touchdowns came in the third quarter and helped the Falcons (2-0) expand an 8-6 halftime lead into a 21-6 lead at the end of the third quarter.
Hayden Keck (18 carries, 75 yards) and Kolby VanWhy (9 carries, 24 yards) each scored on the ground for Coudersport.
Mason McAllister threw an 80-yard touchdown pass to Jon Wittman in the second quarter. It was one of the bright spots for McAllister, who was 6 of 21 passing for 110 yards, the touchdown and two interceptions.
Wittman had two catches for 95 yards and the touchdown, while Stephen Bobby had 11 carries for 44 yards.
REDBANK VALLEY 31, OTTO-ELDRED 8
Relisten to the broadcast of the game via exploreRadio:
NEW BETHLEHEM, Pa. – Redbank Valley scored three touchdowns in a span of just over eight minutes in the fourth quarter to pull away from visiting Otto-Eldred, 31-8.
The Bulldogs led 12-8 at halftime and held that four-point advantage until the first play of the fourth quarter when Keaton Kahle scored the first of two short touchdowns on a 2-yard run to put Redbank Valley ahead 18-8 three seconds into the final 12 minutes.
Otto-Eldred looked like it was going to answer back driving down the field and had a third-and-4 at the Redbank Valley 10-yard line, but Sam Hetrick made the play of the game for the Bulldogs picking off a Cole Sebastian pass at the goal line and returning it 85 yards to the Otto-Eldred 15-yard line before Sebastian ran him down from behind with 10:21 to play.
That led to a 9-yard Kahle run with 9:32 left in the game that extended the Redbank Valley lead to 17, 25-8.
The Bulldogs then tacked on another touchdown after stopping Otto-Eldred on downs when Travis Crawford scored his second short touchdown thanks to a 1-yard run with 3:23 left.
Redbank Valley led 12-0 right out of the gate scoring on its first two drives thanks to a 4-yard run by Crawford and a 2-yard bulldoze by Hunter Wiles.
But Otto-Eldred answered in the most unlikely of fashions late in the first half.
Following a Redbank Valley punt, the Terrors took over at their own 10-yard line, and the first run went for a 9-yard loss leaving Otto-Eldred 99 yards from a touchdown.
But O-E went the distance of the field scoring on an 11-yard Cameron Magee run that was followed by a Colton Gietler 2-point conversion run that made it 12-8 at halftime.
Kahle earned Hager Paving Player of the Game honors by rushing for the two touchdowns while also going 8 of 12 passing for 153 yards. Crawford chipped in 12 carries for 32 yards and the scores. Hunter Martz had three catches for 58 yards.
Kahle talked about the win.
Magee was Otto-Eldred's player of the game after his touchdown run – he had seven yards on four carries while also catching five passes for 54 yards.
Sebastian was 20 of 37 passing for 154 yards and the two picks and also ran for 17 yards on 13 carries. Chris Connelly hauled in six catches for 97 yards and was all over the field on defense.
UNION/A-C VALLEY 47, SHEFFIELD 0
RIMERSBURG, Pa. – Rolling up 368 yards of offense, Union/A-C Valley gave Brad Dittman his first win as the Falcon Knights' coach with a 47-0 thumping of visiting Sheffield Friday night in Rimersburg.
Union/A-C Valley did most of its damage on the ground rushing for 294 yards led by Kylar Culbertson's 10 carried for 77 yards. Caden Rainey added 64 yards and two touchdowns on just four carries and added a 26-yard touchdown catch on his only reception, while Nolan Cumberland ran for 44 yards and a touchdown on four carries and caught one pass for 26 yards. Quarterback Luke Bowser added a couple of short touchdown runs and ran for seven yards on five totes while going 6 of 12 passing for 74 yards and a touchdown. Tanner Merwin also had a rushing touchdown running for 54 yards on three carries.
Rainey talked about the victory.
Leading the Union/A-C Valley defense was Joe Dehart with six tackles and s sack with Caleb Penny adding seven stops, Brady Cullen four tackles and an interception and Dalton Callander an interception.
KARNS CITY 42, PUNXSUTAWNEY 22
PUNXSUTAWNEY, Pa. – Hunter Jones rushed for two touchdowns and a two-point conversion to help visiting Karns City to a 42-22 win over Punxsutawney giving first-year head coach Joe Sherwin his first win as the Gremlins head man.
Anthony Kamenski added a rushing touchdown and a throwing touchdown for Karns City (1-1 overall, 1-1 D9 League Large School Division) with Erik Pfeifer catching the score.
Also scoring for the Gremlins on the ground were Cameron Blair and Devin Ryan, while Hunter Rowe added a two-point conversion and Steve O'Donnell four extra points.
Dylan Ishman (15 of 28 passing, 215 yards, 3 TDs; 5 carries, 21 yards) and Alex Gianvito (6 catches, 114 yards, 2 touchdowns) had big games, especially in the second half, for the Chucks (0-2, 0-2). Max London also added a touchdown catch and had two grabs for 54 yards and ran two times for nine yards.
Jones ran six times for a team-best 73 yards and the two scores, while Kamenski was 8 of 12 passing for 150 yards and the touchdown while rushing six times for 50 yards and the score.
Also for Karns City, who had 16 different players touch the football including 14 rushers, Erik Pfeifer added two catches for 41 yards and the score, Madden McMillen had two grabs for 59 yards and Mitchell Kelsea ran seven times for 39 yards.
CLARION 34, MONITEAU 14
WEST SUNBURY, Pa. – Archer Mills tossed a career-high four touchdowns passes, including three to Sam Minich, as Clarion picked up a 34-14 road win over Moniteau.
Mills connected on scoring passes of 31, 36 and 20 yards to Minich while going 9 of 14 passing for 179 yards. Minich had four catches for 91 yards and three scores and carried the ball four times for 21 yards.
Cutter Boggess added a 100-yard rushing game with a touchdown for the Bobcats (2-0 overall, 2-0 D9 League Large School) rushing 15 times for 103 yards and catching one pass for 20 yards.
Ethan Burford also snagged a 57-yard touchdown reception and had two catches for 63 yards.
Clarion led 28-0 at halftime but Moniteau cut that lead in half on a pair of Cody Wise touchdown runs in the third quarter before the Bobcats scored in the fourth to put the game away.
Wise scored on runs of 13 and three yards in the third and finished with 137 yards on 19 carries. Chance Nagy chipped in 11 carries for 59 yards on the ground and was 5 of 14 passing for 62 yards and an interception for Moniteau (1-1, 1-1).
RIDGWAY 34, KANE 6
RIDGWAY, Pa. – Daunte Allegretto hauled in a pair of long touchdown receptions from Paul Gresco to help Ridgway roll past visiting Kane, 34-6.
Allegretto, who had two catches for 104 yards, caught scoring passes of 27 and 77 yards from Gresco, who was 7 of 8 passing for 113 yards and the two scores.
Jake Wickett added eight carries for 80 yards and a touchdown for the Elkers (2-0 overall, 2-0 D9 League Large School) who also got a touchdown run from Matt Dush (12 yards) and a 27-yard interception return from Austin Green for a score. Gabe Watts chipped in 85 yards rushing on nine carries and was 1 of 3 passing for 11 yards.
Kane got on the board on a 1-yard Zuke Smith touchdown run. Smith ran for 17 yards and was 4 of 12 passing for 49 yards and two interceptions. Aiden Hulings ran for 36 yards on seven carries for the Wolves (0-2, 0-2) with Jake Alcorn pulling down three catches for 49 yards and rushing nine times for 21 yards.
KEYSTONE 42, PORT ALLEGANY 24
PORT ALLEGANY, Pa. – Nick Weaver scored three touchdowns and Isaak Jones tossed three touchdown passes to help Keystone give first-year head coach Ryan Smith his first "W" with a 42-24 road win over Port Allegany.
Weaver ran 18 times for 101 yards and two touchdowns scoring on short runs of three and four yards and added a 52-yard interception return for a score.
Jones, meanwhile, was 6 of 13 passing for 90 yards and the three scores while tossing two interceptions. He also ran four times for 31 yards. Jones hit Jayden Blazosky on scoring passes of 11 and 16 yards and Hunter Langharst with a 32-yard pass. Blazosky caught three passes for 25 yards, while the score was Langharst's lone touchdown. Carlos Santana was 4 of 4 on extra points for the Panthers (1-1).
Two of Port Allegany's touchdowns were set up by special teams.
The Gators got a 1-yard run from Josh Rees to get on the board after a Keystone punt hit one of the Panthers' blockers in the helmet giving Port Allegany (0-2) the ball at the Panthers 5-yard line. Then, after Weaver returned the interception for a touchdown, Jared Mahon returned the ensuing kickoff 64 yards for a score.
It was one of three touchdowns for Mahon, who also scored on a 6-yard run and a 22-yard pass from Trey Ayers. He ran nine times for 43 yards and caught two passes for 26 yards. Mahon was also 3 of 3 passing for 44 yards.
Rees had 15 carries for 62 yards and three catches for 39.
GENERAL MCLANE 41, DUBOIS 12
DUBOIS, Pa. – Luke Dillen and Ben Howe-Jones combined for 185 yards rushing and three touchdowns to lead visiting General McLane to a 41-12 win over DuBois.
Howe-Jones ran six times for 111 yards and a touchdown with Dillen adding eight carries for 74 yards and two scores.
Dylan McCluskey had a 100-yard rushing game for DuBois with 19 carries for 102 yards and a score.
BRADFORD 14, ST. MARYS 2
BRADFORD, Pa. – Bradford scored a pair of first-half touchdowns and made those scores stand up in a 14-2 win over visiting St. Marys.
Donny Pattison scored on an 81-yard first-quarter run, and Jaron Ambrose added a 12-yard run in the second quarter, and the Owls defense, which gave up 69 points last week, limited St. Marys (0-2 overall, 0-2 D9 League Large School) to 124 yards of total offense.
Bradford (1-1, 1-1) ran for 229 yards led by Pattison's 151 yards on 13 carries. Ambrose 46 yards on eight carries.
Cain Pfoutz led St. Marys with 47 yards rushing on 10 carries. Pfoutz also caught one pass for 47 yards.