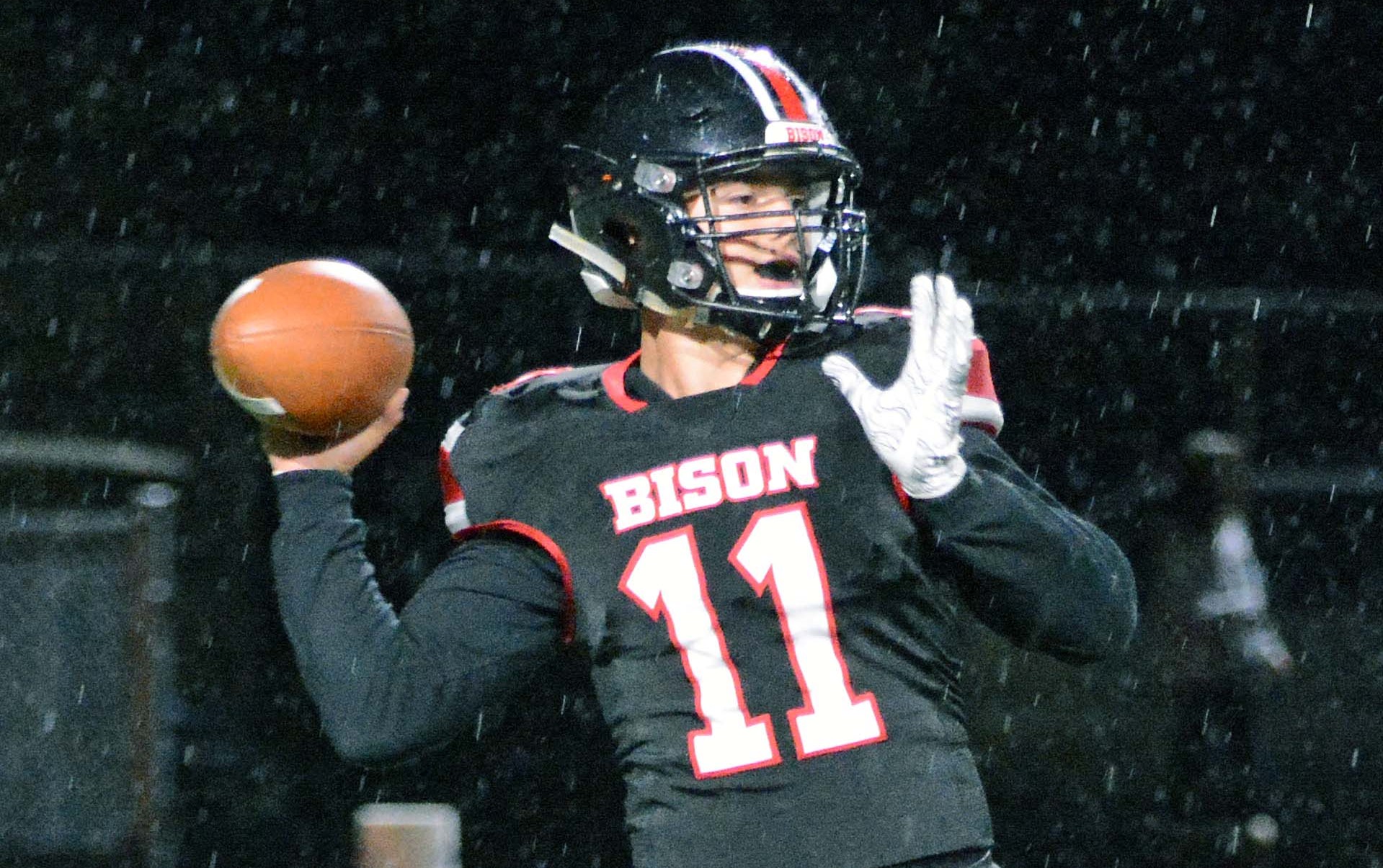 Nov. 3-4 playoff recaps.
(Photo: Clearfield's Isaac Rumery throws a touchdown pass Friday in the Bison's win over DuBois. Rumery had one TD throwing and three rushing to lead the unbeaten Bison to the D6-9 Class 4A title game. Photo by Logan Cramer III)
BELLEFONTE 58, BRADFORD 18
WINGATE, Pa. – Despite a strong start and three touchdowns from Donny Pattison, third-seeded Bradford fell to second-seeded Bellefonte, 58-18 in the District 6-9 Class 4A semifinals Saturday night at Bald Eagle Area High School's Alumni Stadium.
The Owls took a 6-0 lead less than a minute into the game after an 87-yard kick return from Jason Ambrose that set up a one yard Pattison touchdown run.
On the ensuing kickoff, Bradford recovered a fumble at the Bellefonte 26 to set up a six-play drive that resulted in another 1-yard touchdown run from Pattison to put the Owls up 12-0 with eight minutes left in the first quarter.
Bellefonte responded with a an 24-yard field goal from Chris Persiko and a 4-yard touchdown run by C.J. Funk in their next two possessions to cut the Owl lead to 12-10 at the end of the first quarter.
The Red Raiders then went on to score 48 points in the last three quarters thanks to touchdown runs from quarterback Kyle Myers (13, 10), Funk (3, 1) and Logan Houser (4) and special teams plays that included a 82-yard punt return from Funk and a 52-yard kick return from Noah Badger on the opening kickoff of the second half.0
Myers finished the game with 113 rushing yards on 14 carries with two touchdowns while going 4-for-6 passing with 120 yards and Funk chipped in for 112 rushing yards and two scores on 18 carries.
Pattison got one more score on a 39-yard run late in the fourth quarter to finish the night with 83 yards on 17 carries with three touchdowns.
Ambrose had a game-high 123 yards on 15 carries for the Owls.
Bellefonte will meet Clearfield again for the District 6-9 Class 4A Championship game at a time, date and location to be announced.
CLEARFIELD 45, DUBOIS 14
HYDE, Pa. – Isaac Rumery ran for three touchdowns and threw for a fourth to lead top-seeded and unbeaten Clearfield to a 45-14 win over visiting DuBois in the District 6-9 Class 4A semifinals.
Rumery, who ran six times for 89 yards and was 8 of 12 passing for 172 yards with an interception, scored on runs of 26, three and 66 yards and tossed a 78-yard touchdown pass to Jake Lexzzer, who caught two passes for 85 yards. Lezzer added a rushing touchdown and had three carries for 17 yards.
Caleb Freeland topped 100 yards rushing for Clearfield (11-0) with 12 carries for 140 yards and a touchdown, and Brett Zattoni just missed 100 yards going for 99 on 13 totes. Taye Lynch added four catches for 63 yards. Zach Hess added a 27-yard field goal, and Freeland had an interception on defense.
The Bison led 24-6 at halftime and then put the game away with 21 unanswered third-quarter points.
Fourth-seeded DuBois (4-7), which lost its 14th straight postseason game over a span of 22 years, scored on a 61-yard Eric Schneider to Andrew Boyle touchdown pass in the first half and then added a late touchdown.
Clearfield will face the winner of Saturday's other semifinal game between Bradford and Bellefonte in the title game either Friday, Nov. 9, or Saturday, Nov. 10, at a time and location to be announced.
MONITEAU 20, CLARION 14
CLARION, Pa. – Cody Wise's 1-yard run with 1:53 left broke a 14-all tie and give Moniteau a 20-14 win over Clarion in the District 9 Class 2A quarterfinals at Clarion University's Memorial Stadium.
Fourth-seeded Clarion (6-5), which lost its final five games after starting the year 6-0, had tied the game at 14 on a 5-yard Logan Minich run with 4:03 to play.
But Wise broke free for a 44-yard run to set up his winning score.
Until Wise found paydirt, fifth-seeded Moniteau (7-4) hadn't scored on offense.
The Warriors used a 62-yard fumble return for a touchdown from Nick Martino to take a 7-0 lead and then broke a 7-all tie on a 55-yard interception return for a score by Donavan Francois, who intercepted an Archer Miles screen pass and took it to the house.
Clarion had tied the game at seven on a 3-yard Mills to Logan Minich scoring pass in the first quarter.
Moniteau ran for 266 yards on the night led by Wise's 168 yards on 24 carries. Chance Nagy added 11 totes for 55 yards.
Martino had eight tackles, the fumble recovery and an interception to lead the Warriors defensive effort, while Wise added seven tackles and forced a fumble.
Sam Minich ran eight times for 167 yards for Clarion and caught three passes for 23 yards. His twin brother, Logan Minich, added nine carries for 26 yards and the touchdown and caught three passes for 56 yards and the score. Logan Minich also made 13 tackles.
Mills was 5 of 14 passing for 57 yards, the touchdown and two interceptions.
Moniteau will take on top-seeded Ridgway, who had a bye, in the semifinals either Friday, Nov. 9, or Saturday, Nov. 10, at a site and time to be announced.
SMETHPORT 28, UNION/A-C VALLEY 0
SMETHPORT, Pa. – Blake Kinner and Nathan Hollowell each ran for 100 yards and each scored twice, as Smethport overcame a couple of early mistakes and pulled away from visiting Union/A-C Valley for a 28-0 win in the opening round of the District 9 Class 1A playoffs.
Kinner ran 16 times for 172 yards and two touchdowns with Hollowell adding 21 carries for 100 yards and a score while also catching a 22-yard touchdown pass from Grant Ognen.
Top-seeded Smethport fumbled on its first two possessions but its defense forced a turnover on downs and then picked off a Union/A-C Valley pass to keep both turnovers from hurting.
Still, the unbeaten Hubbers (10-0) led by just seven, 7-0, at halftime before scoring twice in the third quarter to pull away.
Kinner gave Smethport the lead at the break with a 4-yard run in the second quarter, and then Ognen hit Hollowell with the 22-yard pass and Kinner scored on a 6-yard run in the third quarter to make it 21-0. Hollowell finished off the scoring with a 4-yard run in the fourth quarter.
Meanwhile, the Hubbers defense limited eighth-seeded Union/A-C Valley (4-7) to 127 yards of total offense.
Luke Bowser was 7 of 25 passing for 76 yards and two interceptions with Tanner Merwin catching five passes for 61 yards. Freshman Caden Rainey led the Falcon Knights ground game with four carries for 29 yards.
Smethport will take on fifth-seeded Curwensville, who beat Elk County Catholic, in the semifinals either Friday, Nov. 9, or Saturday, Nov. 10, at a time and place to be determined.
CLARION-LIMESTONE 48, OTTO-ELDRED 18
STRATTANVILLE, Pa. – Another strong night from Austin Newcomb helped Clarion-Limestone roll into the District 9 Class 1A semifinals with a 48-18 win over visiting Otto-Eldred.
Newcomb turned in his third straight game of at least 200 yards rushing and his sixth of the season with 270 yards and five touchdowns on 31 carries. He added two catches for 19 yards and also intercepted a pass on defense.
Scoring on first-half runs of 39, five and six yards, Newcomb helped the second-seeded Lions (9-2) to a 24-0 halftime lead. He then added scoring runs of 10 and 11 yards in the second half to get the game into the PIAA's Mercy Rule.
Newcomb talked about the victory.
Ayden Wiles added a 100-yard performance on the ground with 16 carries for 110 yards including a 14-yard touchdown run. He went over 1,000 yards rushing on the season in the game.
Also setting a milestone for C-L was Colby Himes, who was 3 of 11 passing for 44 yards to go over 1,000 yards through the air on the season. Himes added a 1-yard scoring run.
Otto-Eldred used some big plays to score its three touchdowns.
A 40-yard double-reverse pass from Chase Sebastian to Cole Sebastian set up a 3-yard Cole Sebastian to Colton Geitler touchdown pass.
Charles then returned a kickoff 65 yards for a score, and Sebastian took off on a 77-yard run for the final score of the night for the seventh-seeded Terrors (5-6).
Prior to the long run by Sebastian, C-L had harassed the Otto-Eldred QB all night dropping him for a few sacks. He ended up with nine carries for 79 yards and the touchdown and was 15 of 32 passing for 109 yards, the touchdown and two picks.
Ethan Smith had six catches for 55 yards for O-E.
C-L will take on sixth-seeded Coudersport in the semifinals either Friday, Nov. 9, or Saturday, Nov. 10, at a site and time to be announced.
COUDERSPORT 52, REDBANK VALLEY 7
NEW BETHLEHEM, Pa. – Three weeks after dropping a game on the same field, Coudersport avenged a 14-point loss to Redbank Valley with a 52-7 blowout win in the District 9 Class 1A quarterfinals.
It was the Stephen Kelly show for the sixth-seeded Falcons (6-4). He ran for 233 yards on 28 carries and scored four touchdowns, all of them in the first half. Kelly sparked a 463-yard offensive outburst for Coudersport, who piled up 376 yards on the ground. Quarterback Hayden Keck ran for 98 yards on 12 carries with two touchdowns and threw for two more scores.
The Falcons lost 41-27 to the third-seeded Bulldogs (7-4) Oct. 12 in a game that saw Redbank Valley rally from a 27-21 deficit in the third quarter. This one was over in the first half, as Coudersport blasted its way to a 40-7 halftime lead.
After the Bulldogs scored on Keaton Kahle's 26-yard TD pass to Ethan Hetrick to get within 14-7 with 36 seconds left in the first quarter, Coudersport scored the final 38 points of the game, including 26 points on four second-quarter touchdowns.
Kelly scored on runs of 51 and 25 yards as Coudersport jumped out to the 14-0 lead. Then after the Bulldogs' lone points of the night, the Falcons ran the scoreboard the rest of the way. Keck hit Brandt Kightlinger on a 43-yard scoring pass, Kelly added touchdown runs of 18 and five yards and Keck made it 40-7 with a 3-yard run with 1:43 left in the first half.
Keck hit Kightlinger again from nine yards out in the third quarter and added his second touchdown run on a 2-yarder to complete the game's scoring with 2:15 left in the fourth quarter.
Kahle completed 12 of 27 passes for 172 yards with three interceptions for the Bulldogs, who were limited to five yards rushing on 17 attempts. Hetrick caught three passes for 87 yards.
Coudersport, which had entered the playoffs losers of four of six, will take on second-seeded Clarion-Limestone in the semifinals either Friday, Nov. 9, or Saturday, Nov. 10, at a time and place to be determined.
CURWENSVILLE 26, ELK COUNTY CATHOLIC 0
ST. MARYS, Pa. – Turning around a season-opening 20-point loss to Elk County Catholic, fifth-seeded Curwensville rolled past the fourth-seeded Crusaders, 26-0, at St. Marys High School.
Cole Bressler ran 16 times for 157 yards and three touchdowns in the victory for the Golden Tide (7-4), who also scored on a 27-yard Jacob Mullins field goal.
Behind Bressler, Curwensville ran for 212 yards in a game that only saw the Golden Tide outgain ECC (7-3) 357 yards to 328. Five turnovers by the Crusaders, two interceptions and three fumbles lost, and a blocked punt did in the home team, however.
Two of the turnovers came inside the Curwensville 30-yard line, a third in Golden Tide territory with the other two coming around midfield. ECC also turned the ball over on downs at the Curwensville 6-yard line.
Stephen Bobby led ECC with a game-high 194 yards rushing on 35 carries. Mason McAllister was 12 of 24 passing for 122 yards and the two picks.
Noah VonGunden threw for 145 yards on 7 of 13 passing for Curwensville with Jake McCracken catching five passes for 112 yards. McCracken also recovered the blocked punt deep in ECC territory leading to a Bressler touchdown run.
Curwensville will face top-seeded Smethport in the semifinals either Friday, Nov. 9, or Saturday, Nov. 10 at a site and time to be announced.