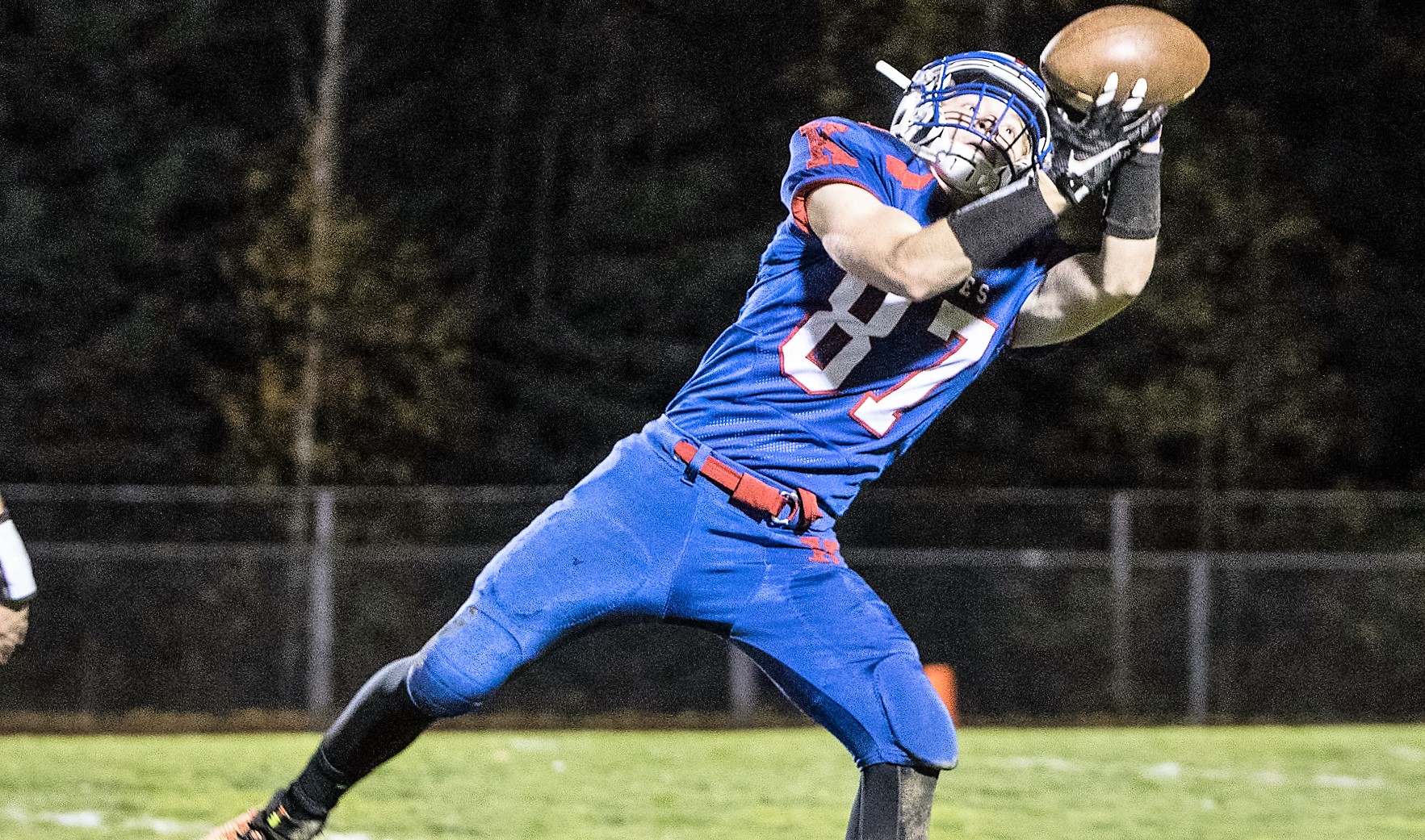 Playoff football recaps from Week 10 in games involving District 9 teams. Updated to include all games.
(Cover photo of Kane's Ray Maze hauling in a pass during the Wolves' win over Moniteau Friday night. Photo by Shawn Murray. Check out more of Murray's work here.)
DISTRICT 9 CLASS 1A QUARTERFINALS
(3) ELK COUNTY CATHOLIC 21, (6) REDBANK VALLEY 14
ST. MARYS, Pa. – Dan Stauffer's 5-yard touchdown run with 1:45 to play lifted third-seeded Elk County Catholic to a 21-14 come-from-behind victory over upset minded, visiting Redbank Valley, the sixth-seed, in the District 9 Class 1A quarterfinals Saturday at St. Marys' Dutch County Stadium.
Stauffer's touchdown run capped the second 80-yard, fourth-quarter drive for the Crusaders, who trailed 14-6 going to the quarter and withstood a short field goal attempt by Redbank Valley at the start of the quarter.
That kick, a 24-yard attempt by Clint Thurston, was just wide right on the first play of the fourth quarter and ruined a great opportunity for the Bulldogs (5-5) to put the game away after they recovered an ECC fumble at the ECC 7-yard line late in the third quarter.
After the missed kick, the Crusaders got the ball at their own 20-yard line and eight plays to tie the game scoring on a fourth-and-3 18-yard pass from Nate DaCanal to Brad Dippold with 7:51 to play. DaCanal then found Eric Gerber on a tipped two-point conversion pass to knot the contest at 14.
Following the ensuing kickoff, Redbank Valley moved to the ECC 44-yard line where it's drive stalled, and Thurston's punt from the 49 following a delay of game penalty sailed into the end zone for a touchback giving ECC the ball at its own 20 again with 6:15 to play.
A holding call on the Crusaders had them facing a first-and-20 from their own 25, and they were left staring at a third-and-16 from their 29 when DaCanal broke free on a 16-yard run to get the first down out at the ECC 45-yard line.
Another long DaCanal run, this time a 25-yard scamper, moved the ball to the 20-yard line, and Stauffer went 15 yards to the five before completing the drive with the 5-yard touchdown run.
All of Redbank Valley's points came before halftime.
The Bulldogs grabbed a 7-0 run on their second offensive play of the game when a little flip pass from Keaton Kahle to Brock Barrett – it almost acted as a run with Barrett coming right in front of Kahle to take the pass – broke for 49 yards and a 7-0 lead.
Redbank Valley had chances to add to the lead with great field position starting its next three drives from its own 42, the ECC 42 and the ECC 44 but failed to score with the best chance coming when the Bulldogs had first-and-10 from just outside the 10-yard line but failed on downs when Thurston was dropped for a yard loss on fourth-and-inches from around the 1.
Those failed opportunities started to catch up with Redbank when ECC put together a 75-yard scoring drive that ended on a 21-yard Jared Braun touchdown run with 5:57 left in the first half that cut the Bulldogs lead to 7-6.
ECC then looked poised to take the lead late in the half when it moved to the Redbank 30-yard line, but a DaCanal pass was picked off by Barrett who raced up field before being tackled by DaCanal at the ECC 13-yard line with 1:04 to play half. The play turned out to be devastating for Redbank, as Barrett left with a right-leg injury and never returned.
Redbank was able to punch the ball into the end zone on the first play after the pick when Kahle hit Chase Wiles with a 13-yard scoring pass to put the Bulldogs ahead 14-6.
DaCanal had a huge game for ECC going 17 of 27 passing for 279 yards and the touchdown. He was also picked off three times, two by Barrett and one by Colten Mohney to end the first half. DaCanal also ran 12 times for a team-high 79 yards. Dippold had seven catches for 128 yards and the touchdown.
Kahle was 11 of 21 passing for 179 yards and two touchdowns for Redbank Valley, but the Bulldogs rushed for just 21 yards on 30 carries on the night with Kahle being sacked five times. Barrett had five catches for 112 yards and the score, all in the first half.
(4) CURWENSVILLE 33, (5) COUDERSPORT 6
CURWENSVILLE, Pa. – Three fourth-quarter Nick Stewart touchdowns helped fourth-seeded Curwensville pull away from fifth-seeded Coudersport, 33-6, in District 9 Class 1A quarterfinal action at Curwensville.
The Golden Tide (6-4), winners of two straight after a four-game losing streak, led 14-6 going into the final 12 minutes before a 62-yard run by Stewart, who ran for 248 yards on the night, broke the game open a bit. Stewart then hauled in a 28-yard scoring pass from Bryce Timko midway through the quarter to put the game away before adding a third touchdown in the quarter late.
Stewart also scored Curwensville first touchdown on a 5-yard run 3 ½ minutes into the game.
Coudersport scored its lone touchdown late in the first quarter on an 8-yard Aaron Wolfinger to Derek Keglovits pass. Wolfinger led the Falcons (5-5), who were outgained 425-168, going 14 of 26 passing for 127 yards and the touchdown.
Up 7-6, Curwensville pushed the lead to 14-6 at halftime on a 1-yard Kaleb Witherite run midway through the second quarter.
Curwensville gets a rematch with top-seeded Ridgway, which had a bye, in the semifinals next week. Ridgway beat the Golden Tide 28-0 Oct. 7 in Ridgway.
(2) CLARION-LIMESTONE 26, (7) OTTO-ELDRED 16
STRATTANVILLE, Pa. – Thanks to a pair of Brendan Makray touchdown passes and two Mike Macefe scoring runs, second-seeded Clarion-Limestone built a 26-0 lead after three quarters and then held on to beat visiting and seventh-seeded Otto-Eldred, 26-16, in the District 9 Class 1A quarterfinals.
The Lions (8-2), making their first playoff appearance since 2005, led 12-0 at halftime thanks to two Makray touchdown passes in the first quarter. He hit Sam Leadbetter, who also picked off a pass (his seventh of the season), with a 7-yard scoring toss on the C-L's first drive of the game and then found Benton Smith from 22 yards out late in the quarter.
Macefe then added to the lead with scoring runs of 10 yards and 1 yard in the third quarter.
But Otto (5-6), making its first-ever playoff appearance, didn't go down quietly.
Sawyer Drummond threw a pair of touchdown passes to Grant West (one from 24 and one from 64 yards) in the first 3:08 of the fourth quarter to make it 26-16.
The Terrors then had a golden opportunity when C-L was stopped short on a fake punt run around his own 35-yard line with just under seven minutes to play. But the C-L defense held firm forcing a turnover on downs that proved to be a key play in the game.
Macefe had a monster game for C-L, who outgained Otto 380-233, rushing 29 times for 199 yards and the two scores. Makray was 8 of 16 passing for 119 yards and two touchdowns with Leadbetter catching four passes for 76 yards.
Sawyer Drummond had another good game for Otto-Eldred. The junior was 15 of 33 for 166 yards and two scores but was also picked off three times. He added a team-best seven carries for 55 yards. West had four catches for 88 yards with Dylan Close adding eight for 58.
DISTRICT 5-6-9 CLASS 4A SEMIFINALS
(1) CLEARFIELD 34, (4) BELLEFONTE 7
HYDE, Pa. – After a slow start, top-seeded Clearfield pulled away from fourth-seeded and visiting Bellefonte for a 34-7 victory in the District 5-6-9 semfinals.
The Bison (10-1), who beat the Red Raiders 28-0 during the regular season and have now won 10 straight, found themselves in a dogfight with their Mountain League rival. The game was tied at zero at the end of the first quarter and at seven following a 45-yard touchdown run by Bellefonte's Dexter Gallishaw with 9:05 to play in the first half.
But Clearfield took a 14-7 lead just before the half on a 51-yard Isaac Rumery to Ryan Lezzer scoring pass. The Bison then added a pair of third-quarter touchdowns – Rumery hit Micah Heichel on a 68-yard bomb on the first play of the second half and Seth Caldwell found paydirt on a 24-yard run, his second touchdown of the game – to make it 28-7 going to the fourth quarter. Ty Bender's 40-yard scoring run midway through the fourth put the icing on the cake for Clearfield, who will face Johnstown, a 40-24 winner over DuBois, in the District 5-6-9 Championship game next week.
Caldwell and Rumery both had big games for Clearfield.
The senior running back Caldwell rushed 20 times for 122 yards and the two scores, while Rumery, a sophomore, was 11 of 15 passing for 214 yards and the two touchdowns while adding 30 yards rushing on 13 carries.
Lezzer caught six passes for 94 yards and the touchdown with Heichel adding two catches for 79 yards. Bender ran seven times for 83 yards and the score helping Clearfield outgain Bellefonte 463-229.
Most of Bellefonte's yards came on the ground with Gallishaw (18 carries, 117 yards) and Tyler Kreger (14 carries, 106 yards) both topping 100 yards helping the Red Raiders (5-6) run for 223 yards on 32 carries. Kreger, though, was just 3 of 15 passing for six yards with an interception – Dylan Fenton came up with the pick.
(2) JOHNSTOWN 48, (3) DUBOIS 24
JOHNSTOWN, Pa. – West Virginia recruit Exree Loe scored three touchdowns to lead second-seeded Johnstown to a 48-24 win over third-seeded and visiting DuBois in the District 5-6-9 Class 4A semifinals.
Loe's first touchdown was also the game's biggest.
With Johnstown (10-1) trailing 17-13 following a Matt Miller to Colin Read 16-yard touchdown pass late in the first, Austin Barber heaved up a Hail Mary pass from the DuBois 45-yard line as time ran out in the half. The ball was deflected and ended up in Loe's hands to give the Trojans a 21-17 halftime lead.
Johnstown never trailed after that.
A Barber to Tavis Price scoring pass made it 28-17, before Miller hit Kyle Hopson with a 21-yard scoring toss to bring the Beavers (6-5) back to within four, 28-24.
But Loe, filling in at quarter for an injured Barber, scored on 2-yard run to make it 34-24, and then Rashaud Jordan-Maines intercepted his second pass of the game and returned it 35 yards for a touchdown and a 41-24 Trojan advantage. Loe put the capper on the night for Johnstown with a 25-yard scoring run.
DuBois led 7-0 early on a 2-yard Brock Adams touchdown run following a Dylan McCluskey fumble recovery at the Johnstown 40.
But Miller was picked off by Theo Tinsley leading to a 3-yard Barber scoring run that tied the game.
DuBois then gave up three touchdowns on three straight plays following a Jordan-Maines interception on a Miller shovel pass at midfield but only one counted for the Trojans.
A 50-yard run was called back by a hold, then a 45-yard run was called back by another hold. But Barber hit Darrian Berkins with a 57-yard scoring pass to make it 13-7 Johnstown.
A 22-yard Carson Hanna field goal got the Beavers back within three, 13-10, before Miller hit Read to give DuBois it's second and final lead of the game.
Loe ran for 90 yards caught five passes for 203 yards to lead Johnstown. Narber was 11 of 24 for 345 yards and the three scores.
Miller threw the ball 70 times for DuBois going 31 of 70 for 424 yards, two touchdowns and four interceptions. Hopson had nine grabs for 125 yards with Kenny Garvey catching seven passes for 111 yards. DuBois ran for minus 10 yards.
DISTRICT 8-9 CLASS 3A SEMIFINALS
(3) PERRY 38, (2) ST. MARYS 27
ST. MARYS, Pa. – Third-seeded Perry got three touchdowns from James Goodwine and two from Rasaun Taylor to make the 2 ½ hour trip home from St. Marys a happy one with a 38-27 win over the second-seeded Dutch at Dutch Country Stadium.
Two of Goodwine's touchdown runs came in the fourth quarter helping Perry expand on a 20-14 lead. The Commodores (4-6) built the lead to 32-14 with two touchdowns 36 seconds apart at the start of the fourth quarter.
First Goodwine scored on an 18-yard run to make it 26-14 then Taylor intercepted a Pat Schlimm pass and returned it 35 yards for a touchdown.
It was the second time in the game Perry scored twice within 40 seconds.
Trailing 14-6 late in the first half, a pair of Commodores touchdowns 28 seconds apart turned the tide of the game.
Goodwine's 14-yard run with 2:47 left in the half closed the gap to two, 14-12, and then, after St. Marys (6-4) fumbled the ensuing kickoff, Doug Johnson scampered into the end zone from 5 yards out at the 2:19 mark to give Perry a 20-14 halftime lead.
Trailing by 18 with under eight minutes to play, St. Marys rallied to within five, 32-27, on a 1-yard Matt Marconi, who ran 28 times for 136 yards, touchdown run and a 65-yard Schlimm to Parker Smith scoring pass, the later coming with 3:10 to play.
But with one timeout left, St. Marys was forced to try the onside kick, and Perry returned it all the way to the Dutch 7-yard line. From there, Goodwine punched it in on a 4-yard run to set the final score.
The teams traded touchdowns in the first 35 seconds of the game.
Bill Beck returned the opening kickoff 73 yards to put St. Marys ahead 7-0 14 seconds into the contest, but Johnson hit Taylor with an 84-yard pass 21 seconds later to cut the lead to 7-6.
A 1-yard Schlimm run 3 ½ minutes later put St. Marys up 14-6 before the game took on more of a defensive posture for much of the remaining part of the half.
Schlimm was 9 of 17 passing for 124 yards, the touchdown and an interception along with the rushing touchdown in his final career game after a strong 4-year career for the Dutch. Christian Steffan added 53 yards rushing, while Smith had four catches for 83 yards.
Johnson accounted for 249 yards of Perry's 350 yards of offense. He was 11 of 18 passing for 207 yards with the touchdown and an interception. He also ran for 42 yards and the score 11 carries. Goodwine added 94 yards rushing on 18 carries, while Taylor had six catches for 136 yards and the touchdown.
Perry will take on top-seeded Karns City, which had a bye this week, in the District 8-9 title game next week.
DISTRICT 9 CLASS 2A SEMIFINALS
(3) CLARION 40, (2) BROCKWAY 24
BROCKWAY, Pa. – A pair of Mike McCloskey fourth-quarter touchdown runs helped visiting Clarion, the third-seed, rally from a three-point deficit entering the quarter and defeat second-seeded Brockway, 40-24, in the District 9 2A semifinals.
The Bobcats (9-1), playing without starting quarterback Spencer Miller (broken arm), trailed the Rovers (8-2), 24-21, going to the fourth quarter after Mark Latuska caught an 11-yard touchdown pass from Hunter Miller with 42 seconds to play in the third quarter.
But McCloskey put Clarion ahead for good, 28-24, with a 2-yard run with 8:50 to play. It was the third lead change in the second half. McCloskey then gave the Bobcats some breathing room with a 5-yard run with 5:17 to go, and Archer Mills, a sophomore making his first career start at quarterback, put the game away on a 5-yard run with 5:17 to go.
Mills, who prior to Friday night hadn't thrown a pass and was better known for being Clarion's kicker, managed the game well. His 8-yard touchdown pass to Ryley McMaster with eight seconds left in the first half got Clarion to within three, 17-14, at halftime. He finished the night 6 of 10 passing for 47 yards with the touchdown while throwing two interceptions. He also ran eight times for 36 yards.
Colton Rapp took a lot of the pressure off Mills rushing for a game-high 188 yards on 27 carries and scoring on runs of 4 and 6 yards. His 6-yard scored late in the third quarter gave Clarion it's first lead of the game, 21-17.
McCloskey added 64 yards on seven carries, as Clarion outgained Brockway 378-296 including 331-46 on the ground.
Hunter Miller threw two touchdowns for the Rovers opening the scoring with a 10-yard pass to Andrew Trunzo. Miller was 14 of 31 for 250 yards, two touchdowns and an interception. Latuska, who ran 12 times for 43 yards and caught two passes for 44 yards, also scored twice putting Brockway ahead 14-7 on a 12-yard run two minutes into the second quarter. Jarrett Esposito added to that lead with a 37-yard field goal with 4 ½ minutes to go in the half.
Cameron Baka (two catches, 65 yards), Jake Gorham (3 catches, 63 yards) and Dylan LeCates (4 catches 50 yards) led a balanced receiving corps for the Rovers. Gorham and Noah Vokes also intercepted passes on defense.
McCloskey chipped in a pick on defense for Clarion, who will take on Kane, a 55-7 winner over Moniteau, in the championship contest next week.
(1) KANE 55, (4) MONITEAU 7
KANE, Pa. – Reed Williams threw four touchdown passes, and Erik DeLong ran for three scores and became Kane's all-time single-season rushing leader as the top-seeded Wolves rolled past visiting and fourth-seeded Moniteau, 55-7, in the District 9 Class 2A semifinals.
Kane (11-0), which is making its fifth straight appearance in a D9 title game (3 in 2A and 2 in 1A) rolled to a 42-0 halftime lead and outgained the visiting Warriors (3-7) 390-124.
Williams had a big night going 11 of 15 for 258 yards and four touchdowns. He threw a pair of scoring passes to Davis Gardner (5 catches, 64 yards) and one each to Ange Costanzo (2 catches, 74 yards) and Ray Maze (2 catches, 89 yards).
DeLong, meanwhile, ran 13 times for 137 and three touchdowns scoring on runs of 8, 4 and 70 yards. The 70-yard score early in the second half helped the junior eclipse the school's single-season rushing mark of 1,529 yards set last year by Shane Rolick. DeLong now has 1,577 yards on the season.
Kane jumped to a 21-0 lead by the end of the first quarter on two DeLong scoring runs and a 48-yard Williams to Costanzo touchdown pass. Williams then hit Gardner from 24 and 10 yards out and Maze from 63 yards out in the second quarter to push the lead to 42-0.
After DeLong's 70-yard burst made it 49-0, Frank Truden ended the scoring for the Wolves with a 5-yard run in the third quarter.
Dalton Anderson, who had four catches for 41 yards, caught the lone Moniteau TD on an 11-yard pass from Chance Nagy in the fourth quarter. Nagy was 5 of 14 for 57 yards. He also caught two passes for 20 yards and ran four times for 31 yards. Hunter Fitzingo was 5 of 9 passing for 44 yards. Wyatt Geibel chipped in four grabs for 30 yards for the Warriors.
Kane will take on Clarion in the District 9 title game next week.