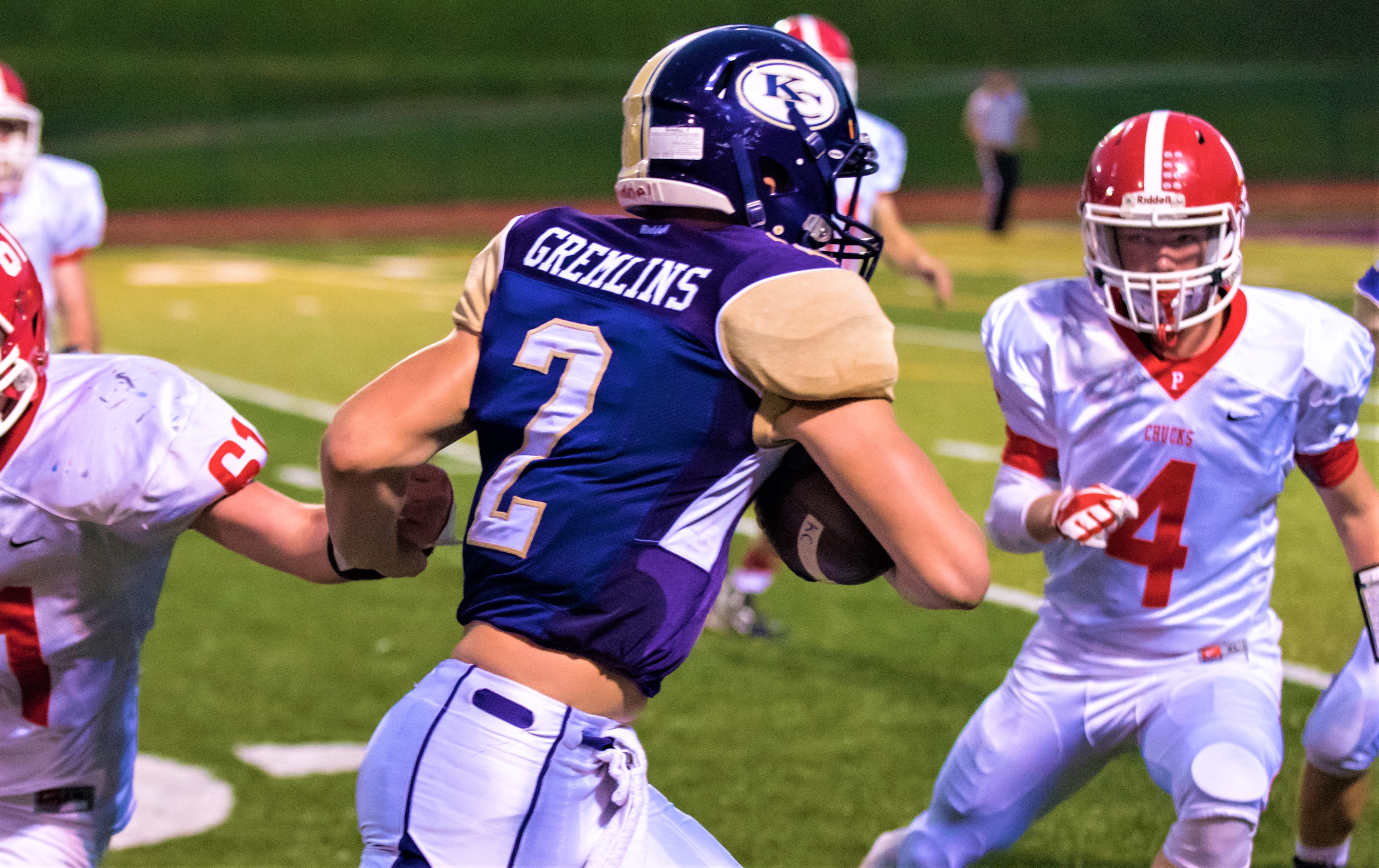 District 9 football heads into its third week of games and it's another Large School Division week of course — they all are through nine weeks — while the Small School divisional play returns after a crossover week.
Karns City's Anthony Kamenski leads the Gremlins into Friday's home game with Clarion in a key Large School Division matchup (Photo by Howie Dittman)
The games to watch this week? Let's go with Clarion (2-0) at Karns City (1-1) in the Large School schedule with Elk County Catholic (1-1) at Redbank Valley in the Small School South. And in Mountain League play, it's the Clearfield Bison (2-0) hosting Central-Martinsburg (1-1) in what's usually a good matchup.
Twelve of the 13 games are Friday night with Bradford (1-1) visiting Kane (0-2) Saturday.
The Bobcats and Gremlins are both coming off wins, the Bobcats staying unbeaten with a 34-14 win over Moniteau and the Gremlins bouncing back from an opening loss to Brockway with a 42-22 rout of Punxsutawney.
Clarion has some balance offensively with sophomore Cutter Boggess (31 carries, 197 yards, 2 TDs) and senior Sam Minich (10-192, 3 TDs) lead the running game while quarterback Archer Mills (17-of-24, 306 yards, 5 TDs, 1 Int.) is off to an efficient start. The Bobcats should benefit with the return of Logan Minch at running back this week. Logan Minch, Sam's twin brother, rushed for over 900 yards last season helping Clarion to the Class 2A D9 title.
For Karns City, Hunter Jones (15-122, 4 TDs) leads the running game while quarterback Anthony Kamenski (17-for-29, 203 yards) is off to a strong start.
While Clarion beat the Gremlins 44-17 last year, Karns City has won 13 of the last 17 matchups with the Bobcats.
At New Bethlehem, the Bulldogs host the Crusaders in what's just the third meeting ever between the teams and the first in the regular season. They last met in the 2016 playoffs with the Crusaders winning in the Class 1A quarterfinals in St. Marys.
Bulldogs quarterback Keaton Kahle has completed 26 of 36 passes for 339 yards and two TDs and an interception. Hunter Wiles (22-196) and Kahle (14-119) lead the team's running game.
The Crusaders are coming off a 28-6 loss at Coudersport. Stephen Bobby (39 carries, 217 yards) is the leading rusher while quarterback Mason McCallister has completed 13 of 35 passes for 217 yards with three touchdowns against five interceptions.
In the Mountain League, the Bison try to make it 3-0 when they host the Red Dragons, who beat them 42-14 last year. While Clearfield pulled away for a win at Penns Valley last week, Central dropped a 33-14 decision to Tyrone.
The Dragons, who opened with a 32-6 win over Northern Bedford, are led by quarterback Noah Muthler (19-of-42, 187 yards, 1 TD, 4 Ints) who also leads the team in rushing (26-124, 3 TDs). Thad Albright (11-139, 1 TD) is his top receiver.
The Bison are balanced — 431 rushing, 383 passing — so far through two games as quarterback Isaac Rumery (22-of-33, 383 yards, 2 TDs, 1 Int) leads the way. He's third in rushing (18-120) behind last week's Allegheny Grille of Foxburg Player of the Week Caleb Freeland (26-172, 6 TDs), who ran for five TDs against Penns Valley, and Brett Zattoni (26-135). Jake Lezzer (8-174) is Rumery's top receiver.
Here's a closer look at the other games:
LARGE SCHOOL
Punxsutawney (0-2) at Brookville (1-1)
The banged-up Raiders finished last week's loss to Brockway without sophomore quarterback Jack Krug, who broke his collarbone and will be out up to six weeks. They still haven't gotten back injured all-state receiver Bryan Dworek, who could return this week, and they also lost leading running back Tucker Wolfe to a shoulder injury last week against the Rovers.
So the Raiders will lean on freshman backup QB Tate Lindemuth, who completed 11 of 23 passes for three touchdowns and two interceptions after replacing Krug. Senior receiver Cabe Park, who caught 10 passes for 196 yards and all three of those Lindemuth TD passes, has video game numbers so far out of the gate with 25 receptions for 486 yards and eight TDs.
Chucks' quarterback Dylan Ishman made his season debut in last week's loss to Karns City completing 14 of 27 passes for three touchdowns. Alex Gianvito caught six passes for 111 yards and two TDs.
It's the Route 36 Trophy game and the 44th overall meeting between county rivals. The Raiders have won 17 of 25 matchups since reviving the series in 1993.
Brockway (2-0) at St. Marys (0-2)
The Rovers and Flying Dutchmen meet for the first time since 1969 when the Dutch blanked the Rovers, 22-0.
The Dutch are looking for their first touchdown of the season, their only points coming with a safety in last week's 14-2 loss to Bradford. Most of the offense has come on the ground. Cain Pfoutz (19 carries, 79 yards) leads the running game with quarterback Todd Taylor (9-of-20, 77 yards) taking the snaps.
The Rovers try to make it 3-0, coming off a 28-25 win over Brookville in which they got two kick returns for TDs from Jon Wood. He (24-167, 2 TDs) and Tyler Serafini (45-268, 1 TD) lead the running game out of the backfield. Quarterback Peter Downer has completed 10 of 26 passes for 118 yards.
Moniteau (1-1) at Ridgway (2-0) at Johnsonburg
The Elkers host the Warriors at Johnsonburg's Memorial Stadium also looking to improve to 3-0 as the defense continues a familiar theme for head coach Mark Heindl's team. The Elkers have outscored their two foes 76-6 giving up just 286 yards of offense.
Offensively, Ridgway mostly run the ball, totaling 537 yards, and it's balanced with Jake Wickett (16-146, 4 TDs), Cole Secco (8-139, 1 TD) and Gabe Watts (13-123). Quarterback Paul Gresco (12-of-15, 261 yards, 2 TDs) has been effective when throwing with his top receiver Daunte Allegretto (3-163, 2 TDs).
Bradford (1-1) at Kane (0-2)
The Saturday night 6 p.m. kickoff has the Owls visiting the Wolves. Bradford notched its first win of the year in a 14-2 victory over St. Marys while the Wolves fell to 0-2 with a 34-6 loss to Ridgway.
Bradford has racked up 743 rushing with Donny Pattison (22-356, 4 TDs), Derek Sunafrank (21-198, 2 TDs) and Jaron Ambrose (17-177, 3 TDs) leading the way.
The Wolves have scored three TDs in their first two games, one of them coming via special teams. Quarterback Zuke Smith and running back Jake Alcorn lead the Wolves' offense.
SMALL SCHOOL NORTH
Cameron County (0-2) at Otto-Eldred (1-1)
The Terrors host the Red Raiders, who have been outscored 129-6 in their two losses.
Sophomore quarterback Cole Sebastian leads Otto's attack, completing 40 of 63 passes for 454 yards and four TDs while also leading the team in rushing (23-81). His top receivers are Cameron Magee (15-189, 2 TDs), Chris Connelly (9-158) and Chase Sebastian (9-116, 2 TDs).
Ebon Jackson scored the Red Raiders' first TD in last week's 58-6 loss to Curwensville.
Port Allegany (1-1) at Smethport (2-0)
The Hubbers, coming off a crossover win over Clarion-Limestone — only divisional games count in the division's standings — get back into divisional play looking to stay unbeaten and keep pace with Otto-Eldred and Coudersport in division play with a home game against the Gators.
The experienced returning skill players lead the way for the Hubbers — running backs Blake Kinner (12-138, 3 TDs) and Nathan Hallowell (22-120), quarterback Grant Ognen (14-of-23, 278 yards, 5 TDs) and receiver Bryent Johnson (8-159, 3 TDs).
Port Allegany's Josh Rees (32-131) heads the running game. Jared Mahon returned a kickoff for a touchdown and caught a 22-yard TD pass in last week's loss to Keystone.
Sheffield (0-2) at Coudersport (2-0)
The Falcons, like Otto-Eldred and Smethport, look to keep their divisional record perfect and improve to 3-0 overall with a home game against the Wolverines, who have been outscored 101-6 in their two losses.
Coudersport hasn't needed to throw the ball as quarterback Hayden Keck has thrown just five passes so far. The running game has been dominant, piling up 630 yards with Stevie Kelly (29-261, 4 TDs) leading the way. The Falcons have outscored foes, 99-6, so far and surrendered just 134 yards of offense.
SMALL SCHOOL SOUTH
C-L (1-1) at Keystone (1-1)
The Panthers host the Lions, with both teams coming off crossover road trips. The Lions lost 28-18 at Smethport while the Panthers notched their first win of the year in a 42-24 victory at Port Allegany.
Panthers first-year head coach Ryan Smith faces his alma mater, whose offensive coordinator, Todd Smith, was one of his high school coaches. He'll look to quarterback Isaak Jones (24-of-39, 359 yards, 5 TDs, 3 Ints) to lead the way. Jayden Blazosky (8-100, 2 TDs) is Jones' top receiver. Nick Weaver (33-145, 2 TDs) is the team's leading rusher.
Lions junior Austin Newcomb has scored five of his team's eight TDs so far, leading the team in rushing (31-251) and receiving (9-169). Ayden Wiles (22-74 rushing, 5-88 receiving) and quarterback Colby Himes (17-of-33, 300 yards, 3 TDs, 2 Ints.) also lead the Lions.
Union/ACV (1-1) at Curwensville (1-1)
The Golden Tide host the Falcon Knights and both teams are coming off their first wins of the season, both of them blowouts, with Curwensville over Cameron County (58-6) and Union/ACV over Sheffield (47-0).
Blake Passarelli (19-157, 1 TD) is the Tide's top rusher with quarterback Noah Von Gunden (7-of-21, 110 yards, 2 TDs, 3 Ints.) taking the snaps. Jake McCracken (4-64, 2 TDs) is the top receiver. He returned a punt for a TD last week against Cameron.
Kyle Culbertson and Caden Rainey led the Falcon Knights running game with Rainey scoring three TDs against the Wolverines.
DISTRICT 10 REGION 7
Warren (1-1) at DuBois (0-2)
The Beavers host the Dragons in what could be an interesting Region 7 matchup at Mansell Stadium. The Beavers, while averaging nearly 320 of offense per game, have scored just 15 points in losses to Clearfield (28-3) and General McLane (41-12).
Meanwhile, Warren is coming off a 59-38 loss to Fort LeBoeuf after opening with a 31-7 win over Fairview. Quarterback Jake Kupchella (28-of-43, 661 yards, 6 TDs, 1 Int) leads the offense with his top receivers Devin McMeans (8-204, 4 TDs) and running back Marvin Bryant (6-160), who has also rushed for 135 yards on 16 carries with four TDs.
Beavers quarterback Eric Schneider (23-of-35, 195 yards, 2 Ints) keys the offense and is the second-leading rusher (36-147) behind Dylan McCluskey (36-172). His top receiver is Chase Husted (11-158).