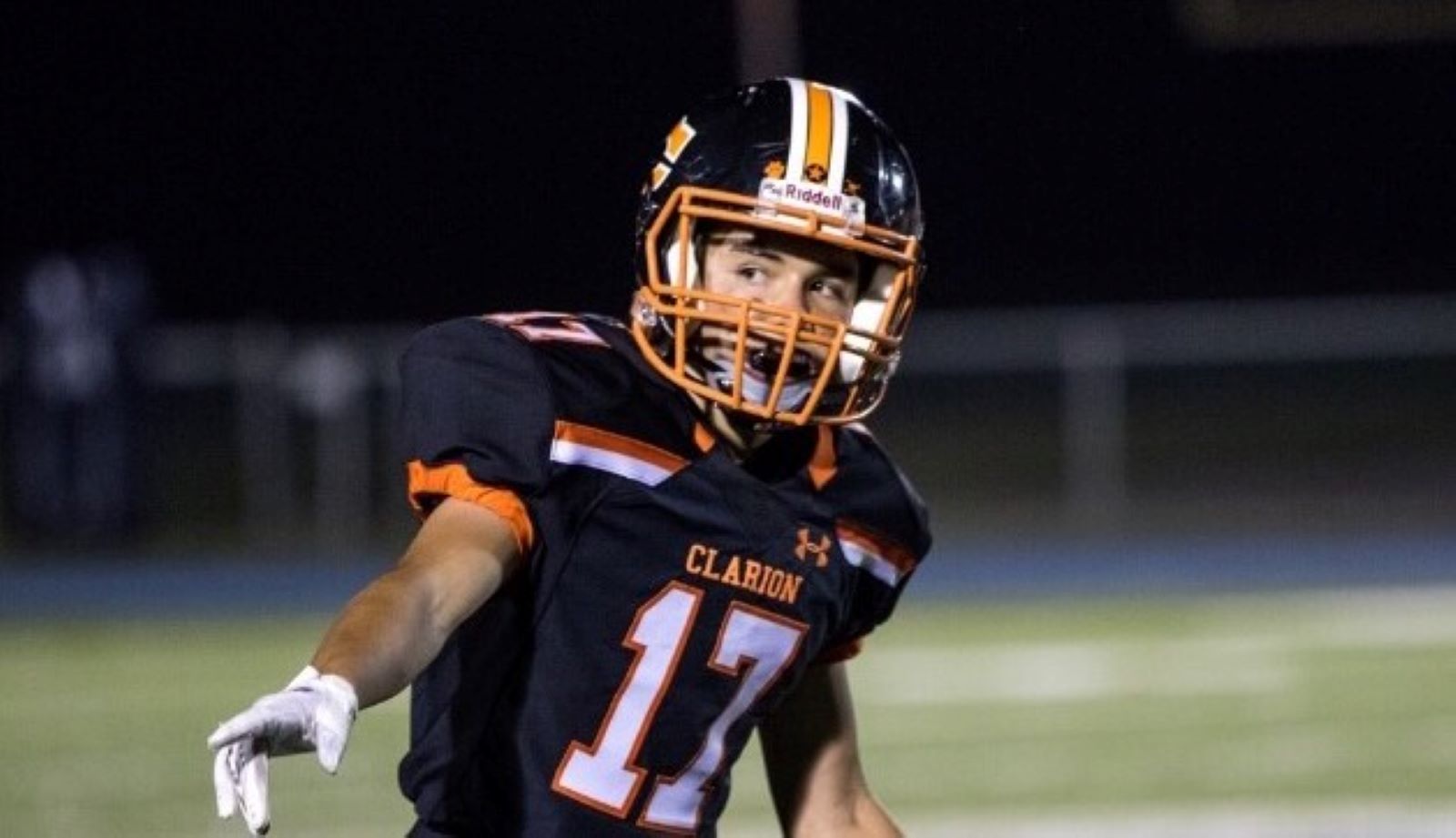 After missing the playoffs last year for the first time since 2010 last year, the Karns City Gremlins take a perfect record into their showdown with the newly constituted Clarion Bobcats Friday night at Clarion University's Memorial Stadium.
Clarion's Ethan Burford and the Bobcats host another unbeaten in Karns City Friday night at Clarion University's Memorial Stadium. (Photo by Bri Nellis Check out more of Nellis' work here)
Kickoff for the Large School Division showdown between a couple of 2-0 teams is set for 7 p.m. The game can be heard on D9Sports.com and ExploreClarion.com via ExploreRadio. Click here to listen.
It's one of 12 games on Friday and Saturday, with Brookville's trip to Punxsutawney starting off "Week 2," or the third week of the season, Thursday night.
The Gremlins and Bobcats matchup is one of two 2-0 vs. 2-0 games on the schedule, the other in the Mountain League where Clearfield visits District 6's Central-Martinsburg.
Elsewhere in the Large School, it's Kane (2-0) at Bradford (0-2), Ridgway (1-1) at Moniteau (0-2), and St. Marys (1-1) at Brockway (0-2).
It's divisional play in the Small School divisions as well with Redbank Valley (2-0) visiting Elk County Catholic (1-1) and Curwensville (1-1) at Union/A-C Valley (1-1) in the South Division with Keystone (1-1) playing a non-conference game at Cambridge Springs. In the North, Otto-Eldred (0-2) travels to Cameron County (0-1) and Port Allegany (1-1) hosts Smethport (1-0) Friday night with the lone Saturday game having Sheffield (0-2) at home against Coudersport (2-0).
DuBois (0-2) visits Warren (1-1) in District 10 Region 7.
The Gremlins are halfway to their win total last season in which they went 4-6. So far, they've beaten Brockway (43-14) and then Punxsutawney (49-7) last week.
Quarterback Anthony Kamenski is off to a strong start, completing 10 of 16 passes for 172 yards and three TDs while leading the team in rushing with 263 yards on 21 carries.
Clarion has outscored its foes 112-14 in two wins, including a 42-8 win over Moniteau last week at the C-L Sports Complex. The Bobcats are led by running back Austin Newcomb (18-272, 6 TDs), quarterback Cal German (11-for-16, 381 yards, 6 TDs) and receiver Ethan Burford (6-256, 3 TDs).
In other games:
Mountain League
Clearfield (2-0) at Central-Martinsburg (2-0)
Coming off a 56-49 slugfest win over Penns Valley, the Bison go on the road to Blair County to take on the unbeaten Scarlet Dragons who are coming off a 12-7 win at Tyrone.
The Dragons won the game in the fourth quarter when quarterback Braden Kitt scored on a 1-yard run with two seconds left on the clock to beat Tyrone, very similar to how the Bison beat Penns Valley on quarterback Oliver Billotte's TD run with less than seven seconds on the clock.
Kitt completed 12 of 17 passes for 130 yards and ran for 66 yards and two TDs. For the season, he's completed 16 of 29 passes for 176 yards and he leads the team in rushing with 190 yards on 34 carries and four TDs.
Clearfield has beaten the Dragons four straight times, including the last two years by identical 42-14 scores. The Bison have played in some high-scoring games so far, a combined 87-69 score in wins over DuBois and Penns Valley while piling up 846 yards of offense.
Billotte (26-for-41, 543 yards, 7 TDs, 2 Ints.) runs the passing game while running back Brett Zattoni (36-155, 1 TD) is the top rusher. Jake Lezzer (12-301, 4 TDs ) is Billotte's top receiver.
Large School Division
Kane (2-0) at Bradford (0-2)
The Wolves are gunning for a 3-0 start in their trip to play the winless Owls who have been roughed up by a combined margin of 96-0 in losses to Brookville and St. Marys.
Kane, meanwhile, is coming off a big 25-21 win over Ridgway thanks to a late 95-yard TD pass from Zuke Smith to Kevin Scharba. The Wolves trailed 21-10 going into the fourth quarter.
Smith (12-for-31, 376 yards, 6 TDs, 2 Ints.) and running back Teddy Race (19-108, 2 TDs) lead the Wolves offense.
For Bradford, quarterback Caleb Nuzzo has completed 25 of 39 passes for 168 yards. The Owls have been limited to 85 yards rushing in their two games.
Ridgway (1-1) at Moniteau (0-2)
The Elkers look to rebound on the road against the winless Warriors, who tested them in their last meeting in a 15-7 loss in the Class 2A playoffs year.
Quarterback Paul Gresco (27-for-43, 303 yards, 3 TDs, 2 Ints.), running backs Matt Dush (19-212, 2 TDs) and Gabe Watts (19-117, 2 TDs), and Jack Wickett (19-94 rushing, 8-139 receiving) lead the Elkers' offense. Watts has four sacks on defense while Robert Briggs leads the team with 18 tackles.
So far this year, the Warriors have losses to Kane (46-19) and Clarion (42-8) with running back J.D. Dessicino (22-130) leading the offense. The Warriors have thrown 14 passes in two games from three different passers. Brady Thompson is 4-for-6 for 140 yards.
St. Marys (1-1) at Brockway (0-2)
The Flying Dutchmen try to make it two wins in a row after ending a 22-game losing streak last week in a rout of Bradford. The Rovers, on the other hand, are searching for their first win after losses to Karns City and Brookville to start the season.
St. Marys' Jacob Kline ran for 124 yards on four carries to lead a 255-yard running game. Quarterbacks Christian and Charlie Coudriet combined to complete 13 of 22 passes for 136 yards and a touchdown with nine different players catching a pass.
So far, it's Kline (12-195, 3 TDs) and Charlie Coudriet (19-for-38, 198 yards) leading the way with receiver Bryce Walker (7-95) the leading pass-catcher.
Leading Brockway are quarterback Connor Ford (15-for-34, 228 yards, 1 TD, 4 Ints. passing; 25-96 rushing) and running back Jon Wood (19-107 rushing; 3-83 receiving).
Small School-South
Redbank Valley (2-0) at Elk Co. Catholic (1-1)
It's a key early-season divisional matchup as the Bulldogs head north to play the Crusaders. While the Bulldogs moved to 2-0 with a 47-12 rout of Otto-Eldred, the Crusaders were blanked 14-0 by Coudersport.
The Bulldogs have rushed for 543 yards in their two wins that including the season-opener against Keystone. Both Ray Shreckengost (17-183, 3 TDs) and Kobe Bonanno (21-164, 4 TDs) went over 100 yards last week. Quarterback Gunner Mangiantini has completed 26 of 37 passes for 274 yards with a touchdown and interception. Ethan Hetrick has four catches for 104 yards while Javin Brentzel leads the team with 10 receptions for 77 yards.
It's mostly on the ground for the Crusaders, who have rushed for 355 yards out of their 516 yards overall. Stephen Bobby (42-237, 3 TDs) leads the way. Quarterback Mason McAllister has completed 18 of 30 passes for 161 yards.
In last week's loss to Coudersport, the Crusaders were limited to 94 yards of offense as Bobby was limited to 47 yards on 11 carries.
The Crusaders' defense, which shut out Curwensville 21-0 in the opener, has allowed just 330 yards in two games. 
Curwensville (1-1) at Union/A-C Valley (1-1), at A-C Valley HS
The Falcon Knights host the Golden Tide in Foxburg with both teams coming off wins and it's a rematch of last year's 14-13 game won by the Tide after the Falcon Knights missed on the point-after kick with 5:20 left in regulation.
Running back Duane Brady (29-117, 1 TD) leads the offense. Freshman quarterback Dan McGarry has completed 9 of 24 passes for 154 yards with two touchdowns and three interceptions.
Quarterback Luke Bowser (22-for-45, 199 yards, 2 TDs, 3 Ints.; team-high 9-59, 2 TDs rushing) and receivers Tanner Merwin (7-88) and Caden Rainey (9-81) lead the Union/ACV offense.
Small School-North
Otto-Eldred (0-2) at Cameron County (0-1)
Both teams meet in Emporium looking for their first win. The Terrors have dropped games to Port Allegany and Redbank Valley, 47-12 last week. After an off-week to start the season, the Red Raiders were blanked 21-0 by Curwensville last Friday.
Quarterback Cole Sebastian (28-for-51, 399 yards, 4 TDs, 2 Ints.; 18-112 rushing) leads the Terrors offense. His top receivers are Ethan Smith (8-200, 3 TDs) and Cameron Magee (10-120).
For Cameron, quarterback Ebon Jackson completed 7 of 24 passes for 73 yards and ran for 38 yards on 11 carries against Curwensville. Gannon Horning and Nate Palumbo each caught three passes.
Smethport (1-0) at Port Allegany (1-1)
The Hubbers had an off-week and get back on the field at Port Allegany, which lost 29-6 at Keystone last Friday.
For the Gators, Josh Rees has been the workhorse so far on the ground, rushing for 247 yards on 42 carries and three touchdowns. Freshman quarterback Drew Evens has completed 15 of 28 passes for 119 yards.
Smethport shut out Sheffield at home two weeks ago as quarterback Noah Lent completed 9 of 18 passes for 197 yards with five touchdowns. Ryli Burritt (3-72) and Braedon Johnson (3-71) each caught two TD passes. Hunter Lent ran for 80 yards on eight carries with a TD.
Coudersport (2-0) at Sheffield (0-2), Saturday, 1:30 p.m.
The lone Saturday game has the Falcons traveling west to Warren County to take on the Wolverines.
The Falcons shut out Elk County Catholic last week, 14-0, and have allowed just one touchdown in their two games so far along with only 216 yards of offense.
Offensively, the Falcons are led by running back Travis Gleason (31-138, 2 TDs) and quarterback Hayden Keck, who has rushed for 118 yards on 24 carries while throwing just nine passes in the first two games, completing six for 136 yards.
Sheffield led Union/ACV last Saturday at halftime, 14-8, but couldn't hold on in a 20-14 loss. Quarterback Walker Kyler threw two TD passes to Mirahn Price and Jihad Bennett, the completion to Bennett covering 59 yards.
District 10 Region 7
DuBois (0-2) at Warren (1-1)
The Beavers look for their first win when they play a road conference game at Warren, which is off to a 1-1 start with a 41-24 win over Fairview and a 37-8 loss at Fort LeBoeuf last week.
Junior quarterback Micah Passmore leads the Dragons (18-for-38, 211 yards, 1 TD), not only their passing game but is the leading rusher (22-196, 4 TDs). James Swanson (10-90) is his top receiver.
Beavers senior quarterback Alex Kovalyak (30-for-59, 514 yards, 4 TDs, 3 Ints.) leads the offense. Adian Castro (15-80, 1 TD) is the leading rusher. Nick Dillullo (12-296, 3 TDs) and Dale Kot (9-112) are Kovalyak's top receiving targets.
Non-Conference
Keystone (1-1) at Cambridge Springs (2-0)
The Panthers head to District 10 to take on an unbeaten Blue Devils squad that opened with a 28-26 overtime win over Girard and a 20-6 win at Saegertown last week.
Panthers quarterback Isaak Jones (19-for-34, 289 yards, 3 TDs, 1 Int.), receiver Jayden Blazosky (8-129, 2 TDs) and running back Taylar Altman (16-80, 1 TD) lead the offense. Keystone ended a five-game losing streak dating back to last year's 52-0 win over Sheffield.
Jared Taylor ran for 93 yards and a touchdown in Cambridge Springs' 20-6 win over Saegertown last week. Quarterback Trent Wheeler threw a TD pass to Landon Byrne, who caught two passes for 72 yards.