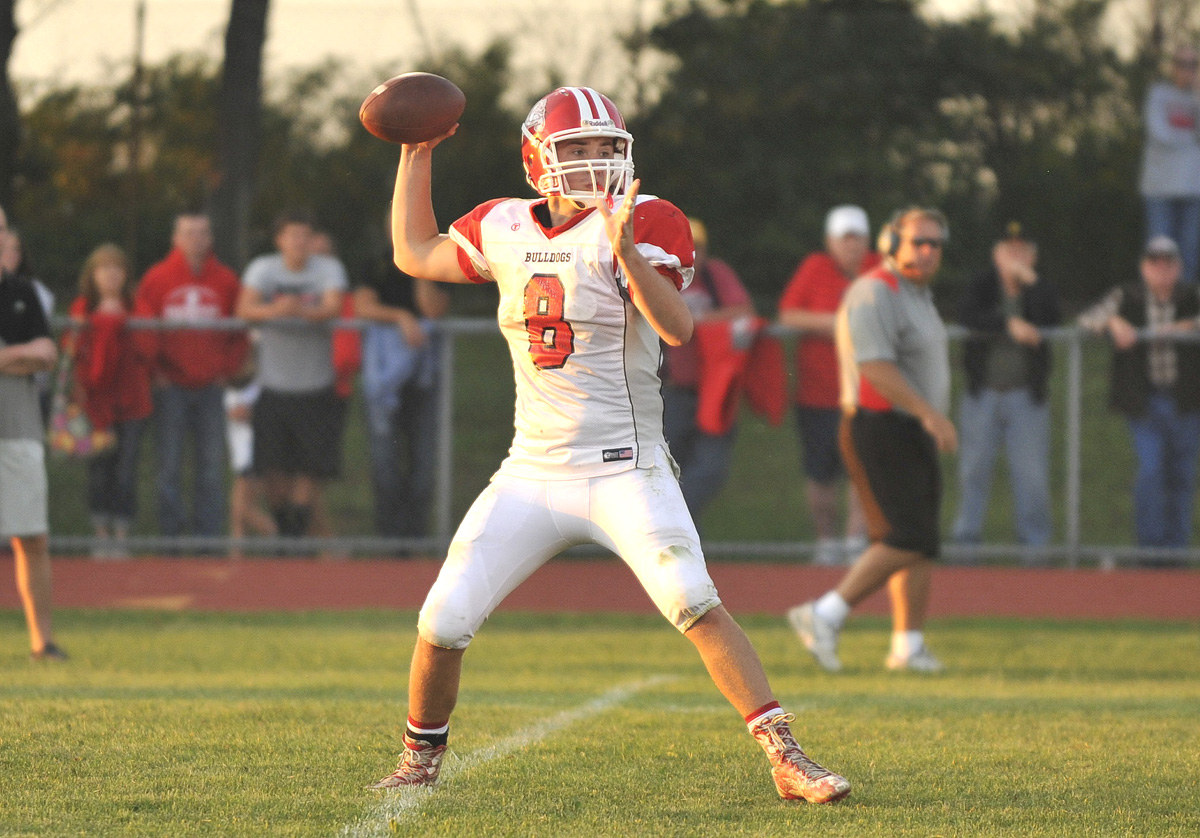 By Rich Rhoades
Will the dominance continue?
In the first time in the D9Sports.Com era and perhaps ever in Allegheny Mountain League history, the South Division swept the North in a week of crossover games.
In last week's opening action, the South dominated its way to a 5-0 record over the North by a combined scoring margin of 171-16 — the North's Otto-Eldred lost to District 10's Sharpsville 48-8 — making it the only time that's happened since at least 1998.
In 2000, the North went 6-1 in Week 1 in the only other close call. The AML went from 14 to 12 teams in after 2004 when Youngsville and Eisenhower left, creating more crossover games on the schedule, but the sweep was a bit revealing nonetheless.
Now the South being deeper than that North is no shock to longtime observers. Since 2000, only six times did the North have more than two teams finishing with a winning record. But the main point here is that for the second straight year — no team in the AML North was above .500 a year ago — it's very likely that the two best teams in the league won't be playing for the conference title. The first week sweep drove that point home rather convincingly.
This week in the AML is another crossover setup as five games will be played at South sites as Brockway (1-0) hosts Coudersport (0-1), Cameron County (0-1) travels to Ridgway (1-0), Elk County Catholic (1-0) hosts Port Allegany (0-1), Curwensville (1-0) hosts Otto-Eldred (0-1) and Smethport (0-1) visits Kane (1-0).
The other AML team, defending North champion Sheffield (0-1) has the chore of visiting Clarion (1-0). The Bobcats, with Clearfield's loss in West Virginia last week, now have the longest active regular-season winning streak in the district at 21 straight games.
Those games are part of a 15-game Week 2 schedule all played Friday night.
The Keystone Shortway Athletic Conference has five crossover games scheduled while Bradford and DuBois jump into their District 10 Region 5 schedule, as does Clearfield in a Mountain League game. Here is a closer look at this week's matchups.
Non-Conference
We'll start here since two of the top three teams in the First Commonwealth Bank/D9Sports.Com Football Rankings play non-conference games.
No. 2 Karns City (1-0), after routing Brookville 60-6, head to the Pittsburgh City League to take on the Class AAAA Brashear Bears (1-0). The Gremlins amassed nearly 500 yards of offense against the Raiders. In a 367-yard running game, 14 different players had at least one carry with Tristan Rhoades leading the way with 64 yards on just four carries. The Gremlins quarterback duo of Cody Deal and Caleb King combined to go 7-for-13 with 129 yards and three touchdowns.
Brashear opened with a 26-7 win over Carrick as the Bears got 144 yards rushing from Khalil Saunders and 120 from Ty Powe.
The No. 3 Clarion Bobcats host Sheffield as mentioned above. They handled A-C Valley in a 54-0 rout as Ian Corbett ran for 129 yards and four touchdowns and first-year starting quarterback Brendan Miller went 5-for-5 for 116 yards. Meanwhile, Ridgway blanked the Wolverines as the Elkers racked up 407 yards rushing. Sheffield quarterback Adam Higby was 11-for-31 for 200 yards passing.
In the other non-conference matchup out of the district, Redbank Valley (1-0) hosts the Class AAAA Carrick Raiders, also of the Pittsburgh City League. The Bulldogs opened with an impressive 47-0 win at Clarion-Limestone as quarterback Jake Dougherty passed for 201 yards (official team total) to become their all-time leader at 3,743 yards, passing previous record-holder Jake Smith. As noted above, Carrick fell to Brashear. Quarterback Hakeim McKenzie runs the Raiders' option offense.
The "Jim Kelly Club"
Since we're on career passing yards, Dougherty is closing in on making the "Jim Kelly Club," that is any District 9 passer with as many or more yards than what the NFL Hall of Famer compiled while at his now-defunct alma mater East Brady. He graduated in 1978 with his senior season coming in 1977 when he finished with 3,915 career yards.
With his huge week of 424 yards passing against Mifflin County, DuBois quarterback Gabe French moved up to the No. 8 spot on the district's all-time passing list with 4,793 yards.
Here is the updated all-time "Kelly Club" list going into Week 2. Player and senior season listed in parenthesis:
                                                                                     Yards                        TD
Matt Bodamer, Port Allegany (2012)                        10,948                        137
Derek Buganza, Brockway (2010)                              9,752                          95
Mike DeFilippi, Smethport (1999)                             6,638                         59
Chad Kroell, Clearfield (1994)                                    6,088                         79
Alec Shaffer-Doan, Brockway (2013)                        5,552                         66
Adam Black, Keystone (2001)                                    5,338                         55
Tyler Armagost, Moniteau (2008)                            5,278                          52
Gabe French, DuBois (2014)                           4,793                        53
Tom Pore, Keystone (1997)                                        4,504                         46
Kyle Armagost, Moniteau (2011)                              4,484                         46
Curtis Frye, Clearfield (2011)                                    4,477                          44
Hayden Johnston, C-L (2004)                                  4,401                         70
Dan Miller, C-L (2009)                                              4,250                        28
Dan Reed, Keystone (2009)                                      4,122                        45
Jon Guth, Brookville (1993)                                      4,033                        29
Jim Kelly, East Brady (1977)                                     3,915                        44
In other matchups this week:
District 10 Region 5
DuBois (1-0) at Meadville (1-0)
The district's top-ranked team heads to Crawford County. Few players have had better season debuts than Gabe French, who completed 19 of 23 passes for 424 yards and seven touchdowns while running for 94 yards on 10 carries and a touchdown. He had a pair of receivers with big games, obviously, as Cole Kriner caught four passes for 171 yards and two TDs and Bryson Paulinellie made six catches for 147 yards and four TDs.
The Meadville Bulldogs beat Fairview, 32-28, in their opener and ran for 298 yards with Jarrid Miller's 161 yards leading the way.
Oil City (1-0) at Bradford (0-1)
The Owls managed just 91 yards of offense in their 19-14 loss to St. Marys. Alex Colosimo ran for 60 yards on 13 carries.
Meanwhile, the Oilers dumped Corry, 37-15. John Trbusich ran for 189 yards on 31 carries and three touchdowns.
Mountain League
Clearfield (0-1) at Penns Valley (0-1)
The Bison are 0-1 for the first time since 2009 when they lost to DuBois in their opener.
Quarterback Cody Spaid passed for 260 yards and three touchdowns, all of them to sophomore receiver Ryan Lezzer who caught seven passes for 187 yards.
Penns Valley opened with a 29-16 loss to Juniata.
KSAC-Crossover
St. Marys (1-0) at A-C Valley (0-1)
Since St. Marys joined the KSAC in 2009, this will be the first matchup between the Dutch and Falcons, and the first time the teams have met since playing four years in a row from 1999-2002. The 2002 game was notable because of four Tristan Mulcahy field goals for the Dutch including three of 40-plus yards (42, 42, 43 – the other was 35 yards), a performance that earned Mulcahy D9Sports.com Player of the Week honors. The 2001 game, a 52-20 St. Marys victory, was also notable because it was played on a Monday night in St. Marys after being postponed from Friday because of the Sept. 11 Terrorist attacks. A-C Valley won the first two meetings during the stretch 21-6 in 2000 and 60-6 in 1999.
Union (1-0) at Brookville (0-1)
The Knights haven't won at Brookville on the field since 1987. They won by forfeit in 2009 when Brookville used an ineligible player. Last week against Keystone, Dugan Gallagher ran for 156 yards and scored both of the Knights' touchdowns.
The Raiders gave up their second-most points ever in last week's 60-6 loss at Karns City. They lost to New Bethlehem, 64-0, in 1930.
Moniteau (1-0) at Clarion-Limestone (0-1)
The Warriors didn't wait long to get their new coach Wade Vogan his first win in last week's 22-14 win over Punxsutawney. Warriors quarterback Cody Skiver scored two touchdowns, one on a run and the other on an interception return. Josh McBride ran for 144 yards.
For the Lions, Kyle Robertson rushed for 134 yards on 20 carries in their shutout loss to Redbank Valley.
Keystone (0-1) at Punxsutawney (0-1)
Both teams will try to get their first win after losing tight games last week.
The Panthers got 87 yards rushing and a touchdown from Jake Weaver in a 14-8 loss to Union. Running back Braxton Giavadoni scored both of the Chucks' touchdowns in their loss at Moniteau.
AML-Crossover
Coudersport (0-1) at Brockway (1-0)
Rovers senior Anthony Benson had a strong over in the win over Smethport, scoring on a run, pass and punt return while running for 60 yards with 76 receiving yards. Quarterback Braden Martini debuted by completing 13 of 19 passes for 146 yards. Mark Latuska ran for 120 yards on just five carries and scored twice.
The Falcons managed just 65 yards of offense in their loss to Elk County Catholic.
Cameron County (0-1) at Ridgway (1-0)
The Elkers were led by quarterback Ben MacDonald, who ran for two touchdowns and threw for another score. Cole Myers ran for 147 yards.
The Red Raiders lost to Kane, 13-0, but did not give up an offensive touchdown.
Port Allegany (0-1) at Elk County Catholic (1-0)
The Crusaders, winless a year ago, got off on the right foot with a convincing 32-0 win over Coudersport, limiting the Falcons to 65 yards of offense.
Otto-Eldred (0-1) at Curwensville (1-0)
Tide freshman Nick Stewart had an impressive varsity debut by rushing for 176 yards on just 13 carries while also catching a TD pass.
Smethport (0-1) at Kane (1-0)
The Wolves won in rare style without an offensive touchdown in a 13-0 win over Cameron County. They scored on a blocked punt and interception return.