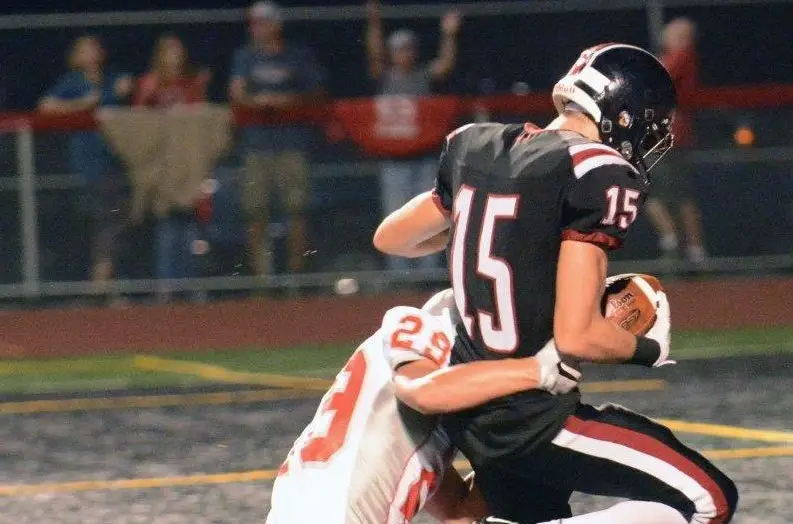 Week 2 football recaps. Updated to include all of Friday, Sept. 8, action.
(Cover photo of Clearfield's Micah Heichel scoring the game-winning touchdown. Photo by Logan Cramer III)
CURWENSVILLE 43, SHEFFIELD 0
SHEFFIELD, Pa. – Nick Stewart ran 19 times for 129 yards and four touchdowns and caught three passes for 87 yards and a score to lead visiting Curwensville to a 43-0 win at Sheffield Saturday afternoon.
Stewart scored on first-half runs of 4, 46 and 7 yards and on a 1-yard third-quarter run while also catching a 73-yard scoring pass from Bryce Timko, who threw a pair of touchdowns on the day.
Timko, who also threw a 14-yard scoring strike to Eli Jacobs in the third quarter, was 8 of 16 passing for 162 yards while throwing an interception.
Curwensville's defense limited Sheffield to 19 yards on just 31 plays. Kevin Evans paced the Wolverines with 17 yards rushing and also had an interception on defense while catching a pass for five yards.
ELK COUNTY CATHOLIC 31, OTTO-ELDRED 0, Game called at the half, weather
ST. MARYS, Pa. – In a game called at halftime because of weather, Nate DaCanal threw three touchdowns passes, including two to Brad Dippold, to lead Elk County Catholic to a 31-0 win over visiting Otto-Eldred Saturday.
DaCanal was 7 of 14 passing for 146 yards and threw touchdowns passes of 10 and 18 yards to Dippold and a 65-yard scoring toss to Eric Gerber.
ECC also scored when Joe Kucenski recovered a high punt snap for a touchdown in the end zone and on a 31-yard Tyler Dilley field goal.
Dippold caught four passes for 75 yards, while Gerber had two catches for 73 yards. DaCanal also rushed for 20 yards.
Sawyer Drummond was 3 of 7 for 50 yards to pace Otto-Eldred. Grant West had two catches for 37 yards.
CLEARFIELD 30, CENTRAL-MARTINSBURG 28
HYDE, Pa. – Facing fourth-and-7 and the game from the Central-Martinsburg 35-yard line with just over a minute to play and trailing by four, Clearfield's Isaac Rumery hit Micah Heichel down the seam for the game-winning touchdown pass with 1:10 left as the Bison beat the visiting Dragons 30-28.
Clearfield, which led 24-14 going into the fourth quarter, found itself down for the first time since it was 7-0 following a 41-yard Alex Hoenstine touchdown run with five minutes to play.
But starting at their 29-yard line, the Bison moved to the Central 35 where they faced fourth down.
Out of time outs, Clearfield elected to go to stay with the no-huddle offense, and Rumery, the sophomore quarterback, found Heichel, who has become his favorite receiver, behind the Dragons defense for the game-winning score.
With just over a minute to play, Clearfield's defense still had to come up big, and it did after Central moved the ball to the Bison 39. Seth Caldwell and Eli Glass both had pass breakups before a fourth-down toss fell just incomplete.
Hoenstine had a huge game for Central-Martinsburg scoring all four of its touchdowns, including three on the ground, while also intercepting a pass on defense. He ran for 151 yards and caught two passes for 28 yards.
His interception early in the fourth quarter set the stage for the Dragons comeback, and he caught a 17-yard touchdown pass that made it 24-21 Clearfield before scoring the go-ahead touchdown.
But Rumery, who was 15 of 29 passing for 311 yards and two touchdowns, engineered the first comeback of his career. He also ran eight times for 74 yards.
Heichel had a huge game receiving with seven catches for 190 yards and two touchdowns, while Seth Caldwell ran 26 times for 164 yards and scored the Bison's first two touchdowns.
Josh Serena added a 25-yard field goal late in the third quarter for Clearfield, which turned out to be the difference in the game.
CLARION-LIMESTONE 15, ST. MARYS 14
ST. MARYS, Pa. – Mike Macefe ran 22 times for 150 yards and two touchdowns, and Brenden Makray hit Riley Hummell with a two-point conversion pass in the third quarter that proved to be the difference in a 15-14 win by visiting Clarion-Limestone at St. Marys.
It was the second straight one-point game for St. Marys, who beat Moniteau by a point last week, while C-L has now won a two-point game and a one-point contest.
C-L never trailed, as Macefe gave the Lions a 7-0 lead with a Nick Cyphert extra point on a 59-yard run in the first quarter.
Pat Schlimm scored a short rushing touchdown for the Dutch early in the second quarter, but a missed extra point allowed C-L to hold a 7-6 halftime lead.
Macefe then scored on a 15-yard run in the third quarter that was followed by the two-point conversion pass that made it 15-6.
That turned out to a be a big play when Schlimm hit Jeff Wehler wth a 21-yard acrobatic TD pass with 10:37 to play and then hit Parker Smith on the two-point pass that made it 15-14.
The C-L defense, though, withstood a pair of St. Marys drives in the final five minutes to hold on for the victory.
Matt Marconi led the Dutch with 107 yards rushing on 19 carries, while Wehler had 54 yards rushing on eight totes and caught three passes for 52 yards while also intercepting three passes.
Chris Peace added 62 yards rushing for C-L, while Hummell had four catches for 68 yards.
KANE 43, COUDERSPORT 8
KANE, Pa. – Erik DeLong ran for 226 yards and three touchdowns on 28 carries to lead Kane to a 43-8 win over visiting Coudersport.
The Wolves led by just eight, 16-8, at halftime before blowing the doors off the Falcons in the second half.
Austin Labesky added 81 yards rushing and a touchdown on nine carries for Kane, while Ange Costanzo and Frank Truden also scoring on the ground.
Reed Williams was 6 of 16 passing for Kane for 140 yards.
Kane outgained the Falcons 559 yards to 160, including eight on the ground for Coudy.
Brock Wilson scored the lone touchdown for Coudersport, while Aaron Wolfinger was 13 of 24 passing for 154 yards but two interceptions. Jared Green had three catches for 46 yards, Derek Keglovits four for 48 and Zach Layag four for 56 yards. Green also made 11 tackles with Wilson coming away with 10 stops.
RIDGWAY 38, SMETHPORT 0
SMETHPORT, Pa. – Neal MacDonald ran for 62 yards and two touchdowns on nine carries to lead visiting Ridgway past Smethport, 38-0.
All 38 points for the Elkers came in the first half with Joey Elinksi and Aaron Hinton also scoring on the ground for Ridgway and Andy Breier returned a fumble 42 yards for a score.
Akete Kindle led Smethport with 57 yards rushing.
MONITEAU 27, PUNXSUTAWNEY 6
PUNXSUTAWNEY, Pa. – Moniteau opened up a 17-0 lead on its way to a 27-6 win at Punxsutawney.
Nick Martino scored twice for the Warriors including on a 36-yard interception return, and Stephen Fawcett booted a pair of field goals (29 and 34 yards) while Corey Goyak scored on the ground as well.
Punxsutawney got within 11, 17-6, at halftime thanks to an 11-yard touchdown pass from Robert Stormer to Jake Pearce with 28 seconds left in the first half.
Goyak ran 10 times for 51 yards, while Mitch DiMaria had 54 yards rushing. Chance Nagy was 3 of 7 passing for 64 yards with three interceptions with all three completions going to Dalton Anderson. Martino ran six times for 31 yards.
Tyler Richardson led Punxsutawney with 84 yards on 10 carries, while Stormer was 5 of 14 passing for 51 yards with the touchdown and two picks.
MEADVILLE 52, DUBOIS 26
MEADVILLE, Pa. – Meadville didn't reach 100 points against DuBois this year like last year, but the Bulldogs did get halfway there scoring 52 in a 52-26 victory over the visiting Beavers.
Journey Brown, who torched the Beavers last year in the 107-90 Meadville win, scored five more times in 2016 including on runs of five, 51 25, and 60 yards and on a 77-yard catch. He ran 16 times for 236 yards.
Isaiah Manning also scored twice for the Bulldogs on runs of five and 89 yards, as Meadville grabbed a 32-0 lead late in the first half while leading 32-6 at halftime. Manning finished with 198 yards rushing on 18 carries.
Kyle Hopson caught a pair of touchdown passes for DuBois, while Brock Adams ran for two touchdowns.
Braden Paulinelli was 11 of 29 passing for 149 yards for the Beavers with two touchdowns and an interception. He also ran 11 times for 41 yards. Adams had 68 yards and the two touchdowns on 10 carries, and Hopson caught six passes for 123 yards and the two scores.
UNION/A-C VALLEY 54, KEYSTONE 14
RIMERSBURG, Pa. – Blowing open the game with a 27-point fourth quarter, the Union/A-C Valley Falcon Knights picked up their first win as a co-operative program in a 54-14 rout Friday night over visiting Keystone.
The Falcon Knights led 21-8 halftime and 27-14 after three quarters before scoring four unanswered touchdowns.
Lane Chalmers ran for 101 yards on 21 carries with TD runs of 5 and 8 yards. Jonathan Powell ran for two TDs of 1 and 16 yards to wrap up Union/ACV's scoring and had 42 yards rushing. Powell and Chalmers were two of 10 Falcon Knights to carry the pigskin on the night.
Lucas Bowser completed 6 of 14 passes for 82 yards and two touchdowns with an interception with both TDs going to Gavin Hawk, who caught three passes for 44 yards and also ran for 16 yards.
Keystone quarterback Nate Wingard completed 11 of 20 passes for 200 yards, connecting with Tanner Wilson four times for 121 yards and a 52-yard touchdown. Corey Rapp caught four passes for 65 yards and a 33-yard touchdown.
CLARION 31, BROOKVILLE 0
CLARION, Pa. – A driving rain did little to stop the Clarion Bobcats from improving to 2-0 with a 31-0 win over Brookville Friday night at Clarion University's Memorial Stadium.
Both teams had trouble holding onto the ball, but the 'Cats got a pick six from Sterling Conner in the second quarter to score all the points they needed.
In the second half, Clarion rode the back of Colton Rapp, who scored two touchdowns and finished with 189 yards on 22 carries. Rapp also had seven tackles on defense.
Rapp's offensive yardage was nearly double the Raiders (0-2) total output of 98 yards on 44 plays.
Clarion has scored shutouts in both of its wins.
Brookville fumbled four times and lost three while also throwing two interceptions.
Clarion fumbled five times, but didn't lose any.
Backup quarterback Tyler Park led the Raiders with 53 yards rushing on eight carries. He also was 2 of 7 for 18 yards throwing.
Sam Minich added a touchdown run for Clarion, while Archer Mills booted a 29-yard field goal.
KARNS CITY 34, REDBANK VALLEY 12
NEW BETHLEHEM, Pa. – Chandler Turner ran for two touchdowns on runs of 35 and 15 yards, leading the Karns City Gremlins to a 34-12 win at Redbank Valley Friday night.
Turner ran for 91 yards on 11 carries as the Gremlins used nine rushers to gain 298 yards. Clay Garing, Turner and Hutchison all scored in the second quarter on runs of 10, 35 and 13 yards to put the Gremlins up 21-6 by the 2:20 mark of the second quarter. Of the game's first 33 offensive plays, Karns City ran 30 of them.
Also for the Gremlins, Sebastian Troutman ran for 55 yards on 10 carries while Kaiden Powers needed just three carries for 50 yards. Powers and Turner scored the only touchdowns of the second half, with Powers scoring on a 38-yard run on the Gremlins' first possession of the third quarter.
For Redbank Valley, Brock Barrett returned an interception of Gremlins quarterback Jacob King 89 yards for a touchdown to give the Bulldogs' the initial lead. Then quarterback Keaton Kahle hit Hunter Wiles for a 26-yard TD pass with 8.7 seconds left before halftime. But Kahle missed most of the second half after suffering a lower-body injury forcing Barrett into the quarterback position, and the Bulldogs were limited to 145 yards of offense on the night.
BRADFORD 76, CAMERON COUNTY 12
BRADFORD, Pa. – Behind Donnie Pattison and Kyle Kirk, Bradford rolled past visiting Cameron County, 76-12.
Pattison had six carries for 218 yards and two touchdowns and caught a 12-yard touchdown pass as well. Kirk was 5 of 8 passing for 154 yards and two touchdowns.
Dawson Ambrose and Derek Sunafrank also scored twice for the Owls with Ambrose catching a touchdown pass and returning an interception for a touchdown, while Sunafrank ran for two fourth-quarter scores on his only two carries that tallied 44 yards.
Jaron Ambrose added 67 yards rushing on four carries with a touchdown for Bradford while catching two passes for 60 yards and interception a pass.
Adam Streich had a big game for Cameron County going 10 of 37 passing for 225 yards with two interceptions while rushing for a team-best 81 yards on 10 carries with a touchdown. Jared Whitling also had a rushing touchdown for the Red Raiders, while Tristan Reed caught two passes for 106 yards.
Turnovers hurt Cameron with the Red Raiders turning it over five times.
BROCKWAY 72, PORT ALLEGANY 0
PORT ALLEGANY, Pa. – Seven different Brockway players scored touchdowns, as the visiting Rovers rolled past Port Allegany, 72-0.
Mark Latuska scored three times for the Rovers on the ground rushing for 116 yards on six carries, while Dylan LeCates scoring on a 10-yard run, his only tote of the game, and also caught a TD pass.
Four different Rovers threw the football led by Hunter Miller going 9 of 13 for 165 yards and a touchdown and an interception. Tino Inzana was 2-for-2 for 18 yards, Peter Downer 4-for-4 for 62 yards and a touchdown and Anthony Glasl was 1-for-3 for no yards.
Miller, Inzana and Glasl also ran for touchdowns also ran for a touchdown, as did Ty Serafini. Johnny Wood and Cameron Baka also caught TDs. Andrew Trunzo caught four passes for 102 yards.
Noah Vokes had two interception on defense for the Rovers, while Nathan Snyder also picked off a pass.
Brockway outgained Port Allegany 574-92.
Jake Kallenborn 8 of 16 passing for 65 yards for Port Allegany.