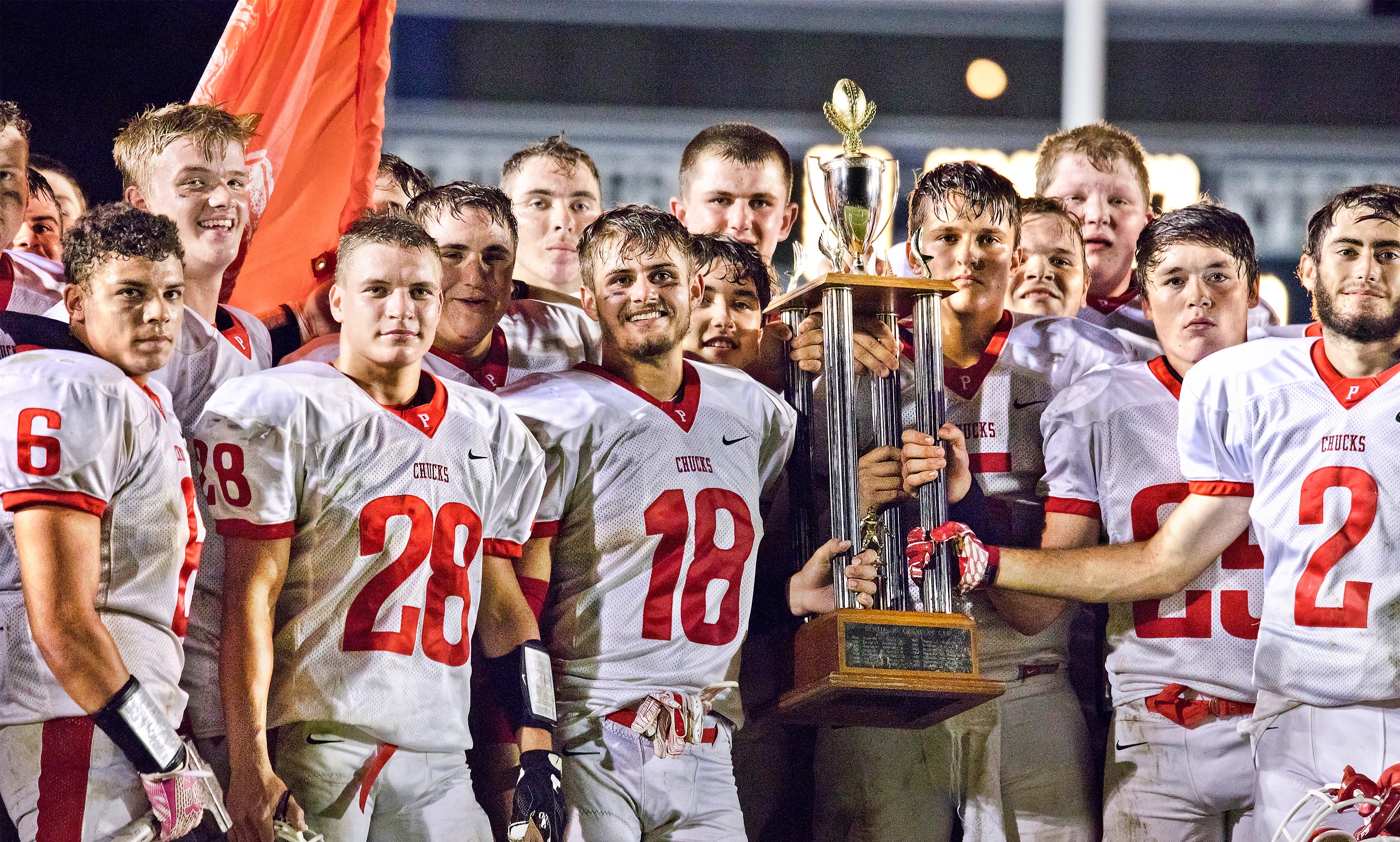 BROOKVILLE, Pa. – Alex Gianvito booted a 20-yard field goal with 1:32 left in the game to lift Punxsutawney to a 23-21 Route 36 Trophy win at Brookville.
(Punxsutawney with the Route 36 Trophy after topping Brookville. Photo by Kyle Yates www.facebook.com/YatesPhoto)
The Chucks trailed by a point when Kameron Falgout recovered a Tucker Wolfe fumble at the Raiders' 38 with 4:55 remaining, and Punxsutawney (1-2 overall, 1-2 D9 League Large School) turned it into points and notched their first win of the season.
Dylan Ishman threw three touchdown passes to Max London covering 20, 12 and 13 yards. Cooper Giavedoni ran for 105 yards on 16 carries and Gianvito finished with 73 yards on 12 carries. London grabbed four passes for 52 yards and intercepted Tate Lindermuth at the Chucks' 26 on the first play following Gianvito's field goal with 1:14 left, allowing the Chucks to kneel out the clock.
The Raiders (1-2, 1-2) were playing without starting quarterback Jack Krug and went mostly on the ground against the Chucks as Wolfe ran for 195 yards on 20 carries. Cabe Park, limited to three catches for 32 yards, also ran for 132 yards on 10 carries, scoring the Raiders' two touchdowns in the first half from 43 and 25 yards out.
Wolfe put the Raiders up 21-20 on his 10-yard run with 8:11 left in the game.
BRADFORD 43, KANE 14
KANE, Pa. – Donny Pattison scored four touchdowns to lead visiting Bradford to a come-from-behind 43-14 win over Kane.
The Owls (2-1 overall, 2-1 D9 League Large School) trailed 14-7 at halftime but outscored the Wolves (0-3, 0-3) 29-0 in the second half.
Pattison ran for 133 yards and three touchdowns on 12 carries and also returned a kickoff 85 yards for a score.
Derek Sunafrank added 82 yards rusahing on 12 carries with a touchdown, while Nate Blauser was 5 of 7 passing for 126 yards. Jaren Ambrose had four catches for 116 yards.
Nate Gehm had 10 tackles, includng two for a loss for the Bradford defense, with Tyler Buck adding six stops.
Kane stats weren't available.
CLARION 21, KARNS CITY 7
Listen to the game:
KARNS CITY, Pa. – A pair of fourth-quarter touchdowns lifted Clarion to only its third win in Karns City since 1998 with a 21-7 victory over the host Gremlins.
Archer Mills broke a 7-all tie, the game had been tied at seven since early in the second quarter, on a 1-yard run 53 seconds into the fourth quarter.
That touchdown was set up by a 25-yard Mills to Ethan Burford toss to the 1-yard line late in the third quarter. Burford ran a stop-and-go route with the Karns City defender slipping on the "stop" part of the route allowing Burford to open up down the near sideline. The sophomore then did a good job making the catch inbounds at the one setting up the Mills touchdown a couple of plays later.
The touchdown was set up by the Clarion defense, which used a run blitz to force a fumble around midfield.
Up 14-7, Clarion sealed the win when Tyler McCord-Wolbert intercepted an Anthony Kamenski pass and returned it untouched into the end zone with 1:43 to play.
McCord-Wolbert talked about the win after being named the Hager Paving Player of the Game.
Prior to the two fourth-quarter touchdowns by Clarion, all the scoring had occurred in a 21-second span early in the second quarter.
Clarion struck first with 9:14 to play in the first half when Mills connected on an 11-yard pass to Burford to make it 7-0 Clarion,
But Karns City answered back quickly scoring on a 62-yard Hunter Jones run with 8:53 left in the half to tie the game at seven. Jones ran for a game-high 144 yards on 15 carries and was Karns City's Hager Paving Player of the Game.
Karns City actually outgained Clarion 326-271 including 256-93 on the ground, but both teams put the ball on the turf a number of times in the game, especially early on, to thwart some possible scoring chances.
But while Clarion was having trouble moving the ball on the ground, the Bobcats were able to move it through the air with Mills going 11 of 21 passing for 178 yards, a touchdown and an interception. He also picked off a ball on defense early in the game setting up Clarion inside the Karns City 40-yard line, but the Bobcats weren't able to score turning the ball inside the 10.
Sam Minich was Mills' top target with six catches for 75 yards. He also added 31 yards rushing on five carries, while his twin brother, Logan Minich, making his first appearance of the season cran eight times for 21 yards. Colton Zacherl led the Bobcats ground game with three totes for 35 yards.
Receiving wise, Drew Wrhen had two grabs for 56 yards including a first-half 51-yard catch, while Burford had two for 35 yards and the score.
Hunter Rowe (13 carries) and Josh Wimer (six carries) both added 39 yards on the ground for Karns City with Anthony Kamenski going 5 of 12 passing for 70 yards but two interceptions.
Overall, long-time Clarion head coach Larry Wiser was pleased with the big road win.
The victory moved the Bobcats to 3-0 on the season, which is also their conference mark. Karns City fell to 1-2 overall and in conference play.
CURWENSVILLE 14, UNION/A-C VALLEY 13
CURWENSVILLE, Pa. – Avery Francisco's touchdown run early in the fourth quarter broke a seven-all tie, and Union/A-C Valley missed an extra point midway through the final 12 minutes to allow Curwensville to escape with a 14-13 win over the visiting Falcon Knights.
Francisco scored on a 17-yard run with 8:56 to play to break a 7-all tie that had stood since early in the second quarter.
Union/ACV came right back and got within one on a 3-yard Nolan Cumberland touchdown run with 5:20 to play, but the Falcon Knights missed the extra point.
The visitors had one final chance late in the game, but Blake Passarelli intercepted a pass to seal the win.
Passarelli talked about the victory.
Francisco scored twice for Curwensville (2-1 overall, 1-1 D9 League South) starting the scoring on an 11-yard run early in the contest. He nine times for 81 yards in the contest.
Union/A-C Valley got two touchdown runs from Cumberland, who also scored on a 1-yard run 1:45 into the second quarter to tie the game at seven. That score was set up by a nice pass from Luke Bowser to Caden Rainey. Cumberland rushed 15 times for 58 yards.
Both teams had chances at different points of the game to add to their scoring total, but Curwensville fumbled the ball at the Union/A-C Valley 5-yard line with the game tied at seven in the second quarter. That drive had been set up by a bad Falcon Knights punt snap that gave Curwensville the ball at the at Union/ACV 27-yard line.
Union/ACV returned the favor in the third quarter.
A 36-yard punt return by the freshman Rainey had given the Falcon Knights a first-and-10 at the Curwensville 19-yard line, and Union/ACV had first-and-goal from the 8 and third-and-goal from the 4.
But on the third-down play, Bowser dropped the snap recovering at the five. The Falcon Knights went for it, but disaster struck when under pressure Bowser again dropped the ball, this time untouched, and Curwensville recovered at the 15.
The Union/ACV defense held, and after a short punt and some nice plays the Falcon Knights at first-and-10 at the Curwensville 29-yard line still in the third quarter but ended up turning the ball over on downs at the 20.
Cole Bressler added 11 carries for 81 yards for Curwensville, while Bowser was 7 of 19 passing for 132 yards and two interceptions for Union.
Rainey had two catches for 57 yards and ran six times for 13 yards.
REDBANK VALLEY 24, ELK COUNTY CATHOLIC 20
NEW BETHLEHEM, Pa. – Keaton Kahle's 4-yard touchdown pass to Ethan Hetrick with 5:18 left in the game lifted Redbank Valley to a 24-20 win over Elk County Catholic in a District 9 Small School South showdown.
The game was delayed by a power outage for over 20 minutes at the 3:54 mark of the third quarter with the Crusaders up 20-18 and the ball at the Bulldogs' 13, but when power was restored, the Bulldogs stopped them on downs.
Kahle's pass to Hetrick was the only score of the second half. Hunter Buzard intercepted ECC quarterback Mason McAllister with 2:24 left, allowing the Bulldogs (3-0 overall, 2-0 South) to run out the clock.
Prior to that, ECC (1-2, 1-1) rallied from an 18-6 deficit to grab the lead on Stephen Bobby's 4-yard run with 1:39 left that gave the Crusaders a 20-18 halftime lead. Jon Wittman scored on a 63-yard run before Bobby's run.
Redbank Valley went up 18-6 on Travis Crawford's 5-yard run, Kahle's first TD pass to Hetrick from 11 yards out and Buzard's first interception that he returned for a touchdown.
Kahle completed 7 of 16 passes for 68 yards and threw two TDs to Hetrick along with two interceptions while running for 49 yards on eight carries. Hunter Wiles ran for 88 yards on 15 carries.
The Bulldogs withstood a big game from Bobby, who ran for 176 yards and his TD runs of 3 nd 4 yards. Wittman ran for 68 yards on two carries. McAllister completed 4 of 17 passes for 61 yards with two interceptions, both by Buzard.
CLEARFIELD 42, CENTRAL-MARTINSBURG 14
HYDE, Pa. – Led by a pair of touchdowns from Brett Zattoni, five different Clearfield players scored in a 42-14 rout of rival Central-Martinsburg in the home opener for the Bison.
Zattoni led the way for Clearfield with 18 carries for 110 yards and the two scores, while last week's hero Caleb Freeland added 13 carries for 65 yards and a touchdown.
Isaac Rumery added a touchdown run and a touchdown pass while rushing six times for 31 yards and going 9 of 13 passing for 149 yards. His scoring pass went to Taye Lynch, who caught three balls for 57 yards.
Oliver Billotte added a short scoring run for Clearfield, and Jake Lezzer had a 100-yard receiving night with six catches for 116 yards.
The game turned on a dime late in the first half with Clearfield leading 14-7.
First, Central-Martinsburg dropped a touchdown pass that could have tied the game. Then Clearfield scored TWICE in the final nine seconds of the half.
After a touchdown made it 21-7, Central-Martinsburg muffed the ensuing kickoff giving the Bison the ball back at the CM 41-yard line. With one play left, Clearfield sent five guys deep, and Lynch caught a toss from Rumery for a touchdown to give the Bison a 28-7 halftime lead. Clearfield then got the ball coming out of halftime and scored again to put the contest away.
Clearfield improved to 3-0 overall and 2-0 in the Mountain League with the win.
DUBOIS 31, WARREN 8
DUBOIS, Pa. – Making his first start at quarterback, junior Alex Kovalyak threw three touchdown passes to lead DuBois to a 31-8 win over visiting Warren in District 10 Region 7 action.
Kovalyak was 14 of 26 passing for 249 yards and also threw an interception. He threw scoring passes of 32 yards to Erich Schneider, 22 yards to Chase Husted and 54 yards to Michael Eisman.
DuBois led 7-0 at halftime but outscored Warren 24-8 in the second half including 10-0 in the third quarter.
Dylan McCluskey hit a 30-yard field goal for the Beavers (1-2 overall, 1-1 D10R7) while Zach Henery also scored on an 18-yard run.
Aidan Morrison accounted for the lone Warren score on a 21-yard pass from Jake Kupchella.
Warren was its own worst enemy at times committing eight penalties for 75 yards while turning the ball over twice. That helped DuBois win by 24 despite only outgaining the Dragons (1-2, 0-2) 340-326 and running 14 fewer plays, 64 to 78, than the Warren.
Nick DiLullo had a 100-yard receiving game for DuBois with three catches for 100 yards. Husted a team-best six grabs for 54 yards and the touchdown.
DuBois defense was all over the place with five sacks to go with the two turnovers.
Kupchella was 21 of 43 passing for 274 yards, a touchdown and a pick for Warren. Devin McMeans caught four ball for 72 yards with Marvin Bryant adding four catches for 49 yards and rushing 10 times for 50 yards.
BROCKWAY 34, ST. MARYS 7
ST. MARYS, Pa. – Brockway jumped out to a 21-0 lead after on quarter and cruised to its third straight win with a 34-7 victory at St. Marys.
Peter Downer threw a pair of first-quarter touchdowns for the Rovers (3-0 overall, 3-0 D9 League Large) and finished the night with three touchdown passes while going 10 of 26 for 247 yards.
Jon Wood (2 catches, 78 yards), Derek Schaffer (2 catches, 34 yards) and Ben Glasl (2 catches, 45 yards) all caught touchdown passes for Brockway, while Garrett McClintick returned a fumble 17 yards for a score.
Zane Puhala added a pair of field goals for the Rovers hitting a 38-yard shot in the second quarter and adding a 35-yard boot in the fourth quarter. He was also 3 of 3 on extra points.
St. Marys (0-3, 0-3) scored its first touchdown of the season 2:13 into the second quarter when Scott Potter hauled in a 14-yard pass from Todd Taylor for the Dutch's lone score of the evening.
Taylor was 12 of 23 passing for 102 yards and the touchdown with Potter (2 catches), Devin McGrath (2 catches) and Mitchell Reiter (3 catches) all having 22 yards receiving.
McGrath also ran six times for 54 yards with Cody Ritter leading the ground attack for St. Marys with 25 carries for 74 yards.
Tyler Serafini had 12 carries for 91 yards for BRockway with Wood adding seven for 63.
SMETHPORT 40, PORT ALLEGANY 0
SMETHPORT, Pa. – Nathan Hollowell and Blake Kinner combined for 235 yards of total offense and five touchdowns to help Smethport stay unbeaten with a 40-0 win over visiting Port Allegany.
Hollowell accounted for three of the touchdowns, two on the ground, and ran 11 times for 84 yards while catching three passes for 18 yards.
Kinner ran 10 times for a game-high 133 yards and two touchdowns helping the Hubbers (3-0 overall, 2-0 D9 League North) rush for 260 yards on just 33 carries.
Bryen Johnson added a catch for 24 yards and a touchdown.
Grant Ognen (6 of 10, 46 yards) and Noah Lent (2 of 2, 32 yards) each threw touchdown passes for Smethport.
Brad LaFleur led the Hubbers defense with six tackles, including three sacks.
Trey Ayers was 11 of 14 passing for 35 yards for Port Allegany (0-3, 0-2) with Collin Smith catching five passes for 23 yards and rushing four times for 15 yards.
OTTO-ELDRED 55, CAMERON COUNTY 0
DUKE CENTER – Brothers Cole and Chase Sebastian combined for 323 yards passing and six touchdowns to lead Otto-Eldred to a 55-0 win over visiting Cameron County.
Sophomore Cole went 9 of 13 passing for 160 yards and four scores, while senior Chase was 3 of 3 for 163 yards and two touchdowns.
Cole Sebastian also caught a 61-yard touchdown pass from Chase and ran six times for 38 yards.
Colton Geitler had a big game with 12 carries for 165 yards and a touchdown and three catches for 102 yards for a touchdown. Cameron Magee caught had three catches for 31 yards and three touchdowns and had a 74-yard touchdown run on his only carry. Chris Connelly added two catches for 52 yards and a score. Ethan Smith also ran four times for 82 yards and a touchdown.
Conner Nolan was 4 of 11 passing for 47 yards for Cameron County with Nate Palumbo adding four catches for 47 yards.
CLARION-LIMESTONE 50, KEYSTONE 6
KNOX, Pa. – Austin Newcomb put up monster numbers, scoring three touchdowns and racking up 327 yards from scrimmage and Ayden Wiles found the end zone four times in Clarion-Limestone's 50-6 rout at Keystone.
Newcomb ran for 212 yards on 16 carries and caught three passes for 115 yards. He ran for touchdowns of 29 and 44 yards while catching a 54-yard scoring pass from quarterback Colby Himes. His teammate Ayden Wiles came up big as well, rushing for 145 yards on 16 carries with touchdown runs of 13, 14 and 18 yards. He also caught two passes for 32 yards, one of them going 10 yards from Himes for a touchdown. Himes completed 5 of 8 passes for 147 yards.
The Lions (2-1) outgained Keystone (1-2), 558-121. They led 26-6 at halftime and 44-6 after three quarters to turn on the PIAA Mercy Rule's running clock. Keystone's only score came on quarterback Isaac Jones' 19-yard run in the second quarter.
RIDGWAY 36, MONITEAU 14
JOHNSONBURG, Pa. – Paul Gresco threw three touchdown passes and Austin green and Gabe Watts both scored twice to lead Ridgway to a 36-14 win over visiting Moniteau at Johnsonburg's Memorial Stadium.
Gresco was 8 of 11 passing for 119 yards and the three scores with Green catching three passes for 85 yards with touchdown catches for 44 and 24 yards.
Watts added scoring runs of 18 and 62 yards with the 62-yard run with 5:31 left in the third quarter putting the PIAA's 35-point lead Mercy Rule into motion.
Watts ended the night with five carries for 95 yards.
Jake Wickett also hauled in a 5-yard scoring pass from Gresco, Wickett's lone catch of the night.
Nick Martino (1-yard run) and Isaac Blum (9-yard pass from Chance Nagy) scored fourth-quarter touchdowns for Moniteau.
COUDERSPORT 61, SHEFFIELD 6
COUDERSPORT, Pa. – Coudersport scored 35 first-quarter points and never looked back running over and through visiting Sheffield for a 61-6 win.
Hayden Keck and Thomas Wilson each scored twice for the Falcons with Wilson rushing for 83 yards and two scores on just three carries. Keck was 4 of 4 passing for 106 yards with Dillon Keglovitz scoring on a 60-yard pass.
Also scoring for the Falcons (3-0 overall, 2-0 D9 League Small North) were Dylan Kelly, Stephen Kelly, Devon Nelson and Colby VanWhy.