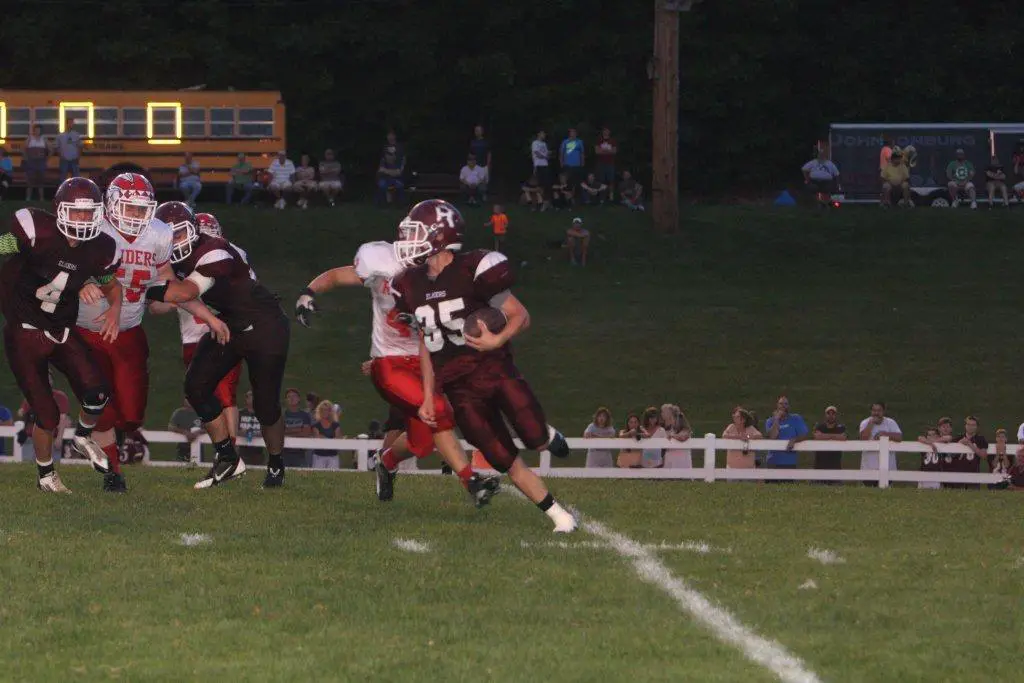 Cover photo is of Ridgway's Cole Myers – Photo by Randy Frey (www.camconative.com)
Updated: 10:21 p.m., Sept. 7; All games included
BROCKWAY 48, COUDERSPORT 0
BROCKWAY – Braden Martini threw for four touchdowns including two to Anthony Benson, who also ran for a score, to lead Brockway to a 48-0 shutout of Coudersport Friday night in Brockway.
Martini was 13 of 17 passing for 228 yards, while Benson had four catches for 67 yards while catching touchdown passes of 13 and 12 yards and rushing for a 15-yard score. Benson had four carries for 49 yards.
Mike Martino added a pair of touchdowns for the Rovers (2-0) catching a 15-yard scoring strike while rushing for 36 yards, including a 3-yard touchdown, on seven carries. Anthony Isabella added two catches for 93 yards with a 50-yard scoring strike.
Brockway's defense, meanwhile, after not pitching a shutout in nearly four years, turned in its second straight blanking limiting Coudersport (0-2) to 1 total yard of offense (negative 21 on 21 carries) and two first downs. Brock Wilson accounted for 21 of those yards with 11 rushing and 10 receiving.
NOTES – Brockway has back-to-back shutouts for the first time in the D9Sports.com Era (2000-present) and has two shutouts in a season for the first time since 2006, while Coudersport, which hasn't scored yet this season, has been shutout twice in a year for the first time since 2000.
DUBOIS 56, MEADVILLE 24
MEADVILLE – Gabe French threw for 357 yards and five touchdowns and added 68 yards rushing and a touchdown , as DuBois, ranked No. 1 in the First Commonwealth Bank/D9Sports.com Rankings, rolled past Meadville 56-24 in the District 10 Region 5 opener for both teams Friday night in Meadville.
French, coming off a seven-touchdown pass, one-touchdown run performance in Week One, went 14 of 19 Friday night while gaining the yards on the ground on nine carries. He did throw two interceptions.
Bryson Paulinellie had his second consecutive 100-yard receiving performance for the Beavers hauling in six passes for 101 yards and a touchdown. Dante Dawson had a pair of touchdown catches and grabbed four balls for 94 yards, while Cole Kriner had two catches for 42 yards and a touchdown and Kevin Foley two catches for 102 yards and a score giving the Beavers two 100-yard receivers for the second straight game. Devin Clark added a 1-yard touchdown run and ran for 75 yards on 11 carries, as DuBois racked up 563 yards of total offense.
Jared Miller ran for a pair of scores for Meadville while leading the Bulldogs with 109 yards rushing on 22 carries.
ST. MARYS 23, A-C VALLEY 0
FOXBURG – Nathan Straub ran eight times for 78 yards and two touchdowns to lead visiting St. Marys  (2-0) to a 23-0 win at A-C Valley Friday.
Straub scored on a 28-yard second-quarter run and on a 13-yard third-quarter jaunt. Pat Schlimm added a 20-yard touchdown run for the Dutch on his only carry on the game, while Zach Fox booted a 22-yard field goal as time ran out in the first half. T.J. Hogan chipped in a game-high 96 yards on the ground on 15 carries.
St. Marys' defense limited A-C Valley (0-2), losers of 14 straight, to 45 yards of total offense and two first downs. Anthony Painter carried the ball eight times for 41 yards to lead the Falcons.

CLEARFIELD 31, PENNS VALLEY 0
SPRING MILLS, Pa. – Seth Caldwell and Eric Sellers each scored a pair of touchdowns, and Spencer Herrington booted a 31-yard field goal to help Clearfield get back on the winning track with a 31-0 win at Penns Valley Friday night.
Caldwell ran 23 times for 94 yards and two touchdowns, while Sellers added 15 totes for 64 yards and a touchdown while catching two passes for 42 yards and a score. Cody Spaid was 7-for-14 passing for 122 yards and the touchdown.
Clearfield (1-1 overall, 1-0 Mountain League, which saw a 24-game regular-season win streak end last week at Kyser (W. Va.) took a 17-0 halftime on its way to going 15-0 all-time in the Mountain League since the league merged from two divisions to one in 2012. The Bison have won 27 straight conference games since a 34-21 loss to Bald Eagle Oct. 9, 2009, in the old Mountain Conference – Nittany League.
REDBANK VALLEY 35, CARRICK 14
(See video interview with Redbank Valley head coach Ed Wasilowski plus photo gallery from the game)
NEW BETHLEHEM – Jake Dougherty threw a pair of touchdowns and ran for a score to lead Redbank Valley over Carrick, a Class AAAA school from Pittsburgh's City League, 35-14, Friday night at Redbank.
Dougherty was 9 of 15 passing for 143 yards including scoring passes 3 yards to Nick Shoemaker (2 catches, 40 yards) and 43 yards to Wyatt Hetrick (2 catches, 72 yards).
Meanwhile, cousins Curtis and Colten Mohney combined to rush for 216 yards and two scores for the Bulldogs (2-0) with Curtis rushing 14 times for 122 yards and scoring on a 5-yard run and Colten carrying the ball 14 times for 94 yards while scoring on a 7-yard rush. 
Joeseph Kalsek paced Carrick (0-2) with 14 carries for 168 yards, while Earl Davis had four catches for 77 yards and a touchdown and also had an interception on defense.
BROOKVILLE 28, UNION 20
BROOKVILLE — Quarterback Bobby McGranor ran for two touchdowns and threw for another to lead the Brookville Raiders to a 28-20 win over Union Friday night.
After the Raiders were able to withstand five straight Union trips into the Red Zone (Raiders' 20 or inside) and give up just eight points — two turnovers and two drives stopped on downs — they were able to climb back into the game and went ahead for good with a 21-point third quarter.
McGranor scored on runs of 5 and 2 yards, the first coming with 12.3 seconds left in the first half and the second putting the Raiders up 15-7 with 57 seconds left in the third quarter. McGranor found Brandon Bietz on a 45-yard TD pass less than 33 seconds later to put the Raiders up 28-14.
Jonah Sampson rushed for 84 yards on 20 carries and scored the Raiders' other touchdown on a 10-yard run.
Union lost quarterback Lane Cicciarelli to an injury on the first drive of the second half. He threw an 11-yard TD pass to Chet Carmichael for the game's first points with 7:29 left in the second quarter. Cole Morris replaced Cicciarelli and raced 60 yards for a touchdown with 42.5 seconds left in the third quarter. Then in the fourth, he hit Wiser on a 53-yard scoring strike that wound up setting the final score.
Cicciarelli completed 4 of 10 passes for 79 yards with three interceptions while Morris was 3-for-11 for 81 yards to go along with 104 yards rushing on eight carries. Wiser caught two passes for 89 yards.
Both teams turned the ball over four times with Union edging Brookville in yardage, 285-283
MONITEAU 28, CLARION-LIMESTONE 20
STRATTANVILLE — Quarterback Cody Skiver's 30-yard touchdown run and two-point conversion with 5:01 left in the game broke a 20-20 tie and gave the Moniteau Warriors a 28-20 win at Clarion-Limestone Friday night.
Skiver ran for 78 yards on 11 carries while completing 7 of 13 passes for 70 yards, throwing a 30-yard TD pass to Josh McBride. McBride also ran for touchdowns of 45 and 1 yards, finishing with 49 yards on 10 carries. He caught four passes for 36 yards.
The Warriors (2-0) never trailed, but the Lions (0-2) tied at 14-14 on Brendan Makray's 35-yard pass to Ryan Louder in the third quarter. Skiver's TD pass to McBride put the Warriors up 20-14 before Makray's second TD pass, a 23-yarder to Connor Keth, tied it again at 20-20 with 5:25 left in the game.
But 24 seconds later, Skiver put the Warriors up for good.
Makray's two TD passes were his only completions of the game. Keth also caught a 55-yard pass from Kyle Robertson and finished with 78 yards on two receptions. The Warriors limited the Lions to 66 yards rushing.
OIL CITY 34, BRADFORD 0
BRADFORD — Oil City quarterback Jackson McFall threw for 206 yards and a pair of touchdowns as Oil City eased past Bradford.
The Oilers converted a fourth-and-21 and a third-and-12 for touchdowns in the game.
Mitchell Vleminckx led Bradford with 93 total yards, 50 rushing on 10 carries and 43 yards on one reception.
Zach Bartlebaugh threw for a 102 yards and was intercepted twice and also collected his second interception of the season on defense.
KANE 42, SMETHPORT 6
KANE — John English ran for 164 yards on 21 carries and scored four touchdowns (3 in the third quarter), as Kane raced past Smethport.
Tyler Rolick added a 61-yard punt return for score in the second quarter, as the Wolves led 35-0 at halftime.
Jack Kocjancic added a 20-yard touchdown pass to Tyler Weidenhoff right before halftime.
James Duffy scored on a 8-yard touchdown run in the fourth quarter for Smethport.
ELK COUNTY CATHOLIC 39, PORT ALLEGANY 0
ST. MARYS — Mitchell Smith threw two touchdown passes and rushed for two more to lead Elk County Catholic past Port Allegany.
Smith teamed with Dan Singer on a 21-yard strike and connected with Johnathon Dippold for an 11-yard score.
Smith's rushing touchdowns were from 42 and 15 yards. He ran for 108 yards on 14 carries while going 4 of 4 passing for 54 yards.
Dippold added a five-yard touchdown and Noah Werner a 43-yard score. Werner also went over a 100 yards on the ground with 106 on 12 totes.
RIDGWAY 42, CAMERON COUNTY 8
RIDGWAY — Ben MacDonald ran for two touchdowns and took an interception back for a third to key Ridgway's 35-point first half.
The Elkers scored 21 points in the first quarter on Luke Pierce's nine-yard touchdown run and Cole Myers' 10-yard scored, followed by a 58-yarder from MacDonald.
MacDonald added a 19-yard rushing touchdown in the second quarter and Dane Cappiello capped the Elkers' scoring with an 85-yard kickoff return in the third quarter. MacDonald finished with eight carries for 150 yards and was 3 of 9 passing 40 yards.
Caleb Burnside ran 17 times for 83 yards for the Red Raiders, while Rusty Setzer added 74 yards on 12 carries.
KARNS CITY 55, BRASHEAR 7
PITTSBURGH — The Karns City Gremlins ran over Class AAAA Brashear of the Pittsburgh City League, 55-7, at Cupples Stadium Friday night.
The Gremlins (2-0) scored three times on their first eight plays from scrimmage and diced the Bears (1-1) for 351 yards on the ground and 468 total yards.
Christian Turner led a host of Gremlins backs with 106 yards on six carries. Tristan Rhoades ran for 100 yards on seven carries and scored on runs of 13 and 7 yards. Collin Dunmyre gained 72 yards on just four carries and scored on runs of 36, 4 and 27 yards.
Quarterback Cody Deal completed 4 of 5 passes for 89 yards. On defense, he returned an interception 35 yards for a touchdown in the Gremlins' 28-point first quarter.
Karns City led 41-7 at halftime.
PUNXSUTAWNEY 42, KEYSTONE 0
PUNXSUTAWNEY — Dakota Thomas threw for two touchdowns and Alex Young ran for two more as the Punxsutawney Chucks shut down Keystone in a 42-0 win Friday night.
The Chucks (1-1) limited Keystone (0-2) to 123 yards of offense, including 20 yards rushing on 30 attempts. Meanwhile, Thomas threw for 130 yards and connected with Braxton Giavedoni for both TD passes. Giavedoni caught five passes for 108 yards.
On the ground, Young ran for two scores and 68 yards on 11 carries. Perry Arrington led the Chucks with 84 yards on 13 carries with a touchdown.
Keystone quarterback Bryce Altman threw for 103 yards. Receiver Chad Rogers caught three passes for 60 yards.
The Chucks led 22-0 at halftime and put the PIAA's Mercy Rule running clock into motion in the fourth quarter.
CLARION 68, SHEFFIELD 0
CLARION — The Clarion Bobcats piled up 539 yards of offense and led 49-0 by halfitme in their 68-0 rout of visiting Sheffield Friday night.
The Bobcats (2-0) had nine different rushers combined for 453 yards on the ground with five finding the end zone at least once. Colton Rapp ran for 112 yards on 12 carries and two touchdowns, Destin Strauser gained 85 yards on eight carries with two scores and Ian Corbett ran for 82 yards and two touchdowns. Caleb Bailey and Brendan Miller also ran for touchdowns. Miller threw a 19-yard TD pass to Taylor Smith.
Sheffield dropped to 0-2.
CURWENSVILLE 34, OTTO-ELDRED 12
CURWENSVILLE — Freshman Nick Stewart ran for 146 yards on 16 carries with two touchdowns on runs of 77 and 6 yards as the Curwensville Golden Tide topped visiting Otto-Eldred Friday night, 34-12.
The Golden Tide (2-0) jumped out to a 21-0 lead. Both of Stewart's TD runs, a Hunter Johnson 4-yard run and quarterback Travis Lansberry's 66-yard TD pass to Quamone Newkirk put Curwensville up 27-6 at halftime.
Kaleb Witherite scored on a 14-yard run in the fourth quarter.
Seth Drummond scored both touchdowns for Otto-Eldred (0-2) on runs of 13 and 71 yards. He gained 151 yards on 24 carries.