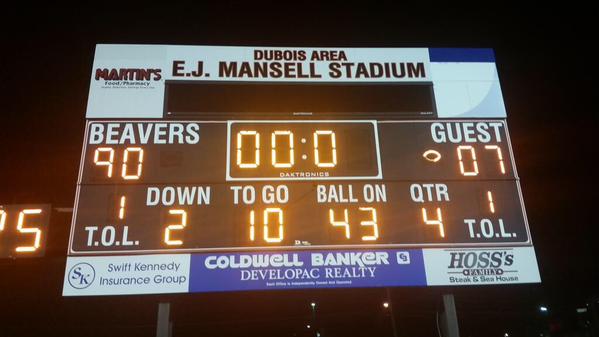 What possibly could the DuBois Beavers and Meadville Bulldogs do for an encore?
It's a been a year since they clashed in a game for the ages as Meadville outgunned the Beavers, 107-90.
In case you missed it, it's worth checking out again here.
Beavers quarterback Matt Miller, in his varsity debut, set a national high-school record for passing with his 787 yards and his 10 TD passes set a state record and tied the national mark.
Meadville's Journey Brown, meanwhile blistered the Beavers for 722 yards and 10 touchdowns and helped his team amass 1,004 yards on the ground. Meadville attempted just three passes and didn't complete a pass.
So, with many of the players back from last year's whatever you call that — video game shootout, defensive abomination — what possibly could these two teams pull off in their rematch? The Beavers are 1-1, opening with a win over Clearfield and losing a tight  34-33 game to Conneaut last week. Meadville is 0-2, losing
Brown is back and he's off to a strong start. The 5-foot-11-inch, 182-pounder reportedly has gotten offers from Temple, Syracuse and Duquesne. He's rushed for 345 yards on 36 carries with 7 TDs, averaging 9.6 yards per carry. Brown isn't even leading the Bulldogs in rushing as junior Isaiah Manning has 362 yards and 3 TDs, averaging 12.9 yards per carry.
Last year, Brown finished with 2,497 yards and 35 TDs. He goes into Friday's game with 4,581 yards and 65 TDs. Against the Beavers in two games, he's rushed for 903 yards on just 40 carries.
Like last year, the Bulldogs are running the ball almost exclusively as quarterback Kirk Mumau has completed 4 of 13 passes for 97 yards.
But also like last year, the Bulldogs aren't playing a lot of defense. While averaging 38.5 points per game, they're surrendering 44.5 points a game — last year it was 46.2 points per game while giving up 37.2 ppg. In the losses, they gave up 459 and 478 rushing yards respectively to Central Tech and General McLane.
For the Beavers, it's been a decent start without Miller throwing a pass yet as he recovers from a knee injury. Senior Braden Paulinellie, the team's top returning receiver from last year, has stepped in carried the load at quarterback in the meantime. He's completed 40 of 66 passes for 439 yards with three TDs and five interceptions. He's also the leading rusher, with 344 yards on 46 carries and four scores. Brock Adams has 155 yards on 22 carries and two TDs.
Junior Kyle Hopson has 12 receptions for 207 yards and two TDs.
So the Beavers have shown the ability to run or pass, averaging 274 and 220 yards per game respectively. It'll be interesting to see where they attack the Meadville defense.
What defense? We'll see. It shouldn't be too hard to improve on last year's numbers. The Beavers' 90 points or even the 107 points allowed didn't even break records. DuBois tied its mark for most points scored in a game, equaling its 90-0 win over Ridgeway in 1926. The 107 points scored by Meadville was one shy of the district record for points scored in a game involving a D9 team. Clearfield beat Sykesville 108-0 in 1915.
Here's a closer look at the other games this week. There are 13 games on the schedule, 11 of them Friday night.
FRIDAY
Mountain League
Central-Martinsburg (2-0) at Clearfield (1-1)
This could be a good one as the Red Dragons are probably looking to avenge their Week 3 19-8 loss to the Bison last year. Central went on to win the next 11 straight games, including the District 6 Class AA title and a first-round state win over Hickory before falling to Aliquippa (31-21).
Central started the season with two solid wins over good programs — Hollidaysburg (35-7) and Tyrone (31-7). Senior Alex Hoenstine is back after running for 1,374 yards and 27 TDs last year. However, Hoenstine was limited to six yards on three carries against the Bison.
The Bison have lost to Central just once since the two started playing every year since 2008. During that span, Central has won nine or more games five times.
Bison sophomore quarterback Isaac Rumery is off to a good start, completing 15 of 25 passes for 298 yards with two touchdowns and an interception. He's also second to Seth Caldwell (34-137, 2 TDs) in rushing with 122 yards on 26 carries. Rumery's top receivers are senior Ryan Lezzer (6-150) and junior Micah Heichel (5-115).
KSAC-Large
Moniteau (0-1) at Punxsutawney (0-1)
The Warriors were edged at St. Marys while the Chucks were routed by Clarion in the openers for both teams.
New Moniteau quarterback Chance Nagy was busy running the offense, completing 4 of 9 passes for 224 yards and four touchdowns and led the team with 60 yards rushing on 11 carries. Nagy's top receiver was Dalton Anderson, who caught three passes for 179 yards and three touchdowns.
The Chucks managed just 48 yards of offense against the Bobcats.
KSAC-Small
Keystone (0-2) at Union/ACV (0-1)
The Panthers head to Rimersburg to take on the Falcon Knights. Keystone has given up 110 points in two games, or six quarters since its opener against JFK Catholic only went to halftime.
Union/ACV went 0-for-3 in its point-after conversions and it proved costly. But there were bright spots as quarterback Lucas Bowser threw for 202 yards and two touchdowns with Gavin Hawk having a big game with eight receptions for 142 yards and both TDs.
The Panthers moved the ball mostly through the air last week against the Bulldogs as quarterback Nate Wingard threw for 131 yards and a touchdown to Corey Rapp, who caught six balls for 112 yards.
KSAC-Crossover
Brookville (0-1) at Clarion (1-0)
The Bobcats have dominated the Raiders of late, including the last three meetings by a combined score of 164-13 with the Bobcats winning 58-0 last year.
In last week's 41-0 blanking of Punxsutawney, the Bobcats limited the Chucks to 48 yards of offense. Quarterback Spencer Miller threw for 202 yards and four touchdowns with Ty Burford catching three of the TDs and finishing with five catches for 90 yards.
The Raiders didn't move the ball much against Karns City. Quarterbacks Seth Ray and Tyler Park combined to throw for 158 yards. Sophomore receiver Bryan Dworek caught four passes for 91 yards.
C-L (1-0) at St. Marys (1-0)
The Dutch haven't lost to the Lions since joining the KSAC in 2010, a string of six straight wins including a close 28-20 win last year.
The Dutch had a strong offensive game in their opening win against Moniteau with 408 yards. Matt Marconi ran for 120 yards on 30 carries while quarterback Pat Schlimm completed 6 of 11 passes for 157 yards. Jeff Wehler caught three passes for 110 yards.
For the Lions in their win over Union/ACV, Mike Macefe ran for 143 yards while quarterback Brendan Makray completed 10 of 16 passes for 112 yards. Sam Leadbetter caught five passes for 55 yards.
Karns City (1-1) at Redbank Valley (1-0)
While the Gremlins were routing Brookville for their first win of the year, the Bulldogs were opening with a rout of Keystone.
Gremlins quarterback Jacob King has completed 26 of 43 passes for 369 yards so far. Chandler Turner ran for 94 yards on just nine carries against the Raiders while catching three passes for 96 yards.
Karns City beat Redbank Valley, 42-7, last year in their first meeting since 2011. The Gremlins have won 14 of the last 18 meetings dating back through 1997.
The Bulldogs are honoring their 1996 Class AA championship team that finished off a run of three straight KSAC titles.
AML-Crossover
Cameron County (0-2) at Bradford (1-1)
The Owls try to rebound from their overtime loss to Coudersport while the Red Raiders look for their first win.
Bradford has moved the ball well on the ground so far, rushing for 560 yards in two games led by John Eakin's 294 yards and 3 TDs. Donnie Pattison has 165 yards and two touchdowns. Quarterback Kyle Kirk has thrown for 328 yards and four TDs.
The Red Raiders have giving up 92 points in two games, including last week's 55-0 loss to Elk County Catholic. They've gained just 316 yards in game games, including 75 yards against the Crusaders.
Brockway (2-0) at Port Allegany (0-2)
For sure, the trends for this matchup aren't very promising for a close game. The Rovers have outscored opponents Otto-Eldred and Sheffield, 113-15, while Port Allegany has been blasted by Kane and Ridgeway by a combined score of 120-0.
The Rovers have had 11 different players score touchdowns. Quarterback Hunter Miller has thrown for 466 yards and 7 TDs with Andrew Trunzo (4-147) his leading receiver and seven different players have caught TD passes. Mark Latuska has rushed for 169 yards and three TDs.
While the Rovers have allowed 262 yards of offense in two wins, the Gators have managed just 173 yards so far this season.
Coudersport (1-1) at Kane (2-0)
The Falcons will try to knock off a Wolves squad that's been dominant, picking up where it left off last year. Kane has outscored its opponents 154-7 so far.
Quarterback Reed Williams has completed 15 of 22 passes for 379 yards and five TDs with Davis Gardner (7-123) and Ray Maze (5-132). The ground game is strong as well with Jake Alcorn (11-273, 3 TDs) and Erik Delong (22-227, 4 TDs) leading the way.
Coudersport quarterback Aaron Wolfinger has thrown for 250 yards and leads the Falcons' running game with 63 yards on 20 carries. Derek Keglovits has caught three passes for 120 yards. Jared Green (11.5) and Wolfinger (10) average double digits in tackles per game on defense.
Ridgway (2-0) at Smethport (0-2)
In another matchup of one team feasting against another team mired in an early-season famine, the Hubbers host the Elkers.
The Elkers have outscored their opponents 76-6 in two games, giving up just 198 yards of offense. The Elkers' balanced running game that's averaging 237 yards per contest is led by Neil MacDonald's 164 yards and two TDs.
Hubbers quarterback Grant Ognen has thrown for 141 yards in two games. Accept Kindle ran for 66 yards and a touchdown in last week's loss to Curwensville.
SATURDAY
AML-Crossover
Curwensville (2-0) at Sheffield (0-2)
It's a whole lot of Nick Stewart so far for the Golden Tide, who travel to Warren County to take on a Wolverines team that's been outscored 104-9 so far.
The Golden Tide junior became the sixth D9 rusher to go over 4,000 career yards when he tore up Smethport last week with a career-high 320 yards. He's now at 4,047 career yards — 543 yards on 37 carries and 9 TDs this year — and is 402 yards away from No. 5 Kyle Cathcart of Clarion. Here's the all-time list going into this weekend:
Nick Sipes, Curwensville 5,963
Alex Holland, Curwensville 5,754
Aaron Cantafio, Brockway 4,694
Dave Richards, Clearfield 4,641
Kyle Cathcart, Clarion 4,449
Nick Stewart, Curwensville 4,047
What else the Tide have offensively this year isn't quite known. Stewart has accounted for 68 percent of the team's offensive yards and 37 percent of the plays, so no one else has emerged yet. Quarterback Bryce Timko has thrown 13 passes in two games.
Sheffield, meanwhile, has gained 181 yards for the season. Running back Darnell Manson has rushed for 86 yards.
Otto-Eldred (0-2) at Elk County Catholic (2-0)
The Crusaders have outscored opponents, 103-0, and given up 134 yards of offense, so it's been a dominating start against the AML-North.
Meanwhile, the Crusaders have piled up 696 yards on the ground led by a balanced group that includes Dan Stauffer (24-164), Jared Braun (16-143) and Tyler Dilley (9-128). Quarterback Nate DaCanal has thrown for 145 yards and rushed for 88 yards.
The Terrors have 300 yards offensively in two blowout losses to Brockway and Kane (combined 99-6 margin). Seth Drummond has rushed for 97 yards on 40 carries.