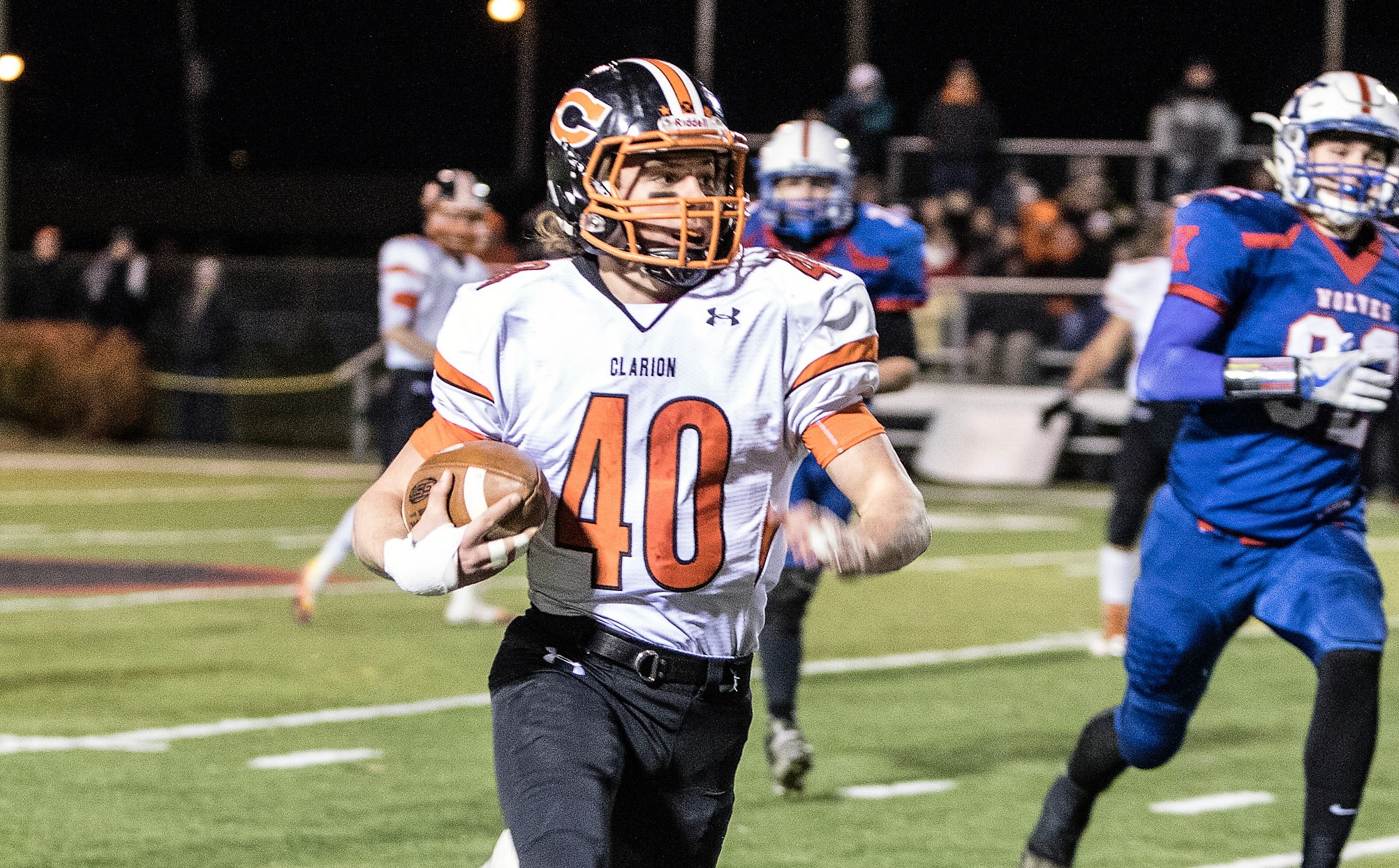 It's early, but Friday night's Clarion at Brookville Keystone Shortway Athletic Conference-Large School Division matchup could wind up having title implications at least the division level.
Clarion's Colton Rapp went over 3,000 career rushing yards last week against Punxsutawney. He'll help lead the Bobcats into Friday's KSAC-Large Division game in Brookville.
And with five teams trying to nail down one of four D9 Class 2A playoff spots, winning this game could play a major role in seeding at very least.
Considering that the head coach Scott Park's Raiders are one of the teams in this discussion says a lot about the resurgent program that's scored 94 points and amassed over 1,000 yards of offense. For Clarion, it's pretty much business as usual as the veteran squad opened with an easy 43-0 win over Punxsutawney last week.
After ending Karns City's seven-game winning streak against them last week, the Raiders will try to erase a five-game losing streak to the Bobcats, who have beaten them by a combined  139-0 margin the last three games, including 31-0 last year. Since their last win over the Bobcats in 2011 (13-12), the Raiders have managed just three touchdowns in five losses.
Quarterback Spencer Miller and Colton Rapp lead the Bobcats offense with Rapp doing most of the damage last week with a 179-yard debut that pushed him over the 3,000-yard career rushing milestone. The Bobcats ran for 469 yards against the Chucks. Brendan Zerfoss, the reigning D9 Class 2A 100-meter dash champion, needed just four carries to go for 96 yards.
The Raiders' offense, now the spread formation run by former DuBois head coach and now offensive coordinator Frank Varischetti, has been productive thus far as freshman quarterback Jack Krug has completed 44 of 60 passes for 625 yards and nine TDs. Junior receiver Bryan Dworek has 21 receptions for 338 yards and six TDs while running back Brandon McGranor (306 yards) is coming off a career-high 204-yard performance against Karns City.
It's the 65th meeting between the Raiders and Bobcats, who own a dominating 43-19-2 advantage.
The matchup is this week's Kerle Tire KSAC Game of the Week and you can listen to the broadcast by finding the link on ExploreClarion.com and ExploreJeffersonPA.com.
In other games this week:
KSAC features three crossover games
The Karns City Gremlins (0-2), after losing their first two games on the road to start the season, return home to take on Redbank Valley (1-0), which opened with a 55-38 shootout win at home against Keystone. The Gremlins, 0-2 for the first time since 1995, will certainly be focused on stopping Bulldogs senior running back Clint Thurston, who ran for 231 yards and seven TDs against Keystone.
Clarion-Limestone (2-0) looks to go 3-0 for the second straight year when it hosts St. Marys (0-1). Head coach Dave Eggleton will have 16 players available and should get a few healthy bodies back within the next two weeks before players who were ineligible to start the season return in two weeks to get the roster as big as 22. The Lions have put up 104 points and just under 900 yards of offense with both Riley Hummell (248) and Chris Peace (246) leading a 300-yards per game running attack. Quarterback Brenden Makray has thrown for 299 yards and five scores. St. Marys dropped a 21-6 game to Moniteau in its season-opener.
Plenty of points in store in Knox this week where Keystone (0-1) hosts Union/A-C Valley (0-2)? The Panthers gave up 55 points in their opening loss to Redbank Valley while the Falcon Knights have given up 90 points in two losses. Greg Duncan (248 yards) leads the Union/ACV running game while Panthers quarterback Nate Wingard opened with a 269-yard passing game against Redbank Valley.
In the only other KSAC divisional game, it's a Large School Division game featuring Punxsutawney (0-2) at Moniteau (1-0). Warriors quarterback Chance Nagy opened strong by passing for 173 yards and a touchdown while running for another TD. Receiver Wyatt Geibel caught seven passes for 134 yards. Chucks quarterback Dylan Ishman (20-for-62, 229 yards, 3 TDs) also leads his team in rushing with 69 yards.
Bison look to extend Mountain League streak
The last time the Clearfield Bison (2-0) lost a Mountain League game, it came at the hands of the Central-Martinsburg Dragons (1-1) in 2014. They'll try to extend their ML streak to 21 straight wins when they head to Martinsburg Friday night.
The Dragons opened the year with a 30-20 loss to Hollidaysburg before rebounding for a 31-14 ML win over Tyrone. They don't have do-it-all Alex Hoenstine (2,500-yard rusher) this year, but appear to be restocked with talent. Junior quarterback Noah Muthler has completed 15 of 23 passes for 289 yards while senior Trystan Detwiler (32 carries, 279 yards) leads a running attack averaging just over 250 yards per game.
The Bison are nearly balanced 50/50 offensively as junior quarterback Isaac Rumery has completed 24 of 35 passes for 434 yards and seven TDs. He's also rushed for 148 yards and a TD. Ty Bender leads the Bison with 160 yards. Receiver Micah Heichel has caught seven passes for 192 yards and two TDs.
Junior linebacker Eli Glass is making a team-best 12.5 tackles per game.
Beavers host Meadville in D10 Region 5
The 0-2 DuBois Beavers try to get their first win for head coach Justin Marshall when they host 1-1 Meadville at E.J. Mansell Stadium.
Beavers quarterback Matt Miller (22-54, 318 yards, 2 TDs) ranks fifth all-time in D9 passing yards with 6,444 and trails No. 4 passer Mike Defilippi (6,638) of Smethport by 194 yards. Receiver Kyle Hopson has 12 catches for 190 yards.
The Bulldogs, conversely, have thrown just eight passes in two games. Senior Isaiah Manning (48-299, 5 TDs) leads the team's rushing attack that's averaging over 230 yards per game.
After dropping their opener to the newly combined Erie program (34-7), the Bulldogs bounced back with a 35-21 win over General McLane last week.
AML Crossover 
Two weeks remain of crossover scheduling in the Allegheny Mountain League and so far it's been a wash for the South against the North with a 12-0 record and average score of 39-7. That's usually been the case of late as the stronger South has had its way in lopsided affairs. All of this week's games are Friday night.
Among the six AML crossover games, the matchup that looks to be the most competitive has defending North champion Otto-Eldred (0-2) hosting Elk County Catholic (2-0). The Crusaders have ridden the running of Alec Bittler, who has gone for 429 yards on 50 carries with six touchdowns.
For the Terrors, quarterback Sawyer Drummond has completed 29 of 57 passes for 382 yards.
Bradford (2-0) travels to Cameron County (0-2). The Owls' John Eakin has rushed for an even 400 yards and seven touchdowns already and Bradford hasn't been 3-0 since its last winning season in 2010's 8-2 campaign that saw it begin the year 5-0.
Kane (2-0) heads to Coudersport (0-2). The Wolves have piled up 112 points in two wins with nearly 900 yards in offense. Quarterback Reed Williams has completed 23 of 34 passes for 387 yards and six touchdowns while Erik Delong has rushed for 213 yards and three TDs.
Sheffield (0-2) heads to Curwensville (2-0) where Tide running back Nick Stewart can move up the district's all-time rushing ladder. He ran for 122 yards in last week's season debut after missing the opening game, so his 5,656 yards now trail No. 2 all-time rusher and former Tide back Alex Holland (5,734) by just 78 yards and all-time leader and another former Tide back Nick Sipes (5,963) by 307 yards.
Defending Class 1A champion Ridgway (2-0) hosts Smethport (0-2). The Elkers have allowed just eight points and 89 yards in their two wins. Brockway (2-0) is also at home against Port Allegany (0-2).