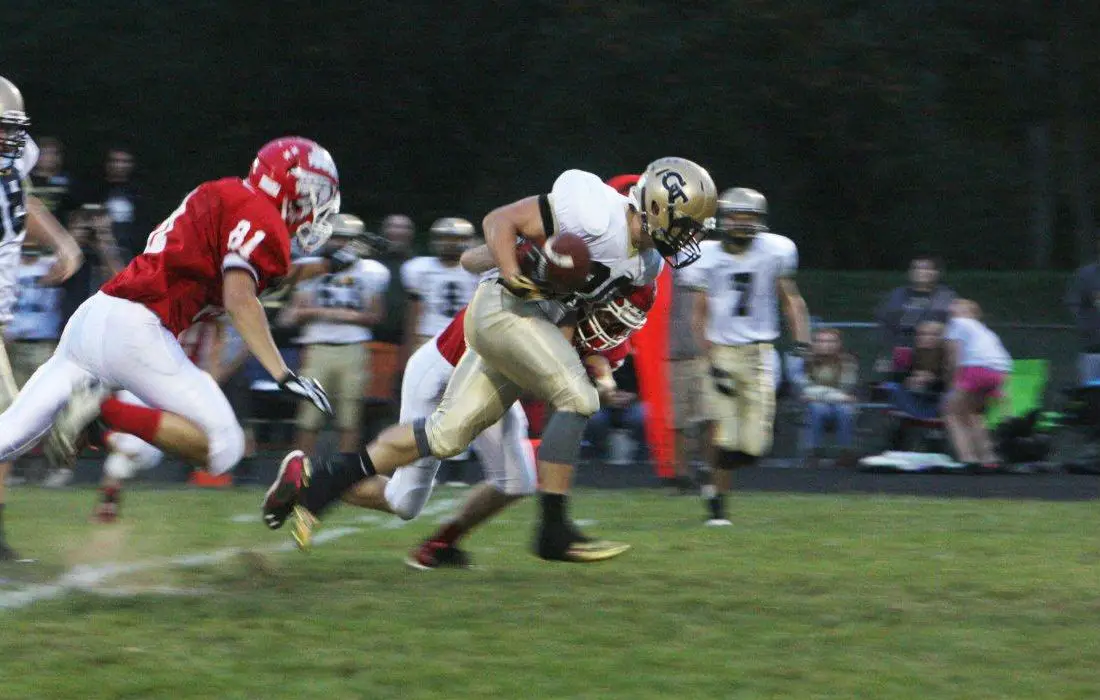 Primed to become the new District 9 rushing king, Curwensville senior Nick Stewart leads the Golden Tide north to Port Allegany to take on the Gators Friday night.
Curwensville's Nick Stewart is on the verge of passing another former Tide standout Nick Sipes as the all-time District 9 rushing leader.
It's one of 13 games on the district schedule, with all of them but one — Coudersport at Elk County Catholic Saturday at 2 p.m. — set for Friday.
Stewart sat out the team's first game, the Tide's 38-8 win over Cameron County, before returning to the lineup and rushing for 283 yards on 27 carries with six touchdowns in wins over Smethport (48-0) and Sheffield (56-8). Now with 5,817 yards (and 73 TDs rushing), he only trails another Tide great Nick Sipes' 5,963 yards by 146 yards. Last week, Stewart passed No. 2 rusher and another former Tide runner Alex Holland (5,734).
Stewart ran for 2,030 yards and 25 TDs last year, 1,872 yards and 24 TDs as a sophomore and 1,632 yards and 18 TDs as a freshman. He's at 799 career carries.
The Golden Tide are off to a good start defensively, allowing just two touchdowns and 16 points in their three blowout wins.
Port Allegany, meanwhile, has been outscored 161-24 in its three blowout losses. The Gators have the longest losing streak in the district with 14 straight losses dating back to the end of the 2015 season.
Key KSAC-Small matchup in Newbie
While the math won't be totally conclusive, the winner of the Clarion-Limestone (3-0) at Redbank Valley (1-1) game has the inside track at winning the KSAC-Small School Division title.
The Lions, last year's division champ, have scored 156 points and allowed just 20 in three blowout wins. Quarterback Brenden Makray (20-for-33, 576 yards, 10 TDs, 2 Ints.) leads a balanced offense, his top receivers Kyle Kerle (6 catches, 189 yards), Colby Himes (6-189) and Riley Hummell (6-169). Backs Hummell (25-334) and Chris Peace (43-334) lead the running game.
Redbank Valley's Clint Thurston has rushed for 355 yards on 42 carries with nine touchdowns in the Bulldogs' two games. Quarterback Keaton Kahle (20-for-45, 207 yards) and Brock Barrett (11 catches, 140 yards) lead the passing game.
In other AML games … 
Mercifully, the AML Crossover schedule comes to an end this week. After three weeks, the AML South, of course, holds an overwhelming season edge at 17-1. This week could see a couple go the AML-South way … perhaps, as Coudersport (0-3) visits Elk County Catholic (1-2) Saturday afternoon at 2 p.m. and Bradford (3-0) visits Otto-Eldred (1-2) in the closest matchups.
ECC's Alec Bittler has rushed for 441 yards and seven touchdowns. The Owls' John Eakin has rushed for 500 yards and 10 touchdowns while last week's Player of the Week Sawyer Drummond is a two-way threat for the Terrors, throwing for 556 yards and five TDs while rushing for 194 yards.
In other games, Kane (3-0) hosts Cameron County (0-3) and Ridgway (3-0) hosts Sheffield (0-3). Brockway (3-0) travels to Smethport (0-3). For Kane, quarterback Reed Williams has completed nearly 57 percent of his passes for 560 yards and eight TDs. Erik DeLong has rushed for 352 yards and five TDs and Ray Maze has 12 catches for 242 yards and four TDs.
Ridgway's defense, now in three games, has allowed just eight points and 115 yards.
Also in the KSAC, Clarion chases down win 500
The KSAC has two Large School games as Karns City (1-2) heads north to play St. Marys (0-2) and Brookville (2-1) visits Punxsutawney (1-2) in their annual Route 36 Trophy matchup. In a divisional crossover matchup, Clarion (2-0) hosts Keystone (1-1) as the Bobcats look to become the sixth D9 school to reach 500 lifetime wins.
The other programs ahead of them are DuBois (615), Clearfield (579), Bradford (552), Ridgway (552) and Curwensville (533).
The Bobcats got a big game from running back Colton Rapp in last week's rout of Brookville. He's rushed for 421 yards and five touchdowns.
Keystone stopped its 12-game losing streak with last week's win over Union/A-C Valley, which ran the Falcon Knights' losing streak to nine dating back to last year. This week, the Falcon Knights (0-3) travel to Moniteau (1-1), which tries to shake off last week's overtime loss to Punxsutawney.
Bison look to bounce back
Clearfield (2-1) looks to start a new streak in the Mountain League, but it won't be an easy one as the Bison host 3-0 Huntingdon. The Bearcats are 2-0 in the ML, coming off a 26-14 win at Tyrone.
Junior quarterback Andrew Hudy (21-for-31, 324 yards, 3 TDs) and senior running back Ian Border (386 yards, 8 TDs) lead the Bearcats, who haven't beaten the Bison since 2008.
Bison junior quarterback Isaac Rumery (37-for-58, 618 yards, 8 TDs) has completed nearly 64 percent of his passes with Micah Heichel (12 catches, 293 yards, 2 TDs) his top receiver. Ty Bender (161 yards) and Brett Zattoni (153 yards) are the leading rushers.
Beavers search for first win at Oil City
DuBois (0-3) heads to Oil City (1-2) looking to get in the win column for the first time. The Oilers are coming off their second straight loss in a 26-20 setback at Conneaut Area. The Beavers lost to Conneaut, 35-14, two weeks ago.
The Oilers are run-heavy, led by junior running back Christian Cole (99 carries, 630 yards, 5 TDs), who carried the ball an amazing 50 times for 284 yards and two TDs in last week's loss to Conneaut.
Quarterback Matt Miller (43-for-91, 574 yards, 4 TDs) and receiver Kyle Hopson (22 catches, 344 yards, 2 TDs) lead the Beavers' offense.