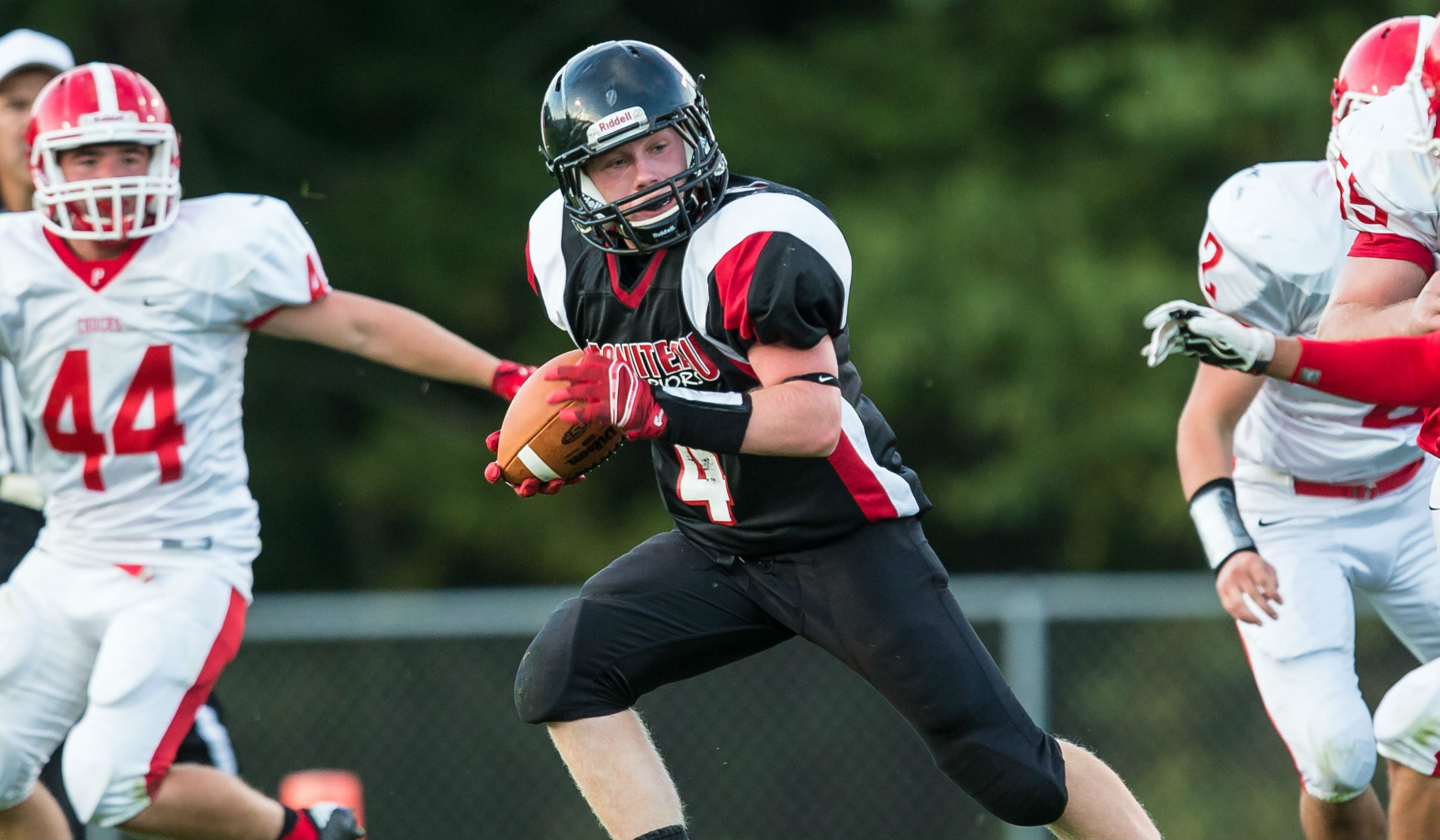 Cover photo of Josh McBride of Moniteau – Photo by Mike Schnelle –  http://apeximaging.zenfolio.com/
Completely updated 
ELK COUNTY CATHOLIC 53, SMETHPORT 6
ST. MARYS – After going 0-9 a year ago, Elk County Catholic is 3-0 this season after a 53-6 whitewashing of visiting Smethport Saturday night at Dutch Country Stadium.
Mitchell Smith hit Ryan Seelye with three first-half touchdown passes and ran for a fourth score himself in the third quarter. Smith finished 4 of 7 passing for 83 yards while adding 96 yards rushing on just nine carries. Seelye caught three passes for 62 yards, while Dan Singer had an 84-yard touchdown run and ran five times for 108 yards. Also scoring for the Crusaders were Jonathan Dippold, Noah Werner and Jordan Nasoni, with Nasoni's coming on a 47-yard touchdown pass from backup quarterback Nate DaCanal late in the game. Werner rushed nine times for 82 yards.
Smethport's lone score came on a 3-yard Dustin Zetwick run. Zetwick ran for 63 yards on 13 carries for the Hubbers (0-3)  and was 1 of 4 passing for 12 yards and an interception.  
CENTRAL-MARTINSBURG 35, CLEARFIELD 28
HYDE — Mike Mock's two-yard touchdown pass to Alex Hoenstine with 28 seconds left lifted Central to a wild 35-28 win over Clearfield Friday.
Clearfield took a 28-21 lead with 10:21 left on a 14-yard TD run by Erik Sellers, only to watch Central come right back down and score on a 38-yard connection from Mock to Nick Hoenstine with 6:55 to go. The extra point was blocked, however, setting up the late game dramatics.
Central had to rally in the fourth quarter despite leading 21-0 after the first quarter. Mock threw a pair of touchdown passes to Justin Helsel of 41 yards, coupled with a 1-yard scoring plunge from Kaleb Weyant.
Clearfield, however, cut the deficit to 21-14 at halftime, thanks to a 3-yard TD run from Seth Caldwell and a 4-yard pitch and catch from Sellers to Nick Kovalick.
Cody Spaid tied the game in the third quarter, as he hit Ryan Lezzer with a 31-yard touchdown pass.
Sellers carried the ball 19 times for 113 yards and Spaid completed 10-of-19 through the air for 119 yards with a touchdown and two interceptions.
CONNEAUT 36, DUBOIS 35, OVERTIME
DUBOIS – Henry Littwin caught a two-point conversion pass from Hunter Merritt following a 1-yard Merritt touchdown run in overtime to lift visiting Conneaut to a 36-35 overtime victory over DuBois, the top ranked team in the First Commonwealth Bank District 9 Rankings, in a District 10 Region 5 game Friday night.
DuBois (2-1 overall, 1-1 D10 Region 5), which trailed 28-21 early in the fourth quarter, tied the game at 28 on a 50-yard Devin Clark touchdown run with 8:52 to play in regulation before taking a 35-28 lead in overtime on a 10-yard Clark run to start the extra session.
Clark had a big game for the Beavers rushing 28 times for 246 yards and five touchdowns including 21 carries for 216 yards and four touchdowns after halftime.
Merritt had a big game for Conneaut (3-0, 2-0) rushing  28 times for 156 and five touchdowns. He was also 9 of 17 passing for 142 yards but did throw three interceptions.
Gabe French was 15 of 27 passing for the Beavers for 120 yards and two picks and rushed 11 times for 14 yards. Bryson Paulinellie caught eight passes for 70 yards.   
MONITEAU 48, PORT ALLEGANY 12
WEST SUNBURY – Josh McBride tore through the Port Allegany defense for 373 yards and two touchdowns to lead Moniteau to a 48-12 win over the visiting Gators Friday night in West Sunbury.
McBride needed just 22 carries to gain his 373 yards, the most by a District 9 running back this season, and scored on runs of 25 and 42 yards.
Cody Skiver also had a big game on the ground for the Warriors (3-0) rushing 22 times as well for 202 yards and two touchdowns while also going 2-for-6 passing for 17 yards.
As a team, Moniteau ran for 680 yards and outgained Port Allegany 721 to 121 and picked off quarterback Tre Garzel five times. Wyatt Ifft added a pair of touchdowns run the Warriors and ran 11 times for 39 yards. McBride added a catch for 11 yards, while Elijah Stewart scored on 16-yard run for Moniteau late, as the Warriors outscored Port 22-6 in the fourth quarter after leading just 13-0 at halftime.
Jordan Seefeldt scored twice for Port Allegany (0-3) finding paydirt on an 87-yard kickoff return for a touchdown and on a 12-yard pass from Garzel. He finished with five catches for 25 yards, while Garzel was 15 of 37 passing for 98 yards, the touchdown and five picks while adding 25 yards rushing on eight carries.  Chris Lashway had five catches for 68 yards.  
BROCKWAY 35, CAMERON COUNTY 7
EMPORIUM – Michael Martino scored two rushing touchdowns and Hunter Miller threw for a touchdown and ran for a touchdown to lead Brockway to a 35-7 win at Cameron County Friday night.
Martinio led a balanced Rovers ground game with six carries for 63 yards scoring on runs of 25 and six yards in the third quarter, while Miller, a sophomore making his first start, was 10 of 13 passing for 161 yards, a touchdown and an interception and ran five times for 45 yards and a touchdown.
Anthony Benson added 13 carries for 61 yards and a score and caught three passes for 28 yards for Brockway (3-0) while Anthony Isabella had four catches for 86 yards and a touchdown.
Cameron County did end Brockway's shutout streak at 11 ½ quarters when it scored with 4:35 to play on a  1-yard Devin Palumbo run. The Red Raiders (0-3) were held to 80 yards of total offense with Keith Spehalski going 3 of 4 passing for 60 yards.
REDBANK VALLEY 35, KEYSTONE 6
KNOX – Jake Dougherty threw for 327 yards and five touchdowns to lead Redbank Valley to a 35-6 win at Keystone Friday night.
Dougherty was 29 of 42 passing and was picked off one time while also running five times for 15 yards. Three of his scoring passes came in the second half, including two to Nick Shoemaker, as Redbank Valley (3-0 overall, 2-0 KSAC Small School) outscored Keystone 21-0 after halftime including 14-0 in the fourth quarter.
Nick Shoemaker had four catches for 55 yards and the two scores, while Connor Shoemaker grabbed eight balls for 74 yards and a touchdown. Wyatt Hetrick had a game-high eight catches for 108 yards and a score, while Devin Schimp had two grabs for 13 yards and a touchdown. Nick Shoemaker added seven yards rushing on two carries, while Hetrick had one carry for 31 yards. Colten Mohney led the Bulldog ground game with 16 totes for 46 yards. 
Jake Weaver had a nice game for Keystone (0-3, 0-2) with seven catches for 119 yards including an 83-yard touchdown reception from Bryce Altman who was 13 of 19 passing for 166 yards and the score, while rushing nine times for 36 yards. Zach Stiglitz had nine carries for 40 yards.
KARNS CITY 42, ST. MARYS 0
ST. MARYS – Led by two scorers from Tristan Rhoades, visiting Karns City rolled past St. Marys 42-0 in KSAC Large School play Friday night.
Rhoades, who was one of five Gremlins to score, ran six times for a team-high 69 yards for the second-ranked team in the First Commonwealth Bank District 9 rankings.
Set Silverio, Cody Deal, Evan Stitt and Steven Bellas also scored for Karns City (3-0 overall, 2-0 KSAC Large School Division) with Stitt's touchdown coming on a 60-yard punt return. The Gremlins also recorded a safety while holding St. Marys, ranked No. 10, to negative 1 yard of total offense including negative 23 on the ground.  Caleb King passed for 84 yards for the Gremlins while going 4 of 11, while Deal was 4-for-8 passing for 62 yards and ran five times for 13 yards. Silverio rushed four times for 31 yards with Collin Dunmyre adding five carries for 30 yards. Dunmyre had two catches for 83 yards, while Lorgan Moroney had three for 37 and Silverio one for 24.
Pat Schlimm accounted for the bulk of St. Marys' offense going 3 of 4 passing for 22 yards. T.J. Hogan ran 12 times for 17 yards for the Dutch (2-1, 1-1).
CLARION 67, CLARION-LIMESTONE 0
CLARION – Clarion, ranked No. 3 in the First Commonwealth Bank District 9 Rankings, continued its decade-long dominance of rival Clarion-Limestone with a 67-0 win Friday night at Clarion University Memorial Stadium.
The Bobcats (3-0 overall, 2-0 KSAC Small School Division), who have won 11 straight over the Lions including 10 in a row in the regular season led 53-0 at halftime after scoring 26 first-quarter point and 27 second-quarter tallies.
Ian Corbett scored 24 of those points for Clarion rushing seven times for 112 yards and four first-half touchdowns.
Brendan Miller and Thomas Plummer each added a pair of touchdowns for the Bobcats with Miller returning an interception 45 yards for the game's first score and also scoring on a 1-yard run and Plummer scoring on a 27-yard pass from Miller and on a 45-yard punt return – he also set up the second score of the game with a long punt return inside the C-L 20. Jacob Troutman and Colton Rapp each added rushing touchdowns for the Bobcats as well. Michael Barley blocked three C-L punts, all in the first half. 
Miller was 2-for-4 passing for 33 yards and the score and ran four times for 75 yards. Rapp had five carries for 74 yards, while Plummer had two catches for 33 yards and the touchdown.
Clarion outgained C-L 353-39. Kyle Robertson led the Lions (0-3, 0-2) with 57 yards rushing on 15 carries.
UNION 50, A-C VALLEY 6
RIMERSBURG – Lane Cicciarelli was a perfect 9-for-9 passing for 185 yards and four touchdowns to help Union to a 50-6 win over visiting A-C Valley Friday night.
Three of Cicciarelli's touchdown passes went to Chet Carmichael who had four grabs for 143 yards and also returned a punt 78 yards for a score.
Dugan Gallagher rushed for 134 yards and a score on 14 carries for the Knights (2-1 overall, 2-0 KSAC Small School).
A-C Valley dropped to 0-3 overall and 0-2 in the KSAC Small School and has lost 15 consecutive.   
PUNXSUTAWNEY 47, BROOKVILLE 6
PUNXSUTAWNEY – Punxsutawney regained the Route 36 Trophy with a 47-6 win over visiting Brookville Friday night.
Perry Arrington ran 13 times for 171 yards and three touchdowns to lead the Chucks (2-1 overall, 1-1 KSAC Large School). while Alex Young added two rushing touchdowns on eight carries gaining 35 total yards. Dakota Thomas was 3 of 4 passing for 129 yards including a 53-yard touchdown pass to Braxton Giaviadoni, who had all three catches while also picking off two passes on defense. Thomas added 30 yards rushing on eight carries.
In all Punxsutawney picked off Brookville quarterback Bobby McGranor three times with Ryan Jones returning one 35 yards for a score. McGranor was 12 of 25 passing for 187 yards and also ran five times for five and a touchdown. Logan Thursh had four catches for 84 yards for the Raiders (1-2, 0-2) with Brandon Bietz adding five grabs for 41 yards. Jonah Sampson ran 11 times for 42 yards.  
KANE 32, SHEFFIELD 18
KANE — John English carried the ball 31 times for 164 yards and three touchdowns to lead Kane past Sheffield 32-18 Friday.
Sheffield (0-3), kept the game close throughout, as Adam Higby hit Marquis Clark for a 79-yard touchdown pass to tie the game in the first quarter.
English, however, took over, scoring on a 1-yard run in the second quarter and a 4-yard run in the fourth quarter.
Tyler Rolick added a pair of touchdowns for Kane, scoring on a 82-yard punt return and a 9-yard run, both in the second quarter, as the Wolves (3-0) led 25-6 at halftime.
Higby added a pair of second-half touchdown passes, a 25-yarder to Logan Connelly and an 11-yarder to Keith Evan. Hibgy finished with 201 yards passing and three scores, going 13-for-30.
Rolick had three catches for 75 yards and a pair of carries for nine yards for Kane.
RIDGWAY 28, OTTO-ELDRED 7
DUKE CENTER — Ben MacDonald was a one-man wrecking crew as Ridgway outscored Otto-Eldred 21-0 in the second half en route to a 28-7 victory Friday.
MacDonald threw for a pair of scores, ran for two more and also intercepted a pass on defense as the Elkers improved to 3-0.
Otto-Eldred (0-3) actually got on the board first, with Nick Appleby connecting with Seth Drummond for a 78-yard touchdown reception to make it 7-0.
MacDonald connected with Cole Myers for a 25-yard touchdown to tie the game in the second quarter and hit Myers again for 19 yards in the third quarter to make it 14-7.
The senior quarterback added a pair of rushing touchdowns in the fourth quarter to put the game out of reach.
CURWENSVILLE 35, COUDERSPORT 6
COUDERSPORT — Curwensville outscored Coudersport 28-6 in the second half en route to a 35-6 AML crossover win.
Freshman running back Nick Stewart continued his big start, rushing for 135 yards on 21 carries and a pair of scores, while Hunter Johnson carried the ball 19 times for 88 yards and a score.
Jared Green, who was 7-of-8 for 103 yards passing, accounted for the Falcons (0-3) lone score, as he connected with Nevada Waterman for a 74-yard pitch and catch. Waterman finished with there catches for 112 yards.
Curwensville outgained Coudersport 464-166, including 363-48 on the ground.
MEADVILLE 42, BRADFORD 21
MEADVILLE — A 22-0 halftime deficit proved to be too much to overcome, as Bradford fell to  Meadville 42-21 in District 10 Region 5 action Friday.
Faizon McClure carried eight times for 97 yards and a two touchdowns for the host Bulldogs, who sent Bradford to its 11th consecutive loss dating back to last season.
Mitchell Vleminckx scored on a 21-yard touchdown run for Bradford to open the third quarter, while quarterback Zach Bartlebaugh added a 40-yard scoring run late in the third quarter to cut the deficit to 30-14.
Bradford recovered an onside kick after the Bartlebaugh score, but the quarterback was hit attempting to throw on the ensuing possession, with the officials ruling it a fumble and a Meadville recovery, stifling the Owls' momentum as it would lead to a Meadville score.
Alex Colosimo added a 95-yard kickoff return for touchdown midway through the fourth quarter for Bradford (0-3, 0-2 District 10, Region 5). Langdon led the Owls with 54 yards on eight carries.