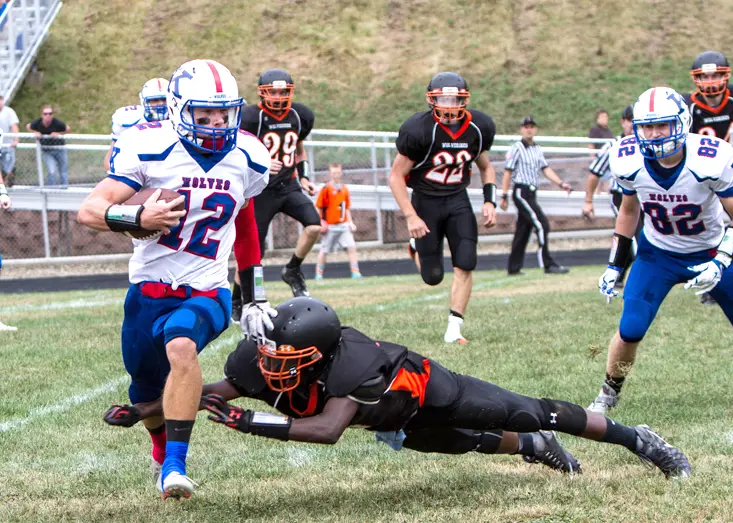 By Rich Rhoades
While the game won't determine any official title, Friday night's showdown at Clarion University's Memorial Stadium could determine overall Keystone Shortway Athletic Conference bragging rights.
Both 3-0, the Karns City Gremlins and Clarion Bobcats face each other as the favorites to win their respective KSAC divisions. Both have dominated the Large and Small school divisions with the two sweeping titles the last three seasons.
For Clarion, the Bobcats have won every KSAC-Small since the KSAC split into divisions in 2010 while the Gremlins are looking for their fourth straight KSAC-Large championship.
Last year at Karns City, the Gremlins ended a two-game losing streak to the Bobcats with a 16-6 win. Before Clarion's wins in 2012 and 2013, the Gremlins beat the Bobcats seven straight times.
Friday, it'll be a run-heavy Bobcats team taking on a Gremlins team that relies on its running game, but throws the ball more out of its two-quarterback system of Jacob King and Cullen Williams.
For Clarion, sophomore Colton Rapp leads the Bobcats' running game with 384 yards and five touchdowns, providing the bulk of the yardage in the 280-yard per game rushing attack. The Bobcats, with quarterback Brendan Miller, have passed for just 87 yards.
Karns City's running game averages 385 yards per game. Four players, three of them running backs, have over 190 yards. Seniors Collin Dunmyre (25 carries, 282 yards, 2 TDs), Maverick Kelsea (22 carries, 251 yards, 4 TDs) and junior Chandler Turner (14 carries, 193 yards, 4 TDs) do most of the work, although 16 players have gotten at least one carry so far.
The junior quarterback Williams has rushed for 137 yards and two scores while throwing for 184 yards and a touchdown with an interception. King, another junior, has thrown for 198 yards and two touchdowns.
Both teams have dominated their opponents so far. The Gremlins routed Brookville (47-0), Redbank Valley (42-7) and St. Marys (49-14) while the Bobcats have blown out A-C Valley (46-0), Sheffield (60-20) and Clarion-Limestone (41-6).
All 14 games in the district are scheduled for Friday night. Here's a rundown of the rest of the matchups:
ALLEGHENY MOUNTAIN LEAGUE
The AML-South winning streak against the North jumped five more games to 35 dating back to the 2013 postseason after going 5-0 once again last week by a combined score of 200-21. This is the last week of crossover games between the divisions.
Sheffield (0-3) at Elk County Catholic (3-0)
The Crusaders are off to a strong start defensively with just two touchdowns allowed in their three wins. Noah Werner has rushed for 249 yards and six touchdowns to lead the offense. Nate DaCanal has passed for 325 yards and three scores.
Cal Albaugh has passed for 153 yards and two touchdowns for the Wolverines, who have given up 110 points in back-to-back losses to Clarion and Kane.
Curwensville (3-0) at Cameron County (0-3)
The Golden Tide head to Emporium boasting some offensive balance. While running backs Nick Stewart (549 yards, 7 TDs) and Hunter Johnson (409 yards, 3 TDs) have solid ground numbers, quarterback Jakob Terry has passed for 491 yards and eight touchdowns against just one interception. He's also completed 22 of his 35 passes. Quamone Newkirk has caught 11 of those 22 for 324 yards and seven TDs.
The Red Raiders have scored one touchdown this season. Caleb Burnside has rushed for 125 yards while quarterback Derek Rieder has passed for 192 yards.
Ridgway (3-0) at Coudersport (0-3)
While the rest of the AML-South has crushed its AML-North foes, the Elkers have had two close games, including a 14-7 win over Otto-Eldred. But, the Elkers aren't giving up many points, just two touchdowns in three games.
James Winslow (157 yards, 1 TD) and Dane Cappiello (127 yards, 2 TDs) lead the Elkers running game.
Coudersport, shut out last week at Curwensville, has just three touchdowns this year. The Falcons have accumulated just 103 rushing yards. Quarterback Darren Keglovits has passed for 284 yards and all three of the team's TDs.
Brockway (3-0) at Otto-Eldred (0-3)
The Rovers take big numbers north to Duke Center as they're averaging 410 yards and 53 points per game. Quarterback Hunter Miller has passed for 365 yards and seven touchdowns while rushing for 152 yards and a score. Last week's Player of the Week Anthony Isabella has rushed for 463 yards and eight touchdowns.
Terrors' Seth Drummond has rushed for 234 yards and two touchdowns
Port Allegany (1-2) at Kane (3-0)
The unbeaten Wolves are off to a strong start, averaging over 411 yards per game offensively. Most of it has come on the ground as senior Tyler Rolick (395 yards, 5 TDs) and sophomore Erik Delong (310 yards, 5 TDs) lead the way. Sophomore quarterback Reed Williams has completed 10 of 16 passes for 133 yards with three touchdowns and three interceptions.
The Gators are coming off their first win in a 24-10 decision over Moniteau for the AML-North's only win of the season. Mac Tanner has 209 yards rushing, eight catches for 139 yards receiving and a team-best 11.7 tackles per game on defense.
KSAC-CROSSOVER
St. Marys (2-1) at Keystone (2-1)
Both teams are coming off their first loss of the season.
Keystone's Jake Weaver has rushed for 655 yards and eight touchdowns with three straight 100-yard games, although Redbank Valley held him in check somewhat in last week's game. Quarterbacks Austin Ion (120 yards, 1 TD) and Brayden Shick (106 yards, 1 TD) have shared snaps for the Panthers.
St. Marys running back Matt Marconi leads the team with 313 yards and three touchdowns. Pat Schlimm has passed for 194 yards with two touchdowns and three interceptions.
Union (1-2) at Punxsutawney (2-1)
Senior quarterback Ryan Jones is off to a strong start for the Chucks. He's thrown for 497 yards, completing over 60 percent of his passes (43-of-70) with four touchdowns and four interceptions. He's also leading the team in rushing with 246 yards. Junior Devin Kelly has rushed for 119 yards and three TDs while catching 13 passes for 142 yards. Senior Nathan Lingenfelter has eight catches for a team-high 159 yards.
Dugan Gallagher leads the Knights with 399 yards rushing with four touchdowns. Cole Morris scored three touchdowns from three different angles last week — punt return, interception return and reception — against A-C Valley. For the year, he's thrown for 121 yards, rushed for 68 and caught four passes for 60 yards with three interceptions and a blocked punt.
While Morris will still take some snaps at quarterback, sophomore Lucas Bowser will start. Last week in his first start, Bowser competed 7 of 9 passes for 108 yards and a touchdown while running for another.
Redbank Valley (2-1) at Brookville (1-2)
The Bulldogs will start Connor Shoemaker at quarterback after losing Devin Schimp indefinitely with an ankle injury he suffered at the beginning of last week's win over Keystone. Shoemaker played well, throwing for 120 yards and three touchdowns while rushing for 58 yards on 14 carries.
Wyatt Hetrick (8 catches, 164 yards) is Bulldogs' top receiver, although he ran for 71 yards last week against the Panthers. Colten Mohney (155 yards) and Shoemaker (151) are the top rushers.
John Frank (172 yards) leads the Raiders' running game. Quarterback Seth Ray has passed for 378 yards and three touchdowns. Logan Thrush (8-176) is Ray's top receiving target.
A-C Valley (0-3) at Moniteau (0-3)
Both teams search for their first win. While the Falcons have lost 25 straight games, the Warriors are struggling as well with seven straight losses and nine losses and their last 10 games dating back to last season.
MOUNTAIN LEAGUE
Huntingdon (2-1) at Clearfield (2-1)
The Bison haven't lost to the Bearcats since 2008 as they square off at the Bison Sports Complex. The Bearcats have a league loss, coming off a 42-27 loss to Tyrone last week while the Bison are 2-0 in the league after last week's win over Central-Martinsburg.
Huntingdon senior Jon Wagner has rushed for 354 yards and four touchdowns.
Clearfield quarterback Cody Spaid has passed for 470 yards and three touchdowns. His top receiver is Ryan Lezzer (10 catches, 141 yards), who also has 138 yards rushing. Lezzer also has two interceptions on defense, both of them coming last week. Seth Caldwell has rushed for 301 yards.
NON-CONFERENCE
Cathedral Prep (2-1) at DuBois (1-2)
The Beavers host the Ramblers, who are coming off a 9-7 win over their city rivals McDowell last week.
The Ramblers have passed for more yards than rushing. Senior quarterback Timmy Beveridge has passed for 411 yards and three touchdowns. His top receivers are Koran Williams (10 catches, 122 yards), Dajon Heidleberg (7-122) and Ta'Nauz Gregory (6-119). Nine different players have scored touchdowns.
Prep opened the season with a 31-14 loss to Wakulla, Fla., before routing Strong Vincent 63-0 in Week 2.
The Beavers, averaging 598 yards offensive while giving up 672 defensively, dropped a 56-21 decision last week at Conneaut Area. Quarterback Matt Miller needs five yards to go over the 1,000-yard mark (995 yards, 10 TDs, 5 Ints.) in just his third start of the season.
Junior Colin Read (15 catches, 442 yards, 5 TDs) and seniors Dante Dawson (22-230, 1 TD) and Zach Sloan (10-267, 2 TDs) are Miller's top receivers.
Olean (N.Y.) (0-2) at Bradford (0-3)
Both teams try to win their first games of the season in what's the 117th meeting between the Huskies and Owls. Bradford has won six of the last eight with Olean winning last year's encounter, 35-19.
Olean is coming off a bye week. Two weeks ago, receiver Garrett Boldt scored three touchdowns in Olean's 32-21 loss to Pioneer on a 90-yard kick return, and 47- and 82-yard TD receptions.
Bradford quarterback Kyle Kirk has passed for 244 yards and three touchdowns. John Eakin has rushed for 169 yards and two scores.
Smethport (0-3) at Clarion-Limestone (1-2)
It's the second straight year that the Lions and Hubbers meet. Last year, the Hubbers outgained the Lions, 46-32.
C-L's Anthony Louder has passed for 617 yards with five touchdowns and six interceptions. His top receivers are Brady Himes (16 catches, 360 yards, 2 TDs) and Connor Keth (13-191, 2 TDs).
The Hubbers' Adam Shunk has rushed for 184 yards.