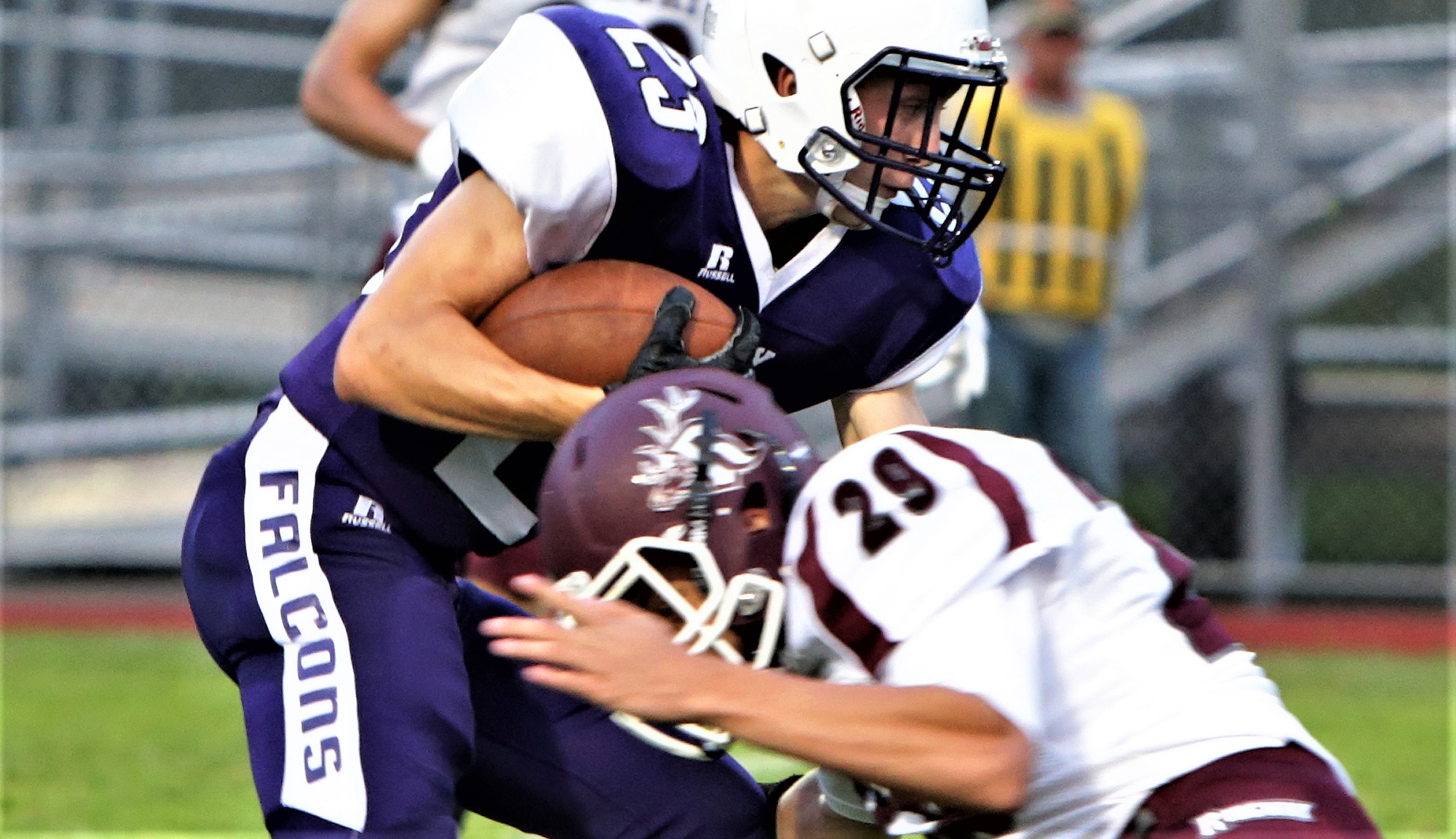 Sept. 21-22 football recaps.
(Photo: Cole Secco of Ridgway (29 in white) had a touchdown on Friday for the Elkers in the win over Brockway. Photo by Paul Burdick. Check out more of Burdick's work here)
RIDGWAY 20, BROCKWAY 7
BROCKWAY, Pa. – In a defensive struggle that flew by, visiting Ridgway continued its perfect season while handing Brockway it first loss of the year, 20-7.
The Elkers (5-0 overall, 5-0 D9 League Large School Division) outgained Brockway 237 to 189 including 166 to 95 on the ground.
It was a balanced rushing attack for Ridgway with Matt Dush leading the way with 11 carries for 56 yards and a score. Dush also returned a punt 43 yards for a score. Cole Secco added seven carries for 42 yards with Evan Furlong going for 38 yards on 11 carries.
Tyler Serafini ran 16 times for 80 yards for Brockway (4-1, 4-1), which lost top back Jon Wood to an injury late in the first half.
Peter Downer was 7 of 23 passing for 94 yards, a touchdown and two interceptions. Ben Glasl had two catches for 53 yards and a score.
KANE 22, PUNXSUTAWNEY 0 
KANE, Pa. – Kane used a stifling defense to pick up his first win of the year, 22-0, over visiting Punxsutawney Saturday.
The Wolves recorded five sacks of Punxsutawney quarterback Dylan Ishman and had three interceptions, including one that was returned 70 yards for a score by Chris Stewart. Aiden Quinn and Jake Alcorn also had picks while Ted Race had two sacks and Jonah Spuck, Dominic Cartwright and Tom Holt each had one.
Aiden Hulings (5-yard run) and Jake Sharba caught a 36-yard pass from Zuke Smith.
Kane (1-4 overall, 1-4 D9 League Large) outgained the Chucks (2-3, 2-3) 287 to 120.
Hulings ran 37 times for 131 yards and a touchdown to pace the Wolves with Smith going 5 of 13 passing for 52 yards, a touchdown. He also ran seven times for 37 yards.
Dylan Ishman was 9 of 27 passing for 91 yards and three picks for Punxsutawney with Max London catching three passes for 24 yards. Ishman also ran six times for 28 yards.
SMETHPORT 22, OTTO-ELDRED 20
SMETHPORT, Pa. – In a game whose start was delayed a couple of hours by inclement weather, Smethport held off visiting Otto-Eldred, 22-20.
Nathan Hollowell's 4-yard touchdown run following an interception by freshman linebacker Travis Cooney with 5:14 left in the game broke a 14-all tie, and Hollowell then found Blake Kinner with a 2-point conversion pass to make it 22-14.
Otto-Eldred answered right back when Cameron Magee picked a fumble that popped straight up into the air and went 50 yards for a touchdown with 3:37 left to make it 22-20. But the Hubbers defense was able to stop the Terrors 2-point try to preserve the lead.
Hollowell, who ran 20 times for 100 yards, scored twice for Smethport (5-0, 3-0 D9 League Small School North) starting the scoring with a 4-yard run in the first quarter.
Smethport then made it 14-0 midway through the second quarter on a Kinner 2-yard run following an Otto-Eldred turnover.
But the Terrors (3-2, 2-1) scored twice in the final 2:57 of the first half to tie the game at 14.
First, Cole Sebastian hit Chris Connelly with a 30-yard touchdown pass, and then with 1:26 to go in the half Brady Valerius tied the game on a 4-yard run.
Sebastian had a big game going 16 of 30 for 206 yards and the touchdown.
Kinner added 13 carries for 73 yards and a score for Smethport.
CLARION-LIMESTONE 42, REDBANK VALLEY 16
NEW BETHLEHEM, Pa. – Led by 261 yards on the ground from Austin Newcomb, Clarion-Limestone had two backs over 100 yards rushing and ran for 430 yards as a team in a 42-16 road win over Redbank Valley.
Newcomb ran 28 times and scored twice on the ground while also adding third touchdown through the air (he caught two passes for 37 yards).
Ayden Wiles added 108 yards and a touchdown on 15 carries for the Lions (4-1 overall, 3-0 D9 League Small School South).
Justin Goodman, who helped open up many of those holes for the C-L runners and was named the Lions Hager Paving Player of the Game talked about the win.
C-L built a 24-0 lead late in the first half on a pair of Colby Himes touchdown passes – one to Ian Callen from 15 yards and the other to Newcomb from 12 yards away – and a 1-yard Wiles run before Redbank Valley got a Hail Mary touchdown from 45 yards out from Keaton Kahle to Hunter Martz on the final play of the half to get within 14, 24-8, at the break.
But Kyle Bottaro scored once on the ground (26 yards) and Newcomb twice (15 yards, 65 yards) twice in the second half to help the Lions pull away.
Redbank Valley did get another touchdown pass from Kahle, this a little flip to Hunter Buzzard, who scored from 28 yards away, to cut the C-L lead to 30-16.
Following that touchdown, the Bulldogs recovered a loose ball on the ensuing kickoff, but C-L made five stops on a "and-goal-to-go" situation for Redbank Valley, who got an extra play because of a penalty.
Pressure from No. 56 Chase Makray on the fourth-down play helped with the stop, which came with just over two minutes left in the third quarter.
Newcomb then followed with his two touchdowns to put the game away.
The contest was called with 2:36 remaining when lighting was seen over the Redbank Valley Creek.
MONITEAU 12, BRADFORD 7
WEST SUNBURY, Pa. – Chance Nagy's 81-yard touchdown run with 4:16 to play lifted Moniteau to a 12-7 win over visiting Bradford.
The Warriors led 6-0 at halftime before Bradford took a 7-6 lead late in the third quarter on a 66-yard run by Nate Blauser.
But Nagy, who ran five times for 81 yards, was able to break free late to give the Warriors (3-2 overall, 3-2 D9 League Large School) the win.
A 54-yard pass from Nagy to Cody Wise with 1:28 to go in the first half gave Moniteau the halftime lead.
Nagy was also 3 of 9 passing for 75 yards with Wise catching the one long pass for the touchdown. Wise also ran 15 times for 75 yards.
Donny Pattison (17 carries) and Nik Erickson (4 carries) both ran for 87 yards for Bradford, which didn't complete a pass on the night.
CURWENSVILLE 30, KEYSTONE 14
KNOX, Pa. – Cole Bressler scored two first-half touchdowns, and Curwensville pulled away from Keystone in the second half to get a 30-14 road win over the Panthers.
Bressler scored on a 13-yard pass from Noah VonGunden in the second quarter before giving the Golden Tide the lead for good, 14-8, with a 20-yard interception return for a touchdown with 3:47 to play in the first half.
Curwensville (4-1 overall, 3-0 D9 League Small School South) then scored three times in a span of just under six minutes in the third quarter to go up 30-8.
Keystone's Isaak Jones was called for intentional grounding in the end zone to make it 16-8, Avery Francisco then scored on a 39-yard touchdown run following the free kick to make it 23-8 and VonGunden hit Lincoln Giuffre with a 15-yard scoring pass to make it 30-8.
Jones scored on a 1-yard run for Keystone (2-3, 0-3) to open the scoring and then he hit Logan Sell with a 29-yard touchdown pass with 3:59 to play to set the final score.
Curwensville outgained Keystone, 280-272, in the contest with most of the Panthers offense (184 yards) coming through the air and Curwensville rushing for 166 yards.
VonGunden was 10 of 15 passing for 114 yards and the two scores. Bressler ran 11 times for 51 yards and a touchdown and caught two passes for 12 yards and the score.
Francisco added 10 carries for 58 yards and a touchdown, and Dakota Bloom caught three passes for 61 yards.
Jones was 8 of 18 passing for 170 yards and a touchdown to go with two interceptions. Jones also ran 11 times for 75 yards and a touchdown.
Eight different Panthers caught passes with Brandan Kapp leading the way with two catches for 42 yards.
BROOKVILLE 35, KARNS CITY 28
BROOKVILLE, Pa. – Sophomore Robert Keth, in his second career varsity start at quarterback, led Brookville to a 35-28 come-from-behind win over Karns City Friday night.
Keth completed 28 of 40 passes for 446 yards and three touchdowns with two interceptions, leading the Raiders to two late fourth-quarter scores after Karns City went up 28-20 with 8:28 left in the game. He completed three passes in a game-tying 60-yard drive that was capped by Brandan Eppley's 1-yard run followed by Keth's two-point pass to Ian Thrush to tie it up at the 7:04 mark.
Then after Cabe Park recovered a Hunter Jones fumble at the Raiders' 20 with 4:23 remaining, Keth hit Bryan Dworek for 35 yards and then Thrush for a 45-yard TD pass to take the lead for good with 3:59 left. The Raiders stopped the Gremlins on downs at their own 39 with 59.6 seconds on the clock and kneeled out the game.
Dworek caught a school-record 17 passes for 240 yards, starting the Raiders out strong with a 66-yard catch and run for a touchdown on the game's first play. On the ensuing kickoff, the Raiders covered a kick that bounced off an up-man and turned it into a 14-0 lead on Cole LaBenne's 2-yard run. It was 20-0 by the 4:04 mark of the first when Keth connected with Thrush on a 23-yard shovel pass for a TD. Thrush caught six passes for 158 yards and his two TDs.
But Karns City rallied back and scored 28 unanswered points, getting to with 20-14 by halftime. Hunter Jones, who led the Gremlins with 191 yards on 27 carries, scored on a 22-yard run and Mitchell Kelsea scored the first of two TDs on a 1-yard run 26.8 seconds before intermission.
After an 87-minute storm delay that started at the 4:19 mark of the third quarter, the Gremlins came out and stopped the Raiders with an interception and turned it into points for their first lead at 21-20 when Kelsea scored again on a 2-yarder with 1:17 left in the third quarter.
The Gremlins went up 28-20 when Jones blasted untouched through the right side on fourth-and-one for a 40-yard TD run.
CAMERON COUNTY 6, SHEFFIELD 0
EMPORIUM, Pa. – Damien Erickson recovered a blocked punt in the end zone late in the second quarter for the game's only points, as Cameron County picked up its first win of the year, 6-0, over visiting Sheffield.
The game was a defensive struggle with the teams combining for 275 yards of total offense with Sheffield (0-5, 0-3 D9 League Small School North) outgaining Cameron County (1-4, 1-2), 170-105.
Christian Richetti ran 24 times for 105 yards for Sheffield, while Ebon Jackson rushed 17 times for 88 yards for Cameron County.
COUDERSPORT 61, PORT ALLEGANY 0
PORT ALLEGANY, Pa. – Stephen Kelly ran for 210 yards and three touchdowns on just 12 carries to lead Coudersport to a 61-0 win at Port Allegany in a game that was called with 10:30 to play in the fourth quarter because of inclement weather.
Kolby VanWhy (5 carries, 89 yards), Thomas Wilson (4-53), Josh Powell (2-44), Mason Klesa (3-25) and Hayden Keck (5-24) also scored on the ground for Coudersport (4-1 overall, 3-0 D9 League Small School North).
Coudersport outgained Port Allegany (0-5, 0-3) 519 to 56 including 469 to four on the ground.
Trey Ayers was 11 of 21 passing for 52 yards for the Gators.
ELK COUNTY CATHOLIC 42, UNION/A-C VALLEY 6
FOXBURG, Pa. – Elk County Catholic rolled out to a 21-0 lead after one quarter on its way to a 42-6 win over Union/A-C Valley in Foxburg.
Mason McAllister and Stephen Bobby both had 1-yard touchdown runs in the opening 12 minutes, and Dillon Braun recovered a fumble in the end zone for a touchdown.
Bobby ended the game with two touchdowns rushing 29 times for 197 yards and two touchdowns.
McAllister, who ran for 1 yard, was also 7 of 10 passing for 129 yards and an interception, while Brennen Klawuhn was 1 of 2 for 58 yards including a 58-yard touchdown pass to Ryan Fritz. Alex Breindel had three catches for 79 yards.
Luke Bowser threw for 56 yards and a touchdown on 7 of 15 passing for the Falcon Knights with Tanner Merwin catching a 16-yard touchdown pass from him. Nolan Cumberland led the ground game with 11 carries for 34 yards. Colton Hoffman had eight tackles on defense with Caden Rainey making four tackles and picking off a pass.
CLEARFIELD 49, CENTRAL MOUNTAIN 7
MILL HALL, Pa. – Caleb Freeland ran for four touchdowns and Isaac Rumery threw for three to lead unbeaten Clearfield to a 49-7 win at Central Mountain.
Freeland ran eight times for 115 yards scoring on runs of 1, 15, 65 and 14 yards.
Rumery, meanwhile, was 10 of 13 passing for 183 yards and threw touchdown passes of 65 and 25 yards to Ryan Lezzer and a scoring toss of 22 yards to Taye Lynch. Rumery added three carries for 42 yards.
Lezzer had another big game with five catches for 132 yards and the two scores and ran once for 15 yards. Lynch had four catches for 42 yards and the touchdown and Freeland added one catch for eight yards. Brett Zattoni chipped in eight carries for 54 yards.
Clearfield led 35-7 at halftime.
CLARION 42, ST. MARYS 0
ST. MARYS, Pa. – Archer Mills accounted for all six touchdowns while also kicking six extra points to lead visiting Clarion to a 42-0 win at St. Marys.
Mills threw for four scores and ran for two more to help the Bobcats improve to 5-0 overall and 5-0 in the D9 League Large School Division.
He was 11 of 12 passing for 188 yards and ran four times for 72 yards.
All four of Mills' touchdown passes went to Sam Minich, who grabbed six passes for 169 yards.
Logan Minich chipped in 13 carries for 53 yards for Clarion and added one catch for nine yards.
The Bobcats scored 21 first-quarter points reaching the end zone on passes of 61 and 69 yards to Sam Minich and on a 9-yard Mills run. Mills then scored on a 51-yard run in the second quarter to make it 28-0 before a 6-yard Mills to Sam Minich pass made it 35-0 at halftime.
Mills and Sam Minich hooked up on a 7-yard pass in the third quarter to finish the scoring.
St. Marys fell to 0-5 overall and 0-5 in the league with the loss.
OIL CITY 55, DUBOIS 12
OIL CITY, Pa. – Christian Cole rumbled for 230 yards and four touchdowns and also returned an interception for a score to lead Oil City to a 55-12 win over visiting DuBois.
Cole, the Oilers senior stud running back who was already over 1,000 yards on the season, scored on first-quarter runs of 80 and 93 yards to stack the Oilers to a 21-0 lead at the end of 12 minutes and then added scoring runs of 32 and 49 yards in the third quarter with a 24-yard interception return for a score sandwiched in between to make it 47-6 after three quarters.
Holden Stahl (2-yard run), Noah Petro (8-yard run) and Cam Russell (44-yard run) also scored on the ground for the Oilers (4-1 overall, 2-1 D10, R7) who rolled for 495 yards on the ground (they actually finished with 491 total with negative four passing).
Eric Schneider scored twice for DuBois finding paydirt on an 87-yard kickoff return for a touchdown and on a 38-yard pass from Alex Kovalyak.
The Beavers (2-3, 2-2) managed just 126 total yards of offense – 64 rushing and 62 passing.
Schneider accounted for 77 of those yards rushing eight times for 32 yards and catching three passes for 45 yards. Kovalyak, coming off a 200-yard passing game last week in a win over Franklin, was limited to 4 of 13 passing for 62 yards, a touchdown and an interception.
Cole, to add to his big night, had the interception for the Oilers.