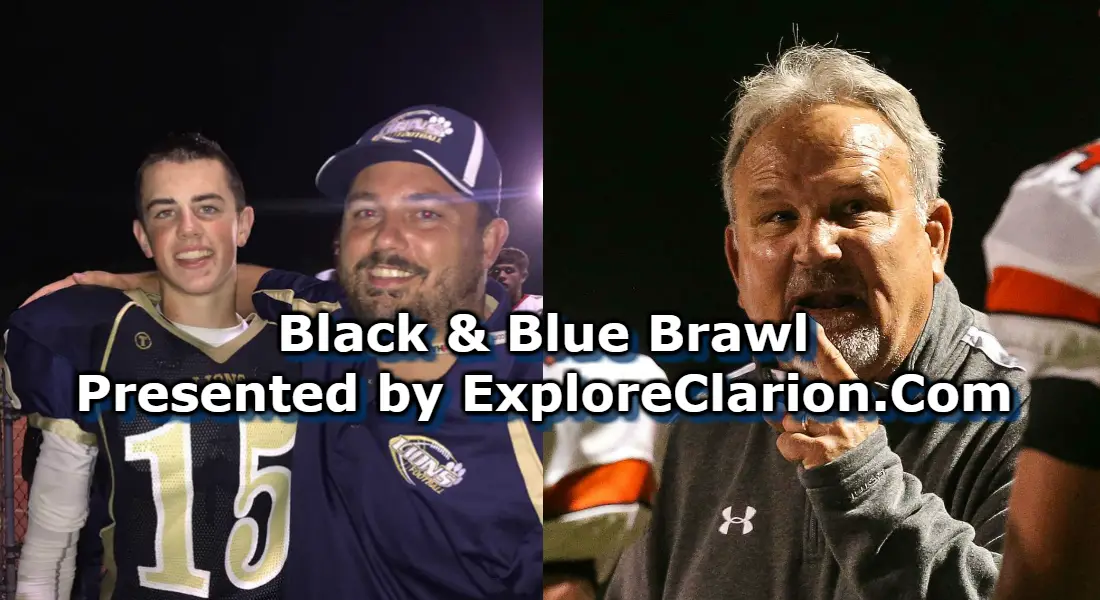 While the Allegheny Mountain League has FINALLY gotten to its divisional schedule this week, the Keystone Shortway Athletic Conference could actually crown its Small School Division champion Friday night … and it's not even October.
Headlining this week's 13-game schedule are a game from each conference as a pair of 4-0 teams clash in the AML-South when Kane visits Curwensville. And in the KSAC, two 3-0 teams face off when Clarion-Limestone travels to Clarion at Clarion University's Memorial Stadium.
Since the Lions only have one game left on their KSAC Small schedule after this week — at Keystone Oct. 21 — and a win over the Bobcats would clinch the division anyway, it's a huge game thanks to the quirky KSAC schedule against a team they haven't beaten since 2004, a streak of 12 losses.
A Clarion win naturally gives the Bobcats a leg up on the division title, but they still have two games to play in the division — hosting Redbank Valley Oct. 7 and traveling to Union/A-C Valley in Rimersburg Oct. 21. A Bobcats win would also give longtime coach Larry Wiser his 200th career win.
And this year's winner gets to take home a trophy. It's the annual Black & Blue Brawl Cup presented by ExploreClarion.com and the traveling trophy will be given out annually to the winner. Check out the story here.
In Curwensville, the unbeaten Wolves head to Clearfield County to take on a Golden Tide team that they haven't beaten on the road since 2003, a span of six straight losses. Considering the up-for-grabs nature of the AML-South race, perhaps the winner has an inside track but it's early, unless you're in the KSAC Small of course.
Here's a closer look at both of the feature games along with the rest of the schedule in District 9 this week, all but one game Friday night with one game Saturday:
Clarion-Limestone (3-0, 2-0) at Clarion (3-0, 1-0)
The last time these teams were both unbeaten going into the matchup was 2004 when the Lions beat the Bobcats 28-12, also the last time C-L beat Clarion. Since then, it's been a 12-game rout  that's seen Clarion outscore C-L by an average margin of 44 points per game. The Lions managed just seven TDs over that span.
The last three meetings have seen the Bobcats beat the Lions, 74-0, 67-0 and 41-6.
The coaching story line is interesting with Lions head coach Dave Eggleton, a 2004 C-L graduate, a former assistant under Clarion's Wiser from 2010-12. Todd Smith, who now assists Eggleton, was on Wiser's staff in 2013-14 when Eggleton moved to his alma mater.
The Bobcats have outscored their three foes by a combined margin of 141-8 with Keystone scoring the first points against them in last week's 69-8 rout. They average 458 yards per game, most of that coming on the ground led by running back Colton Rapp (51-393, 4 TDs). Quarterback Spencer Miller has completed 20 of 37 passes for 402 yards and eight touchdowns. Ty Burford (8-192, 5 TDs) is the top receiver.
The Lions, with close wins over Union/A-C Valley and St. Marys before roughing up Redbank Valley last week, average 392 yards per game. Mike Macefe (69-393, 5 TDs) is the workhorse out of the backfield so far for the Lions. Quarterback Brendan Makray (27-53, 641 yards, 5 TDs, 7 Ints.) leads the passing game that features last week's Player of the Week Sam Leadbetter (11-269, 2 TDs.
It's the 47th meeting between the teams and thanks to Clarion's 12-game streak, it leads the series, 29-17.
Kane (4-0) at Curwensville (4-0)
The Wolves travel to play the Golden Tide in one of two unbeaten matchups in the AML-South.
The defending AML champion Wolves, who beat the Tide twice last year, have given up just two touchdowns so far. Offensively, they're averaging 54.3 points per game. Erik Delong (63-544, 10 TDs) and Reed Williams (26-44, 588 yards, 7 TDs, 0 Ints.) lead the way.
Curwensville pumped out 46 points per game in its four wins against the AML-North. Junior Nick Stewart (68-833, 16 TDs rushing; 5-103, 1 TD receiving) is the center of the Tide's offensive attack, accounting for 62 percent of the yards from scrimmage. Stewart, with 4,337 yards, could climb up the D9 all-time rushing ladder. He trails No. 5 Kyle Cathcart of Clarion by 112 yards and No. 4 Dave Richards of Clearfield by 304 yards.
Tide quarterback Bryce Timko has completed 19 of 35 passes for 310 yards and five touchdowns.
Looking at the rest of the schedule:
Allegheny Mountain League-South
Brockway (4-0) at Ridgway (4-0), at Johnsonburg
In the other AML-South matchup of unbeatens, the Elkers host the Rovers in Johnsonburg.
Rovers quarterback Hunter Miller is off to a hot start, completing 72 percent (36-of-50) of his passes for 891 yards with 10 touchdown passes to seven different receivers. Four receivers are over 100 yards, led by Andrew Trunzo (12-292, 1 TD) and Dylan LeCates (7-242, 3 TDs). Mark Latuska (35-343, 7 TDs) leads the Rovers running game. Overall, 13 different players have scored touchdowns for Brockway, which has allowed only 22 points in its four games.
The Elkers, meanwhile, have a streak of 15 straight quarters without yielding a point. Coudersport scored a touchdown in the opening quarter of the season and that's been it for Ridgway opponents.
Neil MacDonald (37-399, 4 TDs) leads the Elkers' running game, which accounts for most (243 of 284 yards per game) of the Ridgway offensive attack.
Ridgway has won two of the last three meetings against Brockway since merging with Johnsonburg. Last year, the Rovers won 21-10.
Bradford (3-1) at Elk County Catholic (4-0)
The Owls match up with the Crusaders for a Saturday night kickoff after fighting off Otto-Eldred at home last week.
The Crusaders gave up their first points of the season in last week's 35-16 win at Coudersport. Prior to that, they had beaten Sheffield, Cameron County and Otto-Eldred by a combined margin of 134-0.
Quarterback Nate DaCanal (20-37, 320 yards, 5 TDs, 1 Int. passing; 27-248, 5 TDs rushing), backs Jared Braun (34-256, 5 TDs) and Dan Stauffer (42-227, 2 TDs), and receiver Brad Dippold (8-110, 4 TDs) lead the Crusaders.
For the Owls, quarterback Kyle Kirk (22-42, 556 yards, 8 TDs, 0 Ints.), running backs John Eakin (42-438, 4 TDs) and Donnie Pattison (40-418, 4 TDs), and receiver Mitch Vleminckx (5-185, 4 TDs) lead the way.
Allegheny Mountain League-North
Cameron County (0-4) at Smethport (0-4)
It's one of the two something-must-give winless games in the AML-North as the Hubbers host the Red Raiders. The Hubbers are coming off a 51-7 loss at Brockway, which didn't play Cameron County.
Both teams have played Curwensville (Smethport 41-21 loss, Cameron 37-20) and Bradford (Smethport 41-6 loss, Cameron 76-12 loss).
Sheffield (0-4) at Coudersport (1-3)
The Falcons, the lone AML-North team with a win, host the Wolverines. Quarterback Aaron Wolfinger has thrown for four touchdowns with most of his production coming on passes to Derek Keglovits and Jared Green, who caught three passes for 59 yards in last week's 35-16 loss to Elk County Catholic.
Sheffield has been shut out in three of its four losses, including Ridgway 49-0 last week. Ridgway beat Coudersport in Week 0, 26-6.
Port Allegany (0-4) at Otto-Eldred (0-4)
In the other something-must-give matchup between winless teams in the AML-North, the Gators travel to Otto-Eldred toting the highest points allowed per game average in the state at 63.7 points per game.
Meanwhile, the Terrors are coming off a close loss at Bradford last week. The Terrors have scored 19 points while the Gators scored their first points last week with a touchdown.
KSAC Large
Karns City (4-1 overall, 2-0 KSAC Large) at Punxsutawney (0-3, 0-2)
The Gremlins' streak of KSAC Large Division wins is now at 20 as they travel to play the winless Chucks.
Karns City needed to score 35 unanswered points to put away St. Marys in last week's 42-6 win, so the Gremlins will be looking for a faster start. Chandler Turner (34-379, 4 TDs) ran for 173 yards on just six carries last week, including a 94-yard TD run. Quarterback Jacob King has thrown for 564 yards and five touchdowns with three interceptions.
Quarterback Dylan Ishman (20-39, 343 yards, 4 TDs, 3 Ints.), running back Tyler Richardson (29-169) and receiver Ethan Riley (13-252, 2 TDs) lead the Chucks.
KSAC Crossover
Brookville (1-2) at Redbank Valley (1-2)
The Raiders, coming off their first win of the year, head down Route 28 to take on a Bulldogs squad that's given up 87 points in their last two games in losses to Karns City and Clarion-Limestone last week.
It's the 70th meeting between the longtime rivals with Redbank Valley leading the series, 33-30-6. The teams have split their eight games since the Raiders joined the KSAC in 2008.
Moniteau (1-2) at Keystone (0-4)
The Warriors visit a Panthers team that's given up a whopping 233 points in their four losses. That's an average of 58.3 points per game, which is the second worst in the state just ahead of Port Allegany's 63.7 per game rate.
Union/A-C Valley (2-1) at St. Marys (1-2)
The Falcon Knights head to Elk County to take on the Dutch, who will be honoring one of their former players and one of the greats in District 9 history in Dan Conners, a former Oakland Raider and Miami Hurricanes standout. He graduated from St. Marys in 1960 and went to play at Miami and then 11 years with the Raiders at linebacker and played in Super Bowl II.
Check out the story from the Bradford Era.
Update (Thursday, Sept. 22): St. Marys Athletic Director Terry Straub indicated that the pre-game ceremony for Conners has been canceled due to some health issues that has prohibited him from traveling. They hope to reschedule the event soon.
For the Falcon Knights, quarterback Lucas Bowser (25-47, 367 yards, 6 TDs, 2 Ints.), running back Lane Chalmers (48-219) and Dana Logue (9.3 tackles per game) lead the way.
For the Dutch, it's quarterback Pat Schlimm (17-37, 270 yards, 2 TDs, 2 Ints.), running back Matt Marconi (65-317, 1 TD) and Jeff Wehler (7-190, 2 TDs).
District 10 Region 5
DuBois (2-2, 1-2) at Warren (1-3 overall, 0-3)
The Beavers head north to play the Dragons, who are coming off a 49-0 loss at Meadville, one week after DuBois dropped a 52-26 decision to the Bulldogs.
The Dragons didn't have a couple of their leading players, both sophomores, in the lineup last week although quarterback Jake Kupchella (34-52, 463 yards, 4 TDs, 1 Int.) should be back. Austyn Cummings (34-125, 4 TDs) might not play. Senior Brendon Matson (16-200, 3 TDs) and sophomore Devin McMeans (8-137, 1 TD) are the top receivers.
Junior Matt Miller debuted last week with some big numbers, 18-for-23 for 372 yards passing with five touchdowns and an interception, so the Beavers appear to be at full strength offensively. Kyle Hopson (28-555, 6 TDs) is coming off a 10-catch, 225-yard performance.
Non-Conference
Central Mountain (1-3) at Clearfield (3-1)
While the Bison won three straight games after a season-opening loss to DuBois, the Wildcats ended a winless start to the year with a 24-21 win last week at home against Bellefonte, a team that beat Huntingdon in Week 1, 21-20. The Bison just beat Huntingdon 35-21.
Senior Justin Neff (44-321, 4 TDs) was the Wildcats' leading rusher through the first three games.
For the Bison, head coach Tim Janocko notched his 250th career win. Sophomore quarterback Isaac Rumery (36-70, 755 yards, 5 TDs, 4 Ints.; 49-261, 2 TDs rushing) is off to a strong start a first-time varsity starter. Senior Seth Caldwell (81-455, 7 TDs) is the workhorse ballcarrier out of the backfield. Micah Heichel (15-248, 3 TDs) and Ryan Lezzer (11-246, 1 TD) are the top receivers.