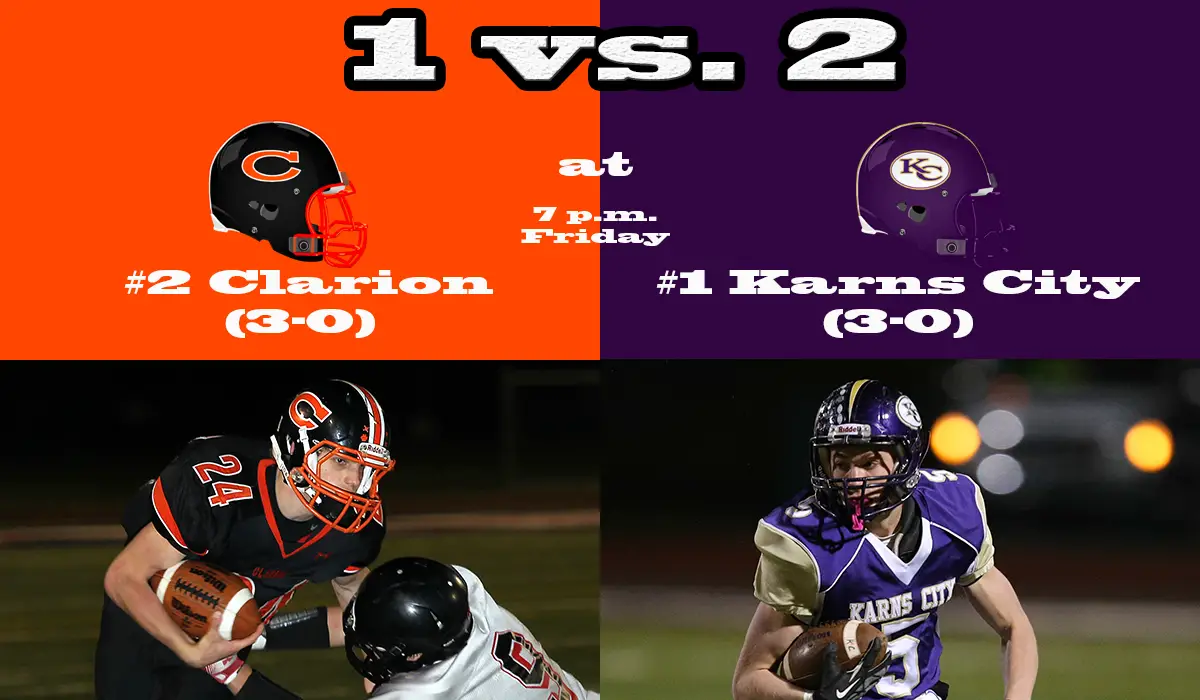 By Rich Rhoades
This year's Clarion-Karns City clash is two weeks later than last year's matchup, but it's a very familiar theme going into Friday night's showdown at Diehl Stadium in Karns City.
Both teams have roughed up their three opponents so far, and both are state-ranked along with the 1-2 setup in the latest First Commonwealth Bank District 9 Football Rankings with the Gremlins ahead of the Bobcats at the top. The only damper on things is that the game is only for bragging rights as the Bobcats and Gremlins are in different KSAC divisions and classifications.
Regardless, it's easily the game of the week to watch as the district's 25 teams are involved in 14 games, all but two of them Friday night.
It's a very similar theme to last year's Week 2 matchup. Click HERE for last year's preview.
Considering that Clarion slapped a Mercy Rule win (42-7) on Karns City a year for the Gremlins' only loss until the PIAA playoffs, the Gremlins could be fired up to avenge that blowout this time around.
Neither team has been tested as the Gremlins, ranked No. 8 in Class AA in the state by the Pennsylvania Football News, have outscored their opponents 157-13, including a 42-0 blanking at St. Marys last week.
Clarion, the No. 5 team in Class A by PFN, has played a slightly softer schedule to start the year and hasn't given up a point, scoring 179-0. The Bobcats are just one of three teams in the state who haven't yielded a point with WPIAL power Clairton and District 10's Hickory being the others.
Not surprisingly, the other defensive numbers are impressive. Clarion's opponents have lost minus-7 yards rushing in three games. They've passed for just 98 yards. Karns City's three opponents have managed 100 rushing yards while passing for 188 yards.
Despite throwing just 17 passes so far, Bobcats quarterback Brendan Miller has completed nine of them for 235 yards and four touchdowns. The running game, averaging 359 yards per game, is strong as usual as senior Ian Corbett leads the way with 323 yards and nine scores. Freshman Colton Rapp has made an immediate impact, rushing for 262 yards and four touchdowns while leading the team on defense from his linebacker spot with 26 tackles. Seniors Jacob Troutman and Ethan Straffin have six and four sacks respectively.
Karns City, averaging 309 rushing yards per game, has Tristan Rhoades (235 yards, 5 TDs rushing) and Collin Dunmyre (129 yards, 4 TDs) leading a deep crew of ballcarriers. The two-quarterback rotation of Cody Deal and Caleb King has been effective. Deal has completed 12 of 19 passes for 202 yards and a touchdown while King has completed 9 of 22 passes for 173 yards and two touchdowns.
In other games:
KSAC-Crossover
Brookville (1-2) at Redbank Valley (3-0)
It's the 68th meeting between Route 28 rivals as the unbeaten Bulldogs try to extend their perfect season so far against a Raiders squad that was blasted at Punxsutawney last week.
The Bulldogs' offense has gotten off to a strong start, led by senior quarterback Jake Dougherty. He's thrown for 673 yards yards and 10 touchdowns. Dougherty also went over 4,000 career yards and stands 14th on the all-time district leaderboard at 4,215 yards.
Connor Shoemaker (15 catches, 123 yards) and Wyatt Hetrick (13-237) are the leading receivers for the Bulldogs.
Raiders quarterback Bobby McGranor has passed for 436 yards with his top receiver being Brandon Bietz (9 catches, 145 yards).
The Bulldogs lead the series against the Raiders, 31-30-6.
Punxsutawney (2-1) at Union (2-1)
The Chucks head back to Rimersburg to take on the Knights trying to avenge their 2012 loss there when Union beat them, 21-6. It's the fifth meeting all-time between the teams, all of them coming since the Chucks joined the KSAC.
Quarterback Dakota Thomas has passed for 347 yards while rushing for 111 yards. Running back Perry Arrington has rushed for 303 yards and four scores, and receiver Braxton Giaviadoni has 11 catches for 281 yards and four TDs.
Union quarterback Lane Cicciarelli, coming off a perfect 9-for-9, 193-yard passing performance with four touchdowns in last week's rout of A-C Valley, is now over 2,100 career yards passing. Dugan Gallagher has rushed for 327 yards and Chet Carmichael has caught seven passes for 184 yards.
Moniteau (3-0) at A-C Valley (0-3)
The Warriors racked up big numbers in their win over Port Allegany. Quarterback Cody Skiver has pass for 103 yards and rushed for 399 yards and four touchdowns. Running back Josh McBride has gained 632 yards and five touchdowns.
The Falcons have been outscored 127-6 in their three losses.
Keystone (0-3) at St. Marys (2-1)
This is the third meeting between the teams since the Dutch entered the KSAC in 2010. St. Marys won last year in Knox, 39-19.
T.J. Hogan leads the Dutch running game with 202 yards while Keystone quarterback Bryce Altman has passed for 319 yards.
Mountain League
Clearfield (1-2) at Huntingdon (1-2)
The Bison try to rebound from last week's down-to-the-wire loss to Central-Martinsburg and even their record with a trip to play the Bearcats, who are coming off a 52-21 blowout loss to Tyrone.
Bison quarterback Cody Spaid has passed for 505 yards and five touchdowns with Erik Sellers running for 205 yards and two scores. Seth Caldwell has gained 172 yards and three touchdowns.
Non-Conference
DuBois (2-1) at Cathedral Prep (3-0)
The Beavers head to Erie to take on the Ramblers, who are the No. 4 team in the latest Class AAA state rankings by the Pennsylvania Football News.
The Ramblers reached the state semifinals and finished 13-1. They started this year with wins over Glenville, Ohio (21-6), Strong Vincent (42-6) and McDowell (24-10) last week. Quarterback William Norfolk has passed for 239 yards and rushed for 99 yards. DeAngelo Malone has rushed for 232 yards and six touchdowns.
Beavers quarterback Gabe French is closing in on 1,000 yards passing for the season. He's completed 48 of 68 passes for 904 yards with 12 touchdowns and two interceptions. French did not throw a TD pass in last week's 36-35 OT loss to Conneaut Area, ending a streak of 12 straight games with at least one TD pass.
Running back Devin Clark has rushed for 386 yards and six touchdowns. Bryson Paulinellie has caught 19 passes for 330 yards and five touchdowns.
The Beavers and Ramblers are meeting for the first time since 2009 when Prep won also at home, 55-14.
Bradford (0-3) at Olean N.Y. (2-0)
After a one-year hiatus, the Owls take on their rivals from New York for the 116th time Saturday.
The Owls have won six out of the last seven meetings.
Clarion-Limestone (0-3) at Smethport (0-3)
The list of 10 winless teams in the district will be reduced by at least one when the Lions travel to McKean County to take on the Hubbers. The Lions and Hubbers haven't met since the 1998 Class A Championship game in which Smethport won, 28-14.
Allegheny Mountain League
Mercifully, it's the final week of crossover games as the AML gets ready for divisional play starting next week. In three weeks, the six-team AML-North is a combined 0-18 with all but two of those losses coming to the AML-South. Of those games, seven have been shutout losses with an average margin of defeat at 34.7 points.
Coudersport (0-3) vs. Ridgway (3-0) (at Johnsonburg)
Elkers quarterback Ben MacDonald leads the way with 171 yards passing and three touchdowns, and 254 yards rushing and six touchdowns. Cole Myers has rushed for 306 yards and two scores.
The Falcons have managed just 228 yards of offense and one touchdown through three games.
The game will be played in Johnsonburg.
Cameron County (0-3) at Curwensville (3-0)
Freshman Nick Stewart leads the usual Golden Tide running game — it's averaging 304 yards per game — with 458 yards and six touchdowns. However, the Tide have passed the ball for 328 yards with Jakob Terry and Travis Lansberry.
The Tide have won the last three meetings, including a tight 21-20 decision last year at Emporium.
Kane (3-0) at Port Allegany (0-3)
Workhorse John English leads the Wolves on the road. He's toted the ball 72 times already for 463 yards and seven touchdowns. Otherwise, it's mostly quarterback Jack Kocjancic, who's passed for 307 yards.
The Gators have allowed 135 points in three games while managing just 269 yards of offense.
Otto-Eldred (0-3) at Brockway (3-0)
The Rovers gave up their first touchdown and points in last week's win. Meanwhile, they're churning out points and yards on a very balanced approach — 579 yards passing, 554 yards rushing.
Quarterbacks Zach Foradori, Braden Martini and Hunter Miller have combined to complete 39 of 55 passes (71 percent) for six touchdowns and just one interception. Anthony Benson has rushed for 170 yards while catching 11 passes for 171 yards. Receiver Anthony Isabella has 10 receptions for 215 yards.
Remarkably, the Terrors are just about a one-man show as far as handling the ball goes as sophomore Seth Drummond — 245 yards rushing, 8 catches for 148 yards receiving — has accounted for 514 of the team's 622 yards from scrimmage.
Elk County Catholic (3-0) at Sheffield (0-3)
The Saturday 1:30 p.m. kickoff has the Crusaders trying to extend their fast start against the winless Wolverines.
Crusaders quarterback Mitchell Smith has completed 15 of 20 passes for 258 yards and six touchdowns. He also leads the team in rushing with 251 yards and six touchdowns. Noah Werner (250) and Dan Singer (230) have also rushed for over 200 yards.
Sheffield quarterback Adam Higby has passed for 472 yards.