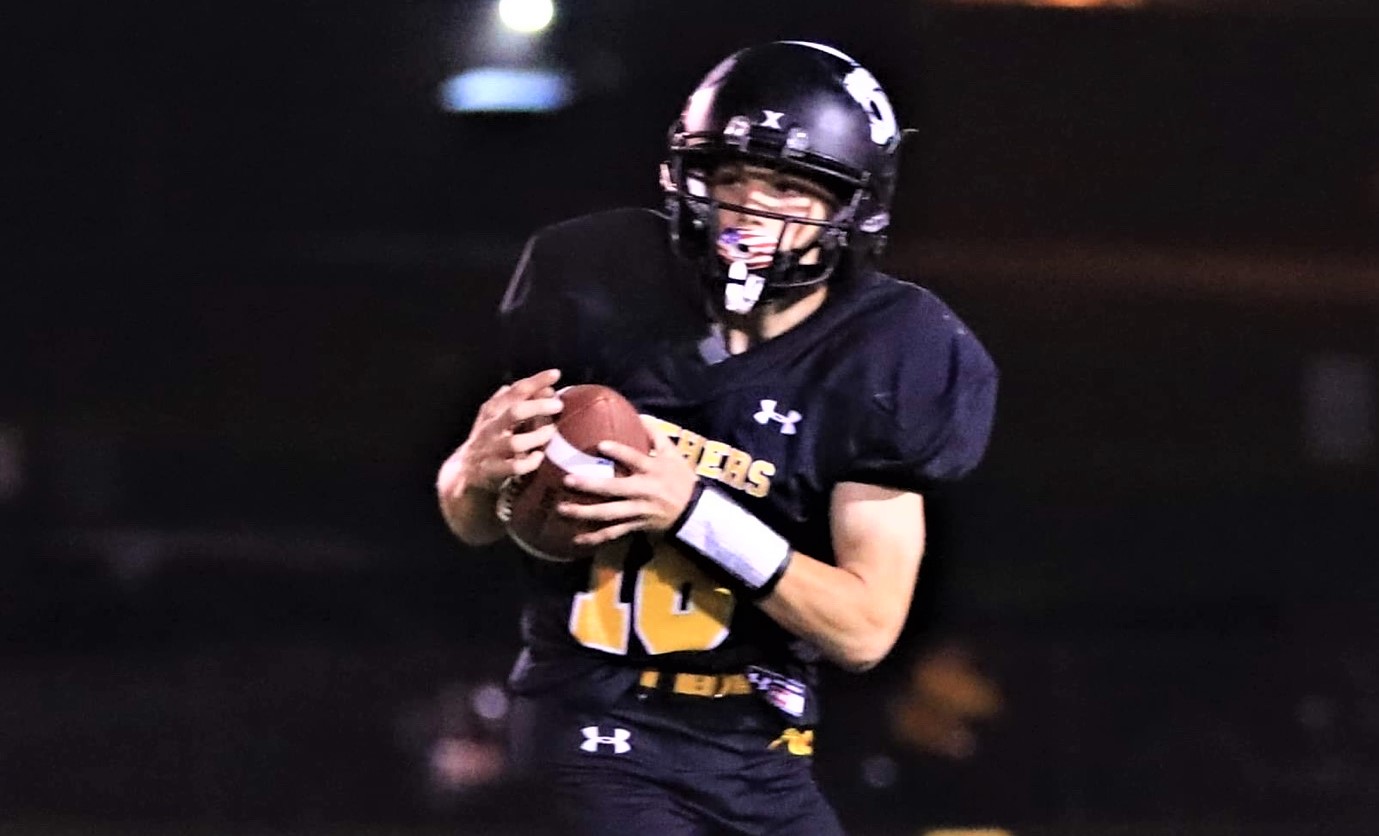 A decade-long playoff drought came to an end, two double-digit regular-season win streaks also were stopped and the number of unbeatens was reduced to three in District 9 football action Friday night.
(Photo: Zander McHenry of Keystone had four of the Panthers eight interceptions in a win over Sheffield that ended a 10-year playoff drought for the school)
.
UNION/A-C VALLEY 32, PORT ALLEGANY 7
PORT ALLEGANY, Pa. – Tanner Merwin intercepted three passes, returning two of them for touchdowns while adding a third touchdown on a reception to lead Union/A-C Valley to a 32-7 win at Port Allegany Saturday afternoon.
Merwin also made six tackles and caught four passes for 55 yards.
Luke Bowser was 11-for-20 passing for 115 yards, a touchdown and an interception, while Kylar Culbertson ran 15 times for 93 yards and a touchdown and Eli Penny added a rushing touchdown.
Culbertson also made seven tackles, while Gaven Bowser led the Falcon Knights with 10 stops.
Union/A-C Valley led 14-7 at halftime before pulling away in the second half.
Drew Evens hit Howie Stuckey with a 61-yard touchdown pass for the Gators lone score.
Evens was 12 of 27 passing for 146 yards and the touchdown while throwing three interceptions, while Stuckey had three catches for 92 yards.
Taro Tanka led the Port Allegany ground game with 70 yards on 18 carries.
Union/A-C Valley is now 5-1, while Port Allegany fell to 1-5.
KEYSTONE 57, SHEFFIELD 0
KNOX, Pa. – Zander McHenry picked off four passes, and Keystone intercepted Sheffield quarterbacks eight times, as the Panthers qualified for a playoff position with a 57-0 win over visiting Sheffield.
Keystone's defense limited Sheffield to two total yards of offense, and the Panthers offense saw Isaak Jones throw four touchdowns passes including two to Alex Rapp.
The win was Keystone's fifth in a row and gives the Panthers a 5-1 record. The five wins are enough to qualify the team for the District 9 Class 2A playoffs under a school policy that requires them to be .500 or better to go to the postseason. There are eight District 9 2A teams and eight playoff spots, so the Panthers are going to the postseason for the first time since 2009. It will be the ninth playoff appearance for Keystone since District 9 started a postseason tournament in 1987.
Jones was 5 of 8 passing for 111 yards and four touchdowns with an interception. He threw touchdown passes of seven and 23 yards to Rapp, seven yards to Keenan Heeter and a 31-yard scoring pass to Logan Sell.
McHenry also scored a touchdown catching a 29-yard pass from Jonathan Lee, while Taylar Altman scored on a 5-yard run, Nick Weaver on a 3-yard run and Jayden Blazosky on a 38-yard punt return.
Altman ran 13 times for 136 yards and a touchdown with Weaver adding 11 times for 97 yards and a score. Heeter had two catches for 50 yards. Rapp added two for 30 yards and also intercepted a pass, and Blazosky added an interception.
McHenry's four interceptions are one shy of the District 9 and Pennsylvania record of five. Adam Handley of Ridgway had five against Cameron County in 2004. Handley shares the state record with a number of players.
Sheffield fell to 1-5 with the loss.
BELLEFONTE 28, CLEARFIELD 19
BELLEFONTE, Pa. – Overcoming a 19-15 halftime deficit, Bellefonte ended a 17-game regular-season win streak by Clearfield with a 28-19 win over the visiting Bison.
CJ Funk led the Red Raiders (5-1 overall, 4-0 Mountain League) with 134 yards on the ground and a touchdown (85-yard run).
Brett Zattoni and Logan Franksi scored on the ground for Clearfield while Oliver Billotte threw a scoring pass to Nick Domico.
Zattoni had 19 carries for 48 yards with Billotte carrying 15 times for 47 yards and going 14 of 31 passing for 150 yards, a touchdown and an interception with Domico catching five passes for 54 yards.
Clearfield (5-1, 3-1) used a 19-point second quarter to take the halftime lead before being shutout in the second half.
It was the Bison first regular-season loss since the third-to-the-last game of the 2017 season when they lost to Bald Eagle Area, 25-22.
REDBANK VALLEY 21, SMETHPORT 0
NEW BETHLEHEM, Pa. – Redbank Valley's defense harassed Smethport all night long holding the previously unbeaten Hubbers to 78 yards of offense, including 44 on the ground, in ending Smethport's 14-game regular-season win streak with a 21-0 home win.
Relisten to the game:
Redbank Valley sacked Smethport quarterback Noah Lentz eight times, including four from Ethan Hetrick.
Meanwhile, Gunner Mangiantini ran for a pair of touchdowns (5 and 51 yards) and Hudson Martz added a 2-yard scoring run.
Mangiantini ran 10 times for 122 yards with Ray Shreckengost rushing nine times for 60 yards. Mangiantini was also 6 of 9 passing for 66 yards. Hetrick added two catches for 29 yards.
Lent was 10 of 21 passing for 34 yards and an interception and ran 19 times for 16 yards.
Smethport, which last lost a regular-season game was 32-6 to Otto-Eldred in the final game of the 2017 season, fell to 4-1. Redbank Valley improved to 6-0.
CLARION 47, KANE 28
KANE, Pa. – Clarion rolled up 512 yards of total offense and never relinquished an early 20-0 lead despite a strong second-quarter push from Kane to stay unbeaten while handing the homestanding Wolves their first loss of the year, 47-28.
Relisten to the game:
The Bobcats (6-0) ran for 336 yards and threw for 176 yards with big games coming from Austin Newcomb, Cal German and Ethan Bufford.
Newcomb, despite being limited by a weird ankle injury – it is not a structural injury but is a swollen ankle – and actually being on crutches during the second half of the second quarter and into halftime before returning to the game in the third quarter, ran for 165 yards and two touchdowns on 20 carries.
German, meanwhile, was 7-for-12 for 176 yards and three touchdowns with two of the scores going to Burford, who caught four passes for 161 yards and two touchdowns and was named the Hager Paving Player of the Game.
German and Jason Ganoe, who earned the Burger King Whopper Play of the Game, talked about the victory.
Clarion scored 20 first-quarter points taking advantage of a pair of Kane fumbles that set the Bobcats up deep in Wolves territory. In addition to a 45-yard German to Burford touchdown pass and a 4-yard Newcomb scoring run on fourth-and-goal, Colton Zacherl scored on a 15-yard run to open the scoring.
Kane (5-1), which got a nice game from Zuke Smith (11 of 23 passing, 157 yards, 1 TD; 10 carries, 27 yards, 1 TD), responded with 13 straight points in the second quarter to get within seven scoring on a 3-yard Jake Alcorn run and a 55-yard Reece Novosel fumble recovery for a touchdown.
After Clarion answered with a 4-yard Zacherl run – he had 11 carries for 73 yards and two touchdowns – Kane used a short field at the end of the half to get within seven at the break, 27-20, on a 15-yard run by Smith.
But Clarion's defense caused another turnover, this time deep in Bobcats territory, on Kane's first drive of the third quarter, and Clarion went up two scores on a Hunter Craddock 15-yard touchdown reception before German hit Burford with a 76-yard scoring pass to push the lead to 40-20. Caleb Holt and Newcomb then traded fourth-quarter touchdowns.
Teddy Race, who was all over the field on defense while being named Kane's Hager Paving Player of the Game, ran seven times for 67 yards. Bobby Rumcik had four catches for 75 yards.
COUDERSPORT 44, CURWENSVILLE 0
CURWENSVILLE, Pa. – Another nice game by Hayden Keck and Travis Gleason helped Coudersport to a 44-0 win at Curwensville to keep the Falcons unbeaten at 5-0.
Keck ran for 90 yards and two touchdowns as Coudersport outgained Curwensville (1-5), 431 to 16.
Gleason scored three times and ran 18 times for 177 yards.
BROCKWAY 53, BRADFORD 13
BROCKWAY, Pa. – A career night by Jon Wood helped Brockway pick up its first win of the season, 53-13, over visiting and winless Bradford.
Wood ran wild rushing 16 times for 332 yards and five touchdowns while also throwing a touchdown 21-yard touchdown pass to Austin Schmader.
Wood scored on runs of 7, 65, 82, 8 and 59 yards, while Conner Ford added a pair of short touchdown runs for the Rovers (1-5).
Derek Sunafrank had a 3-yard touchdown run for Bradford (0-6) while Austen Davis returned a kickoff 75 yards for a score.
BROOKVILLE 21, MONITEAU 8
WEST SUNBURY, Pa. – Robert Keth and Jack Krug combined to throw for 337 yards and three touchdowns, as visiting Brookville overcame a slow start to pick up a 21-8 win over Moniteau.
Keth was 21 of 32 passing for 192 yards including a 9-yard touchdown pass to Ian Thrush, while Krug was 12 of 18 passing for 145 yards with touchdown passes of 24 yards to Keth and 17 yards to Cole Labenne.
Donavan Hoffman also kicked a 32-yard field goal with 34 seconds left to close out the scoring for the Raiders (5-1).
JD Dessicino had a 24-yard scoring run for Moniteau's lone touchdown.
Thrush caught 13 passes for 111 yards and the score while Keth added four catches for 40 yards and Kyle Macbeth six catches for 103 yards. Macbeth also picked off a pass, his sixth of the year. Keth also had two carries for 17 yards.
Desscino carried the ball 14 times for 108 yards for Moniteau (1-5).
KARNS CITY 55, ST. MARYS 20
ST. MARYS, Pa. – Anthony Kamenski ran for two scores and threw for two scores to help visiting Karns City to a 55-20 win over St. Marys.
Kamenski was 3 of 8 passing for 155 yards with a pair of touchdown passes for Kaden Scherer while also throwing an interception. He added 15 carries for 138 yards scoring on runs of 19 and 40 yards.
Kaden Scherer caught touchdown passes of 77 and 56 yards from Kamenski and had two catches for 133 yards.
Luke Garing also ran for two 1-yard scores and rushed 23 times for 84 yards while catching one pass for 22 yards t help Karns City improve to 4-2 on the season.
Hunter Rowe (19 carries, 116 yards added a 5-yard touchdown run and Jayce Anderson scored on a 40-yard interception return for the Gremlins.
Christian Coudriet threw three touchdown passes for St. Marys hitting Bryce Walker from 49 yards out, Logan Mosier from 22 yards away and Jake Kline with a 20-yard pass.
Coudriet was 17-for-28 passing for 343 yards while also throwing two picks.
Walker had eight catches for 164 yards with Kline catching two passes for 32 yards and rushing 13 times for a team-best 51 yards for the Dutch (3-3).
RIDGWAY 61, PUNXSUTAWNEY 6
PUNXSUTAWNEY, Pa. – Paul Gresco threw for a pair of touchdowns, while Matt Dush, Domenic Allegretto and Jake Wickett each scored twice as visiting Ridgway rolled to a 61-6 win over Punxsutawney..
Grecso threw for 168 yards and two scores with Dush catching five passes for 99 yards and a touchdown and rushing five times for 33 yards and a touchdown.
Allegretto had three carries for 101 yards and two touchdowns, while Wickett had seven carries for 66 yards and a score and caught four passes for 27 yards and a touchdown for the Elkers (5-1).
Kam Falgout had Punxsutawney's lone touchdown rushing 13 times for 46 yards and the score and catching two passes for 16 yards. Also for the Chucks (0-6), Max London carried the ball 10 times for 48 yards, caught one pass for five yards and was 1-for-1 passing for 19 yards.
ELK COUNTY CATHOLIC 41, CAMERON COUNTY 0
EMPORIUM, Pa. – Sam Kaul ran 20 times for 180 yards and three touchdowns, and Mason McAllister added a touchdown run and a touchdown pass to lead visiting Elk County Catholic to a 41-0 win over Cameron County.
Kaul scored on runs of 30, 14 and 32 yards to help the Crusaders (3-3) score all 41 points before halftime, while McAllister threw a 41-yard touchdown pass to Leo Gregory and ran for a 3-yard score. He was 5 of 10 passing for 152 yards and the score and added three carries for eight yards.
Raivis Bobby, who ran 10 times for 36 yards, also scored on a 1-yard run for ECC with Gregory catching two passes for 87 yards.
Eyan Smith ran five times for 63 yards for Cameron County (0-5).
BUCKTAIL 22, OTTO-ELDRED 12
RENOVO, Pa. – Bucktail picked up its first win of the season, 22-12, over visiting Otto-Eldred.
Shorthanded Otto-Eldred (1-5), playing without quarterback Cole Sebastian, led 12-0 at halftime but was outscored 22-0 in the second half.
Zach Pick had an interception return for a touchdown for Bucktail (1-4) while Liam Dwyer had a touchdown catch.
Cameron Magee, filling in for Sebastian, was 8 of 24 passing for 83 yards, a touchdown and an interception while also running 15 times for 155 yards and a score. TJ VanScoter added 53 yards rushing
ERIE 71, DUBOIS 20
DUBOIS, Pa. – Down 20-13 at halftime, Erie exploded for 44 points in the third quarter and 58 in the second half to roll to a 71-20 road win over DuBois.
The Royals gained 563 yards on the night including 527 on just 39 carries.
JJ Woodward ran 18 times for 275 yards and six touchdowns for Erie (3-3) with Trevon Tate ran nine times for 140 yards and a touchdown.
Alex Kovalyak was 21 of 43 passing for 296 yards and three touchdowns but five interceptions.
Dale Kot had six catches with 141 and a score for the Beavers (0-6) with Zach Shilala catching five passes for 60 yards and a touchdown and Chase Husted seven catches 56 yards and a touchdown.
Note – At the conclusion the season, Erie High ended up forfeiting this game to DuBois due to the use of an ineligible player