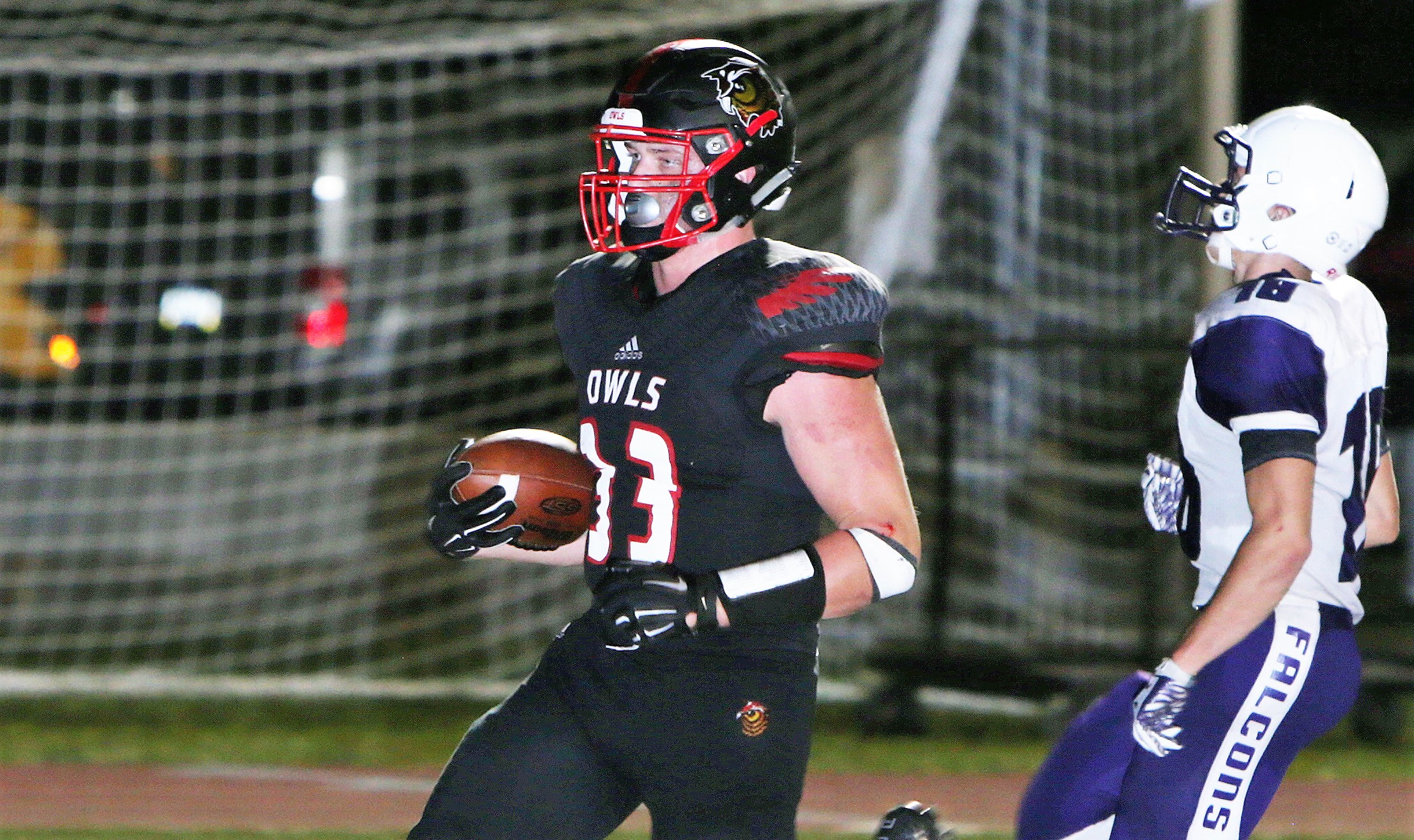 District 9's list of perfect records dropped by two last week because it had to with Kane and Brockway winning matchups against Curwensville and Ridgway in the Allegheny Mountain League's South Division.
Bradford's John Eakin leads the Owls into Friday's game at Ridgway.
This week, three of the district's four unbeaten teams still reside in the AML-South. At least two of those will be challenged with road games as the 5-0 Brockway Rovers travel to Curwensville (4-1) while 5-0 Bradford heads to Ridgway (4-1).
The other two unbeaten teams are the defending AML champion Kane Wolves (5-0), who play at Elk County Catholic (2-3) Saturday night and Clarion (4-0), which hosts Moniteau (2-2) Friday night.
Thirteen games make up this week's schedule. Another game is set for Saturday with Sheffield (0-5) hosting Otto-Eldred (2-3).
Here is a closer look at this week's games:
AML-South turf wars continue
In their second year in the AML, the Bradford Owls (5-0 overall, 1-0 AML-South) are 5-0 for the first time since 2009 when they started 6-0.
John Eakin has pounded his way for 766 yards (10.5 per carry) and 15 TDs for the Owls, who average 341 yards per game on the ground. Derek Sunafrank (258 yards, 4 TDs) and Jaron Ambrose (218, 1 TD) help the Owls, who have attempted just 26 passes in five games.
Ridgway, coming off a 24-21 loss to Brockway, is another run-heavy team, averaging 285 of their 345 yards per game on the ground. Neil MacDonald (43-438, 7 TDs) also averages over 10 yards per carry and also leads the team in receiving (9-152, 3 TDs). Quarterback Johnny Mitchell has thrown for 291 yards and rushed for 191 yards.
Conversely, Brockway (5-0, 1-0) is coming off a thrilling win over the Elkers and goes on the road to Curwensville (4-1, 0-1) as quarterback Peter Downer (55-for-90, 942 yards, 6 TDs, 4 Ints.) threw for a career-high 338 yards against the Elkers. Dylan Lacates (19-282), his top receiving target, had six catches for 123 yards.
Noah Vokes (13-285) and Jon Wood (10-141) are other top receivers with Wood leading the team in rushing (41-427, 5 TDs).
The Golden Tide try to shake off a 57-0 loss to Kane as Nick Stewart (59-557) was held to 46 yards rushing on 15 carries.
Quarterback Ben Timko (41-for-73,, 693 yards, 7 TDs, 2 Ints.) runs the passing game for the Tide, who have lost three straight games to the Rovers. Last year, the Rovers routed the Tide in Brockway, 56-20.
The other AML-South game has Kane (5-0, 1-0) meeting Elk County Catholic (2-3, 0-1) Saturday night at Dutch Country Stadium in St. Marys starting at 7 p.m.
The Wolves spun their second straight shutout last week against Curwensville and have given up just 26 points (four TDs) so far this season.
Erik Delong (70-748, 12 TDs) and Ange Costanzo (36-420, 8 TDs) lead the running game. Quarterback Reed Williams has thrown 11 TD passes and receiver Ray Maze (18-390, 7 TDs) is his top receiver.
ECC's Alec Bittler has rushed for 599 yards on 101 carries.
In the AML-North … 
Friday night, Cameron County (0-5, 0-1) visits Coudersport (2-3, 1-0) and Smethport (1-4, 1-0) hosts Port Allegany (0-5, 0-1) while Sheffield (0-5, 0-1) hosts Otto-Eldred (2-3, 1-0)  in a 1:30 p.m. Saturday kickoff matchup.
Coudersport has won two straight after starting 0-3, routing Sheffield 44-13 last week and running for 406 yards, which accounts for 55 percent of their season rushing yardage. Quarterback Jared Green (26-for-47, 265 yards, 2 TDs, 3 Ints.) is second on the team with 175 yards rushing, behind Stevie Kelly (78-215, 2 TDs).
Cameron County scored 20 points in its first four games before scoring 34 in a 50-34 loss to Smethport last week. Jared Whitling (68-271) leads the Red Raiders in rushing.
Smethport also helped its season stat totals in last week's game against Cameron. After getting blanked in three straight games to start the season and then held to six points in a loss to Brockway, the Hubbers exploded for 50 points last week, racking up 468 yards of offense, which accounts for almost 60 percent of their season yardage.
Blake Kinner (35-306) leads the Hubbers in rushing in just two games. He ran for 263 yards and 2 TDs against Cameron County last week. Nathan Hollowell (65-207) also ran for over 100 yards last week with 105.
Port Allegany has lost 16 straight games.
Three divisional games in KSAC
It's a divisional/crossover week in the Keystone Shortway Athletic Conference as Punxsutawney (1-4 overall, 1-3 KSAC-Large) visits St. Marys (0-4, 0-2) and Clarion (4-0, 2-0) hosts Moniteau (2-2, 1-1) in the KSAC-Large while Redbank Valley (2-2, 2-0) looks to wrap up a perfect KSAC-Small schedule with a trip to Union/A-C Valley (1-4, 0-2) in Rimersburg.
In crossover games, Brookville (4-1) visits Clarion-Limestone (3-2) and Keystone (2-2) hosts Karns City (3-2).
The Chucks and Dutch have been tied up in close games recently. The Dutch are 4-3 against the Chucks since their series was restarted in 2010 when both joined the KSAC. Four of the last five games have been decided by seven points or less. The Dutch won 7-6 last year and 14-0 in 2015.
Chucks quarterback Dylan Ishman (48-for-114, 750 yards, 11 TDs, 0 Ints.) is coming off a 310-yard, 4-TD passing game in last week's 42-32 loss to Karns City. He's also second on the team in rushing (121) behind Stone Smith (182). Ishman's top receivers are Tyler Richardson (26-464, 7 TDs) and Alexander Gianvito (11-168, 3 TDs).
Season stats for St. Marys are unavailable. Tim Beimel ran for two TDs and Carter Julian ran for one TD in last week's loss to Union/A-C Valley.
Clarion grinded out a win against Clarion-Limestone last week. The Bobcats average 341 per game on the ground, led by Colton Rapp (61-603, 8 TDs) who was limited to 75 yards rushing last week against the Lions. Quarterback Spencer Miller (21-for-41, 321 yards, 4 TDs) ran for a season-high 79 yards last week.
Moniteau quarterback Chance Nagy (43-for-85, 502 yards, 1 TD, 6 Ints.) is second on the team in rushing (35-205, 3 TDs) behind Manny McLean (54-335, 2 TDs). Wyatt Geibel (15-235) is Nagy's top receiving target.
In Rimersburg, the Bulldogs take on the Falcon Knights trying to shake off last week's loss at Brookville. Running back Clint Thurston (80-739 yards, 15 TDs), quarterback Keaton Kahle (35-for-76, 419 yards, 4 TDs, 2 Ints.) and Brock Barrett (20 catches, 235 yards, 2 TDs) lead the Bulldogs while the Falcon Knights are led by quarterback Lucas Bowser (52-for-111, 665 yards, 7 TDs, 5 Ints.), running backs Greg Duncan (466 yards rushing, 2 TDs; 8-129 receiving) and Jeffery Ginn (257 yards, 3 TDs rushing).
The Raiders' trip to play the Lions is an interesting matchup considering that the Raiders beat Redbank Valley (53-22) and lost to Clarion (58-22) while the Lions lost to Redbank Valley (40-14) and Clarion (25-20) in last week's nail-biter.
Raiders freshman quarterback Jack Krug (91-for-129, 1,272 yards, 19 TDs, 5 Ints.) is the district's top passer. His top receiver is junior Bryan Dworek (45-626, 10 TDs) while running back Brandon McGranor (68-526, 5 TDs) has quietly had a strong year on the ground.
For C-L, Lions quarterback Brenden Makray (57-for-96, 983 yards, 13 TDs, 6 Ints.) runs a balanced offense that has Chris Peace (68-426) and Riley Hummell (34-376) leading the running game. Makray's top receiving targets are Kyle Kerle (13-336), Hummell (21-285) and Colby Himes (10-218).
Karns City heads to Keystone with a three-game winning streak, although the Gremlins struggled to beat Punxsutawney last week. But Dalton Beham's Player of the Week performance — 279 yards rushing, 5 TDs — was enough to lead the Gremlins to their 42-32 win. For the year, Beham has rushed for 663 yards on just 65 carries with 14 TDs. The Gremlins average 412 yards per game, 373 yards on the ground.
Mountain League
Clearfield (3-2) at Bellefonte (4-1)
Both teams share a common opponent in Central Mountain, which fell to the Bison 49-10 last week. Two weeks ago, the Red Raiders beat Central Mountain 34-41 in triple-overtime. Last week, Bellefonte routed Tyrone 49-14. The other common foe, Huntingdon, beat Bellefonte 52-31 and Clearfield 45-27.
Bison quarterback Isaac Rumery (59-for-95, 946 yards, 11 TDs, 4 Ints.) is close to 1,000 yards passing for the year. He's also second on the team behind team leader Ty Bender (43-230).. in rushing with 200 yards. Rumery's top receiving target is Micah Heichel (22-412, 3 TDs.).
Bellefonte quarterback Dylan Deitrich (35-for-58, 549 yards, 5 TDs, 3 Ints.) also leads the team in rushing (57-529, 6 TDs).
Non-Conference
DuBois (2-3) at Taylor Allderdice (3-2)
The Beavers beat the Pittsburgh City League (District 8) at home 29-13 last year, so they'll take the trip to the city to play the Dragons this year.
The Dragons are coming off a 34-0 win over Carrick. They've also beaten University Prep (34-24) and Brashear (35-13) while losing to Wheeling Park, W.V. (35-19) and Altoona (35-34).
The Beavers got a big game from running back Dalton Kruzelak (44-305) last week in a 177-yard, 3 TD performance against Warren. Quarterback Matt Miller (70-for-136, 949 yards, 7 TDs, 3 Ints.) nears 1,000 yards for the season while his top target is receiver Kyle Hopson (42-493, 4 TDs).