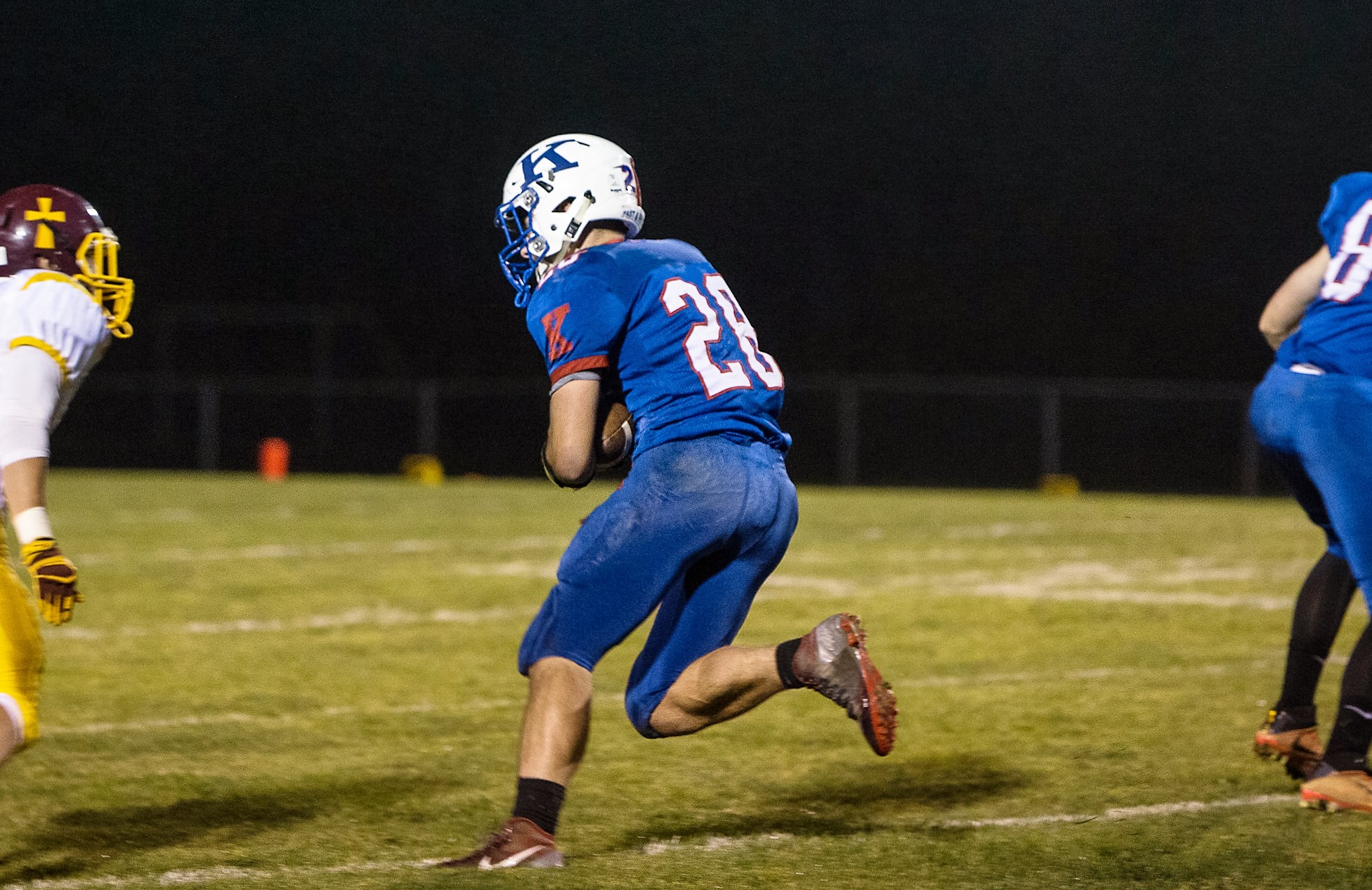 Week 5 football recaps. Updated through Saturday afternoon. All games but DuBois/Allderdice game included.
(Cover Photo: Kane's Erik DeLong is off to the races in the Wolves win over previously unbeaten ECC. Photo by Shawn Murray. Check out more of Murray's work here.)
SMETHPORT 15, PORT ALLEGANY 6
PORT ALLEGANY, Pa. – After a scoreless first half, Devon Brown scored a pair of third-quarter touchdowns to lead visiting Smethport to a 15-6 win over Port Allegany Saturday afternoon.
Brown, who ran for 159 yards on 24 carries, scored on runs of 12 and 21 yards in the third quarter to put the Hubbers (2-4, 2-0 AML North) up 15-0 at the end of the quarter.
Port (0-6, 0-2) tried to rally getting within nine on a 57-yard Jake Kallenborn to Trey Stiles touchdown pass with just under six minutes to play.
Kallenborn finished 10 of 23 for 95 yards, a touchdown and an interception.Stiles had six catches for 79 yards and the touchdown. Stiles also made 8 ½ tackles to lead the Gators defense.
Austin Crooks chipped in 41 yards rushing for Smethport.
KANE 32, ELK COUNTY CATHOLIC 13
KANE, Pa. – For the second straight week, Kane came out on top in a battle of unbeatens knocking off visiting Elk County Catholic, 32-13, on homecoming.
The Wolves (6-0 overall, 2-0 AML South), winners of 21 straight against District 9 opponents, broke a 13-all tie with a 1-yard Reed Williams to Davis Gardner touchdown pass with six seconds left in the half to go up 19-13.
From there, it was all Kane after halftime as the Wolves tacked on two third-quarter scores, including an 82-yard Williams to Ray Maze
touchdown pass, to seal the victory.
Williams was 8 of 15 passing for 236 yards, three touchdowns and an interception. Maze hauled in four catches for 179 yards and two scores, and Erik DeLong had 26 carries for 242 yards and a touchdown while also catching one pass for 20 yards and making 12 tackles.
Ange Costanzo led the Kane defense with 13 tackles and an interception, and Frank Truden also picked off a pass.
Nate DaCanal was 11 of 31 passing for 126 yards, a touchdown and two interceptions for ECC (5-1, 1-1). He also ran 14 times for 45 yards.
Eric Gerber caught four passes for 61 yards, while Ryan Heary caught a 10-yard touchdown pass that came with 1:01 left in the first half and looked poised to send ECC to the locker room tied at 10.
Dan Stauffer led the ECC ground game with 60 yards and a touchdown on 19 carries.
DUBOIS 29, TAYLOR ALLDERDICE 13
DUBOIS, Pa. – Brock Adams ran for two touchdowns and Matt Miller threw a pair of touchdowns passes to help DuBois get past visiting Taylor Allderdice out of the Pittsburgh City League, 29-13.
Thanks to a 5-yard Adams run and a 14-yard Miller to Braden Paulinellie scoring pass, DuBois led 21-7 at halftime after outscoring the Dragons 14-0 in the second quarter. Adams had tied the game at seven on a 9-yard run in the opening 12 minutes.
Miller then hit Kyle Hopkins with a 16-yard toss midway through the third quarter to push the lead to 29-7.
Adams finished the night with 91 yards rushing on 14 carries and also caught four passes for 69 yards, and Miller was 19 of 31 for 232 yards, two touchdowns and an interception. Hopkins had seven catches for 66 yards.
Azi Humber threw an early touchdown pass to Rhumaud Brooks for Allderdice but finished the game just 5 of 21 for 70 yards. Jeremiah Hardrick added a 5-yard rushing touchdown late in the third quarter.
COUDERSPORT 34, CAMERON COUNTY 0
EMPORIUM, Pa. – Aaron Wolfinger threw three touchdown passes, two to Jared Green, and Brock Wilson ran for a pair of scores to lead visiting Coudersport to a 34-0 win at Cameron County.
Wolfinger was 5 of 9 passing for 134 yards and threw all three of his scoring passes before halftime to help the Falcons (3-3 overall, 2-0 AML North) grab a 20-0 halftime lead.
His first scoring pass went to Green from nine yards away before he hit Zach Layag with a 14-yard touchdown pass to put Coudy up two scores. He then hit Green on a 68-yard scoring pass ending a six-play, 96-yard drive that gave the Falcons the three-score lead at the break.
Green's two scoring catches were his only catches of the night as he finished with 77 yards receiving.
Wilson put the game away with scoring runs of 5 and 10 yards in the third quarter. He finished the night with 90 yards rushing on 21 carries.
Coudy's defense limited Cameron County (0-6, 0-2) to 148 yards of total offense, all on the ground.
Mo Yarborough led the Red Raiders with 43 yards on nine carries. Ebon Jackson added 40 on five totes and Jared Whiting had 12 on 31 carries.
CLEARFIELD 28, BELLEFONTE 0
CLEARFIELD, Pa. – Seth Caldwell ran for over 100 yards and a touchdown, and Luke McGonigal scored twice to lead Clearfield to a 28-0 win over visiting Bellefonte in a battle of the last two unbeaten Mountain League teams.
The Bison (5-1 overall, 4-0 Mountain League), winners of five straight, scored three first-half touchdowns – one from Caldwell, one from McGonigal and one on an Isaac Rumery to Stephen Sawyer pass – to take a 21-0 halftime lead.
McGonigal then added his second scoring run of the game in the third quarter.
Meanwhile, Clearfield's defense led by Matt Collins completely shut down Bellefonte's offense limiting it to 68 yards on the night.
Bellefonte, which was coming off a 14-13 win over Tyrone, fell to 3-3 overall, 3-1 in conference play.
Caldwell led Clearfield with 27 carries for 113 yards and the touchdown. McGonigal added nine carries for 41 yards and the two scores. Rumery was 6 of 11 passing for 89 yards and the touchdown and added 46 yards rushing on seven carries.
BROCKWAY 56, CURWENSVILLE 20
Read full story on ExploreJefferson.com
BROCKWAY, Pa. – Hunter Miller threw three touchdowns and ran for a fourth to keep Brockway unbeaten with a 56-20 win over visiting Curwensville.
Miller was 12 of 18 passing for 231 yards and an interception. He threw touchdown passes to Noah Vokes (21 yards), Andrew Trunzo (3 yards) and Jake Gorham (11 yards) and ran for a 17-yard score while picking up 40 yards on the ground on five carries.
Miller's night helped Brockway overcome another strong performance from Curwensville junior running back Nick Stewart, who ran 34 times for 209 yards and two touchdowns and in the process moved into third all-time in District 9 rushing history with 4,730 career yards. He passed former Clearfield great Dave Richards (4,641 yards) and Brockway great Aaron Cantafio (4,694) to move into third behind two former Curwensville's greats – Nick Sipes (5,963 yards) and Alex Holland (5,754 yards) – in District 9 rushing history.
Stewart gave the Golden Tide (4-2 overall, 0-2 AML South), losers of two straight, a 7-0 lead on a 51-yard run 59 seconds into the game.
But Brockway scored the next 28 points and led 49-14 at halftime.
Mark Latuska, who ran for 81 yards on 13 carries, added a pair of scoring runs for Brockway, while Brian Elias – on his only run of the night for two yards – and Cameron Baka – on his only run of the night for eight yards – also scored on the ground for the Rovers (6-0, 2-0), who kept pace with Kane in the AML South.
Eli Jacobs added a scoring run for Curwensville in the fourth quarter.
Vokes led a balanced receiving corps for Brockway with two catches for 83 yards. Trunzo had four grabs for 48 yards and Gorham three for 35 and also intercepted a pass on defense.
CLARION 31, MONITEAU 6
Read full story on ExploreClarion.com
WEST SUNBURY, Pa. – Colton Rapp ran 17 times for 118 yards and two touchdowns to help visiting Clarion stay unbeaten with a 31-6 win at Moniteau.
Rapp scored on a 1-yard second-quarter run to help the Bobcats (5-0) to an 18-0 halftime lead and then added a 6-yard run in a third quarter that saw Clarion extend its advantage to 31-0.
Scoring his sixth straight touchdown for Clarion over two weeks, Michael McCloskey got the Bobcats on the board in the first quarter, and Spencer Miller threw a pair of touchdown passes, one in each half.
Miller was 7 of 14 for 170 yards, two touchdowns and an interception. He hit Ty Burford with a 55-yard scoring pass on the final play of the first half, Clarion's second Hail Mary completion at the end of the first half this season, and also threw a 20-yard scoring pass to Ryley McMaster in the third quarter.
Buford finished with three catches for 98 yards. Miller added 35 yards rushing on three carries and intercepted a pass, while Burford also had an interception.
Moniteau's lone score came on a 12-yard Corey Goyak run early in the fourth quarter.
Nick Martino led the Warriors (2-3), who were held to 153 yards of total offense, with 88 yards rushing on 19 carries.
KARNS CITY 55, KEYSTONE 0
KARNS CITY, Pa. – A year ago, Karns City needed double overtime to beat Keystone.
This year, the Gremlins made quick work of the visiting Panthers rolling right over them for a 55-0 win on homecoming in KC.
Cullen Williams, who started the game at running back and moved to quarterback when Jake King got hurt, ran for three touchdowns and threw for a fourth to lead Karns City.
Williams ran seven times for 117 yards and scored on first-half runs of 15, 5 and 23 yards. He was also 3 of 5 passing for 72 yards including a 30-yard scoring pass to Kaiden Powers.
Powers also hit two field goals on the night knocking through kicks of 32 and 33 yards.
Powers' night ended with two catches for 67 yards and the touchdown and one 23-yard carry as well.
Chandler Turner added a pair of touchdown runs and ran for 92 yards on 10 carries, and Eric Dodd scored on a 16-yard run in the third quarter and finished with three carries for 28 yards for the Gremlins (5-1).
Keystone was limited to 54 yards of total offense including negative 27 rushing leaving the Panthers (0-6) with negative 41 yards rushing for the year.
Nate Wingard 4 of 13 passing for 64 yards, while Isaak Jones was 2 of 3 passing for 17 yards.
Austin Ion had a 33-yard catch for Keystone with Kyle Kapp adding two catches for 21 yards and Tanner Wilson two for 20 yards. Zack Kellerman had nine tackles, including two sacks for Keystone's defense, while Corey Rapp added nine stops and Wilson eight tackles, including one for a loss.
OTTO-ELDRED 21, SHEFFIELD 13
DUKE CENTER, Pa. – Seth Drummond carried Otto-Eldred to a 21-13 homecoming win over visiting Sheffield.
Drummond carried the ball 27 times for 137 yards and two touchdowns, as Otto-Eldred scored twice in the second half to break a 6-all tie and take a 21-6 lead.
Sawyer Drummond added a rushing touchdown for the Terrors (2-4 overall, 2-0 AML North), winners of two straight, and was also 6 of 9 passing for 77 yards.
Chris Connelly led the Otto defense with nine tackles, including three for a loss with a sack. Chase Sebastian added an interception.
Kevin Evan scored both of Sheffield's touchdowns and finished the game with 25 carries for 114 yards and a touchdown and four catches for 45 yards and a score. Cale Albaugh was 8 of 20 passing for 130 yards, a touchdown and an interception for the Wolverines (0-6, 0-2).
ST. MARYS 7, PUNXSUTAWNEY 6
PUNXSUTAWNEY, Pa. – St. Marys kicked an extra point, and Punxsutawney missed one.
End of story.
No, seriously. That was the difference in the visiting Dutch holding on for a 7-6 win over the Chucks in a game that saw all the scoring come in a little over a minute span in the fourth quarter.
St. Marys grabbed a 7-0 lead on a 3-yard Christian Steffan touchdown run followed by a Morgan Holtzhauser extra point with 7:41 to play.
Fifty seconds later, Punxsutawney got within a point on an Ethan Riley touchdown run only to have the extra point attempt fail. A 73-yard kickoff return by Riley to the St. Marys 5-yard line set up the score.
Steffan led St. Marys with 76 yards rushing on 15 carries, while Tim Beimel added 58 yards on nine carries. Last week's hero, Matt Marconi, had only one carry for four yards.
Tyler Richardson led Punxsutawney with 13 carries for 45 yards, while Dylan Ishman was 7 of 15 passing for 90 yards.
RIDGWAY 13, BRADFORD 0
BRADFORD, Pa. – In a game that featured just one offensive touchdown, Ridgway got a 13-0 road win over Bradford.
Neil MacDonald's 1-yard plunge three minutes into the second quarter accounted for the only offensive score of the game, and Justin Kasmierski added a 46-yard interception return for a touchdown for the Elkers (5-1 overall, 1-1 AML South) with 1:52 to play.
Mitch Vleminckx had a solid game defensively for Bradford with two interceptions, but the Owls offense managed just 130 yards, 30 rushing, on the night.
Kyle Kirk was 6 of 17 passing for 101 yards and one interception with Donny Pattison catching one pass for 47 yards and Vleminckx two for 37 yards.
Ridgway wasn't much better gaining only 160 yards.
Johnny Mitchell accounted for 159 of those yards. He was 3 of 9 passing for 53 yards and two interceptions and ran 16 times for 106 yards. MacDonald had 18 carries for 41 yards, while Jake Zimmerman added three catches for 53 yards and five carries for eight yards.
CLARION-LIMESTONE 40, BROOKVILLE 21
BROOKVILLE, Pa. – Scoring 34 unanswered points after halftime, Clarion-Limestone Lions rallied from a 7-6 deficit at intermission for a 40-21 win at Brookville, spoiling the Raiders' homecoming festivities.
Mike Macefe ran for 215 yards on 27 carries, most of that in the second half, as the Lions rebounded from an 81-yard first half to dominate the game in the second half with touchdowns in five of their first seven possessions.
Macefe scored on a 4-yard run to open the game's scoring in the second quarter and added TD runs of 2 and 7 yards in the second half, his 7-yarder putting the Lions up 40-7 with 2:41 left in the game.
Also for the Lions (4-1), Riley Hummell, Ayden Wiles and Sam Leadbetter all ran in short TD runs of 3, 5 and 3 yards respectively.
The Raiders (1-4) grabbed a 7-6 lead late in the first half when Seth Ray hit John Frank with a 40-yard TD pass with just 38 seconds on the clock. Then in the final minute of the game, he scored on a 6-yard run and tossed a 25-yard TD pass to Nick Keth. Ray completed 6 of 15 passes for 162 yards for two touchdowns and was intercepted twice.
REDBANK VALLEY 14, UNION/A-C VALLEY 0
Read full story on ExploreClarion.com
NEW BETHLEHEM, Pa. – Cousins Curtis and Colton Mohney each scored second-quarter touchdowns to lead Redbank Valley to a 14-0 win over visiting Union/A-C Valley Thursday night.
Curtis Mohney scored on a 24-yard run with just over seven minutes left in the first half, and Colton added a 14-yard scoring run with 3:32 to play in the half for the game's only points.
A pair of fourth-quarter Colton Mohney interceptions helped preserve the win for Redbank Valley, which struggled on offense in the second half not picking up a first down.
Colton Mohney led the Bulldogs (3-2 overall, 2-1 KSAC Small School Division) with 60 yards rushing on 11 carries with Curtis Mohney adding six carries for 48 yards.
Greg Duncan paced Union/A-C Valley (2-3, 1-2) with 60 yards on the ground, while Lane Chalmers added 58 yards rushing.
The game was played in a heavy downpour at times which limited the offenses. The teams each had eight first downs, and the Falcon Knights actually outgained Redbank Valley 177 to 160. But Union/A-C Valley turned the ball over three times (2 interceptions and a fumble) to Redbank's two turnovers (two fumbles). The wet ball was on the ground several times with the teams combining for 11 fumbles (six by Redbank) in the game.