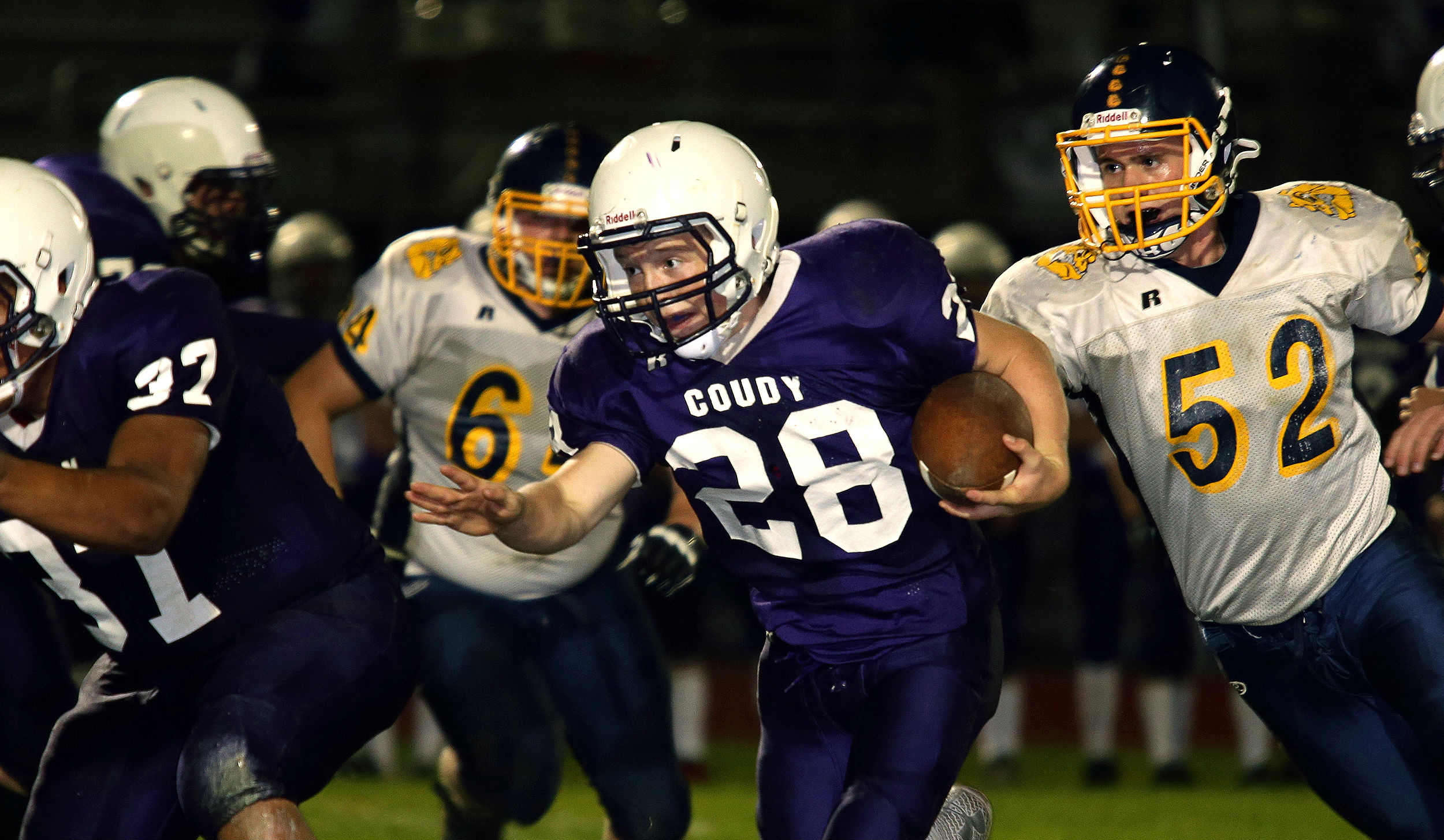 Cover photo of Coudersport's Brock Wilson, who rushed for over 100 yards and 2 touchdowns in the Falcons win over Otto-Eldred – Photo by Paul Burdick – http://pburdick.smugmug.com/
Last updated at 2:31 p.m. Sept. 28 (Completely updated)
DUBOIS 69, PUNXSUTAWNEY 26
PUNXSUTAWNEY – Gabe French threw for four touchdowns and ran for two more, as DuBois crushed Punxsutawney 69-26 in the 100th meeting between the teams Friday night in Punxsutawney.
French was 16 of 18 passing for 247 yards while adding touchdown runs of one and three yards to help the Beavers (3-2) break a two-game losing streak.
Kevin Foley and Cole Kriner each caught two touchdown passes with Kriner grabbing four passes for 91 yards and Foley five for 79. Devin Clark added 116 yards rushing on 11 carries including a 54-yard run to start the scoring, while Dante Dawson returned a kickoff 83 yards for a score. Zach Sloan added a pair of touchdown runs late in the game including a 90-yard run, He had three carries for 103 yards and was also 2 of 3 passing albeit for zero yards.
Dakota Thomas was 7 of 12 passing for 100 yards and an interception for Punxsutawney while also scoring on a 10-yard run. Alex Young added a 5-yard touchdown run, while Ryan Jones had a 15-yard scoring run and threw a 35-yard touchdown pass to Ethan Riley.
ST. MARYS 26, BROOKVILLE 7 
BROOKVILLE – T.J. Hogan ran for 256 yards and two touchdowns on 31 carries to lead visiting St. Marys to a 26-7 win over Brookville Friday night.
Hogan scored on a 66-yard run in the first half and a 2-yard run in the fourth quarter. Dalton Bauer added a 17-yard interception return for a touchdown, and Kyle Glatt scored on an 11-yard scamper for the Dutch.
Jonah Sampson had Brookville's lone touchdown on a 50-yard run that gave the Raiders a 7-6 lead. He finished with 18 carries for 148 yards. Bobby McGranor was 7 of 19 passing for 73 yards but was picked off twice. Brandon Bietz had four catches for 50 yards.
CAMERON COUNTY 45, PORT ALLEGANY 16
EMPORIUM – Caleb Burnside and Rusty Setzer each ran for over 100 yards and combined to score five touchdowns, as Cameron County routed visiting Port Allegany 45-16 Friday night.
Burnside ran 11 times for 140 yards and two touchdown with Setzer gaining 120 yards on 12 carries scoring three times.
Tre Garzel threw a pair of touchdown passes for Port Allegany going 6 of 21 for 81 yards while also being intercepted once.
Five of those completions went to Chris Lashway who had a touchdown and 39 yards receiving. Dylan Baumgardner added a 42-yard touchdown catch.
KARNS CITY 48, MONITEAU 6
WEST SUNBURY – Unbeaten Karns City showed why its the heavy favorite to win District 9 Class AA rolling past previously unbeaten Moniteau 48-6 behind three Cody Deal touchdown runs and a pair of long scores by Tristan Rhoades.
The Gremlins (5-0 overall, 3-0 KSAC Large School Division), winners of 13 regular-season games in a row, used a 22-point second quarter to build a 29-0 halftime lead and led 35-0 before Moniteau scored.
Deal, who according to the Butler Eagle, was scheduled to have surgery on an injured finger Thursday but cancelled it until after the season, ran nine times for 97 yards and the three scores while also going 2-for-2 passing for 21 yards. Rhoades scored on an 85-yard pass from Caleb King and on a 91-yard kickoff return while rushing six times for 38 yards and catching one pass for 85 yards. King was 3-for-7 passing for 124 yards and the touchdown and also ran for a 1-yard touchdown.
Cody Skiver scored Moniteau's lone touchdown rushing 30 times for 74 yards and the score for the Warriors (4-1, 1-1), who saw District 9's leading rusher Josh McBride held to five yards on five carries all coming in the first half as he sat out the second half with a shoulder injury. McBride entered the contest with 884 yards rushing and was averaging 221 yards per game.
CLARION-LIMESTONE 27, A-C VALLEY 14
FOXBURG – Behind 22 carries for 154 yards and two touchdowns from Kyle Robertson, Clarion-Limestone picked up its first win of the season while handing A-C Valley its 17th straight loss, 27-14, Friday night at A-C Valley.
Mike Macafe also ran for a touchdown while running 14 times for 69 yards for the Lions (1-4 overall, 1-2 KSAC Small School Division), who overcame a 14-13 second-half deficit.
Anthony Painter gave A-C Valley the one-point lead when he returned a fumble 24 yards for a touchdown, the third defensive touchdown against C-L in the past two weeks. Painter also had a nice game on the ground for the Falcons (0-5, 0-3) rushing 11 times for 106 yards.
ELK COUNTY CATHOLIC 20, CURWENSVILLE 13
CURWENSVILLE – Mitchell Smith helped account for all three touchdowns as Elk County Catholic got its first big win of the season, 20-13, on the road at Curwensville.
Smith threw touchdown passes of 13 yards to Ryan Seelye and 32 yards to Dan Singer while scoring also rushing for a 2-yard score. The later two scores came in the fourth quarter helping the Crusaders, who are 5-0 overall, 1-0 AML South after being winless last year, overcome a 13-6 deficit entering the quarter.
Smith's touchdown pass to Singer early in the quarter coupled with a 2-point conversion toss to Seelye gave ECC the lead for good, and he then sealed the victory with his scoring run with 21 seconds to play.
Smith finished with 21 carries for 96 yards while going 10 of 18 passing for 139 yards. He did throw an interception. Seelye caught seven passes for 78 yards.
Nick Stewart scored on a pair of 1-yard runs in the third quarter for Curwensville (4-1, 0-1) helping the Golden Tide erase a 6-0 halftime deficit. The freshman ran 24 times for 206 yards and accounted for all but 42 yards of Curwensville's offense.
SMETHPORT 33, SHEFFIELD 32
SMETHPORT — Dustin Zetwick's 10-yard touchdown pass to Justin Elder on fourth-and-seven with 1:00 remaining lifted Smethport to a dramatic 33-32 win over Sheffield in AML North action Friday.
The late game heroics overshadowed a big game from the Sheffield duo of Adam Higby and Marquis Clark. Higby completed 9-of-21 passes for 271 yards and four tochdowns, three of which went to Clark (33, 30 and 86 yards), who caught four passes total on the night for 176 yards.
Zetwick, meanwhile, completed 12-of-20 passes for 203 yards and four touchdowns, while rushing 25 times for 96 yards.
In addition to Elder's touchdown pass, Zetwick's other three went to Adam Shunk (62 yards), Dalton Palmer (57 yards) and Brayden Southard (4) yards.
RIDGWAY 21, KANE 20
KANE — Kane's two-point conversion attempt with 41 seconds left came up just short, as Ridgway held off the Wolves 21-20 in a battle of AML unbeatens Friday.
Trailing 21-14 with 4:37 left in the game, Kane drove 60 yards in 11 plays, with John English capping the drive with a 1-yard TD run, his 13th rushing touchdown of the season.
English attempted the two-point conversion run, but was tripped up by Ben MacDonald and JP Cerroni at the 1/2 yardline.
Ridgway took the 21-14 lead on a 38-yard run by Ben MacDonald on the first play of the fourth quarter.
MacDonald accounted for 90 yards on the ground on 12 carries and a pair of scores and was 3 of 8 passing for two yards with two interceptions, while English had 147 yards and all three Kane touchdowns on 30 carries.
The loss snapped an 18-game regular-season win streak for Kane.
COUDERSPORT 23, OTTO-ELDRED 12
COUDERSPORT — Behind 104 yards rushing on 26 carries and two touchdowns from Brock Wilson, Coudersport topped Otto-Eldred for their first win of the season Friday.
Otto-Eldred led 6-0 early on a 40-yard touchdown run from Seth Drummond.
Wilson, however, responded with a 25-yard touchdown run, giving Coudy a lead they wouldn't relinquish.
Aaron Wolfinger helped the Falcons (1-4) extend their lead, as he connected with Darren Keglovits on a 33-yard touchdown pass to make it 14-6 at halftime.
Drummond added a second-half receiving touchdown, a 60-yarder from Nick Appleby.
CENTRAL TECH 64, BRADFORD 28
BRADFORD — Behind 318 yards rushing and six touchdowns from Eddie Leggett, Central Tech raced passed Bradford 64-28 Friday in non-league action.
The Owls (0-5) matched the Falcons yard-for-yard in the first half, but fell behind 34-15 at halftime as the result of three first half fumbles that resulted in 20 Central points.
Bradford got a big effort from senior full back Kyle Langdon and senior running back Justin Fishkin. Langdon rushed for 160 yards and three touchdowns on 23 carries, while Fishkin had 100 yards on 10 carries, including a 60-yarder in the first quarter that gave the Owls their only lead of the game, 7-6.
Bradford got as close as 42-28 in the second half on a touchdown run by Langdon, but Central (5-0) scored the final 22 points of the game.
CLEARFIELD 28, BROCKWAY 17
CLEARFIELD – Behind three Erik Sellers touchdown runs, Clearfield overcame a two-touchdown deficit late in the first half to top visiting Brockway 28-17 in a rare non-conference inter-classification game Friday night.
Brockway (4-1) jumped out to a 14-0 lead before Sellers, who had 138 yards on 27 carries, cut the deficit ion half with 3:04 left in the first half.
Clearfield (3-2) then recovered a fumble on the ensuing kickoff, and Sellers tied the game at 14 on a 5-yard run with 47 seconds to play before halftime before Jarrett Esposito put the Rovers back up three, 17-14, at halftime with a booming 47-yard field goal.
Seller, though, gave Clearfield its first lead of the game on a 4-yard scoring run early in the second half, and Cody Spaid hit Ryan Lezzer with a 33-yard scoring toss later in the quarter to set the final score.
Seth Caldwell added 24 carries for 89 yards for the Bison. Sellers was also 1 of 3 passing for 26 yards with an interception. Lezzer caught six passes for 73 yards.
Anthony Benson had given the Rovers the early lead with a pair of touchdowns scoring on a 1-yard run and a 59-yard pass from Brandon Martini. He ran six times for 20 yards and had seven catches for 105 yards. Martini was 18 of 25 passing for 167 and the touchdown.
CLARION 46, KEYSTONE 0 
KNOX – Clarion head coach Larry Wiser became the winningest coach in the conference now known as the KSAC when his visiting Bobcats shutdown Keystone 46-0 Thursday night.
Wiser now has 184 wins surpassing the previous mark of 183 set by Union legend Rich Vidunas.
Ian Corbett played a huge role in the victory rushing for 248 yards and four touchdowns on 18 carries while also intercepting a pass on defense.
Meanwhile, Taylor Smith, making his first career start at quarterback after the Bobcats lost starter Bo Miller last week to an injury, threw three touchdowns passes while going 4 of 10 for 74 yards. Two of those scoring strikes went to Adrian Weber, who had two catches for 38 yards.
Clarion's defense, meanwhile, turned Keystone over five times while recording its 10th shutout in its past 12 regular-season games.
Wiser is now in fourth place in District 9 history in wins just two shy of tying long-time Smethport head boss Carl Defilippi, who had 186.
REDBANK VALLEY 36, UNION 28 
NEW BETHLEHEM — Trailing 22-7 less than four minutes into the second quarter, the Redbank Valley Bulldogs climbed out of a two-touchdown deficit and notched a 36-28 win over visiting Union on Homecoming Night Thursday.
The Bulldogs (5-0) preserved the win late when they stopped Union on a would-be go-ahead two-point conversion with 7:08 left in the game. Then after milking the clock down to 53 seconds left in the game, the Bulldogs sealed the win when Austin Schreckengost intercepted Lane Cicciarelli and returned the pick 28 yards to set the final score.
Redbank Valley quarterback Jake Dougherty completed 15 of 21 passes for 173 yards and threw a 42-yard touchdown pass to Wyatt Hetrick. On the ground, he ran for 76 yards on 14 carries and scored on runs of 4, 1 and 7 yards.
Cicciarelli threw two touchdown passes for Union (2-2), connecting with Gavin Hawk on a 13-yarder and Tyler Wiser on an 11-yarder that was set up by a Wiser blocked punt. Drew Marsh scored on a 35-yard run and Wiser got the Knights to within 29-28 with a 1-yard run, but Cole Morris was stopped short of the two-point conversion.
Cicciarelli completed 19 of 27 passes for 177 yards. Marsh ran for 60 yards on nine carries.
Union fell to 2-2.