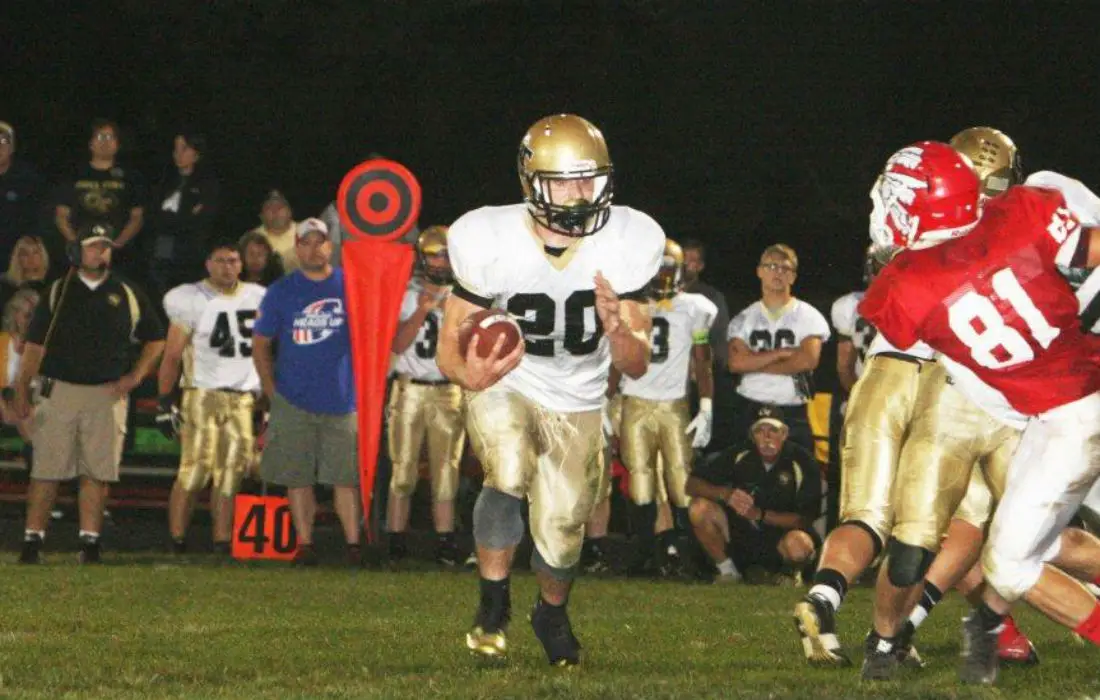 By Rich Rhoades
Another round of divisional play in the Allegheny Mountain League and an intriguing non-conference matchup between Class A playoff contenders highlight the 14-game Week 6 schedule, all on Friday night this week.
The games to watch:
— Kane at Brockway. It's a matchup of two AML-South contenders. The defending Class A champion Wolves are still unbeaten while the Rovers are coming off their first loss in a non-conference setback to Clearfield.
— Coudersport at Port Allegany. Both won their first AML-North game with the winner at the very least sharing first place with Smethport if the Hubbers beat winless Otto-Eldred.
— Redbank Valley at Curwensville. It's a non-conference showdown between Class A contenders and a possible playoff preview.
Here's a closer look at this week's games:
Non-Conference
Redbank Valley (4-1) at Curwensville (4-1)
The Bulldogs and Golden Tide could meet in the Class A playoffs, so this matchup is an interesting one as the result also serves as a gauge between the KSAC and AML.
The Bulldogs' lone loss was a Week 2 setback to top-ranked Karns City while Curwensville is coming off its only loss last week at Elk County Catholic. The two teams last met in 2013 in the Class A semifinals when the Bulldogs beat the Tide 28-22. Prior to that it was a 2009 first-round playoff matchup won 30-8 by the Tide in Curwensville.
Redbank Valley's Wyatt Hetrick has rushed for 229 yards while catching 13 passes for 229 yards and seven touchdowns. He's scored three touchdowns on plays of 80 or more yards the last two weeks, including two on kick returns. Hetrick also leads the team with 33 tackles and three interceptions.
Quarterback Connor Shoemaker has passed for 247 yards while running for 237 yards. Colten Mohney leads the team with 254 yards rushing.
The Golden Tide were limited to just 125 yards of offense in the loss to ECC. Sophomore running back Nick Stewart is close to the 1,000-yard milestone with 908 yards and 12 touchdowns while Hunter Johnson has 540 yards on the ground.
Tide quarterback Jake Terry is off to a good start with 768 yards and 11 touchdowns. His top receiver is Quamone Newkirk, who has caught 16 passes for 240 yards and eight touchdowns.
Allegheny Mountain League-North
Coudersport (2-3 overall, 1-0 AML-North) at Port Allegany (2-3, 1-0)
Coudersport has given up seven points in their last two games, both of them wins. Aaron Wolfinger had 13 tackles while Logan Labar had two sacks in the shutout win over Otto-Eldred.
Quarterback Darren Keglovits has passed for 382 yards and five touchdowns. Navada Waterman has eight catches for 250 yards and five scores.
The Gators are also coming off a shutout win last week against Cameron County. Mac Tanner leads the way, rushing for a team-best 300 yards, catching a team-high nine passes for 140 yards and leading the defense with 10.2 tackles per game.
Otto-Eldred (0-5, 0-1) at Smethport (1-4, 1-0)
The Hubbers try to go 2-0 in the AML-North against winless Otto-Eldred.
Hubbers running back Adam Shunk is coming off his Player of the Week performance against Sheffield when he ran for 188 yards and scored five touchdowns. He's rushed for 530 yards and six touchdowns.
The Terrors have scored two touchdowns in the last three games and were blanked by Coudersport last week after losing leading rusher Seth Drummond to an injury in the first quarter. His status isn't known for this week.
Sheffield (0-5, 0-1) at Cameron County (0-5, 0-1)
One of these teams gets their first win. The Red Raiders have been shut out in three of their five losses, including a 6-0 setback at Port Allegany last week. The Wolverines have been blanked twice and allowed 203 points in their last four games.
Caleb Burnside leads the Red Raiders with 224 yards rushing. Derek Rieder has thrown for 310 yards.
Dayquan Grady (119 yards) and Myquandre Stevenson (110 yards) lead the Wolverines' running game.
Allegheny Mountain League-South
Kane (5-0, 1-0) at Brockway (4-1, 0-0)
It's a rematch of last year's Class A Championship game won by the Wolves, who took two games from the Rovers. A short field goal with eight seconds left gave them a 9-7 win during the regular season while they beat the Rovers, 33-14, in the final at Clarion University.
While Kane beat Ridgway in its division opener last week, it's the Rovers first AML-South game. The winner gets at least a share of the division lead depending on what Elk County Catholic does at Ridgway.
The twin brother tandem of Shane and Tyler Rolick has accounted for 21 of Kane's 33 touchdowns. Tyler has rushed for 700 yards and nine touchdowns, averaging 10.3 yards per carry and has booted 18 of 20 point-after kicks. Shane has rushed for 341 yards and seven TDs while averaging 10.7 yards per carry with a team-high three interceptions on defense.
Quarterback Reed Williams has thrown for 296 yards with seven touchdowns and four interceptions. His top receiver is Ray Maze (10 catches, 132 yards, 3 TDs). Erik Delong has rushed for 530 yards and six touchdowns as the Wolves running game averages 8.8 yards per carry.
The Rovers gave up just 21 points in their first four wins before giving up 28 to Clearfield. The teams share two common opponents with Cameron County and Smethport. The Rovers outscored those two 110-0 while the Wolves owned an 85-16 advantage.
Rovers quarterback Hunter Miller has thrown for 512 yards and eight touchdowns with five interceptions, three of them coming in last week's loss to Clearfield. Leading rusher Anthony Isabella is out with an injury. The Rovers managed 50 yards on 22 attempts last week with Miller gaining 34 yards on seven attempts.
Jake Gorham is Miller's top target with 11 catches for 169 yards.
Elk County Catholic (5-0, 1-0) at Ridgway (3-2, 0-1)
The Crusaders and Elkers have played pretty good defense so far this year, especially the Crusaders who have given up 20 points in five games with two shutouts. Last week against Curwensville, ECC allowed just 125 yards.
For ECC, quarterback Nate DaCanal has thrown for 458 yards with three touchdowns and two interceptions while running for 206 yards and six touchdowns. Noah Werner has rushed for 494 yards and eight touchdowns while Kyle Huff has caught 14 passes for 146 yards.
While Ridgway, which has lost two straight games, has allowed just 54 points, the Elkers have struggled offensively with just 40 points.
James Winslow leads the Elkers' running game with 223 yards while Dane Cappiello (177 yards, 2 TDs) and Neil MacDonald (160 yards, 3 TDs) will get the ball as well. Quarterback Johnny Mitchell has thrown for 222 yards and two touchdowns.
MacDonald leads the Elkers' defense with 11.6 tackles per game.
KSAC-Crossover
Brookville (1-4) at Keystone (2-3)
After starting the season 2-0, the Panthers have lost three straight and they'll be looking to end the skid and keep their Class A playoff hopes alive with a matchup against the visiting Raiders.
Panthers running back Jake Weaver is closing in on 1,000 yards with 789 on 103 carries with 10 touchdowns. He ran for 104 yards in last week's close loss to the Bobcats. Quarterback Brayden Shick has thrown for 398 yards and two touchdowns after going for 155 yards against Clarion. Austin Ion has thrown for 136 yards.
Raiders quarterback Seth Ray has thrown for 597 yards with four touchdowns and 11 interceptions. Logan Thrush (11-296) is the top receiver. John Frank has rushed for 208 yards.
Clarion-Limestone (3-2) at St. Marys (4-1)
The Lions, over .500 for the first time since 2005, and Dutch are both coming off wins.
For St. Marys, Matt Marconi (418 yards, 5 TDs), Christian Steffan (301 yards) and Nate Straub (277 yards) lead the Dutch run-oriented offense. Both Steffan and Straub ran for over 100 yards last week against Brookville with Straub scoring all three touchdowns.
Lions quarterback Anthony Louder has thrown for 1,026 yards and 13 touchdowns with eight interceptions while running for 186 yards and four scorers. Brady Himes (28-589, 6 TDs) and Conner Keth (17-239, 3 TDs) are Louder's top targets.
Punxsutawney (2-3) at A-C Valley (0-5)
Chucks quarterback Ryan Jones has passed for 792 yards with four touchdowns and six interceptions while rushing for 329 yards and three scores. Devin Kelly (19-220) is his top receiver.
The Falcons, now with 27 straight losses, were trailing 18-12 last week in the third quarter against Clarion-Limestone before losing 40-12. Lane Chalmers ran for 120 of his season total 180 against the Lions.
Clarion (4-1) at Moniteau (1-4)
The Bobcats have six backs over 100 yards rushing, led by Colton Rapp's 414 yards and five touchdowns. Josh Kriebel has rushed for 255 yards and three scores.
Warriors quarterback Derek Boben has thrown for 615 yards and leads the team with 301 yards rushing.
Karns City (5-0) at Union (2-3)
The Gremlins haven't lost a game to a KSAC opponent — Large or Small — since a Week 2 loss to Clarion back in 2013. That's a streak of 19 straight games with the only loss to a District 9 team during the span coming to DuBois last year.
Karns City now has four players with 300 or more yards rushing with backs Maverick Kelsea (312 yards, 8 TDs), Collin Dunmyre (311 yards, 3 TDs) and Chandler Turner (309 yards, 5 TDs) while quarterback Cullen Williams, who ran for 149 yards on just two carries last week against Moniteau, has 300 yards rushing with 249 yards passing.
For Union, Dugan Gallagher has rushed for 698 yards and five touchdowns. Cole Morris has 260 yards rushing while catching eight passes for 112 yards.
District 10 Region 5
DuBois (2-3, 0-2) at Oil City (3-2, 1-1)
The Beavers seek their first conference win when they head to Venango County to take on the Oilers, who are coming off a 20-14 loss to St. Mary's (N.Y.) after leading 14-0 at halftime.
So far, the teams don't share a common opponent. The Beavers routed Punxsutawney, 47-13, last week.
Beavers quarterback Matt Miller is edging closer to 2,000 passing yards with 1,686 to go along with 16 touchdowns and five interceptions. His top receivers are Colin Read (32-694, 7 TDs), Dante Dawson (34-469, 2 TDs) and Zach Sloan (15-413, 4 TDs).
Braden Paulinellie has rushed for 312 yards and four touchdowns.
Franklin (3-2, 0-2) at Bradford (0-5, 0-2)
The Owls have lost six straight games and eight of their last nine since beating the Knights, 33-28, last year.
Owls running back John Eakin ran for 226 yards and two touchdowns in last week's loss to Erie Central. He's rushed for 492 yards for the year with four scores. Quarterback Kyle Kirk has passed for 458 yards and five touchdowns.
Franklin is coming off a 34-13 win over Mercer. The Knights have beaten Titusville (38-19) and Reynolds (41-30) with a 42-8 loss to Oil City in Week 3. Bradford lost to Oil City, 27-0, in Week 2.
Mountain League
Clearfield (4-1, 3-0) at Bellefonte (1-4, 1-2)
After knocking off unbeaten Brockway in last week's non-conference showdown, the Bison get back to work in conference play and finish the year with four Mountain League games starting with the Red Raiders.
The teams share just one common opponent so far with Huntingdon. Bellefonte lost to Huntingdon (27-6) in Week 2 while the Bison beat Huntingdon (50-23) in Week 4.
Bison quarterback Cody Spaid has thrown for 681 yards and four touchdowns. Ryan Lezzer (17-248) is his top receiving target. Spaid threw a TD pass to Lezzer and ran for two scorers while Lezzer added a rushing touchdown. He's rushed for 272 yards while Seth Caldwell leads the team with 618 rushing yards.