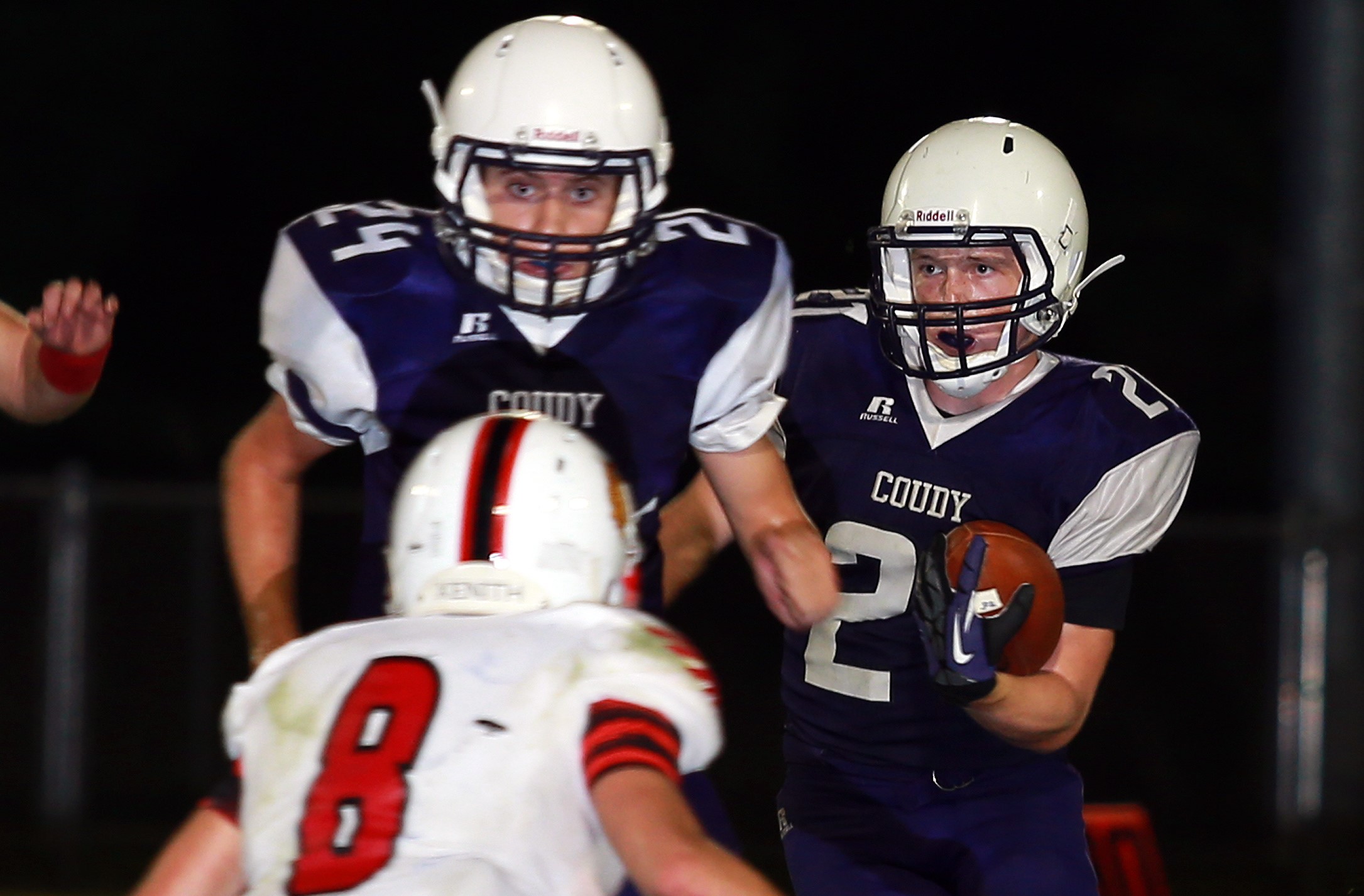 It's Week 6 of the high school football season in District 9 and with playoff implications starting to factor into matchups, it's time to group the games in categories of "interest."
Brock Wilson and the Coudersport Falcons host Smethport Friday night in a key AML-North matchup. (Photo by Paul Burdick)
Thirteen games dot the schedule once again with one game set for Saturday afternoon.
Here's a closer look at the games:
Games to Watch
Allegheny Mountain League-South
Curwensville (4-2, 0-2) at Ridgway (5-1, 1-1)
While the AML-South race appears to be coming down to a Brockway at Kane showdown in two weeks, the Golden Tide and Elkers face off in what's a compelling game as far as the Class A playoff race goes.
Who is the Class A favorite? Perhaps the winner of this game. Elk County Catholic and Clarion-Limestone could have a say in this as well, but this is the start of a couple of interesting matchups that could give us some hints in what could be a wide-open bracket in the postseason. The Golden Tide host ECC next week while Ridgway visits ECC in two weeks.
The Elkers spun another shutout last week in a 13-0 win at Bradford. They've had shutout wins in four of their past five games with a 36-16 loss to Brockway the only blemish during that run.
Ridgway averages a modest 253 yards offensively per game, most of it coming on the ground with Neil MacDonald (71-460, 5 TDs) leading the way. Quarterback Johnny Mitchell (21-55, 339 yards, 3 TDs, 8 Ints.) is a running threat (73-321, 4 TDs) as well as he ran for 106 yards against the Owls last week.
Curwensville continues to lean heavy on their running back Nick Stewart. The junior workhorse went over 30 carries for the second straight game — 34 for 209 yards — in last week's 56-20 loss to Brockway and passed both No. 4 Dave Richards of Clearfield (4,641) and No. 3 Aaron Cantafio of Brockway (4,694) on the district's all-time rushing list. But he's still No. 3 on the team's all-time list since the top two rushers in D9 history are both Golden Tide runners — No. 1 Nick Sipes (5,963) and No. 2 Alex Holland (5,754).
Stewart now accounts for 65.9 percent of his team's offensive yards from scrimmage and 20 of the Tide's 31 touchdowns.
AML-South
Brockway (6-0, 2-0) at Elk County Catholic (5-1, 1-1)
The Rovers continue to roll along as they put up big numbers once again in last week's rout of Curwensville. They lead D9 in scoring at 54.6 points per game, which ranks No. 5 in the state behind Clairton (57.6), Steel Valley (55.8), Thomas Jefferson (55.6) and Ligonier Valley (55.5).
They'll take on a Crusaders squad that's coming off its first loss of the year in a 32-13 loss at unbeaten Kane last week. Prior to that, the Crusaders had given up just 23 points in five wins.
The Rovers average 422 yards of offense per game with senior quarterback Hunter Miller (62-89, 1,367 yards, 17 TDs, 4 Ints.) compiling his video game numbers. He's also run for six touchdowns. Miller's top receiving targets are Andrew Trunzo (19-419, 3 TDs) and Dylan LeCates (14-296, 5 TDs) while Mark Latuska (60-492, 9 TDs) is the leading rusher. Sixteen players have scored at least one TD for the Rovers with 18 scoring points. Kicker Jarrett Esposito has converted on 40 of 42 point-after kicks while going 2-for-4 on field goal tries.
The Crusaders are run-heavy, averaging 230 of their 305 yards per game on the ground. Quarterback Nate DaCanal (33-75 452 yards, 6 TDs, 4 Ints. passing; 49-298, 6 TDs) is a dual-threat while Jared Braun (59-444, 6 TDs) and Dan Stauffer (79-359, 4 TDs) help lead the running game.
Braun has four interceptions on defense while lineman Joe Kucenski has seven sacks.
The Rovers have won six of the last seven games against the Crusaders, their only loss at ECC in a 19-17 setback in 2014.
Non-Conference
Karns City (5-1) at Clarion-Limestone (4-1)
This one is an interesting matchup only if it's because of the offseason noise regarding whether the teams would play for the first time since 2011. In the end, the Gremlins will wind up playing a game it was reportedly trying to get rid of when it travels to the C-L Sports Complex.
The resurgent Lions, no doubt, are looking at this one as another measuring stick game as they've wiped out losing streaks to Redbank Valley and Brookville while coming up short in their only loss of the year against Clarion. Regardless how Friday goes, the Lions are a team to watch in Class A.
After losing its opener to Armstrong, Karns City has dominated and it enters Friday's game averaging 41.5 points and 409 yards of offense per game. They have two straight shutout wins with a streak of 10 scoreless quarters. In the latest Harrisburg-Patriot News rankings, they're ranked No. 8 in Class 3A.
Quarterback Jacob King (53-95, 850 yards, 8 TDs, 4 Ints.) has plenty of offensive options around him, including running backs Chandler Turner (49-510, 7 TDs) and Kaiden Powers (19-298). Cullen Williams (19-205, 6 TDs) was the co-quarterback with King last year and ran for 116 yards in last week's win against Keystone.
For C-L, fullback Mike Macefe (110-665, 9 TDs) ran for over 200 yards in last week's win over Brookville. Quarterback Brendan Makray (50-100, 794 yards, 7 TDs, 10 Ints.) has receivers Sam Leadbetter (16-343, 3 TDs) and Riley Hummell (16-250, 3 TDs) as his top targets. Leadbetter leads the defense with four interceptions.
The Gremlins won their sixth straight against the Lions with a 56-14 rout in 2011 and five of those games were Mercy Rule decisions. The last time the Lions beat the Gremlins was a 24-16 overtime win in 2005.
AML-North
Smethport (2-4, 2-0) at Coudersport (3-3, 2-0)
The winner of this one could win the AML-North with both teams still having to play the only other AML-North unbeaten up to this point in Otto-Eldred. It's the 109th meeting between the Hubbers and Falcons with Smethport leading the all-time sereis, 60-44-4.
After Coudersport won nine straight games from 2002-09 (played twice in 2004), the teams have split their last six matchups with the Falcons winning 42-20 at Smethport last year.
For Coudersport, quarterback Aaron Wolfinger (38-83, 629 yards, 9 TDs, 8 Ints.; 62-205, 1 TD rushing) runs the show. Brock Wilson (65-268, 5 TDs) is the leading rusher while leading receiver Jared Green (13-254, 4 TDs) leads the team with six touchdowns overall. Green, Wolfinger and Wilson are the top three tacklers on defense.
Smethport has won two straight low-scoring games, 12-7 over Cameron County and 15-6 over Port Allegany last week. The Hubbers have just nine touchdowns in six games. Last week, Devon Brown ran for 159 yards on 24 carries and scored two third-quarter TDs against the Gators. He ran for 135 yards on 25 carries against Cameron County.
Not Too Far Off
Non-Conference
Redbank Valley (3-2, 2-1) at Clarion (5-0, 2-0)
This one would have far more importance if any playoff implications were directly tied to it like in previous years, but with the Bulldogs in Class A and the Bobcats in Class AA, that's not the case.
Until Noon Thursday, this game had implications in the KSAC Small School Division. But those went bizarrely away as well when the KSAC sent out a letter stating that Clarion was in the KSAC Large School Division and has been all year despite the conference not informing anyone of it. Our own Chris Rossetti has his thoughts on that.
That means Redbank Valley is a game back of Clarion-Limestone in the now four-team KSAC Small School Division, while Clarion is fighting for the Large School Title with Karns City.
Still, this is a rivalry game, and Redbank Valley ended Clarion's long conference win streak last year beating the Bobcats 34-10 at Memorial Stadium, where they head Friday night.
The Bobcats are the favorites in this one, considering their 34-14 win over a C-L squad that ripped Redbank Valley 53-19 earlier in the year. Clarion averages 41.2 points and 415 yards offensively while giving up just five touchdowns in its five games.
Quarterback Spencer Miller (29-55, 591 yards, 11 TDs, 5 Ints.) has played well, making junior running back Colton Rapp (91-721, 4 TDs) even more dangerous.
The Bulldogs are coming off a 14-0 win over Union/A-C Valley in a rain-filled game that saw them gain just nine yards with no first downs in the second half. Quarterback Keaton Kahle (30-61, 421 yards, 4 TDs, 2 Ints.), the running back Mohney cousins Colten (47-251, 2 TDs) and Curtis (44-251, 2 TDs) and receiver Jared Kespelher (9-170) lead the Bulldogs' offense.
It's the 92nd meeting between the longtime rivals. Clarion leads the series, 49-37-5.
Mountain League
Clearfield (5-1, 4-0) at Tyrone (4-2, 3-2)
The Bison go south to Tyrone as the favorite and sole leader of the Mountain League, one game ahead of Central-Martinsburg and Bellefonte, teams they've already beaten 30-28 and 28-0 respectively. Tyrone's league losses have come to both of those teams — 48-42 overtime loss to C-M and a 14-13 loss to Bellefonte two weeks ago.
The Bison have beaten Tyrone four straight times, their last loss a 23-14 decision on the road in 2009. Last year, they beat the Golden Eagles 34-17 at the Bison Sports Complex.
Sophomore quarterback Denver Light (39-83, 719 yards, 9 TDs, 3 Ints.), junior running back Brandon Loose (112-624, 6 TDs) and junior receiver Parker Mitchell (16-363, 5 TDs) lead the Tyrone offense.
Sophomore quarterback Isaac Rumery (41-82, 821 yards, 6 TDs, 6 Ints.; 59-311, 3 TDs rushing), running back Seth Caldwell (108-575, 8 TDs), and receivers Micah Heichel (18-472, 4 TDs) and Ryan Lezzer (11-246, 1 TDs) lead the Bison offense. Senior linebacker Matt Collins leads the defense with 17.2 tackles per game
District 10 Region 5
Grove City (6-0, 4-0) at DuBois (4-2, 2-2)
The Eagles travel to DuBois highly regarded, at least by the Harrisburg Patriot-News which has them ranked No. 7 in the state in Class 5A, one class higher than the Beavers.
Grove City's lone close game was a 34-28 season-opening 34-28 win at home against General McLane, which has two losses and the other to Cathedral Prep. The Eagles average 48.8 points per game, ranking them 11th in the state and 416 yards offensively, 239 of that through the air.
Senior quarterback Kameron Patterson (79-107, 20 TDs, 2 Ints.) is completing over 73 percent of his passes with his top receivers A.J. Turner (22-629, 10 TDs) and Logan Lutz (18-373, 6 TDs). Trey Adams (92-497, 7 TDs) is the leading rusher.
The Eagles beat Conneaut Area 48-6, one week after Conneaut edged the Beavers, 34-33.
DuBois has won three straight after back-to-back losses to Conneaut and Meadville, including last week's 29-13 win over Allderdice. The Beavers are averaging 39.2 points and 401 yards offensively per game.
In three starts, junior quarterback Matt Miller (52-75, 857 yards, 10 TDs, 2 Ints.) has completed nearly 70 percent of his passes. Junior receiver Kyle Hopson (44-795, 9 TDs) is having a huge season as Miller's top target. Brock Adams (57-429, 7 TDs) and Braden Paulinellie (74-427, 4 TDs) are the Beavers' leading rushers.
Other
AML-South
Bradford (3-3, 0-2) at Kane (6-0, 2-0)
On paper, it appears that the host Wolves are the heavy favorite, but it's an interesting matchup considering the last time these teams have met on the gridiron was 1973 when the Owls blanked the Wolves, 43-0. The Owls lead the series 32-9-2 and Kane hasn't beaten them since a 15-13 win in 1968.
Kane is 11th in the state in scoring at 48.6 points per game while giving up just 40 points, or six touchdowns this year, and their 5.5 points per game allowed ranks 12th. The Wolves are blasting their way to 462 yards per game offensively and over 311 of that on the ground. Four backs are over 200 yards, led by last week's Player of the Week in junior Erik Delong (105-954, 13 TDs), who is primed to go over 1,000 yards. Quarterback Reed Williams (38-69, 904 yards, 11 TDs, 2 TDs) is also close to four digits and his top receivers are Ray Maze (14-390, 5 TDs), who caught four passes for 179 yards and 2 TDs in last week's 32-13 win over Elk County Catholic last week, and Davis Gardner (14-255, 4 TDs).
Bradford has dropped two straight to ECC (27-7) and Ridgway (13-0) last week. Quarterback Kyle Kirk (35-76, 751 yards, 8 TDs, 2 Ints.), and running backs Donny Pattison (43-491, 5 TDs) and John Eakin (51-452, 4 TDs) lead the Owls' offense.
KSAC Large
Brookville (1-4, 1-1) at Moniteau (2-3, 1-1)
If Class AA has a fourth playoff team — we know Brockway, Kane and Clarion are postseason-bound — it'll be one of these teams and if indeed the Raiders or Warriors do go to the playoffs, one would presume that they'd have to win this game first.
Freshman running back Nick Martino (38-200), sophomore quarterback Chance Nagy (19-49, 465 yards, 4 TDs, 9 Ints.) and senior Dalton Anderson (12-338, 5 TDs overall) lead the Warriors.
For Brookville, it's quarterback Seth Ray (23-67, 377 yards, 2 TDs, 8 Ints.), running back Brandon McGranor (53-179), with the top pass-catchers Bryan Dworek (12-218) and John Frank (11-144).
Non-Conference
Punxsutawney (0-5) at Union/ACV (2-3)
Union/A-C Valley hosts the winless Chucks on Homecoming Night in Rimersburg after doing homecoming at A-C Valley a few weeks ago. Punxsutawney lugs in a nine-game losing streak dating back to last year's Week 6 win … over A-C Valley.
For the Falcon Knights, it's quarterback Lucas Bowser (41-82, 619 yards, 8 TDs, 7 Ints.) with a running backfield led by Lane Chalmers (66-284). Gavin Hawk (13-242) and Kody Wolfe (7-130) are Bowser's top targets.
The Chucks have scored just 26 points and four touchdowns so far, but nearly squeaked out a win last week against St. Marys in a 7-6 loss. Both teams scored in the fourth quarter with the difference being a missed point-after kick. Quarterback Dylan Ishman (32-64, 338 yards, 2 TDs, 3 Ints.), running back Tyler Richardson (45-228), and receivers Ethan Riley (18-165) and Jacob Weaver (17-156) lead the Chucks offense.
Non-Conference
St. Marys (3-2) at Keystone (0-6)
After surviving a 7-6 win over winless Punxsutawney last week, the Dutch play another winless team in the Panthers, who have allowed 53.3 points per game. Only two teams in the state have given up more — Prep Charter of D12 (53.7) and James Buchanan of D3 (57.0).
St. Marys got just one carry last week from leading rusher Matt Marconi (67-325, 1 TD) with Christian Steffan (52-255, 3 TDs) getting most of the attempts. Quarterback Pat Schlimm (21-55, 327 yards, 2 TDs, 2 Ints.) doesn't throw a lot, but has a dangerous playmaker in receiver Jeff Wehler (8-211, 2 TDs), who leads the team in all-purpose yards and interceptions with three.
The Panthers have scored six touchdowns all year and still haven't gotten above zero in total yards rushing and they're at minus-27 (includes bad snaps and sack yardage) for the season. Quarterback Nate Wingard (50-106, 684, 5 TDs, 6 Ints.) has three receivers over 200 yards with Corey Rapp (23-351, 2 TDs) leading the way.
AML-North
Cameron County (0-6, 0-2) at Otto-Eldred (2-4, 2-0)
The Terrors try to stay pace at the top of the division with the Coudersport-Smethport winner against winless Cameron.
Otto-Eldred averages 184 yards per game with junior quarterback Sawyer Drummond (323 yards passing, 133 rushing) and senior running back Seth Drummond (335 yards) accounting for most of the offense. The latter Drummond has scored four of the team's eight touchdowns this year.
After opening with a 37-20 loss to Curwensville, the Red Raiders have scored three TDs in the last five weeks.
Saturday
AML-North
Port Allegany (0-6, 0-2) at Sheffield (0-6, 0-2)
It's the "Something Has to Give" Bowl in Warren County Saturday afternoon with two teams bringing in long losing streaks. Since beating Sheffield 40-0 in Week 8 last year, the Gators have lost eight straight games and scored 26 points. The Wolverines are on a 16-game losing streak dating back to their last win in the final week of the 2014 season against Eisenhower.
Sheffield has dropped two eight-point losses, including a 21-13 loss to Otto-Eldred last week.
Only four teams in the state have scored less points than the Gators (3.3) and only three have given up more than their 52.1 points per game mark, one of them from D9 in Keystone's 53.3 average.