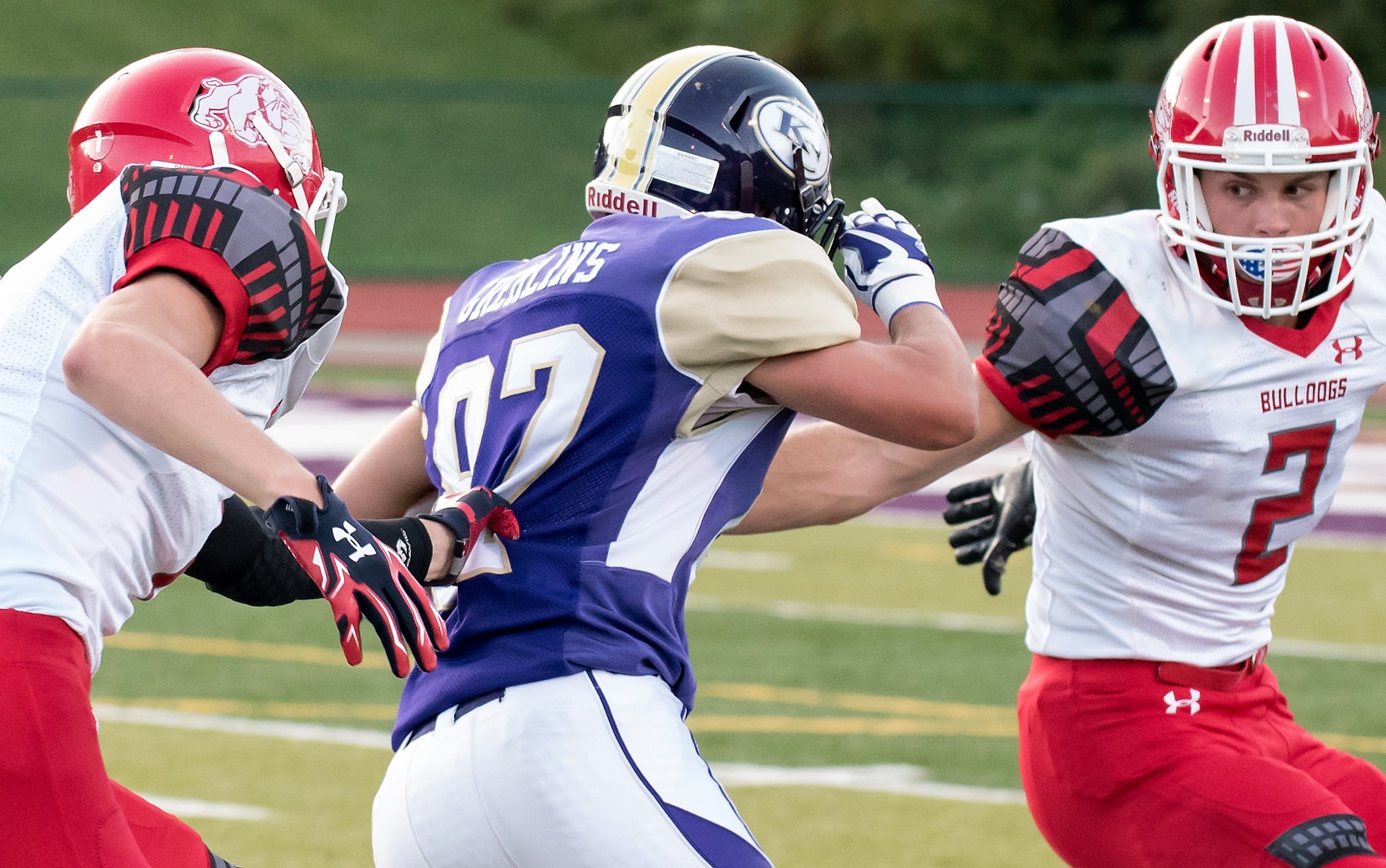 Week 6 football recaps.
Cover photo Clay Garing. Photo by Howie Dittman
All games are posted.
KARNS CITY 35, CLARION-LIMESTONE 34
KARNS CITY, Pa. – Clay Garing's 5-yard touchdown run and subsequent extra point with 35 seconds to play lifted Karns City to a 35-34 over visiting Clarion-Limestone.
Watch Garing's touchdown run.
The Gremlins, who led 28-12 at halftime and appeared to take a 34-12 lead later in the third quarter only to have a personal foul penalty call the touchdown back, watched as C-L rolled off three straight scored including a 1-yard Riley Hummell touchdown run with 3:57 to play to go up 34-28.
Taking over at its own 33-yard line following the ensuing kickoff, Karns City marched 67 yards in 12 plays and converted a fourth-and-2 by inches at the C-L 49-yard line on a Josh Wimer run to keep the drive alive before Garing scored for the third time on the night to give the Gremlins the win.
Garing, who ran 27 times for 132 yards, scored on a 14-yard run in the second quarter and on a 33-yard pass from Anthony Kamenski, also in the second quarter, to put Karns City ahead 28-6 with 4:34 to go in the half. It was his only catch of the night.
But the Lions, who got a pair of touchdowns from Hummell and three touchdown passes from Brenden Makray, got within two scores at the break thanks to a 67-yard Makray to Hummell scoring pass.
Then, after the Gremlins couldn't score after having the third-quarter touchdown called back, Makray hit Austin Newcomb from 72 yards away to make it 28-20 then Makray threw an 84-yard bomb to Kyle Kerle to get C-L within two, 28-26, 1:41 into the fourth quarter.
Makray was 19 of 29 for 494 yards, three touchdowns and an interception with Kerle hauling down 10 passes for 259 yards and the score, Newcomb five passes for 141 yards and the touchdown and Hummell three for 94 yards and the score. Hummell also rushed for 11 yards on four carries with a score, while Ayden Wiles had five carries for 20 yards and a touchdown.
Dalton Beham chipped in five carries for 105 yards with a 65-yard touchdown run for Karns City, which outgained C-L 372 to 23 on the ground but was outgained by the Lions 494 to 80 through the air and 517 to 452 for the game. Sebastian Troutman also ran for a Gremlins score and had 11 carries for 72 yards. Kamenski was 4 of 8 for 80 yards and a touchdown and ran four times for 14 yards.
Karns City is 5-2 on the year with C-L dropping to 3-4. The Gremlins are at Clarion next week while C-L is at Moniteau.
CURWENSVILLE 14, RIDGWAY 11
CURWENSVILLE, Pa. – Nick Stewart returned a blocked field goal 77 yards for a touchdown in the third quarter, and Curwensville's defense held the line a 14-11 Golden Tide win over Ridgway in a key AML South matchup between Class 1A teams.
Ridgway led 11-7 at halftime on a safety, 10-yard Neil MacDonald touchdown catch and a 39-yard Aaron Hinton field goal that came as the half expired.
Curwensville scored on a 4-yard Nick Stewart touchdown run in the first half before Stewart returned the blocked field goal for the score less than four minutes in the second half.
MacDonald ran for 81 yards on 14 carries and caught five passes for 41 for Ridgway, while Johnny Mitchell was 11 of 22 passing for 113 yards, a touchdown and three interceptions.
Stewart had 85 yards rushing on 26 carries and added two catches for nine yards.
With the win, Curwensville is 6-1 overall and 2-1 in the AML South with Ridgway falling to 5-2, 1-2. The Golden Tide are at ECC Friday with Ridgway traveling to Kane.
CLEARFIELD 35, TYRONE 7
HYDE, Pa. – Ty Bender ran 22 times for 180 yards and a touchdown and Isaac Rumery threw three scoring passes to help Clearfield to a 35-7 win over visiting Tyrone.
Rumery wasn't asked to pass as much in this one going 7 of 10 for 96 yards but he hit Micah Heichel (2 catches, 40 yards), Jake Lezzer (2 catches, 12 yards) and Eli Glass (1 catch, 10 yards) for scores. Rumery also scored on a 1-yard run.
Lezzer caught a 5-yard scoring pass, Glass a 10-yard scoring pass and Heichel a 19-yard scoring pass with Bender running for a 1-yard score that was set up in part by a 76-yard gain by the Bison back.
Parker Mitchell scored on a 1-yard run for Tyrone.
Clearfield is 4-3 overall and 2-3 in the Mountain League. The Bison host Bald Eagle Friday.
PUNXSUTAWNEY 34, UNION/A-C VALLEY 18
PUNXSUTAWNEY, Pa. – Dylan Ishman threw three touchdown passes and rushed for a fourth to lead Punxsutawney to a 34-18 win over visiting Union/A-C Valley.
Ishman was 12 of 14 passing for 131 yards with the two incompletions being interceptions and added 72 yards rushing on 12 carries.
Tyler Richardson caught three passes for 87 yards and a score, Alex Gianvito had 49 yards rushing and a touchdown and two catches for 19 yards, Carter Newcome caught two passes for 17 yards and a touchdown and Stone Smith added a touchdown.
For Union/A-C Valley scored on a Jeff Ginn scoring run, an Alex Woods interception return for a score and a Lucas Bowser to Greg Duncan screen pass.
Punxsutawney improves to 3-4 with Union/A-C Valley falling to 1-6. The Chucks are back in action at Keystone Friday while Union/A-C Valley hosts Brookville at Union.
COUDERSPORT 30, SMETHPORT 12
SMETHPORT, Pa. – Jared Green ran for two touchdowns and threw for a third to lead visiting Coudersport to a 30-12 win over Smethport.
Green ran seven times for 87 yards scoring on runs of 64 and nine yards and threw a 33-yard touchdown pass to Derek Keglovits while going 1-for-4 passing for 33 yards and the touchdown with an interception.
Keglovits ran four times for 24 yards, as Coudersport ran just 33 offensive plays.
Nathan Hollowell ran 25 times for 97 yards for Smethport, while Blake Kinner added 10 carries for 59 yards and a touchdown. Grant Ognen was 8 of 12 passing for 53 yards, a touchdown and an interception with the scoring pass going to Alex Sanderson on a 4-yard toss. Braedon Johnson added five catches for 34 yards and intercepted a pass on defense while Matthew Stratton made 10 tackles.
Coudersport is 4-3 overall and 3-0 in AML North play with Smethport falling to 2-5 and 2-1 in league action. The Falcons travel to Otto-Eldred Friday where a win would give them the AML North title, while Smethport is at Sheffield Saturday.
OTTO-ELDRED 57, CAMERON COUNTY 8
EMPORIUM, Pa. – Gage Babcock ran for three touchdowns and Cameron Magee caught a pair of touchdown passes from Sawyer Drummond and returned a punt for a touchdown to lead Otto-Eldred to a 57-8 win at Cameron County.
Babcock ran 18 times for 112 yards scoring on runs of 1, 8 and 2 yards, while Magee caught touchdown passes of 65 and 27 yards from Drummond and returned a punt 82 yards for a score. He finished the night with three catches for 117 yards and two carries for 17 yards with Drummond going 8 of 12 passing for 140 yards, two touchdowns and an interception.
Collin Smith added a rushing touchdown for the Terrors with Dylan Close returning an interception for a score.
Ebon Jackson had a late 43-yard scoring run for Cameron County and led the Red Raiders with 81 yards rushing on eight carries.
Otto-Eldred improved to 4-3, 3-0 in the AML North with Cameron County falling to 0-7, 0-3. The Terrors host Coudersport Friday with Cameron County traveling to Port Allegany.
PORT ALLEGANY 20, SHEFFIELD 7
PORT ALLEGANY, Pa. – Trey Stiles ran for a pair of touchdown in a span of just under five minutes in the third quarter to help Port Allegany rally from a one-point halftime deficit and break a 17-game losing streak with a 20-7 win over visiting Sheffield.
With the Gators trailing 7-6 to start the second half, Stiles scored on a 53-yard run 51 seconds into the half then added a 2-yard run with 6:16 left in the third quarter.
In all, the Port Allegany quarterback scored three times having found the end zone on a 1-yard run late in the half. He finished the night with 113 yards rushing on 18 carries while going 1 of 1 passing for two yards.
Sheffield took a 7-0 lead on a 36-yard Josh Agudio run. Agudio had exactly 100 yards rushing on 13 yards while going 1 of 1 passing for 25 yards and catching five passes for 24 yards.
It is the first win for Port Allegany since a 40-0 win over Sheffield Oct. 30, 2015, in the regular-season finale for the Gators that season. They lost to Kane in both the AML Title game and the opening round of the District 9 Class 1A playoffs that year before going 0-9 last year and starting 0-6 this season.
Port Allegany is 1-6 on the year and 1-2 in AML North action. It hosts Cameron County Friday. Sheffield fell to 0-7, 0-3 and hosts Smethport Saturday.
BROCKWAY 49, ELK COUNTY CATHOLIC 12
BROCKWAY, Pa. – Peter Downer threw two touchdowns and ran for a third to lift Brockway to a 49-12 win over visiting Elk County Catholic.
Downer was 13 of 18 passing for 178 yards and ran six times for six yards. He threw touchdown passes of 15 and 3 yards to Noah Vokes and scored on a 1-yard run. Vokes had two catches for 18 yards and the scores, while Jon Wood ran 14 times for 78 yards and two touchdowns and also had two interceptions on defense.
Also for the Rovers, Tyler Serafini rushed 13 times for 104 yards and a touchdown and Dylan Lecates ran four times for 42 yards and score.
ECC, which trailed by just two, 14-12, midway through the second quarter, got a pair of Mason McAllister touchdown passes. McAllister was 7 of 17 passing for 159 yards with an interception. He threw scoring passes to Tyler Dilley (8 yards) and Hunter Cashmer (81 yards).
Dilley ran nine times for 89 yards and had two catches for 17 yards, Cashmer added three catches for 95 yards and six carries for six yards.
Brockway is now 6-1 overall and 2-1 in the AML South with ECC falling to 2-5 and 0-3. Brockway travels to Bradford Friday while Curwensville is at Elk County Catholic Friday.
BROOKVILLE 64, MONITEAU 28
BROOKVILLE, Pa. – Nearly unstoppable in the first half by scoring points in seven of eight possessions, Brookville piled up 35 points in the first quarter and 51 by halftime in a 64-28 rout of visiting Moniteau Friday night.
Five different Raiders scored touchdowns in the first half with Brandon McGranor running for two touchdowns on runs of 1 and 13 yards and Nick Keth finding the end zone twice in the first quarter on a 39-yard interception return and a 21-yard pass from quarterback Jack Krug.
Krug, who was pulled at halftime with the Raiders up 51-12 and the Mercy Rule running clock ready to start the third quarter, wound up completing 10 of 21 passes for 210 yards with three touchdowns and one interception. He also threw a 76-yarder to Bryan Dworek and 11-yarder to Cabe Park to close out the first-half scoring with 31.5 seconds on the clock.
Dworek finished with six receptions for 137 yards while McGranor ran for 81 yards on 10 carries.
The Raiders (6-1 overall, 3-1 KSAC Large) scored twice in the second half with backup quarterback Tyler Ohls throwing TD passes for Kyle MacBeth and Ian Thrush of 9 and 50 yards, the Thrush strike coming on the game's final play.
Moniteau, limited to 23 yards of offense in the first half, got a 96-yard kick return from Manny McLean in the first half along with Chance Nagy's 8-yard TD pass to Nick Martino late in the second quarter. McLean scored on a 57-yard run in the fourth quarter and Nagy hit Wyatt Geibel with an 11-yard TD pass with 9.1 seconds left.
Nagy completed 13 of 30 passes for 167 yards. Jared Lominski caught six passes for 95 yards.
Moniteau (2-4, 1-3) started the game with 18 players and lost at least two to injury during the game.
Brookville is at Union/A-C Valley at Union Friday while Moniteau hosts C-L.
KEYSTONE 34, ST. MARYS 27
ST. MARYS, Pa. – Corey Rapp scored three times in three different ways to help Keystone even its record at 3-3 with a 34-27 road win over St. Marys.
Rapp, who also made nine tackles, scored on a 33-yard pass from Nate Wingard, on an 80-yard punt return and on an 82-yard run.
The long run put the Panthers ahead 34-20 in the fourth quarter before St. Marys made it interesting on a 19-yard Carter Julian run with 4:36 to play. The Dutch did get the ball back with about two minutes left but 85 yards from the end zone and couldn't get into scoring position.
Rapp finished the night with nine carries for 82 yards and the score and caught two passes for 52 yards and the touchdown.
Isaak Jones, who hauled down a 59-yard scoring pass from Wingard, went over 100 yards receiving with four catches for 128 yards, while Wingard was 11 of 21 passing for 265 yards and three touchdowns. He also threw a score to Skylar Kagle (46 yards), who had three catches for 67 yards.
Julian scored twice for St. Marys and ran 18 times for 145 yards. Tim Beimel also went over 100 yards rushing with 169 on 36 carries including a 5-yard scoring run, while freshman quarterback James Davis added a 1-yard scoring run and was 2 of 8 passing for 15 yards.
St. Marys fell to 0-6 and is at Redbank Valley Friday. Keystone hosts Punxsutawney Friday.
KANE 54, BRADFORD 26
BRADFORD, Pa. – Erik DeLong ran 23 times for 230 yards and four touchdowns to lead Kane to a 54-26 win at Bradford.
Reed Williams also threw three touchdown passes for the Wolves, who led 47-12 at halftime and was 16 of 25 for 291 yards.
Jake Alcorn had six catches for 98 yards and a touchdown with Ray Maze catching four passes for 149 yards and a touchdown and JT Stewart two for 33 yards and a touchdown.
Jake Alcorn had six catches for 98 yards and a touchdown with Ray Maze catching four passes for 149 yards and a touchdown and JT Stewart two for 33 y
The Wolves had 567 total yards of offense.
John Eakin led Bradford with 150 yards and a touchdown on 22 carries with Jaron Ambrose adding six carries for 82 yards and had five catches for 46 yards and a touchdown.
Kane is 7-0 overall and 3-0 in the AML North. Bradford is 5-2 and 1-2 in conference. Kane hosts Ridgway Friday and Bradford hosts Brockway.
GROVE CITY 42, DUBOIS 0
GROVE CITY, Pa. – Grove City's defense held DuBois to 97 total yards of offense while forcing three turnovers in a 42-0 win.
Meanwhile, Eagles quarterback Brady Callahan threw five touchdowns passes and went 21 of 27 passing for 235 yards with an interception. Grove City outgained DuBois 513 to 97.
Two of Callahan's scoring passes went to Qadir Muhmadded, who had three catches for 29 yards. Logan Lutz led the Eagles with eight catches for 147 yards and a touchdown, and Tyler Greer chipped in 147 yards rushing with Trey Adams adding 71 yards on the ground with a score.
Matt Miller was 11 of 30 for 73 yards and two interceptions for DuBois while running 11 times for 13 yards.
CLARION 35, REDBANK VALLEY 7
NEW BETHLEHEM, Pa. – No Colton Rapp, no problem for the Clarion Bobcats.
Without its leading rusher, who missed the game with an injury, visiting Clarion turned to Logan Minich and Brendan Zerfoss and the two combined for 302 yards and four touchdowns in a 35-7 win over Redbank Valley Thursday night.
Minich ran for 162 yards on 24 carries and scored on runs of two and 23 yards, while Zerfoss, the 2017 District 9 champion in the 100-meter dash, showed off his speed on a pair of long touchdown runs – 44 and 90 yards – and finished the night with a career-best 140 yards on just three totes.
Minich talked about the win.
The game was close for 2 ½ quarters with Clarion taking a 7-0 lead deep into the third quarter thanks to a 2-yard Logan Minich scoring run in the first quarter.
But in a span of 2:30 late in the third the game turned on a dime.
First Minich scored on his 23-yard run with 4:05 left in the quarter, and then with 1:35 to play in the quarter Zerfoss put Clarion up 21-0 on a 44-yard sprint to the end zone.
A 7-yard Clint Thurston run on the first play of the fourth quarter gave Redbank Valley some life, but that was quickly dashed when Zerfoss broke free on the 85-yard scoring run 31 seconds later to make it 28-7. The second Zerfoss run came on the first play after Clarion was called for a personal foul when it looked like Sterling Conner had returned the kickoff following the Thurston touchdown 90 yards for a score.
Sam Minich, Logan's twin brother, put the capper on the night with a 1-yard run.
Even without Rapp, Clarion ran for 375 yards, which helped the Bobcats overcome four turnovers – three interceptions and a lost fumble – three of which – two interceptions and a lost fumble – came from quarterback Spencer Miller, who was 2 of 5 passing for 53 yards and two picks while carrying the ball nine times for 42 yards.
Thurston had another 100-yard game for Redbank Valley finishing with 154 and the score on 21 carries and went over 1,000 yards on the season. But the Bobcats limited Brock Barrett, who left the game in the second half with an injury, to 11 carries for 24 yards and five catches for 37 yards. Barrett did have an interception on defense.
Clarion (6-0) returns to action Oct. 13 when it hosts Karns City, while Redbank Valley (3-3) hosts St. Marys in its final home game of the season also Oct. 13