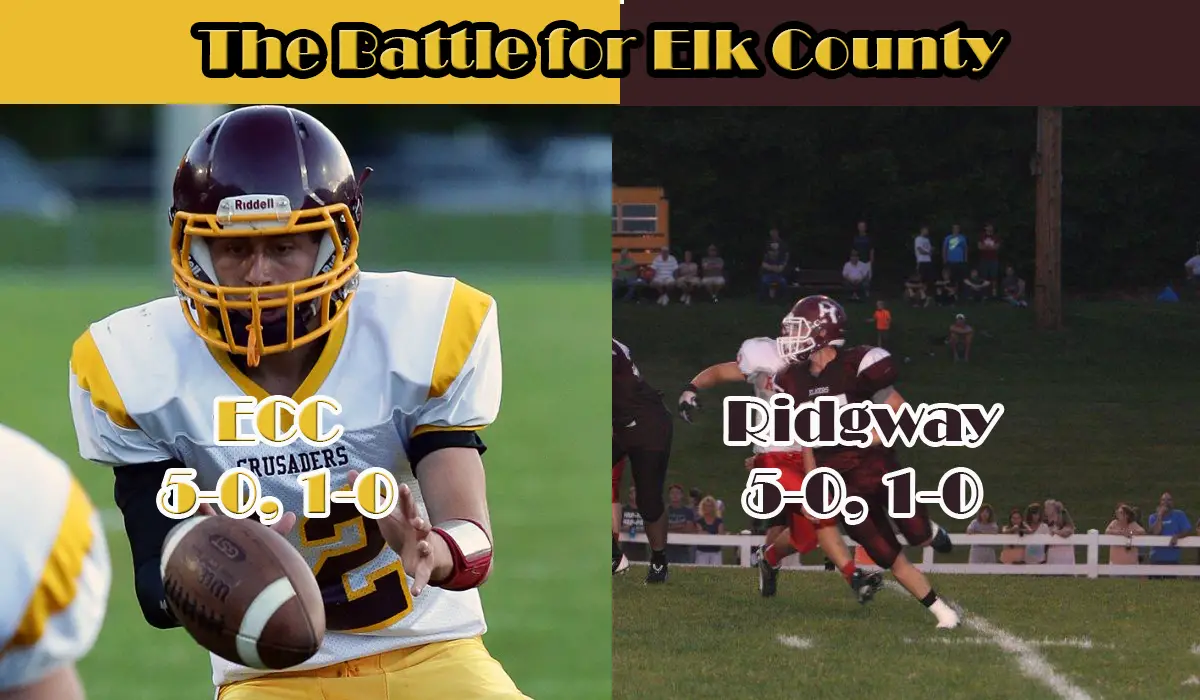 By Rich Rhoades
It's an early battle at the top of the Allegheny Mountain League's South Division as two 5-0 squads clash at Dutch Country Stadium Friday night.
The Ridgway Elkers head to St. Marys to face the Elk County Catholic Crusaders. Both teams won their AML South openers, so the winner of this one will take possession of first place.
That game is one of 14 games on the docket involving District 9's 25 teams. All but one will be played Friday night. One team, 5-0 Redbank Valley, is off this week.
The Elkers and Crusaders are very similar teams when it comes to their offenses with a multi-threat quarterback leading a run-oriented approach.
For Ridgway, quarterback Ben MacDonald has rushed for 457 yards (9.7 per carry) and 10 touchdowns while passing for 259 yards. Also helping the Elkers' 293-yards per game running attack is Cole Myers (408 yards, 3 TDs).
For Elk County Catholic, quarterback Mitchell Smith has rushed for even more yards — 526 yards (8 yards per carry) — while passing for 447 yards and eight touchdowns. His top receiver is Ryan Seelye (14 catches, 210 yards, 4 TDs). Also for the Crusaders, Noah Werner (348 yards, 2 TDs) and Dan Singer (339 yards, 3 TDs) are part of the 281-yards per game committee.
Ridgway's 28-8 win last year stopped a five-game losing streak to ECC.
In the other AML South matchup, Brockway (4-1, 0-0) travels to Kane (4-1, 0-1) in what should be an interesting showdown as the Wolves will try to rebound from a 21-20 loss to Ridgway and stay alive in the division race.
The Rovers, who lost their first game in a non-conference decision to Clearfield last week, are playing their first division game, so a win would keep them in pace with the Ridgway-ECC winner.
Kane running back John English (731 yards, 13 TDs) leads the district in carries at 113, or a busy 22.6 carries for game. He's third in the district in yardage and tied for first with Clarion's Ian Corbett with 13 rushing TDs.
Brockway quarterback Braden Martini has passed for 605 yards and five touchdowns with much of it going to receivers Anthony Benson (20-310, 4 TDs) and Anthony Isabella (17-275, 2 TDs).
Curwensville (4-1, 0-1) tries to bounce back from a loss to Elk County Catholic last week with a non-conference game against St. Joseph's Catholic Academy from Boalsburg. St. Joe's is 1-4, coming off a 31-16 loss at Upper Dauphin. While the second-year program was 2-4 against D9 teams last year in its first year, including a 25-7 loss to the Tide in Week 4, this is the first D9 team on its schedule this year. It hosts Ridgway Week 10 in its only other district matchup.
Tide freshman Nick Stewart's 753 yards rushing rank second in the district.
Also in the AML, the North Division has three games on tap with last week's three winners taking on three losers. Friday, Port Allegany (0-5) travels to Coudersport (1-4, 1-0) while Otto-Eldred (0-5, 0-1) hosts Smethport (2-3, 1-0). Saturday, Cameron County (1-4, 1-0) visits Sheffield (0-5, 0-1).
KSAC goes crossover
With Redbank Valley off this week, the five games involving the conference are all Large School vs. Small School matchups.
Clarion (4-1), No. 7 in the latest Pennsylvania Football News Class A state rankings, hosts Moniteau (4-1) at Clarion University's Memorial Stadium in a game featuring two of the top running backs in the district. The Warriors feature the district's top rushing Josh McBride (68 carries, 899 yards, 9 TDs), who's averaging a whopping 13.2 yards per game.
In other games, Punxsutawney (3-2) hosts A-C Valley (0-5) while Karns City (5-0) hosts Union (2-3). The Gremlins are still at No. 7 in the state in Class AA by the PA Football News. St. Marys (4-1) visits Clarion-Limestone (1-4) and Brookville (1-4) hosts winless Keystone (0-5). The Raiders had five starters, four seniors with second-year starting quarterback Bobby McGranor, quit the team earlier this week.
District 10 Region 5
DuBois and Bradford both have conference games this week with the Beavers (3-2, 1-1) hosting Oil City (4-1, 2-0) and Owls (0-5, 0-2) traveling to Franklin (1-4, 0-2).
Beavers quarterback Gabe French (93-for-133, 69 percent, 1,457 yards, 17 TDs, 6 Ints.) can reach another milestone this week as he'll try to reach 6,000 career passing yards. He goes into the game with 5,826 yards and 63 career TD passes. His yardage ranks fifth all-time and he's within striking distance of No. 4 Chad Kroell of Clearfield. Kroell threw for 6,088 yards.
Oil City shares a 2-0 mark at the top of the conference with Conneaut Area. The Oilers and Beavers haven't played a common opponent yet. Oil City is coming off a 35-32 win over St. Marys, N.Y. The Oilers lost in Week 4 at home to General McLane, 31-29.
Bradford's overall losing streak is now at 14 straight games after last week's 64-28 loss to Erie Central. Both teams lost to Oil City — Bradford 34-0 and Franklin 35-22.
Mountain League
The Clearfield Bison (3-2 overall, 2-1 ML) are tied in the loss column with a team they lost to in Central Martinsburg (4-1, 3-1) with unbeaten Tyrone (5-0, 4-0) in sole possession of first place. The Bison host Bellefonte (1-4, 1-2) this week.
The Red Raiders, who lost 47-7 to Tyrone last week, don't share any common opponents yet with Clearfield. Their only win came in a 36-0 shutout of winless Philipsburg-Osceola.