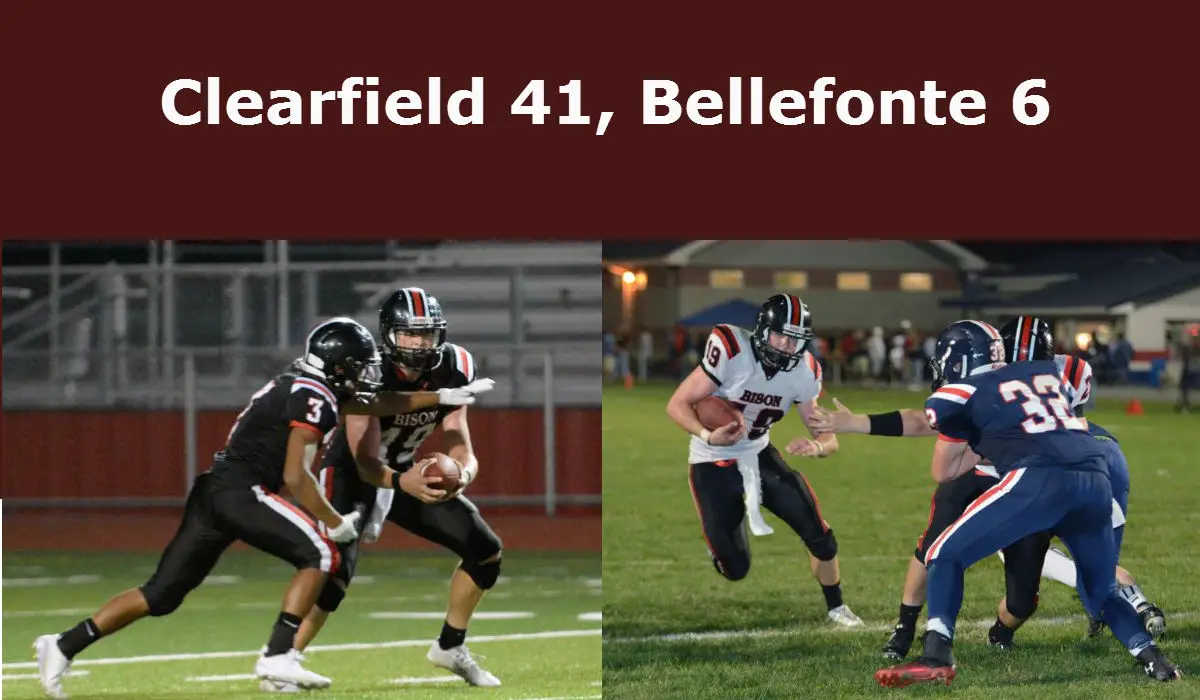 Cover photo of Clearfield's Erik Sellers (No. 19) and Seth Caldwell (No. 3) – Photos courtesy of Clearfieldfootball.org 
Recaps will be updated throughout the weekend (Last updated at 12:25 a.m. Sunday) 
CAMERON COUNTY 41, SHEFFIELD 14 
SHEFFIELD – Rusty Setzer and Caleb Burnside each ran for 100 yards to lead Cameron County to its second straight victory, 41-14 over Sheffield, Saturday afternoon in Sheffield.
Setzer carried the ball 17 times for 156 yards and two touchdowns, while Burnside had 26 carries for 101 yards and a score. Keith Spehalski also went 6 of 16 passing for 154 yards and a touchdown on a 71-yard pass to Brandon Saline. Etthan Vislay added 17-yard pick six for the Red Raiders (2-4 overall, 2-0 AML North) with Tristan Reed scoring on a 36-yard run.
Sheffield (0-6, 0-2) scores came on a 27-yard Adam Higby to Logan Connely pass and on a 1-yard Ja'Sani Marlow run.
KEYSTONE 35, BROOKVILLE 25
BROOKVILLE — Zach Stiglitz and Jake Weaver each scored two touchdowns, leading the Keystone Panthers to a 35-25 win over Brookville Saturday afternoon in a game postponed from Friday due to a bomb threat.
Stigitz took the game's opening kickoff 84 yards for a touchdown and then gave Keystone a 35-6 lead when he intercepted a pass and took it five yards into the end zone for a score. Weaver had scoring runs of 3 and 12 yards in the third quarter. He finished with a team-high 94 yards on 15 carries.
The Panthers (1-5), who also got two interceptions from Bryce Altman, ended an eight-game losing streak dating back to last season and won for the first time in Brookville since 1986. The Raiders fell to 1-5.
Brookville sophomore Seth Ray completed 7 of 19 passes for 158 yards and three touchdowns to go along with three interceptions. He threw two TD passes in the final minute against Keystone's backup defense on a 40-yarder to Logan Thrush and a 9-yarder to Nate McLaughlin. He also threw a 47-yard TD pass to Jonah Sampson shortly after Stiglitz's game-opening kick return.
RIDGWAY 35, ELK COUNTY CATHOLIC 7 
ST. MARYS – Three Ben MacDonald touchdown runs, including two before halftime, helped Ridgway runaway with the battle of Elk County, 35-7 over Elk County Catholic, at Dutch Country Stadium in St. Marys.
The Elkers (6-0 overall, 2-0 AML South) took over sole possession of first place in the AML South by outgaining previously unbeaten ECC (5-1, 1-1) 373 to 151 led by J.P. Cerroni's 131 yards and a touchdown on 18 carries. Cole Myers added 92 yards and a touchdown on 11 totes with MacDonald rushing 12 times for 44 yards and the three touchdowns, including a 1-yard scoring run 18 seconds before halftime that gave the Elkers a 21-0 halftime lead. MacDonald also went 4 of 9 passing for 72 yards with Cerroni catching two passes for 36 yards.
Jonathan Dippold scored ECC's lone touchdown with 3:23 left to play on a 1-yard pass from Mitchell smith. Smith struggled going 8 of 18 for 58 yards with a pair of interceptions, two of the three picks Ridgway got on the night. MacDonald, Myers and Luke Pierce had the picks. Smith also ran 11 times for 23 yards.
PUNXSUTAWNEY 42, A-C VALLEY 7 
PUNXSUTAWNEY – Dakota Thomas threw a touchdown pass and ran for two more, and Andrew Fedigan caught a scoring pass and returned an interception for another score to lead Punxsutawney to a 42-7 win over visiting A-C Valley Friday night.
Thomas was 7 of 14 passing for 105 yards and a touchdown and ran 11 times for 82 yards and two touchdowns.
Fedigan, meanwhile, caught three passes for 46 yards and the score and returned a pick 79 yards for a touchdown.
Travis Perry added a pair of rushing touchdowns for the Chucks running seven times for 48 yards, while Braxton Giavedoni had four catches for 59 yards and Alex Young 10 carries for 61 yards.
Punxsutawney improved to 4-2 with the win, while A-C Valley dropped to 0-6 while losing its 18th straight game.
CLARION 56, MONITEAU 21
CLARION – Ian Corbett scored five touchdowns and Taylor Smith threw four touchdowns to lead Clarion to a 56-21 win over visiting Moniteau Friday at Clarion University's Memorial Stadium.
Corbett ran 11 times for 146 yards and three touchdowns and caught three passes for 102 yards and two more touchdowns. Smith threw both of those scoring passes to Corbett and two more to Thomas Plummer and was 5 of 8 passing for 142 yards. He did throw an interception that was returned 25 yards by Jake McBride for a touchdown. Plummer scored three touchdowns in all catching two passes for 40 yards and the two scores and rushing four times for 48 yards and a touchdown.
Josh McBride had 10 carries for 82 yards and a touchdown for Moniteau, while Cody Skiver also scored on a 3-yard run while rushing 16 times for three yards and going 4 of 10 passing for 27 yards but three interceptions, two by Corbett, who also had a sack and six tackles.
The 21 points by Moniteau (4-2), losers of two straight, were the most scored against Clarion (5-1) in the regular season since St. Marys scored 28 in a 40-28 Bobcat win Oct. 4, 2012.  Clarion has allowed just 37 points all season.
KARNS CITY 56, UNION 20
KARNS CITY – Collin Dunmyre ran for two touchdowns and Cody Deal threw a pair of touchdown passes and ran for a third to lead unbeaten Karns City to a 56-20 win over visiting Union Friday night.
Dunmyre ran for 117 yards on just four carries scoring on runs of 32 and 58 yards, while Deal was 6 of 10 passing for 95 yards and two touchdowns while rushing four times for 88 yards and a score.
Tyler Dunn, Logan Moroney and Seth Silverio all caught touchdown passes for the Gremlins (6-0), winners of 14 straight regular-season games since a loss to Clarion last season, with Dunn catching three passes for 87 yards and Moroney four for 35. Caleb King threw one of the scoring passes and was 3 of 10 passing for 32 yards.
Chet Carmichaels scored twice for Union reaching the end zone on a 95-yard kickoff return and on a 66-yard pass from Lane Cicciarelli. He had four catches for 77 yards.
Cicciarelli threw a pair of long touchdown passes in the second half including a 74-yard toss to Cole Morris. Cicciarelli was 10 of 19 passing for 259 yards. Morris had four catches for 163 yards.
PORT ALLEGANY 20, COUDERSPORT 18
COUDERSPORT – Jordan Seefeldt scored on a 26-yard run with 3:56 to play to give Port Allegany and first-year head coach Justin Bienkowski its fist win of the year, 20-18 over homestanding Coudersport, Friday night.
The Gators (1-5 overall, 1-1 AML North), trailed 18-8 for most of the first half before closing to within four, 18-14, at halftime thanks to a Tre Garzel scoring run with two seconds to play in the half.
The game then remained that way for most of the second half despite Port Allegany dominating the stat sheet.
Seefeldt finished the night with 30 carries for 132 yards and the touchdown, while Garzel, who scored twice on the ground, had 96 yards rushing on 26 carries.
Aaron Wolfinger threw a  60-yard touchdown pass to Zach Layag. Anderson Nicka also scored on a 4-yard run and Brock Wilson also found the end zone on the ground for the Falcons (1-5, 1-4).
SMETHPORT 32, OTTO-ELDRED 14
DUKE CENTER – Smethport's Adam Shunk tied the national high-school record with a 99-yard touchdown run, one of two scores for him on the night, and teamed with Devon Brown to gash the Otto-Eldred defense for 368 yards and four touchdowns to lead the Hubbers to their third straight win, 32-14 over Otto-Eldred, Friday night at Otto.
Shunk, who finished with 17 carries for 189 yards, also scored on a 5-yard scamper, while Brown, who had 179 yards rushing on 16 totes, found pay dirt on runs of 36 and seven yards. Dustin Zetwick also added a touchdown for Smethport (3-3 overall, 2-0 AML North).
Seth Caldwell paced Otto-Eldred with 21 carries for 167 yards, while Dakota Eaton and Nick Appleby eac scored on a 4-yard runs for the winless Terrors (0-6, 0-2).
CURWENSVILLE 54, ST. JOSEPH'S CATHOLIC ACADEMY 20 
CURWENSVILLE – Nick Stewart and Hunter Johnson combined to run for 306 yards and seven touchdowns to lead Curwensville to a 54-20 non-conference victory over visiting St. Joseph's Catholic Academy Friday night.
Stewart ran 11 times for 187 yards and three touchdowns, while Johnson added 14 carries for 119 yards and four touchdowns to help the Golden Tide bounce back from their first loss of the season a week ago to Elk County Catholic.
Johnson and Stewart accounted for all but 19 yards of Curwensville's offense and all but one of the Tide's scorers. Kaleb Witherite had the other touchdown, on a 10-yard run late in the fourth quarter, for Curwensville (5-1), which did not complete a pass on the night.
The Golden Tide defense, meanwhile, picked off St. Joe's (1-5) four times. Wolves' quarterback Michael Kresovich did throw three touchdown passes finding Mike Jacbo on strikes of 16 and 20 yards, and Eli Lipscomb with  6-yard toss.
DuBOIS 70, OIL CITY 22
OIL CITY — DuBois Beavers quarterback Gabe French passed for 408 yards and seven touchdowns as the Beavers put up 35 points in the first quarter and led 63-14 by halftime in a 70-22 rout of Oil City Friday night.
French completed 12 of 16 passes and three of his TD passes in the first quarter to Dante Dawson covering 89, 50 and 61 yards. He also threw a 70-yarder to Cole Kriner. French also threw a 12-yarder to Dawson in the second quarter and a 54-yarder to Kriner with 2:28 left before halftime. French's other TD pass came on an 8-yarder to Kevin Foley. French also ran for an 8-yard touchdown in the second quarter.
Kriner wound up catching 5 passes for 168 yards and Dawson needed just 4 receptions for 212 yards. Devin Clark ran for 53 yards on 9 carries and scored the game-opening touchdown on a 19-yard run.
Oil City (4-2 overall, 2-1 D10 Region 5) quarterback Jackson McFall threw for 275 yards.
It marked the second straight week and the third time this season DuBois (4-2, 2-1) has topped 60 points. Last week, the Beavers beat Punxsutawney 69-26 after beating Mifflin County 61-38 in Week One. It is also the fourth time in six games this year the Beavers have gone over 50 points, something they have done nine times under fourth-year head coach Frank Varischetti's high-powered offense. It was also the second time under Varischetti DuBois has topped 70 – it beat Bradford 84-6 in 2012 – and the fifth time the Beavers have topped 60.
BRADFORD 33, FRANKLIN 28
FRANKLIN — Kyle Langdon ran for 180 yards on 25 carries and scored four touchdowns, including two in the second half to lead the Bradford Owls to a streak-breaking 33-28 win at Franklin Saturday night.
Bradford (1-5 overall, 1-2 D10 Region 5) broke a 13-game losing streak dating back to a forfeit win over Oil City in Week Two last season (Oil City won the game but was forced to forfeit for using an ineligible player). The Owls last win on the field came in a 2013 opening-week 21-6 win over Kennedy Catholic.
Langdon ran for TDs of 1 and 44 yards in the first quarter, 7 yards in the second quarter and his 10-yarder with 4:28 left in the third quarter broke a 21-21 tie and put the Owls up 27-21. Then in the fourth quarter, Justin Fishkin's 4-yard TD run with 1:44 put the Owls up 12 points before Franklin (1-5, 0-3) added a late score to set the final margin.
Also for the Owls, Mitchell Vleminckx ran for 107 yards on 13 carries while Fishkin finished with 71 yards on 14 carries.
ST. MARYS 50, CLARION-LIMESTONE 18
STRATTANVILLE — T.J. Hogan and Kyle Glatt each ran for over 100 yards and combined for five touchdowns in the St. Marys Flying Dutchmen's 50-18 rout of Clarion-Limestone.
Hogan ran for 155 yards on 13 carries with TD runs of 55 and 10 yards in the third quarter while Glatt gained 118 yards on 13 carries with scoring runs of 2, 13 and 25 yards. Quarterback Pat Schlimm threw a 20-yard TD pass to Brady Bauer and Tyler Barnes returned a kickoff 85 yards for a fourth-quarter touchdown.
St. Marys (5-1) led 20-6 at halftime and went up 43-6 to enact the PIAA's Mercy Rule running clock on Glatt's 25-yarder with 9:12 left in the fourth quarter.
For C-L (1-5), quarterback Anthony Louder completed 9 of 15 passes for 136 yards with a 14-yard TD pass to Connor Keth. In the fourth quarter, Nick Cyphert scored on a 61-yard run and Dakota Stormer added a 2-yard TD run.
CLEARFIELD 41, BELLEFONTE 6
CLEARFIELD – Erik Sellers ran 17 times for 176 yards and four touchdowns including for running for 111 yards and two scores in the second half to lead Clearfield to a 41-6 win over visiting Bellefonte Friday night.
Corey Shimmel, 3 carries, 97 yards, and Ryan Lezzer, each added touchdowns for the Bison – Shimmel's was an 80-yard jaunt that got the Mercy Rule running, who have won three straight after a 1-2 start, with Lezzer's coming on a pick-six in the first half.
Seth Caldwell also went over 100 yards rushing carrying the ball 18 times for 116 yards including 79 in the first half.
Austin Jackson scored for Bellefonte on a 71-yard run. He ran 12 times for 130 yards.
Clearfield moved to 4-2 overall, 3-1 Mountain League with the win, while Bellefonte dropped to 1-5, 1-3 in conference play.
KANE 9, BROCKWAY 7
KANE – Dillon Mattis kicked a short field goal with eight seconds left to lift Kane to a 9-7 win over visiting Brockway in an AML South matchup Friday night in Kane.
Kane (5-1 overall, 1-1 AML South) led 6-0 at halftime before Brockway (4-2, 0-1), losers of two in a row, took a 7-6 lead in the second half. The Rovers' defense then forced Kane to turn the ball over on downs before the Wolves defense came up with a fumble recovery from Jake Shrubb at midfield with 1:17 to play.
A couple of Jack Kocjancic pass then helped Kane down to the Brockway 2-yard line where the Wolves decided to try the short field goal on third down.
Kane took a 6-0 lead with 15 seconds to play in the first half when Kocjancic hit Shane Rollick with a 10-yard touchdown pass.
Brockway took the lead late in the third quarter when Anthony Benson scored on a 5-yard run following an Anthony Isabella interception deep in Kane territory.
The game marked just the eighth time since the 2010 season in District 9 where both teams were held to single digits, and Kane has now been involved in three of those contests going 2-1.
Kocjancic was 11 of 24 for 78 yards, a touchdown and an interception for Kane with Tyler Rollick running 15 times for a game-high 94 yards. John English had 32 yards rushing on 14 carries.
Benson paced Brockway with 63 yards rushing on 19 carries with Braden Martini going 7 of 21 passing for 78 yards and an interception, by English.