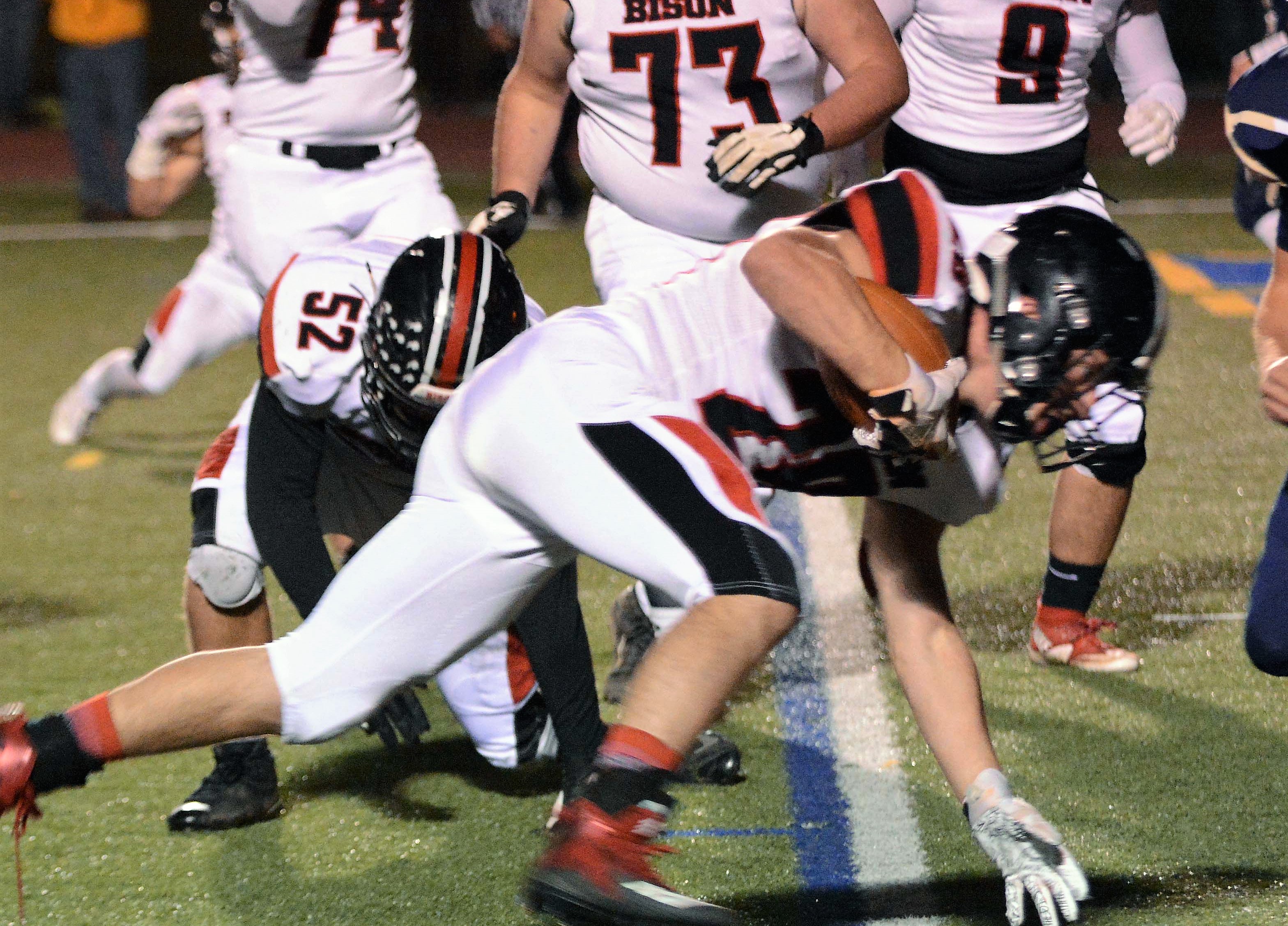 Oct. 12-13 football recaps.
(Photo of Brent Zattoni scores one of his two touchdowns in Clearfield's 42-7 win over Bald Eagle Area. Photo by Logan Cramer III)
CLEARFIELD 42, BALD EAGLE AREA 7
WINGATE, Pa. – A 21-point first quarter helped Clearfield gain control of its own destiny in the Mountain League title race, as the unbeaten Bison went on the road and beat previously unbeaten Bald Eagle Area, 42-7.
It was once again a team effort for the Bison (8-0 overall, 6-0 Mountain League) with five different Clearfield players scoring touchdowns led by two on the ground from Brent Zattoni, who ran for 63 yards on 13 carries. Also scoring on the ground for the Bison were Caleb Freeland (10 carries, 115 yards) and Isaac Rumery (7 carries, 39 yards).
Rumery added a pair of touchdown passes while going 7 of 9 for 204 yards. He hooked up once with Taye Lynch (3 catches, 123 yards) and once with Ryan Lezzer (3 catches, 69 yards).
Rumery talked about the win.
The game was over by halftime with Clearfield leading 35-7 at the break after the 21-point first quarter.
Lezzer, Rumer, Lynch and Zattoni all played big roles in the quick start for the Bison.
Lezzer intercepted a pass on Bald Eagle's opening drive to help set up Zattoni's first touchdown of the night on a 2-yard run with 6:03 left in the opening quarter to give Clearfield a 7-0 lead.
Following a fourth down stop, Rumery found Lynch for a 40-yard score three minutes later to give the Bison a 14-0 lead.
Bald Eagle Area (7-1, 6-1) tried to make a game of it, as the Eagles responded with a quick touchdown run from quarterback Jaden Jones to cut the Clearfield lead to 14-7. But Jones' 12-yard keeper would be the only score of the game for Bald Eagle.
Clearfield answered the score with a four-play, 65-yard drive that was topped off with a 34-yard rushing touchdown from Freeland to make the score 21-7.
The Bison then ended the first quarter with the ball after Eli Glass stripped the ball from the Bald Eagle returner on the following kickoff.
After a drive that started from the Bison 26-yard line, following the Avry Gisewhite fumble recovery, Rumery found the end zone on a 3-yard quarterback keeper to put the Bison up 28-7.
Lezzer joined in on the scoring right before the half when Rumery hit him on the run for a 53-yard touchdown to give Clearfield a 35-7 lead that would stick through halftime.
There was no let up for the Clearfield after halftime as the Bison drove the ball 68 yards on 12 plays to set up Zattoni's second score of the game to make it 42-7 while taking 6:57 and putting the PIAA's Mercy Rule into action after the score.
Clearfield can now claim the outright Mountain League title by beating one-win Philipsburg-Osceola next week and two-win Bishop Carroll the following week. Even if Clearfield only goes 1-1 in those games it claims the title with the only one-loss team in the conference being Bald Eagle Area.
CURWENSVILLE 48, OTTO-ELDRED 14
DUKE CENTER, Pa. – Cole Bressler ran for three touchdowns to help visiting Curwensville pull away from Otto-Eldred for a 48-14 win Saturday night.
Bressler ran 12 times for 75 yards and scored on runs of 12, 21 and 3 yards. His 3-yard run midway through the third quarter gave the Golden Tide (6-2) a 28-8 lead.
Bressler talked about the win.
Otto-Eldred picked up an early fourth-quarter touchdown to cut the lead to 14, 28-14, but Curwensville put the game away on a 1-yard Noah VonGunden dive, the quarterback's second touchdown of the game.
In desperation mode, Otto-Eldred twice turned the ball over on downs deep in its own territory after the VonGunden score leading to a 25-yard touchdown run by Blake Passarelli, who ran for 180 yards and the score on 23 carries, and a late touchdown run by Andrew Fryer.
Von Gunden's other touchdown was also on a 1-yard run and gave the Golden Tide a 12-0 lead in the first quarter that they eventually made 18-0. The QB ran eight times for 42 yards and was 3 of 6 passing for 30 yards.
Otto-Eldred (3-5) tried to make a game of its when Cole Sebastian scored on a 1-yard run in the second quarter to make it 18-8, but freshman Jacob Mullins nailed a 37-yard field goal as time expired in the first half to give Curwensville a 21-8 halftime lead.
Chris Connelly scored the other touchdown for the Terrors on the 1-yard run early in the fourth quarter.
Sebastian was 16 of 34 passing for 193 yards and an interception and added 20 yards rushing on eight carries. Connelly had four catches for 68 yards and added the rushing touchdown. Ethan Smith chipped in five catches for 63 yards and Steve Langworthy five for 42.
Colton Gietler led the O-E rushing attack with 33 yards.
Avery Francisco chipped in nine carries for 60 yards for Curwensville and caught one pass for 15 yards.
BRADFORD 34, CLARION 14
BRADFORD, Pa. – Dominating on both sides of the football, Bradford handed visiting Clarion its second consecutive loss while the Owls won their third straight game.
Bradford (5-3) outgained Clarion (6-2) 303-185 including 274-34 on the ground with over 100 of the Bobcats yards and all 14 of Clarion's points coming in the final 7:30 after the Owls had taken a 34-0 lead.
Donnie Pattison ran for two touchdowns on runs of one yard and five yards, Caleb Nuzzo threw a pair of touchdown passes and Jaron Ambrose had a touchdown catch and a touchdown run for Bradford.
Pattison hit the 100-yard mark for the third straight week and for the sixth time on the year with 16 carries for 103 yards. He was named the Hager Paving Player of the Game and talked about the victory.
Bradford took the opening kickoff and drove down the field before scoring on a little flip pass from Nuzzo to Derek Sunafrank, who was back in the Owls' offense for the first time since suffering an injury against Ridgway Sept. 14.
The Owls then took complete control of the game with two touchdowns in the final 6:20 of the first half.
First, Pattison went over the top from the 1-yard line to make it 14-0.
Then, with just 25 seconds left in the half, Nuzzo hit Ambrose with a touchdown pass from 19 yards away to make it 21-0 at the break.
Pattison then scored on a 5-yard third-quarter run to make it 28-0, and Ambrose scored on a 4-yard four minutes into the fourth quarter to make it 34-0.
With the junior varsity players in, Clarion finally found the scoreboard twice in the final 7:07 on a pair of Calvin German to Ethan Burford touchdown passes.
The first was a thing of beauty from 85 yards out with German hitting Buford in stride around midfield.
The second scoring pass was a 5-yard toss with just under five minutes to play.
German finished 3 of 8 passing for 99 yards with Burford hauling in five passes for 110 yards and the two touchdowns.
Cutter Boggess led the ground game for Clarion with 14 yards on five carries.
Ambrose chipped in eight carries for 28 yards for Bradford and caught the one pass for 19 yards. Nuzzo was 2-for-6 for 29 yards and the two touchdowns, while Sunafrank had 67 yards rushing on 11 carries and the one catch for 10 yards.
REDBANK VALLEY 41, COUDERSPORT 27
NEW BETHLEHEM, Pa. — Scoring 20 unanswered points to finish the game, Redbank Valley rallied for a 41-27 win over Coudersport in a Small School Division crossover matchup.
The Bulldogs (5-3) trailed 27-21 after Stephen Kelly's fourth touchdown run of the game 43 seconds into the third quarter gave Coudersport (5-3) its last lead of the game.
Keaton Kahle threw a 20-yard TD pass Ethan Hetrick to put the Bulldogs up for good at 28-27 with 6:26 left in the third, Hunter Wiles scored on a 37-yard run four minutes later in the fourth, Kahle tossed a 7-yard TD pass to Hunter Martz.
Redbank Valley scored in the first half on a Kahle 44-yard run and Wiles runs of 2 and 1 yards. Wiles ran for 165 yards on 12 carries while Kahle gained 59 yards on 11 carries while completing 16 of 26 passes for 191 yards and two TDs. Hetrick caught nine passes for 111 yards.
Kelly scored all four of Coudersport's touchdowns, the first three on runs of 4, 16 and 10 yards in the first half. He ran for 171 yards on 20 carries.
BROOKVILLE 57, KANE 38
KANE, Pa. — Robert Keth and Bryan Dworek hooked up for a big night as Brookville outgunned Kane in a 57-38 Large School Division win.
On a night where Raiders coach Scott Park indicated that his starting quarterback Jack Krug reaggravated his collarbone injury — it was not re-broken — and his return the rest of the season is doubtful, it was Keth who stepped back into the starter's role and completed 17 of 23 passes for 424 yards and seven touchdowns with one interception.
While Keth came up one short of Krug's school record for TD passes in a game with with the seven, Dworek hauled in 11 of Keth's passes for a school-record 322 yards and five touchdowns. It is the second-most receiving yards in District 9 history and is believed to be the second-most in PIAA history behind DuBois' Colin Read's 355 yards, which came in a 107-90 loss in 2015 to Meadville. Brookville offensive coordinator Frank Varischetti was DuBois' head coach that night.
Dworek caught TD passes of 21 yards in the first half and 35, 38 and 52 yards in the second half. His 52-yarder from Keth put the game away and set the final with under two minutes to go as the Raiders went on to improve to 5-3.
Ian Thrush caught three passes for 48 yards with a 23-yard TD reception while Cabe Park caught three passes for 54 yards, including a 19-yard TD. He also scored the Raiders' first TD after they were trailing 15-0 on a 95-yard kick return.
Kane (1-7) put two runners over 100 yards rushing as quarterback Aiden Hulings ran for 130 yards on 24 attempts with two TD runs of 2 and 1 yards. Jake Alcorn ran for 120 yards on 25 carries, scoring on runs of 1 and 25 yards.
Alec English returned a kickoff 81 yards for the Wolves' other touchdown.
RIDGWAY 28, KARNS CITY 6
RIDGWAY, Pa. – Ridgway claimed the first-ever District 9 League Large School Division title with a 28-6 win over visiting Karns City in a game that wasn't decided until the second half.
The Elkers (8-0) led 13-6 at halftime before outscoring the Gremlins (3-5) 15-0 in the second half thanks to a 22-yard Gavin Elmquist fumble return and a 20-yard Paul Gresco to Daunte Allegretto touchdown pass.
It was the second scoring toss for Gresco, who also found Austin Green on a 10-yard toss in the second quarter to give the Elkers a 13-0 lead at the time. Gabe Watts started the scoring on a 14-yard run.
Devin Ryan answered for Karns City with a 7-yard run to make it 13-6 at the break.
Gresco was 12 of 18 passing for 157 yards and the two scores, while Allegretto had three catches for 88 yards and the touchdowns and Green five for 32 and a score. Watts ran 12 times for 65 yards.
Ryan led Karns City with 56 yards on five carries and the touchdown. Anthony Kamenski added 54 yards rushing on 10 carries and was 5 of 8 passing for 57 yards but threw three interceptions.
Cole Casilio had two of the picks for Ridgway.
CLARION-LIMESTONE 66, PORT ALLEGANY 0
STRATTANVILLE, Pa. – Austin Newcomb ran five times for 201 yards and five touchdowns to lead Clarion-Limestone to a 66-0 win over visiting Port Allegany.
Newcomb, who missed the second half of last week's loss to Elk County Catholic with a concussion, scored on runs of 67, 11, 52, 5 and 66 yards with the first four coming in a 30-point first quarter for the Lions (6-2).
Ayden Wiles also went over 100 yards on the ground with 17 carries for 162 yards and two touchdowns on runs of 13 and 10 yards. Wiles also had two catches for 32 yards. Kyle Bottaro chipped in five carries for 87 yards and a touchdown.
C-L ran for 501 yards on the night and outgained Port Allegany 552-125.
Josh Rees led the Gators (1-7) with five carries for 45 yards with Collin Smith chipping in eight for 33.
ELK COUNTY CATHOLIC 46, SHEFFIELD 6
ST. MARYS, Pa. – Stephen Bobby ran for three touchdowns and Mason McAllister threw for two more to lead Elk County Catholic to its fifth straight win with a 46-6 victory over visiting Sheffield.
Bobby, who ran for 90 yards on six carries, scored on runs of 5, 46 and 17 yards. McAllister, who was 3 of 5 passing for 93 yards, threw touchdown passes to Ben Sherry (56 yards) and Brennan Kluhawn (15 yards). Hunter Cashman added a 32-yard scoring run for the Crusaders (6-2) with Bryan Schatz returning an interception for a touchdown. Sam Kaul chipped in 70 yards on the ground on five carries.
Christian Richetti's 85-yard touchdown run in the third quarter accounted for the Sheffield points. Richetti ran 15 times for a game-high 124 yards for the Wolverines (0-8)
SMETHPORT 37, KEYSTONE 0
SMETHPORT, Pa. – Braedon Johnson scored twice as Smethport moved to 8-0 for the first time in 17 years with a 37-0 win over visiting Keystone.
Johnson caught a 36-yard touchdown pass from Noah Lent and scored on an 11-yard run for the Hubbers, while Nathan Hollowell and Blake Kinner also scored on the ground and Alex Sanderson hauled down a 20-yard touchdown pass from Grant Ognen.
Both Kinner, 100 yards on nine carries, and Hollowell, 11 carries, 120 yards, went over 100 yards on the ground helping Smethport rush for 238 yards on the night.
Meanwhile, Smethport's defense limited Keystone (3-5) to zero yards rushing and 121 total yards for the night.
Gavin Hogue was 4 of 9 passing for 84 yards and an interception with Isaak Jones going 3 of 11 passing for 37 yards and a pick. Brandan Kapp had two catches for 61 yards with Keenan Heeter adding two grabs for 51 yards. Skylar Kagle ran once for a team-best 15 yards.
UNION/A-C VALLEY 62, CAMERON COUNTY 0
EMPORIUM, Pa. – Luke Bowser threw two touchdowns and ran for a third to help Union/A-C Valley get back to .500 with a 62-0 win at Cameron County.
Bowser was 9 of 13 passing for 170 yards, the two scores and an interception and ran three times for 71 yards and a touchdown, as the Falcon Knights (4-4) won for the third straight week.
The touchdown throws went to Tanner Merwin (3 catches, 73 yards) and Colton Hoffman (1 catch, 35 yards).
Caden Rainey added three carries for 28 yards and a touchdown and three catches for 46 yards with Eli Penny chipping in three totes for 46 yards and a touchdown while also recovering a fumble.
Nolan Cumberland had a pair of interceptions on defense and ran five times for 41 yards, Colby Best had 12 tackles and Leroy Byler added six tackles and a sack.
Union/A-C Valley outgained Cameron County (1-7) 568 yards to 106.
Nick Peters accounted for 76 of those yards for the Red Raiders going 10 of 23 passing for 50 yards and two interceptions and rushing six times for 26 yards.
Luiz Petricio had seven tackles to lead Cameron County's defense.
MONITEAU 26, ST. MARYS 6
WEST SUNBURY, Pa. – Cody Wise ran 21 times for 204 yards and two touchdowns, both in the second half, to lead Moniteau to a 26-6 win over visiting St. Marys in a game that was tied at six at halftime.
Wiser broke the 6-all tie with a 9-yard run 2:01 into the second half and then added a 52-yard touchdown run with 27 seconds to play.
In between, Nick Martino's 4-yard scoring run with 9:32 remaining helped give the Warriors (4-4) some separation.
Chance Nagy started the scoring with a 74-yard touchdown run in the first quarter, but Nagy's interception in the second quarter was returned 17 yards by Cody Ritter to get St. Marys (0-8) on the board.
Nagy added 112 yards on the ground on seven carries and was 3 of 5 passing for 49 yards. Wise actually added a pass completion as well going 1 of 1 with a 7-yard pass to Nagy while also hauling in a 40-yard catch on his own.
Moniteau's defense held St. Marys to 148 yards of offense, including just 17 on the ground.
Toddy Taylor was 10 of 20 passing for 131 yards and two picks for the Dutch with Scott Potter catching seven balls for 119 yards.
BROCKWAY 48, PUNXSUTAWNEY 12
BROCKWAY, Pa. – Peter Downer threw for four touchdowns and ran for two more to lead Brockway to a 48-12 win over visiting Punxsutawney.
Downer ran for scores of 2 and 1 yard and threw touchdown passes of 28 and 41 yards to Jon Wood and 12 and 32 yards to Josh Solnosky. Tyler Serafini added a 61-yard scoring run for the Rovers (6-2).
Alex Gianvito scored on a 41-yard run for Punxsutawney (2-6) with Max London adding a 33-yard scoring run early in the second quarter. London's touchdown run brought the Chucks within two, 14-12, at the time, but Brockway scored the final 13 points of the half to take a 27-12 halftime lead.
DUBOIS 26, MEADVILLE 12
DUBOIS, Pa. – A pair of second-half touchdown runs by Eric Schneider helped DuBois overcome a six-point halftime deficit and pick up a 26-12 win over visiting Meadville.
The Beavers (3-5 overall, 3-3 D10, R7) trailed the winless Bulldogs (0-8, 0-6) 12-6 at the break before taking the lead on a 2-yard Schneider touchdown run in the third quarter, 13-12.
Schneider then gave DuBois some breathing room early in the fourth quarter on a 15-yard run before Dylan McCluskey's 4-yard scamper made it a two-score game,
Chase Husted hauled in a 3-yard touchdown pass in the first half to tie the game at six at the time.