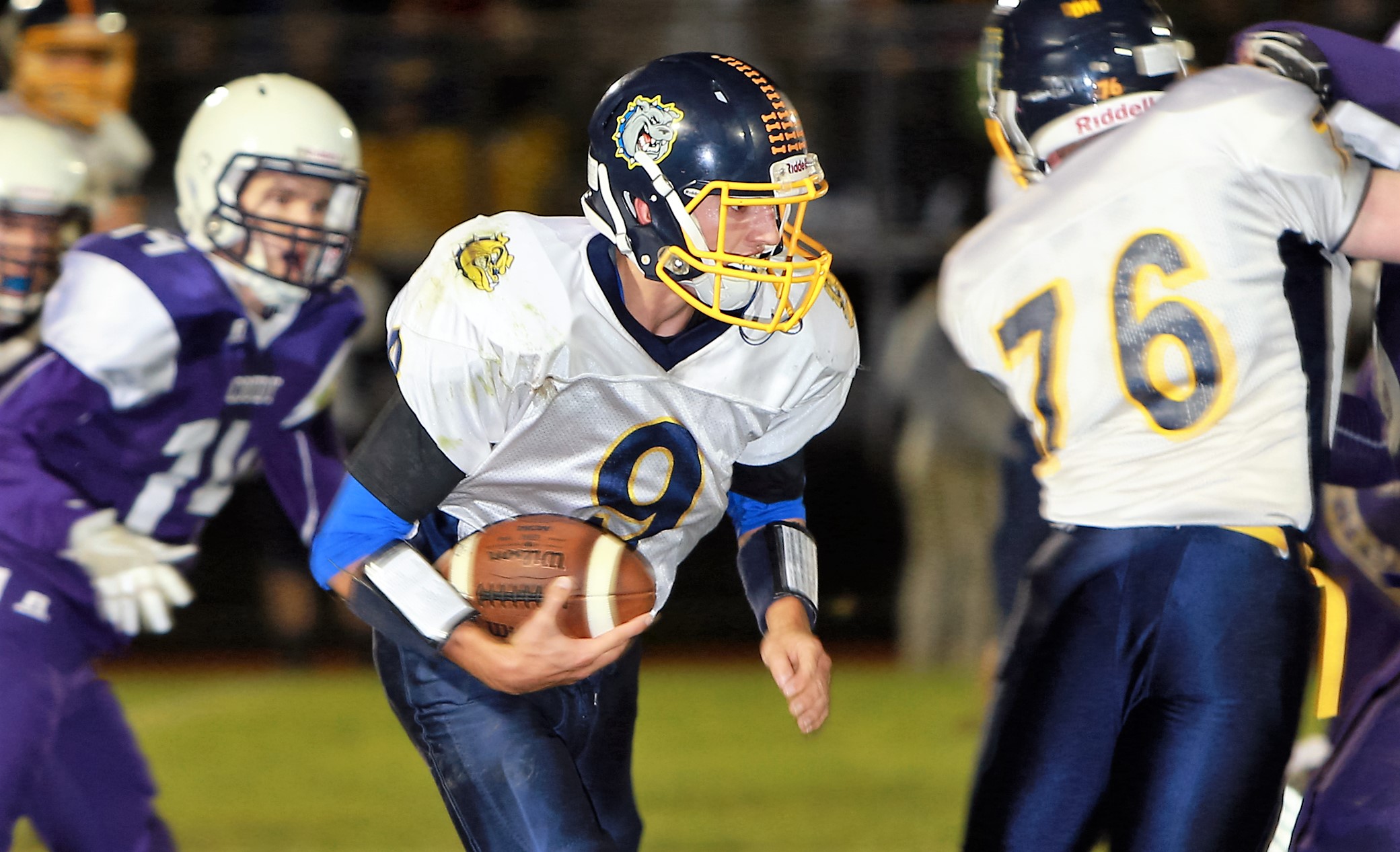 Week 7 football recaps. All recaps posted.
(Cover photo of Otto-Eldred's Gage Babcock. Photo by Paul Burdick. Check out more of Burdick's work here)
OTTO-ELDRED 24, COUDERSPORT 14
COUDERSPORT, Pa. – Thanks to a pair of Gage Babcock touchdowns, Otto-Eldred claimed a share of its first conference/divisional title since 1983 with a 24-14 win at Coudersport.
Babcock scored on a 73-yard kickoff return on a 15-yard scoring pass from Sawyer Drummond.
The win was the fourth straight for the Terrors (4-4 overall, 4-0 AML North) and clinched at least a share of the AML North Title for Otto. It's the first time the Terrors have at least a share of a title since 1983 when it won shares of the both the Border Conference and the AML.
But despite the victory, the Terrors need to win next week at home over Smethport to earn a berth in the AML Title game for the first time ever. A loss by the Terrors would give the AML Title game berth to either Smethport or Coudersport, most likely.
Aaron Wolfinger threw a pair of touchdowns passes in the first half for Coudersport, which had leads of 8-0 and 14-6.
But both times the Falcons (4-4 overall, 3-1 AML North) scored, Otto-Eldred had the answer in forms of long kickoff returns.
Down 8-0 thanks to an 8-yard Wolfinger to David Burd touchdown pass, Dylan Close returned a kickoff to the Coudy 30-yard line setting up a 2-yard Grant West touchdown run.
Then, after Wolfinger hit Jared Green from 15 yards out to put Coudy up 14-8, Babcock returned the ensuing kickoff for a touchdown that coupled with Seth Drummond 2-point run gave the Terrors the lead 16-14, which held at halftime.
The game remained a two-point contest until the fourth quarter when Sawyer Drummond threw the touchdown pass to Babcock giving Otto some breathing room.
Otto turned Coudersport over four times including three interceptions – one each from Chase Sebastian, Close and Sawyer Drummond.
Sawyer Drummond finished 6 of 14 passing for 106 yards, the touchdowns and two interceptions, while Seth Drummond ran 17 times for 62 yards.
Despite the loss, Coudersport can still share the AML Title if Otto losses to Smethport next week and the Falcons beat Port Allegany. In that case, Coudersport would also most likely be the AML North representative in the AML Title game.
CLEARFIELD 37, BALD EAGLE AREA 0
WINGATE, Pa. – Seth Caldwell became the eighth runner in District 9 history to reach 4,000 career yards rushing and the second this season when he ran 18 times for 60 yards and two touchdowns to help the Bison claim the Mountain League title with a 37-0 win at Bald Eagle Area.
Caldwell now has 4,005 career yards, the eighth-most in District 9 history. He joins Curwensville's Nick Stewart in hitting 4,000 career yards this year – Stewart has 4,935 unofficially, the third-most in D9 history. Caldwell is also the third Clearfield runner to reach 4,000 career yards joining Dave Richards (4,641 – fifth in D9) and Christian Lezzer (4,269 – seventh in D9). Other D9 backs to reach 4,000 career yards include Curwensville's Nick Sipes (5,963) and Alex Holland (5,754), Brockway's Aaron Cantafio (4,694) and Clarion's Kyle Cathcart (4,449).
Isaac Rummery added a pair of touchdown passes for Clearfield (7-1, 6-0 Mountain League), which has won seven straight league crowns including five in a row since the Mountain League merged into one big conference in 2012 (the Bison shared the title with Tyrone and Central-Martinsburg in 2014) – Clearfield won back-to-back Mountain League Allegheny Division titles in 2010 and 2011.
Rumery finished 9 of 16 for 166 yards, two touchdowns and an interception while also carrying the ball 10 times for 47 yards. He tossed scoring passes of 58 yards to Micah Heichel and two yards to Ryan Lezzer.
Luke McGonigal also scored on a short run for the Bison, who forced five Bald Eagle (3-5, 1-5) turnovers including three interceptions – one each by Ryan Lezzer, Taye Lynch and Spencer Graham.
KARNS CITY 31, CLARION 7
KARNS CITY, Pa. – Four different Karns City players scored touchdowns, as the Gremlins claimed the KSAC Large School title with a 31-7 win over visiting Clarion, the newest member of the Large School Division.
The Gremlins (7-1 overall, 4-0 Large School), who have won five consecutive KSAC Large School titles, led 17-7 at halftime before getting touchdowns from Cullen Williams, on a 14-yard pass from Jacob King, who threw two scores on the night, and Aaron Hutchison, on an 8-yard run, two minutes apart later in the third quarter.
Karns City grabbed a 14-0 lead at the end of the first quarter thanks to a 37-yard Chandler Turner run and a 39-yard King to Jimmy Thompson touchdown pass.
Clarion (6-1, 3-1) cut the lead in half on an 18-yard Colton Rapp scoring run before Kaiden Power kicked a field goal from 40 yards away with 1:28 left in the half to set the 10-point halftime lead.
Turner paced a balanced attack for Karns City with 12 carries for 86 yards and one catch for five yards. Eric Dodd added 10 carries for 78 yards with King going a perfect 5-for-5 for 79 yards and the touchdown touchdowns.
Rapp led Clarion with 18 carries for 90 yards.
KANE 28, RIDGWAY 23
RIDGWAY, Pa. – Kane returned an interception for a touchdown and a punt for a touchdown to keep its unbeaten season alive with a 28-23 win at Ridgway.
The Wolves, who came into the game averaging 455 yards per game were held to just 125 including five on the ground by Ridgway's vaunted defense which allowed the Elkers to outgain Kane 249-125.
But a 71-yard punt return by Ange Costanzo and a 45-yard interception return from Frank Truden helped the Wolves (8-0 overall, 4-0 AML South) stay unbeaten.
Reed Williams also threw a pair of touchdowns for Kane, which led 28-16 until a Ridgway touchdown on a 10-yard Daunte Allegretto to Josh Raubenstrauch touchdown pass with 23 seconds left to play – the Elkers tried an onside kick that was recovered by the Wolves' Keaton Rounsville. Williams finished 6-for-12 for 120 yards. He threw scoring passes for Davis Gardner and Ray Maze.
Maze caught two passes for 61 yards with Gardner hauling in four catches for 59 yards.
Erik DeLong, 12 tackles, and Costanzo, 11 tackles, led the strong defensive effort by Kane.
The five yards rushing were the fewest by Kane since at least 2004, and the first time the Wolves were held to single digits since Karns City limited them to seven yards in 2009. The 125 total yards were the fewest by the Wolves in the five years under head coach Todd Silfies and the fewest since gaining since gaining 107 in a 14-0 loss to Ridgway Oct. 21, 2011.
Johnny Mitchell ran 12 times for 101 yards with two touchdowns, including a 69-yard touchdown run, to pace Ridgway with Neil MacDonald adding 34 yards on 16 totes.
BROCKWAY 63, BRADFORD 21
BROCKWAY, Pa. – Hunter Miller threw three touchdowns and ran for a fourth to keep Brockway unbeaten with a 63-21 thumping of visiting Bradford.
Miller was 12 of 16 passing for 174 yards and threw scoring passes to Peter Downer (4 yards), Jon Wood (4 yards) and Jake Gorham (35 yards) while also running in from six yards out to give the Rovers (8-0, 4-0 AML South) a 49-7 halftime lead.
Mark Latuska added 153 yards rushing on just seven carries scoring on runs of 21 and 73 yards, while Downer scored twice also finding paydirt on a late 1-yard run. Brian Elias also scored on a 14-yard run, and Andrew Trunzo got the scoring started on a 55-yard interception return for Brockway.
Kyle Kirk threw three touchdowns passes, two to Donny Pattison, while going 7 of 21 for 176 yards with two interceptions.
Pattison caught two passes for 27 yards and the scores and ran 15 times for 71 yards. Mitch Vleminckx also caught a touchdown pass in the second quarter for the Owls (3-5, 0-4), which ended an 11-quarter scoreless drought for Bradford.
CLARION-LIMESTONE 45, MONITEAU 7
STRATTANVILLE, Pa. – Mike Macefe ran for 181 yards and three touchdowns and Brendan Makray threw for 248 yards and three scores to help Clarion-Limestone clinch its first postseason berth since 2005 with a 45-7 win over visiting Moniteau.
Both Macefe, who carried the ball 19 times, and Makray, who was 13 of 22 for 248 yards, went over the 1,000-yard mark on the season. Macefe now has 1,069 yards rushing on the year with Makray adding 1,165 yards passing.
Two of Makray's touchdown passes went to Dan Callen, who had three catches for 77 yards. The other went to Sam Leadbetter, who had two catches for 53 yards. Riley Hummell added seven grabs for 98 yards with Macefe catching a 20-yard pass as well.
Chris Peace also scored on the ground for C-L (5-2), which grabbed one of the automatic District 9 1A spots that go to the KSAC with the victory.
Dalton Anderson scored on an 11-yard pass from Chance Nagy for Moniteau (3-4), which continued a pattern of lose one, win one, lose one with the loss.
Anderson caught five passes for 56 yards with Nagy going 7 of 20 for 77 yards, the touchdown and two interceptions. He also ran for a team-best 41 yards on 13 carries.
Macefe, Hummell and Leadbetter all had picks for C-L's defense, as Hunter Fitzingo also threw an interception for Moniteau.
SMETHPORT 41, SHEFFIELD 0
SMETHPORT, Pa. – A 27-point third quarter helped Smethport break open a one-score game at halftime and get a 41-0 win over visiting Sheffield.
The Hubbers (3-5 overall, 3-1 AML North), who moved into a District 9 1A Wild Card spot with the win coupled with Union/A-C Valley's loss to Brookville, led 7-0 at halftime before the Hubbers' scored twice in a span of 19 seconds midway through the third quarter to help break the game open.
Bryce Hale caught a 14-yard touchdown pass from Grant Ognen to make it 14-0 with 5:20 to play in the third quarter and then Nathan Hollowell intercepted a Cale Albaugh pass and returned it 54 yards for a score 19 seconds later to make it 21-0.
Kevin Long then caught a 6-yard pass from Ognen, and Devon Brown added a 15-yard run before the third quarter ended to make it 34-0.
Austin Crooks, who scored the lone first-half touchdown for Smethport on a 5-yard run, put the finishing touches on the victory when he broke for an 86-yard score just over a minute into the fourth quarter.
Thanks to the long run, Crooks finished the night with eight carries for 120 yards with Brown adding 14 totes for 59 yards. Ogen was 3 of 10 passing for 21 yards and the two touchdowns while also running five times for 24 yards.
Sheffield, which was limited to 83 yards of total offense, got 78 of those on the ground from Kevin Evans, who carried 16 times for 72 yards and caught one pass for six yards. Albaugh was 3 of 8 passing for 45 yards and two interceptions.
With the win, Smethport still has a shot at a share of the AML North title if it can beat Otto-Eldred next week. The Hubbers could also gain a berth in the AML Title game with a win over Otto and a Coudersport loss to Port Allegany.
ELK COUNTY CATHOLIC 23, CURWENSVILLE 6
CURWENSVILLE, Pa. – Jared Braun scored a pair of touchdowns, and Elk County Catholic crept closer to the top seed in the District 9 1A playoffs with a 23-6 win at Curwensville.
Braun scored on an 86-yard pass from Nate DaCanal and on a 14-yard run. He finished the night with two catches for 105 yards while rushing 10 times for 44 yards. DaCanal was 7-for-13 passing for 152 yards and the score.
Dan Stauffer also scored on the ground for ECC (6-2 overall, 2-2 AML South), who ended a two-game losing streak with the victory. Stauffer ran for 110 yards on nine carries.
ECC led 15-0 at halftime, and that score remained the same until just over four minutes into the fourth quarter when Caleb Witherite scored on an 81-yard run for Curwensville (4-4, 0-4), which has lost four straight.
Witherite ran for 106 yards on eight carries and was one of two Curwensville backs over 100 yards. Nick Stewart rebounded from his worst rushing game as a varsity player to gain 161 yards on 35 carries. The 161 unofficial yards puts the junior Stewart just 65 yards from becoming the third back in District 9 history to break 5,000 career yards. The other two are also from Curwensville – Nick Sipes (5,963) and Alex Holland (5,754).
DUBOIS 56, FRANKLIN 40
FRANKLIN, Pa. – In a game that featured 152 offensive plays, 1,004 offensive yards and 14 touchdowns (13 of them on the offensive side), visiting DuBois outlasted Franklin, 56-40, in a District 10, Region 5 contest.
DuBois gained 620 of those yards including 306 on the ground and 314 through the air.
Kyle Hopson had a monster game for the Beavers (5-3 overall, 3-3 D10, Region 5) catching 16 passes for 199 yards and four touchdowns, all from Matt Miller, who was 26 of 36 for 314 yards and four scores.
Brock Adams added a career-high 261 yards rushing on 40 carries and scored on runs of seven, 16 and nine yards for DuBois, while Dylan McCluskey also returned an interception 27 yards for a touchdown.
DuBois trailed 20-14 at the end of the first quarter but tied the game at 28 by halftime and then outscored Franklin (4-4, 2-3), losers of four of its last five, 28-12 in the second half including 21-0 in the third quarter.
Freshman Ian Haynes had a decent game for the Knights going 14 of 43 for 278 yards, four touchdowns and two interceptions. He threw two scoring passes to Brandon Johnson (19 yards, 10 yards) and one each to Brenden Gordon (27 yards) and Eric Hoffman (14 yards). Johnson had three catches for 39 yards, Gordon three for 70 and Hoffman seven for 138.
Vinnie Greco added a pair of 16-yard touchdown runs and finished with 37 yards on 10 carries. He also caught one pass for 16 yards.
BROOKVILLE 41, UNION/A-C VALLEY 22
BROOKVILLE, Pa. – Brookville kept itself alive in the District 9 2A playoff race with a 41-22 win over visiting Union/A-C Valley.
Seth Ray played a big part in the victory putting together his second straight 270-yard passing game going 8 of 16 for 272 yards and three touchdowns with an interception a week after throwing for 277 yards in a loss to Moniteau.
All three of Ray's scoring tosses came before halftime, as Brookville (2-5) built a 28-7 halftime lead. He connected with Nick Keth on a pair of scoring passes (29 and 70 yards) and also hit Bryan Dworek from 64 yards out with just a minute left in the half. Dworek scored twice also opening the scoring with 20-yard reverse for a touchdown midway through the first quarter.
In the second half, the Raiders got a pair of TD runs from Brandon McGranor covering 30 and 15 yards in the fourth quarter. He finished with 90 yards on 13 carries while Keth caught three passes for 151 yards. Dworek and McGranor each made interceptions on defense.
For Union/A-C Valley (2-5), losers of four straight since a promising 2-1 start, quarterback Lucas Bowser threw and ran for a touchdown. He tossed a 30-yard TD pass to Trey Miles in the second quarter and scored on a 3-yard run in the third quarter.
Bowser completed 13 of 32 passes for 157 yards with Gavin Hawk catching eight passes for 95 yards. Greg Duncan ran for 72 yards on nine carries, scoring the game's final points on a 1-yard run in the fourth quarter.
ST. MARYS 29, REDBANK VALLEY 20
ST. MARYS, Pa. – Matt Marconi and Jeff Wehler each scored twice, as St. Marys beat visiting Redbank Valley, 29-20.
Marconi, who ran for 133 yards on 25 carries and caught two passes for 39 yards, caught a 35-yard scoring pass from Pat Schlimm, one of two scoring tosses for the senior quarterback, while also returning a fumble 39 yards for a touchdown.
Wehler, meanwhile, returned a punt 71 yards for a score and hauled in a 40-yard strike from Schlimm. His third-quarter touchdown catch gave the Dutch (5-2), winner of four in a row, a 29-14 lead.
Schlimm was 4 of six passing for 87 yards, the two touchdowns and two interceptions.
Curtis and Colton Mohney each scored on touchdown runs for Redbank Valley, while Keaton Kahle threw a 33-yard touchdown pass to Brock Barrett.
Kahle was just 4 of 15, though, for 70 yards while adding 42 yards rushing.
Curtis Mohney led the Bulldogs with 63 yards on 11 carries with Colten Mohney adding 25 yards on eight totes.
PUNXSUTAWNEY 48, KEYSTONE 14
PUNXSUTAWNEY, Pa. – Behind Ethan Riley and Stone Smith, Punxsutawney won for the second straight week with a 48-14 victory over visiting Keystone.
Riley had 153 yards of total offense including 83 yards rushing on seven carries with a touchdown, 63 yards receiving on seven catches and seven yards passing going 2-for-2.
Smith, meanwhile, scored three times rushing three times for 35 yards and two touchdowns and returning an interception 55 yards for a score.
Dylan Ishman was 12 of 17 passing for 119 yards, a touchdown and an interception for the Chucks (2-5).
Kyle Kapp and Corey Rapp scored on touchdown runs for Keystone (0-7) with Kapp gaining 68 yards on five carries and Rapp 67 on 13 helping the Panthers rush for a season-best 176 yards.
Nate Wingard was 9 of 22 passing for 92 yards with two interceptions.
CAMERON COUNTY 48, PORT ALLEGANY 28
EMPORIUM, Pa. – Tristan Reed and Jared Whiting each scored three rushing touchdowns to help Cameron County to its first win of the season with a 48-28 win over visiting Port Allegany.
Reed ran 35 times for 283 yards scoring on runs of 13, 8 and 30 yards, while Whiting added 24 carries for 168 yards scoring on runs of 1, 6 and 4 yards. The duo helped the Red Raiders (1-7 overall, 1-3 AML North) run for 451 yards. Reed finished with 336 yards of total offense also catching one pass for 53 yards.
Adam Streich added a scoring pass for Cameron County going 3 of 7 for 86 yards. The touchdown went to Derek Rieder from 10 yards. out
Trey Stiles also went over the 200-yard rushing mark for Port Allegany running 20 times for 222 yards and three touchdowns scoring on runs of 55, 47 and 28 yards. Stiles added a passing touchdown going 4 of 12 for 49 yards. He threw two interceptions.