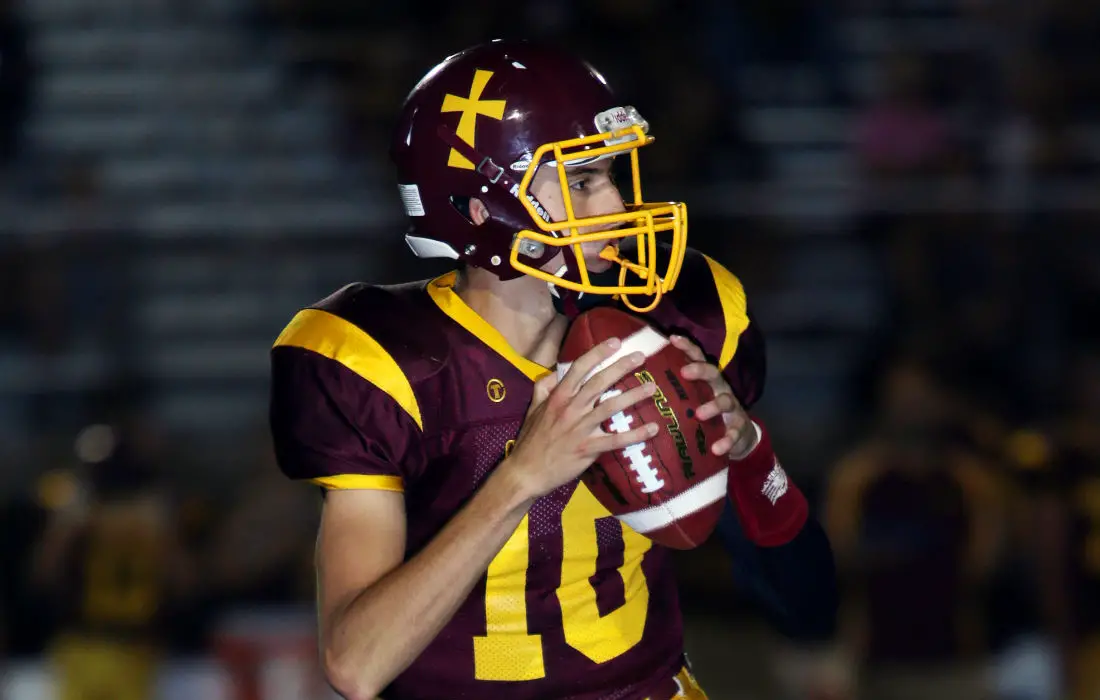 Podcast Chris's Quick Takes – D9Sports.com Editor Chris Rossetti Shares his views on Week 7
By Rich Rhoades
For prognosticators, call this the toughest week of the season to date.
Even with early-season challenges of figuring out who's good and who isn't, the 14-game Week 7 schedule has plenty of tough picks. What that means from the weekly preview angle is that there are plenty of interesting matchups.
To note:
At this point, any AML-South game is a key one. This week's it's Curwensville at Kane and Ridgway and Brockway. The Wolves can keep pace with Elk County Catholic at the top of the division standings with a win, or the Golden Tide can tighten things up in what's probably a must-win game for them since they have a loss to the Crusaders on their record. The Brockway-Ridgway loser drops to two division losses.
The KSAC-Small Division has two key games with Union visiting Clarion and Clarion-Limestone traveling to Keystone. While a Bobcats win clinches one of the two automatic Class A playoff berths, a Union win tightens things up. Both C-L and Keystone face a must-win scenario for not only a shot at a KSAC berth, but also an at-large Class A playoff spot.
Clearfield hosts Tyrone in a Mountain League matchup. The first-place Bison hold a one-game lead over both Tyrone and Central-Martinsburg. The Bison already beat Central, so another win this week puts them in a commanding position.
Karns City heads out of the district for a test in Erie County as the Gremlins face Erie Central Tech.
Here's a closer look at this week's games:
Allegheny Mountain League-South
Curwensville (5-1 overall, 0-1 AML-South) at Kane (6-0, 2-0)
It's the game of the week in the AML for sure as the Wolves try to knock the Golden Tide back another game in the standings. The Golden Tide have beaten the defending Class A champions in five out of the last six meetings, including last year's 7-6 win in Curwensville.
Kane is coming off a 21-14 grinder at Brockway, its 10th straight win against a District 9 opponent dating back to last year's Week 8 13-12 loss to Elk County Catholic.
The Wolves average 328 rushing yards per game, led by senior Tyler Rolick, who's rushed for 824 yards and nine touchdowns. He also has eight catches for 121 yards and a touchdown. His 1,241 all-purpose yards (yards from scrimmage plus return yards) leads the team. He's scored 11 touchdowns overall while connecting on 21 of 23 point-after kicks.
Rolick's twin brother Shane leads the team with 13 TDs. He's rushed for 442 yards and nine touchdowns, averaging 11.1 yards per carry. He's also thrown for 111 yards and a touchdown while sophomore Reed Williams has thrown for 296 yards and seven scores. Sophomore Erik Delong has rushed for 578 yards and six TDs.
Curwensville boasts some balanced numbers as sophomore running back Nick Stewart went over 1,000 rushing yards in last week's win over Redbank Valley. He's rushed for 1,052 yards and 15 touchdowns. For his career already in just 17 games, he's gained 2,684 yards while running for 33 touchdowns. Senior Hunter Johnson has rushed for 624 yards and five TDs.
Tide quarterback Jakob Terry is on the verge of going over 1,000 passing yards. He's thrown for 965 yards and 13 touchdowns while completing 58 percent (51-of-88) of his passes. His top receiver is senior Quamone Newkirk, who has caught 25 passes for 535 yards with nine TDs.
Ridgway (3-3, 0-2) at Brockway (4-2, 1-1)
Both teams go into the game with losing streaks. The Elkers have dropped three straight games while the Rovers are on a two-game slide.
Brockway clearly is feeling the loss of Anthony Isabella, who's out for the season with an injury. While the Rovers are averaging almost 250 rushing yards per game, they only gained 188 yards combined in their losses to Clearfield and Kane.
Rovers quarterback Hunter Miller will lead the offense. He's thrown for 703 yards and nine touchdowns while completing 63 percent (58-of-92) of his passes. He's also rushed for 299 yards, second behind Isabella's 522. Mark Latuska has rushed for 217 yards and two scores.
Miller's top receiving target is Jake Gorham (16 catches, 199 yards, 3 TDs) to go along with Andrew Trunzo (12 catches, 184 yards, 2 TDs) and Dylan Lacates (13 catches, 107 yards, 1 TD).
The Elkers have lost their three games by an average of 9.3 points per game, including last week's 21-14 loss to unbeaten Elk County Catholic. Two weeks ago, the Elkers host 28-13 to Kane. The Wolves beat Brockway, 21-14, last week.
James Winslow (223 yards, 1 TD), Dane Cappiello (177 yards, 2 TDs) and Neil MacDonald (160 yards, 4 TDs) lead the Ridgway running game. Quarterback Johnny Mitchell has thrown for 222 yards and two touchdowns.
Allegheny Mountain League-North
 Smethport (2-4 overall, 2-0 AML-North) at Cameron County (1-5, 1-1)
The Hubbers go on the road to try to win their third straight game and keep pace with Port Allegany at the top of the division standings. Running back Adam Shunk is on a roll, rushing for 641 of his 817 yards in the past three weeks. He's rushed for seven touchdowns.
Last week's 20-0 shutout win over Otto-Eldred as the Hubbers' first in almost five years.
Bouncing back from a 6-0 loss to Port Allegany, the Red Raiders won their first game of the year in a rout of Sheffield. Caleb Burnside ran for 224 of his 450 season yards against the Wolverines. Quarterback Derek Rieder had 310 yards passing before last week.
Port Allegany (3-3, 2-0) at Otto-Eldred (0-6, 0-2)
The Gators visit a Terrors team that hasn't scored in 11 quarters.
Mac Tanner leads Port with 442 yards rushing and five touchdowns. He was the team's top tackler going into last week at 10.2 stops per game. Quarterback Tre Garzel has thrown for 272 yards, 123 of it coming in last week's win over Coudersport.
Sheffield (0-6, 0-2) at Coudersport (2-4, 1-1)
The Falcons host the Wolverines trying to bounce back from last week's loss to Port Allegany. The Wolverines have given up 40 or more points in five straight games and have scored four touchdowns in the last four games.
Falcons quarterback Darren Keglovits has thrown for 550 yards and seven touchdowns.
KSAC-Small
Union (2-4 overall, 1-2 KSAC-Small) at Clarion (4-2, 3-0)
The Bobcats, coming off a surprising 10-0 loss at Moniteau last week, can clinch a KSAC-Small automatic Class A playoff berth with a win over the Knights. A Union win, however, could make things interesting.
Clarion has lost two of three games since three Mercy Rule wins to start the season. The Bobcats average 226 rushing yards per game, led by Colton Rapp (431 yards, 5 TDs) and Josh Kriebel (305 yards, 3 TDs). Clarion has thrown for just 153 yards for the season.
Rapp, however, will be out for this game since his ejection from last week's game at Moniteau, as per PIAA rules, means he's suspended for this week's contest.
Union's Dugan Gallagher has rushed for 754 yards and five touchdowns while Cole Morris has 260 rushing yards with nine catches for 117 yards. Sophomore Lucas Bowser has thrown for 192 yards.
Union hasn't beaten Clarion since 1994, or has lost 21 straight games to the Bobcats.
C-L (3-3, 1-2) at Keystone (3-3, 1-2)
Both teams have been swept by Clarion and Redbank Valley, so any type of KSAC automatic playoff berth scenario is very dim. Or non-existent if Clarion and Redbank Valley both win this week.
So a win keeps the Lions and Panthers in a wild card playoff berth hunt. Keystone handled Brookville last week, blanking the Raiders and holding them to 27 yards of offense. Running back Jake Weaver is closing in on 1,000 yards with 938 yards and 11 touchdowns.
Lions quarterback Anthony Louder is coming off a career-high 339 yards passing in the loss to St. Marys. He's now at 1,365 yards for the season with 16 touchdowns. His top receiving targets are Brady Himes, the leading receiver in the district in yardage with 728 to go along with 35 receptions and seven TDs. Conner Keth has 23 catches for 321 yards.
A-C Valley (0-6, 0-3) at Redbank Valley (4-2, 3-0)
The Bulldogs clinch at least second place and a top-two KSAC Class A playoff berth with a win over the Falcons, whose losing streak is up to 28 games.
Redbank Valley looks to bounce back from its non-conference loss at Curwensville last week. Quarterback Connor Shoemaker has passed for 546 yards and nine touchdowns after last week's career-high 299 yards against the Tide. He's also rushed for 248 yards.
Wyatt Hetrick has 19 receptions for 361 yards and eight TDs. Nick Shoemaker has 14 receptions for 189 yards and four TDs. On the ground, Colten Mohney leads the team with 304 yards and three scores. Connor Shoemaker (248 yards, 1 TD) and Hetrick (248, 1 TD) are behind him.
The Falcons are led by Lane Chalmers, who has two straight 100-yard rushing games. His 102 yards against the Chucks increased his season total to 282 yards. The Falcons have thrown for just 125 yards all season with no touchdowns.
KSAC-Large
St. Marys (5-1 overall, 1-1 KSAC-Large) at Punxsutawney (3-3, 2-0)
While the visiting Dutch already have a loss to unbeaten Karns City, the Chucks don't play the Gremlins until Week 10, so a Punxsutawney win would set up a winner-take-all game for the KSAC Large with the Gremlins.
Beware to the home team: The visiting team has won every game in this matchup since 2010. The last three games have been close with the Chucks winning 28-21 last year, Dutch 12-6 in 2013 and Chucks 21-20 in 2013.
The Dutch continue to lean on their running game that's averaging 217 yards per game. Matt Marconi (530 yards, 6 TDs), Christian Steffan (387 yards, 6 TDs) and Nathan Straub (364 yards, 4 TDs) share the workload out of the backfield while quarterback Pat Schlimm has thrown for 395 yards and four scores.
The Chucks average nearly a 50/50 split in passing and rushing. Chucks quarterback Ryan Jones has thrown for 941 yards and six touchdowns while rushing for a team-high 386 yards and three scores. Levi Campbell has rushed for 192 yards and three touchdowns.
Jones' top receiving targets are Devin Kelly (22 catches, 275 yards, 1 TD), Ethan Riley (23 catches, 246 yards, 2 TDs) and Nathan Lingenfelter (11 catches, 194 yards, 3 TDs).
Moniteau (2-4, 0-2) at Brookville (1-5, 0-3)
The Warriors, fresh off a solid 10-0 win over Clarion, head to Brookville with some momentum.
Quarterback Derek Boben ran for 131 yards with a 24-yard touchdown run against the Bobcats. He's rushed for 479 yards while he went into the Clarion game with 624 yards passing.
For Brookville, the Raiders have struggled offensively averaging only 161 yards of offense per game and they've only scored two touchdowns in the last three games. John Frank has rushed for 232 yards.
District 10 Region 5
Bradford (0-6 overall, 0-3 Region 5) at DuBois (3-3, 1-2)
It's been a tough season for the Owls, who have given up 50 or more points in losses three of the last four games. And the Beavers, averaging 44.3 points per game, are next.
Beavers quarterback Matt Miller is now over 2,000 yards passing with 2,029 to go along with 18 touchdowns. He's completed 59.3 percent (112-of-189) of his passes. Miller's top targets are Colin Read (33 catches, 702 yards, 7 TDs), Dante Dawson (40 catches, 646 yards, 4 TDs) and Zach Sloan (22 catches, 477 yards, 4 TDs).
Braden Paulinellie has rushed for 510 yards and eight touchdowns.
The Beavers have beaten the Owls four straight games, scoring 52 or more points each time. DuBois has outscored the Owls, 198-13, in the last three meetings.
John Eakin leads the Owls with 529 yards rushing and four TDs. Quarterback Kyle Kirk has passed for 606 yards and six touchdowns with Eakin (13 catches, 201 yards, 2 TDs) his top receiving target.
Mountain League
Tyrone (5-1 overall, 4-1 ML) at Clearfield (5-1, 3-0)
With Clearfield's next two opponents Bald Eagle Area and Philipsburg-Osceola a combined 1-11, a win over the Eagles virtually sews up the Mountain League title for the Bison.
Tyrone's lone loss came to Central-Martinsburg (48-14) in Week 2. It followed with a 42-27 win over Huntingdon. The Bison beat Central (19-8) in Week 3 while routing Huntingdon (50-23) in Week 4.
Bison running back Seth Caldwell has rushed for 761 yards and six touchdowns with Ryan Lezzer at 396 yards on the ground also with six scores. Lezzer also has a team-best 19 receptions for 264 yards and a touchdown. Quarterback Cody Spaid has thrown for 787 yards and six touchdowns.
Tyrone quarterback Drew Hunter has passed for 1,105 yards and 16 touchdowns with no interceptions. His top receiver is Parker Mitchell, who has 21 catches for 449 yards and nine TDs. Gary Weaver III leads Tyrone with 629 yards rushing and 11 TDs.
Non-Conference
Elk County Catholic (6-0) at Northern Cambria (4-2)
The Crusaders trek to District 6 for a non-conference game with the Colts, who have won four straight games after starting the season 4-2.
Last week's Player of the Week Noah Werner leads the Crusaders with 592 yards rushing and 11 touchdowns. Quarterback Nate Dacanal has thrown for 557 yards and four touchdowns, and rushed for 248 yards and five scores.
The Crusaders' defense has allowed just 5.6 points per game, or five touchdowns all season.
For the Colts, it's a run-first approach with Chris Rippin (470 yards, 5 TDs), Tyler Pershing (295 yards, 5 TDs) and Adam Welland (289 yards, 4 TDs). Pershing, the quarterback, has thrown for 306 yards.
Karns City (6-0) at Erie Central Tech (4-2)
Last year, the Gremlins beat Tech, 43-16, at home, so it's a trip north for them this year to Erie County.
The Falcons are coming off a 48-6 loss to Cathedral Prep last week. Their other loss came in a 56-40 Week 2 loss at General McLane. They beat Warren (44-8) in Week 1, Strong Vincent (48-8) in Week 3, Meadville (48-43) in Week 4 and Bradford (62-22) in Week 5.
Keyshaan Husband leads the Falcons with 1,265 yards rushing. Eddie Leggett, who ran for over 1,000 yards last year as a junior, returned to the team two weeks ago from an injury since the beginning of the year.
Karns City averages 430 yards of offense per game while limiting opponents to 27 points all season, including a current stretch of nine scoreless quarters.
The Gremlins have four players over 300 yards rushing, led by Chandler Turner (394 yards, 6 TDs), Collin Dunmyre (386 yards, 5 TDs), quarterback Cullen Williams (343 yards, 5 TDs) and Maverick Kelsea (340 yards, 7 TDs).
Williams has passed for 341 yards and three TDs while Jacob King has thrown for 298 yards and two touchdowns.