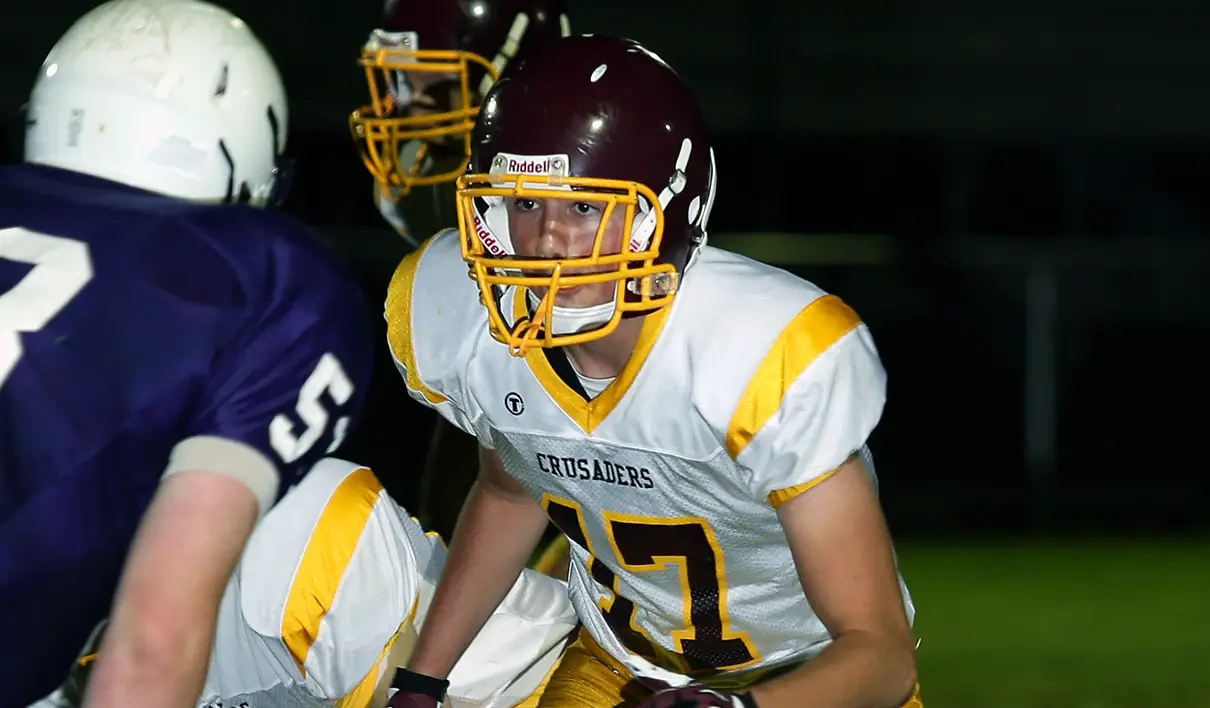 ELK COUNTY CATHOLIC 21, NORTHERN CAMBRIA 13
NORTHERN CAMBRIA, Pa. – Backup quarterback Brad Dippold threw a 53-yard touchdown pass off a tip to Eric Gerber with one second left to lift Elk County Catholic to a 21-13 win at Northern Cambria Friday night.
Dippold, forced into the quarterback role following an injury late in the game to Nate DaCanal, took a snap from his own 47-yard line with 13 seconds left and heaved up a long toss that was tipped by a Northern Cambria player at about the Colts' 31-yard line. Gerber, who had run a pattern to about the 29-yard line, came back and caught the ball at around the Northern Cambria 33-yard line, shrugged off a Colt defender at the 27 and raced into the end zone for the game-winning score to keep ECC (7-0) unbeaten.
"I saw it got tipped up and thought I had a chance to catch it," Gerber said. "I was fortunate to get it and then was able to run it in for the touchdown."
With the game tied at 13 with just over a minute to play, ECC's defense forced three-and-out giving the Crusaders one last chance in regulation.
The final pass was the third touchdown of the fourth quarter in a game that was tied at seven going to the final 12 minutes.
Noah Werner gave ECC the lead, 13-7, on a 10-yard run 38 seconds into the fourth quarter before Adam Weiland tied the game for Northern Cambria on a 24-yard run with 9:45 left.
Weiland had given Northern Cambria a 7-0 lead at halftime when he caught a 5-yard pass from Tyler Pershing with 3:49 left in the half.
ECC tied the game early in the third quarter when DaCanal hit Gerber with a 7-yard scoring pass.
DaCanal was 12 of 21 passing for 171 yards and a touchdown before getting hurt on the next-to-the last drive of the game by ECC.
Gerber had a huge game catching four passes for 108 yards and two scores.
Dippold also had a strong game. Before taking over late at quarterback in ECC's single-wing, he had four catches for 74 yards. He then 1-for-2 passing with the 53-yard touchdown pass.
Werner ran 23 times for 70 yards and the score.
Chris Rippin ran for 73 yards for Northern Cambria, while Pershing was 6 of 12 passing for 74 yards and the touchdown. Weiland had six carries for 43 yards and the touchdown and caught four passes for 13 yards and the score.
UNION 32, CLARION 0
CLARION, Pa. – Behind 161 yards rushing on 29 carries and two touchdowns from Dugan Gallagher, Union (3-4 overall, 2-2 KSAC SSD) ended two decades of frustration against Clarion (4-3, 3-1) picking up its first win over the Bobcats, 32-0, since 1994.
The loss was also Clarion's first ever loss in the KSAC Small School Division – the Bobcats were 28-0 in divisional play since the division was formed in 2010 before Friday night – while ending a 30-game conference win streak.
Union led 18-0 at halftime and then continued to put the pressure on in the second half while handing Clarion, which hasn't scored in 10 quarters, its second straight shutout.
Cole Morris added four catches for 54 yards and a score while rushing 10 times for 39 yards, and Lucas Bowser was 7 of 8 passing for 87 yards and a touchdown while also rushing for a touchdown and picking up 76 yards on 10 carries. Daniel Roberts also scored on a short run for the Golden Knights.
Clarion, which was called for a number of personal foul and unsportsmanlike conduct penalties in a 10-0 loss to Moniteau a week ago, once again found itself on the wrong end of at least six personal foul calls again in the loss to Union.
Union, which had lost 21 straight games to Clarion, last beat the Bobcats in 1994, 22-13. The Golden Knights last shutout the Bobcats out 6-0 in 1993. It was the largest margin of victory ever for Union over Clarion. The last time a school that now makes up the Union School District beat Clarion by more than 32 points was in 1940 when Rimersburg High topped Clarion 45-0.
KEYSTONE 20, CLARION-LIMESTONE 8
KNOX, Pa. – Jake Weaver scored three touchdowns, including two on the ground, went over 1,000 yards rushing on the season with his third 200-yard rushing game of the year and intercepted a pass to help Keystone (4-3, 2-2 KSAC SSD) keep its postseason hopes alive with a 20-8 win over Clarion-Limestone (3-4, 1-3) Friday night in Knox.
Weaver ran for 207 yards on 24 carries and scored on runs of 65 and 47 yards and added a 21-yard touchdown catch from Brayden Shick. He now has 1,145 yards rushing on the season.  
Keystone trailed 8-0 following an Anthony Louder 3-yard touchdown pass to Riley Hummell late in the second quarter, but Weaver scored on a 65-yard run just 12 seconds after the Lions touchdown to tie the game at 8 at halftime.  
Weaver's 47-yard run midway through the third quarter to give the Panthers the lead, and then he caught the touchdown pass on the first play of the fourth quarter.  
Keystone was able to pick of Louder four times, while holding District 9's second-leading passer to 10 of 22 for 143 yards. Connor Keth caught three passes for 43 yards, while Brady Himes, the District's leading receiver, was limited to just two catches for 36 yards.  Mike McAfee ran 15 times for 49 yards and had two catches for 22.
For Keystone, Brayden Shick was 6-for-15 passing for 81 yards, the touchdown and two interceptions. In addition to Weaver, Austin Ion, Kyle Kapp and Chad Rogers had interceptions, while Ethan Fleeger picked up a pair of sacks and Tyler Beal 11 tackles.
CLEARFIELD 34, TYRONE 17
HYDE, Pa. – Seth Caldwell scored three touchdowns while rushing for over 100 yards, as Clearfield took firm control of the Mountain League with a 34-17 win over visiting Tyrone Friday night.
Caldwell ran 27 times for 126 yards and two touchdowns and added  13-yard touchdown pass from Cody Spaid for the Bison (6-1, 5-0 Mountain League). Caldwell had three catches in all for 28 yards. 
Ryan Lezzer added four catches for 75 yards and a touchdown while rushing 11 times for 70 yards and a score. Spaid was 7 of 10 passing for 103 yards and rwo touchdowns.
Clearfield trailed 9-6 in the first half before taking a 20-9 halftime lead on a Caldwell touchdown run and a 12-yard Spaid to Lezzer TD pass. Caldwell then added a third-quarter touchdown reception before Clearfield's defense picked off Tyrone three times in the fourth quarter, four times overall, including a pick-6 by Jake Wingate, one of two Wingate interceptions on the night, midway through the quarter that put the game away and a drive-stopping interception by Micah Heichel at the Clearfield 13 when the Bison were holding a 10-point, 27-17, lead. Clear
Matt Collins led Clearfield's defense with 14 tackles with Christian Rumery adding 10 to go with a 1/2 sack.
Tyrone, which fell to 5-2 overall and 4-2 in league play, was led by Gary J. Weaver III's 127 yards rushing and two touchdowns.
MONITEAU 7, BROOKVILLE 6
BROOKVILLE, Pa. – Brookville's Seth Ray missed a 23-yard field goal with 38.3 seconds left, and visiting Moniteau held off Brookville rally attempt to get a 7-6 win over the Raiders Friday night.
Brookville (1-6, 0-4 KSAC LSD) trailed 7-0 the entire second half before Brookville got within a point on a 3-yard Brandon McGranor touchdown with two minutes to play. The Raiders decided to go for two, but John Frank was stopped short of the goal line leaving Brookville down a point with one timeout left.
Ray then executed a perfect on-side kick, which McGranor recovered at the Moniteau 49-yard line. Brookville was then able to drive to the Moniteau 5-yard line, where it faced a fourth-and-goal. Ray then came out to try the potential game-winning field but the kick was short.
Moniteau (3-4, 1-2) took the lead on a 24-yard Derek Boben run late in the first half with Steven Fawcett connecting on what turned out to be a crucial extra point.
Neither team could do much offensively with Moniteau outgaining Brookville 185-167 after the Raiders had just 17 yards in the first half but held Moniteau to 53 in the second half.
Boben had a nice game for the Warriors rushing for 119 yards on 23 carries and was 1-for-3 passing for 13 yards. Shonn Kline added 68 yards on 15 carries.
Frank led Brookville with 38 yards rushing on eight carries, while McGranor ran 18 times for 35 yards. Ray was 5 of 13 passing for 98 yards. Logan Thrush had three catches for 56 yards after starting the game at quarterback and going 1-for-3 for no yards.
KANE 35, CURWENSVILLE 6
KANE, Pa. – Shane Rolick ran for three scores and passed for a fourth score, as Kane (7-0, 3-0 AML South) continued to roll with a 35-6 win over visiting Curwensville (5-2, 0-2) Friday night.
Rolick ran for scores of 1, 2 and 40 yards and threw a 60-yard touchdown pass to Ange Costanzo. He finished the night with 119 yards rushing on 16 carries and was 2-for-4 passing for 66 yards and the score.
Shane's twin brother, Tyler, added a 28-yard touchdown run and finsihed with 74 yards on the ground on 15 totes and added one, 8-yard catch, while Keaton Rounsville led the defense with eight tackles, three for a loss. Issac Walters also had eight tackles with a sack.
Hunter Johnson scored Curwensville's lone touchdown on a 2-yard run late in the first half. He ran 10 times for 39 yards, while Nick Stewart had 80 yards on 20 carries. Jakob Terry was 8 of 20 passing for 74 yards.
A win next week over Elk County Catholic would clinch the AML South for Kane.
REDBANK VALLEY 37, A-C VALLEY 14
NEW BETHLEHEM, Pa. – Connor Shoemaker threw for three touchdowns and ran for one, as Redbank Valley clinched one of the two automatic District 9 Class A playoff berths awarded to the KSAC Small School Division with a 37-14 win over visiting A-C Valley Friday night.
Shoemaker was 9 of 11 passing for 78 yards and threw scoring passes to Wyatt Hetrick (20 yards), Chase Wiles (2 yards) and Brock Barrett (6 yards) while adding a 5-yard rushing touchdown run. He ran eight times for 50 yards. Hetrick added 42 yards rushing on five carries and caught two passes for 27 yards.
Curtis Mohney added a 3-yard touchdown run for Redbank (5-2, 4-0), who can win its first-ever KSAC Small School Division title with a win over Clarion in two weeks.
Eric Pirl scored on a 51-yard run for A-C Valley (0-7, 0-4), while Jeffrey Ginn had a 2-yard scoring run.       
PORT ALLEGANY 18, OTTO-ELDRED 0
DUKE CENTER, Pa. – Dylan Baumgardner and Mac Tanner each ran for 100 yards, as Port Allegany inched closer to a District 9 Class A playoff berth with an 18-0 win over Otto-Eldred Friday night in Duke Center.
Baumgardner ran 20 times for 103 yards and added a 70-yard touchdown catch on his only reception of the night, while Tanner ran for 100 yards on 14 carries and scored on a 5-yard run. The Gators (4-3, 3-0 AML North) added a safety on defense.
Tre Garzel was 2 of 6 passing for 77 yards with the touchdown.
Despite only scoring twice, Port Allegany outgained Otto 434 to 99. Eight penalties for 90 yards slowed the Gators down.
Damen Palmer ran 14 times for 41 yards to lead Otto (0-7, 0-3), while going 1-for-1 passing for 21 yards.
SMETHPORT 25, CAMERON COUNTY 8
EMPORIUM, Pa. – Adam Shunk continued his torrid pace rushing for 257 yards and four touchdowns on 28 carries, as Smethport won its third straight game and stayed unbeaten in the AML North with a 25-8 win at Cameron County Friday night.
Shunk, who went over 1,000 yards on the season, has now run for 898 yards in the past four weeks giving him 1,074 yards on the year. The senior added five tackles on defense.
Kevin Long added 25 yards rushing on six carries and was 1-for-5 passing for three yards and an interception, while Jimmy Duffy picked up 35 yards on his only carry and had six tackles and a sack on defense for the Hubbers (3-4, 3-0 AML North). Austin Speedy led the defense with 10 tackles and an interception with Nick Dibble added seven tackles and a sack.
Caleb Burnside ran for 60 yards, while Adam Steich scored on a 3-yard run for Cameron County (1-6, 1-2)
COUDERSPORT 26, SHEFFIELD 7
COUDERSPORT, Pa. – Thanks to a pair of third-quarter touchdown passes from Darren Keglovits, Coudersport overcame a 7-6 halftime deficit to beat visiting Sheffield 26-7 Friday night.
Keglovits, who threw three touchdown passes on the night, found Jared Green with a 59-yard scoring pass early in the third quarter to give the Falcons (3-4, 2-1 AML North) the lead and then hit Navada Waterman with a 17-yard toss late in the quarter.
Aaron Wolfinger added a 3-yard fourth-quarter scoring run for Coudy, which also had a first-half touchdown pass of 11 yards from Keglovits to Green.
Keglovits finished 10 of 22 for 185 yards and the three scores with Green catching four passes for 111 yards and the touchdown. Wolfinger ran 10 times for 95 yards with the score and added five tackles with a fumble recovery on defense.
After falling behind 6-0 early, Sheffield (0-7, 0-3) grabbed a 7-6 lead on a 54-yard Myquandre Stevenson touchdown run late in the first quarter. Stevenson finished with 105 yards and the score on 12 carries.
Cale Albaugh was 8 of 17 passing for 110 yards and an interception for Sheffield with Demon Dunning catching four of those passes for 50 yards.
BROCKWAY 21, RIDGWAY 10
BROCKWAY, Pa. – Mark Latuska's 24-yard touchdown run with just over eight minutes to play sealed a 21-10 win for Brockway over visiting Ridgway Friday night.
The win snapped a two-game losing streak for the Rovers (5-2, 1-1 AML South) and helped put them in a good spot for a District 9 Class A playoff berth.
Ridgway (3-4, 0-3) led 3-0 at halftime after a 21-yard Aaron Hinton field goal on the last play of the first half, but Hunter Miller scored on a 7-yard run and Noah Vokes on a 30-yard interception return for a touchdown to give the Rovers a 14-3 lead late in the third quarter.
The Elkers (3-4), losers of four straight, fought back when Johnny Mitchell hit Dane Cappiello with a 31-yard scoring pass with just 34 seconds left in the third quarter to cut the lead to 14-10, but Latuska scored the dagger 4 ½ minutes later.  
Miller ran 18 times for 126 yards and was 2 of 10 passing for 3 yards and an interception. Latuska added 112 yards on the ground on 17 totes, as Brockway ran for 255 yards on the night. 
KARNS CITY 58, ERIE CENTRAL TECH 34
ERIE, Pa. – Maverick Kelsea rushed for 115 yards and three touchdowns and had an interception on defense to lead Karns City to a key inter-district, 58-34, win at Erie Central Tech Friday night at Erie's Veteran Memorial Stadium.
Kelsea scored on short touchdown runs of 1, 4 and 2 yards and was a large reason Karns City (7-0) was able to rack up 482 yards of offense against the Falcons (4-3) including 439 on the ground.
Seth Silvero added a pair of touchdowns for Karns City scoring on a 6-yard run and on a 10-yard pass from Jacob King. He ran six times for 54 yards and had the one catch for 10 yards. King was 4 of 6 passing for 43 yards and the touchdown.
Kaiden Powers chipped in with a pair of rushing touchdowns as well for the Gremlins scoring on to of his four carries finding pay dirt on runs of 8 and 2 yards and rushing for 26 yards.
Chandler Turner, who ran ran six times for 53 yards while catching one pass for 12 yards, added a 4-yard touchdown for Karns City, which led 35-18 at halftime. 
Malik Allison caught a pair of touchdown passes from Jason Williams – one a 75-yard bomb and the other a 32-yard stike – while Keyshawn Husband scored on runs of 1 and 60 yards and Rob Peterson returned a fumble 77 yards for Erie Central Tech (4-3).
DUBOIS 55, BRADFORD 0
BRADFORD, Pa. – Matt Miller threw for 334 yards and five touchdowns, and Braden Paulinellie and Dante Dawson each scored twice as DuBois cruised past Bradford 55-0 Friday night in Bradford.
Miller, who was 15 of 21, tossed a pair of scoring passes to Dawson (3 and 67 yards), who also had an interception on defense, and hit Zach Sloan (76 yards), Colin Read (11 yards) and Wes Russell (33 yards) with scoring passes as well.
Paulinellie, meanwhile, scored on a 32-yard fumble return and on a 4-yard run, while Dalton Kruzelak added a scoring run for the Beavers (4-3, 2-2 District 10 Region 5), winners of three in a row.   
Dawson hauled in six catches for 139 yards with Sloan adding three for 105.
John Eakin paced Bradford with 88 yards rushing on 17 carries.
ST. MARYS 14, PUNXSUTAWNEY 0
Punxsutawney, Pa. – Christian Steffan ran for 160 yards on 27 carries as St. Marys shutout Punxsutawney 14-0 Friday night in Punxsy.
While Steffan did the heavy lifting Matt Marconi (6-yard first-quarter run) and NickCunnimgham (13-yard second-quarter pass from Pat Schlimm) scored the touchdowns for the Dutch.
Brandon Matthews was 6 of 11 passing for 78 yards and Ryan Jones was 11 of 19 through the air for 53 yards while adding 16 yards rushing.
St. Marys is now 6-1 overall and 2-1 in the KSAC Large School Division, while Punxsutawney is 3-4 and 2-1 in league play.