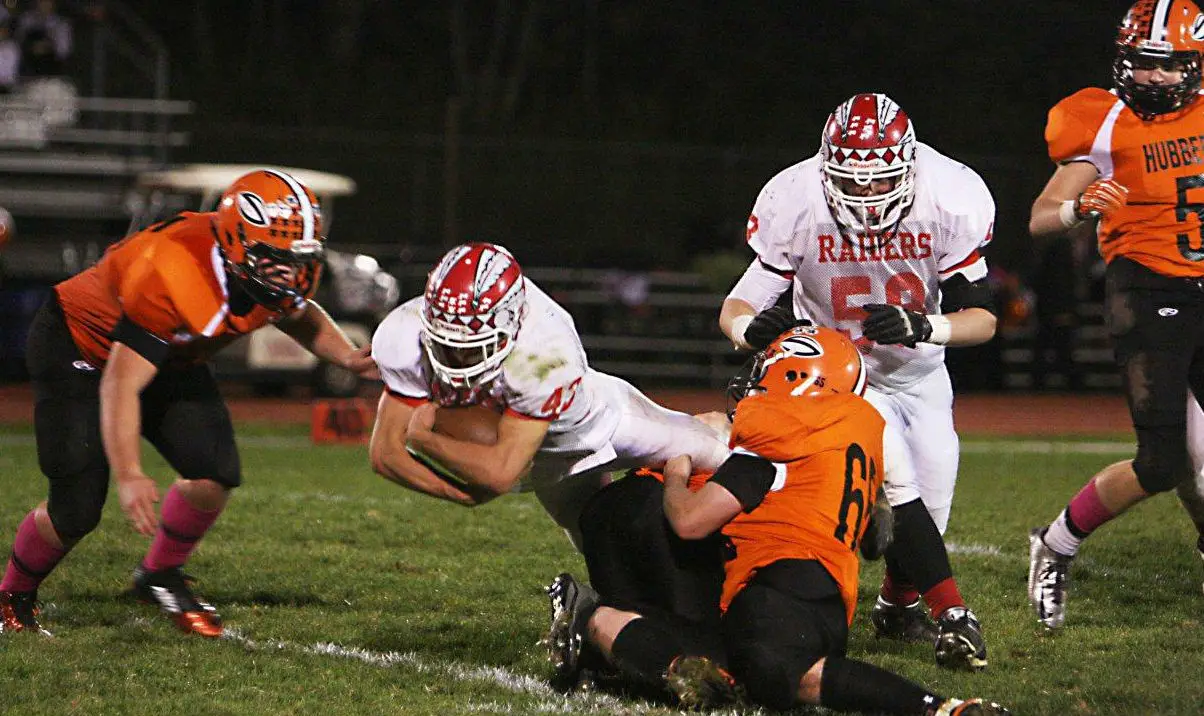 Cover photo of Cameron County's Rusty Setzer in action vs. Smethport Friday night – Photo by Randy Frey
Updated 10:35 p.m. Sunday – Will be updated throughout weekend
 CLARION 47, UNION 12
RIMERSBURG — Erupting for 40 second-half points to break open a 7-6 halftime lead, the Clarion Bobcats surged to a 47-12 win at Union Saturday night.
Ian Corbett ran for a career-high 269 yards, his second 200-yard game in three weeks, on 18 carries, scoring four touchdowns on runs of 11, 5, 60 and 70 yards. He surpassed the 1,000-yard mark on the season with the performance. Jacob Troutman ran for 88 yards, Colton Rapp added 79 second-half yards and two touchdowns on runs of 60 and 4 yards.
Clarion quarterback Taylor Smith threw a 24-yard TD pass to Ethan Straffin, helping cap a Clarion offense that gained 517 yards, including 441 yards on the ground. Smith was 3 of 7 for 77 yards, a touchdown and an interception.
Union quarterback Lane Cicciarelli turned in quite a performance in the loss for the Knights, completing 26 of 42 passes for 341 yards, two touchdowns and two interceptions. Cole Morris caught 15 passes for 194 yards and a 17-yard TD, Chet Carmichael grabbed 10 passes for 113 yards and Tyler Wiser made two catches for 62 yards with a 49-yard TD from Cicciarelli.
The Bobcats improved to 6-1 while the Knights fell to 2-5.
Clarion's victory secured a District 9 Class A playoff berth for the Bobcats, the defending champions, as well as for Redbank Valley, the runners-up from a year ago.
SHEFFIELD 36, COUDERSPORT 6
SHEFFIELD – Adam Higby threw for two touchdowns to Jack Johnson and ran for a third to lead Sheffield to its first win of the season, 36-6, over visiting Coudersport Saturday afternoon.
Ja'Sani Marlow and Kevin Evan added scoring runs for the Wolverines (1-6 overall, 1-2 AML North).
Zach Layag scored the lone Coudersport touchdown on a 46-yard second-quarter run.
The loss dropped the Falcons to 1-6 and 1-2 in conference play.
Anderson Nicka paced Coudersport with 13 carries for 69 yards.
Higby was 9 of 19 passing for 138 yards, the two touchdowns and an interception with Johnson catching three passes for 89 yards and the scores.
Marlow ran 12 times for 117 yards and the touchdown, Evan added four totes for 34 yards and the score and Higby five for 14 and the touchdown. Jamir Brown also had nine carries for 70 yards.
ELK COUNTY CATHOLIC 24, NORTHERN CAMBRIA 20
ST. MARYS — Noah Werner's 3-yard run with 1:22 left in the game lifted the Elk County Crusaders to a come-from-behind 24-20 win over non-conference foe Northern Cambria Saturday afternoon.
The Crusaders (6-1) trailed 14-9 going into the fourth quarter. Jonathan Dippold's 15-yard TD pass from Mitchell Smith put them up 17-14 following the two-point conversion run by Dan Singer with 9:11 remaining. Northern Cambria (2-5) then answered with a Joe Olish 23-yard TD run with 7:57 remaining, setting up ECC's go-ahead score late.
Singer led the ECC running game with 137 yards on 13 carries while Werner gained 84 yards on 18 tries. Smith threw a 35-yard TD pass to Kyle Huff in the first quarter and Huff booted a 22-yard field goal in the third quarter.
RIDGWAY 28, BROCKWAY 14
JOHNSONBURG — Ben MacDonald passed for three touchdowns and ran for 136 yards on 14 carries to lead the unbeaten Ridgway Elkers to a 28-14 win over Brockway Friday night.
The Elkers (7-0 overall, 3-0 AML-South) held on to sole possession of first place in the AML-South with the win. MacDonald was big, completing 11 of 17 passes for 154 yards. He threw a 66-yard TD pass to Cody Delhunty less than two minutes into the game, a 15-yarder to Luke Pierce in the second quarter and another scoring strike to Delhunty from 7 yards out in the third quarter.
Brockway (4-3, 0-2) did grab a 14-13 lead late in the third quarter when Anthony Benson scored on a 6-yard run at the 3:58 mark, but Ridgway scored the final two touchdowns on Delhunty's second TD grab and Cole Myers' 19-yard run with 4:21 left in the game.
Benson ran for 151 yards on 23 carries while Tony Isabella went for 76 yards on 19 carries with a 2-yard scoring run in the first quarter.
PUNXSUTAWNEY 28, ST. MARYS 21
ST. MARYS — Trailing 21-12 at halftime, the visiting Punxsutawney Chucks rallied in the second half to down St. Marys, 28-21, Friday night.
Quarterback Dakota Thomas ran 51 yards for a touchdown in the third quarter and cut the deficit to 21-20 with a two-point pass to Andrew Fedigan at the 8:39 mark. Perry Arrington gave the Chucks (5-2 overall, 2-1 KSAC-Largte) the lead for good with his 10-yard TD run with 2:45 left in the game.
Thomas ran for 65 yards on 11 carries while completing 11 of 21 passes for 221 yards, two touchdowns and two interceptions. He threw two first-quarter TD passes to Braxton Giaviadoni in the first quarter covering 33 and 55 yards. Giaviadoni caught 5 passes for 141 yards. Arrington ran for 46 yards on 14 carries. Fedigan caught 5 balls for 80 yards.
St. Marys (5-2, 1-2) was limited to just 80 yards on 39 attempts rushing by the Chucks' defense with Kyle Glatt and T.J. Hogan running for 43 and 34 yards respectively. Glatt returned a fumble 43 yards for the game's first score while Hogan ran 3 yards for a touchdown, both in the first quarter. Quarterback Pat Schlimm completed 10 of 19 passes for 131 yards, connecting with Jordan Straub for a 10-yard TD in the second quarter. Bauer caught 5 passes for 70 yards.
SMETHPORT 43, CAMERON COUNTY 6
SMETHPORT – Cameron County amassed 320 total yard including 227 on the ground and took control of the AML North with a 43-6 win at Smethport Friday.
Rusty Setzer and Caleb Burnside combined for five touchdowns in the win for the Red Raiders (3-4 overall, 3-0 AML North), winners of three straight.
Setzer scored on runs of 8, 1 and 3 yards, while Burnside found the end zone on a pair of 2-yard carries. Jared Whiting also scored on a late 58-yard run for the Red Raiders.
Adam Shunk scored the lone Smethport touchdown on a 5-yard run that he helped set up by recovering a Cameron fumble at the Red Raider 15-yard line.
The loss snapped a 3-game win streak for Smethport (3-4, 2-1).
Burnside led a balanced rushing attack for the Red Raiders with 79 yards on the ground, while Seltzer had 70 and Whiting 60. Keith Spehulski threw for 88 yards.
KARNS CITY 43, ERIE CENTRAL TECH 16
KARNS CITY – Tristan Rhoades scored three touchdowns to lead Karns City to a 43-16 win over visiting Erie Central Tech in a non-conference game Friday night.
Rhoades, who accumulated 103 yards of offense on just six touches, ran five times for 95 yards and two scores (5 yards, 58 yards) and caught one pass for an 8-yard touchdown.
Karns City (7-0) led by just five, 13-8, at the end of the first half but outscored Central Tech 23-0 in the third quarter to break the game open.
Caleb King and Cody Deal each added a touchdown run and a touchdown pass for the Gremlins with Deal rushing seven times for 48 yards and going 1 of 2 passing with a 4-yard scoring pass to Cooper Shephard and King scoring on a 1-yard run and throwing an 8-yard touchdown pass to Rhoades.
Eddie Legett led Central Tech with 25 carries for 129 yards and a 33-yard scoring run. Noah Troyer also scored on a late 9-yard run
OTTO-ELDRED 29, PORT ALLEGANY 22
PORT ALLEGANY – Behind two Nick Appleby touchdown passes, visiting Otto-Eldred rallied to beat Port Allegany 29-22 Friday night.
In a back-and-forth game, the Terrors (1-6 overall, 1-2 AML North) picked up their first win after rallying from a 22-15 third-quarter deficit scoring 14 unanswered points in a three-minute span late in the third quarter.
Seth Drummond's 3-yard touchdown run made it 22-21, and then Appleby hit Dakota Eaton with a 67-yard scoring pass to put Otto in front for good.
Appleby also tossed a 37-yard strike to Hobie Milliron in the first half, Heath Stewart had an 80-yard kickoff return for a touchdown in the third quarter and Grant West started the scoring with a 32-yard field goal for the Terrors.
For Port Allegany (1-6, 1-2), Tre Garzel scored on a 6-yard run, Dylan Baumgarner on a 27-yard run and Jordan Seefeldt on a 1-yard run.
Individual statistics for this game will be posted when they are received.
KEYSTONE 26, CLARION-LIMESTONE 12
STRATTANVILLE — Jake Weaver ran for 141 yards on 13 carries with two touchdowns to lead the Keystone Panthers to their second straight win in a 26-12 victory at Clarion-Limestone Friday night.
Weaver opened the scoring with and 11-yard run in the first quarter and capped the game's scoring with his 46-yard run with 10:59 left in the fourth quarter. Also for the Panthers (2-5) Bryce Altman threw a 14-yard TD pass to Tanner Wilson in the second quarter and Zach Stiglitz scored on a 5-yard run in the fourth quarter.
Anthony Louder threw a 14-yard TD pass to Brady Himes and scored on a 2-yard run for the Lions, who fell to 1-6.
REDBANK VALLEY 55, A-C VALLEY 20
FOXBURG — Jake Dougherty passed for five touchdowns, three in the first quarter, and ran for another as the 6-0 Redbank Valley Bulldogs breezed to a 55-20 win at A-C Valley Friday night.
Dougherty completed 7 of 11 passes for 161 yards. He threw two TD passes to Nick Shoemaker in the first quarter from 77 and 9 yards out and another to Curtis Mohney to start the game's scoring on a 28-yarder. After making it 28-0 with his 34-yard run with 24 seconds left in the first quarter, Dougherty's other TD pass went to Wyatt Hetrick on a 20-yarder less than two minutes into the second quarter to make it 35-0.
Mohney ran for 100 yards on just five carries as the Bulldogs led 42-6 at halftime. They scored two more times to start the second half to hike the lead to 55-6. Devin Schimp had a 5-yard TD run and threw a 30-yard scoring pass to Korbin Hornberger. Shoemaker wound up with three touchdown receptions and caught four passes for 92 yards.
Zach Muhl threw an 8-yard TD pass to Cody Jones and added an 8-yard scoring run of his own for A-C Valley (0-7). Anthony Painter scored on a 13-yard run in the fourth quarter.
On Saturday, Redbank Valley clinched a District 9 Class A playoff berth when Clarion defeated Union.
MONITEAU 38, BROOKVILLE 15
WEST SUNBURY — Cody Skiver and Josh McBride each ran for over 100 yards to lead the Moniteau Warriors to a 38-15 win over Brookville on Homecoming Friday night.
Skiver ran for 139 yards on 17 carries and ran for touchdowns of 39 and 13 yards while returning a punt 70 yards for another score, all in the first half. McBride went over 1,000 rushing yards for the season after gaining 121 yards on 20 carries with a 3-yard TD run.
Moniteau (5-2) ended a two-game losing streak and limited Brookville (1-6) to 70 yards of offense. The Raiders were at minus-4 yards of offense before scoring two fourth-quarter touchdowns after Moniteau built a 38-0 lead.
DUBOIS 55, BRADFORD 7
BRADFORD — Gabe French completed 16 of 18 passes for 284 yards and two touchdowns and also ran for a score as DuBois eased past Bradford 55-7 Friday.
Bradford actually scored first, as Kyle Kirk connected with John Pantuso on a 14-yard pitch-and-catch to give the Owls a 7-0 lead.
The Beavers, however, scored 55 unanswered points, as Dante Dawson caught five passes for 117 yards and a score, including an 8o-yarder to open the DuBois scoring.
Devin Clark carried the ball for 96 yards and a pair of touchdowns on 12 carries, as DuBois amassed 641 yards of total offense.
Kirk was 8-of-14 passing for 116 yards for Bradford, while Zach Bartlebaugh had 4 receptions for 79 yards.